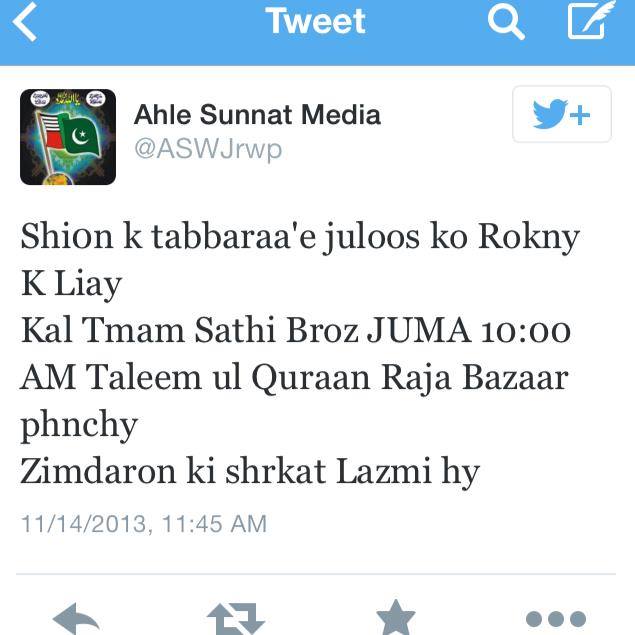 So here we are again, another Ashura Juloos and another incident, details of which are slowly coming out (especially on how the banned Takfiri Deobandi terrorist outfit Sipah Sahaba aka ASWJ Rawalpindi had preplanned the carnage).  But do not tell that to the Takfiri spin machine which is in full swing spinning the facts on ground to support their narrative. What is astonishing is how there is a rush to paint the Deobani Thugs who controlled and ran this Mosque into bunch of innocent victims. On my personal Facebook account alone, my Deobandi acquaintances were crying foul as to how a house of worship was desecrated and people who did this must be brought to justice. Interestingly these are the same folks who remain mighty quite whenever the Takfiri Deobandi bunch does their dirty work and kills innocent Shias and Sunnis alike, i am pretty sure all of you reading this have that one person who shares such posts.
Shias being killed in Pakistan is nothing new, matter of fact its such a routine activity that it barely makes a blip on national media. And that is exactly what the Takfiri bunch was banking on, that they would have a field day on unarmed procession goers, and the media as usual would brush it aside as the tired "Proxy War" canard. Unlike in the past, this time around the processioners did not run away or laid down helplessly as siting ducks but instead reacted the way they should have from the beginning. Time and again Shias have been targeted en masse, the Ashura blast from 3 years ago to the Abbas town tragedy from last year.
If you are a Deobandi who is defending a terrorist outfit then that makes you a terrorist sympathizer, plain and simple. You can not hide behind the desecration argument, matter of fact lets play this out. What exactly would you have liked the processioners to do ? Simply get pelted with rocks and get fired upon ?
So it begs the question, what exactly does this violence accomplish ? And that is the question every Deobandi should ask themselves. When will sane Deobandis come to the realization that their clergy is taking this country towards the point of no return. Deobandis have to speak up strongly against this group of violent terrorists, who will only turn on their own once they are finished with Shias, Barelvis and other minorities.