Mir Shakil strikes back through fake-doctor Aamir Liaquat: Cheap tactics of Jang Group against Mubasher Lucman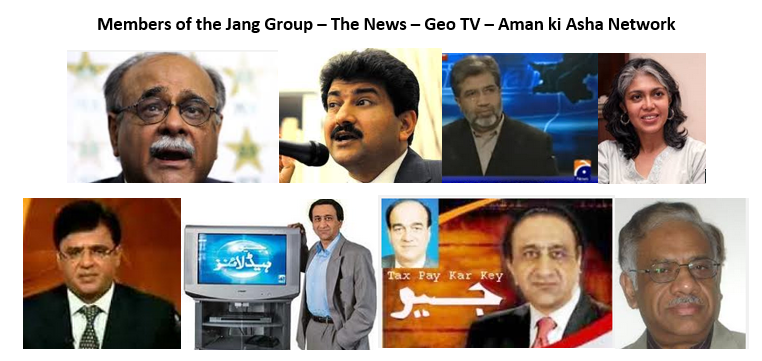 As one could expect from people of low caliber and upbringing, instead of responding logically and with facts to the allegations levelled against the Jang Group, Mir Shakil ur Rehman and Jahangir Siddiqui by Mubashar Lucman in his series of programs on ARY News between 26th October till 31st October, the right wing low lifes have sprung into action to harass and intimidate the rival.
While they came up with the most flimsy responses to allegations made, not naming Mubashar Lucman in their response but referring him to a "Jahaz wala anchor", employees of Jang Group have sprung into action to defend their boss and place of blackmail, the Jang, The News and GEO TV. We have seen united responses by Jang Group employees on Twitter and on TV. Dr. Amir Liaqat Hussain cannot be left behind when it comes to showing his loyalty to the boss.
According to November 4, 2013, The News and Jang, on Dr. Amir Liaqat Hussain's complaint, the Racecourse Police in Lahore have filed a case against Mubashar Lucman " on the charges of attacking known scholar and Jang Group Editor Religious Affairs Dr Aamir Liaquat Hussain and uttering abuses against country's courts and the Jang Group".
Like always, the charges seem to be mundane and have used like always the right wing mullas as witnesses to get the case registered. As the story goes, upon being greeted by Dr. Amir, Mubashar started using abusive language against his organization. Afterall, for Dr. Amir, the Jang Group is like his "maan" and he was so infuriated that he had to approach the police and get a case registered!
Being a gentleman, Dr. Amir tried to calm him down, but Mubashar being a bull in china shop threatened him with murder and tried to hit him. Dr Amir, I am sure is incapable of hurling abuses back and had to seek redressal of his grievance with police. And so, in the province of Punjab, the case was registered!
One can only laugh at this harassment and intimidation on the flimsiest of charges, but what can one expect from Jang Group. Equipped with gagging orders from their bootlicking courts, this is the best they could do.
our correspondent
Monday, November 04, 2013 
From Print Edition

LAHORE: The Racecourse Police have registered a case against a TV anchor Mubasher Lucman on the charges of attacking known scholar and Jang Group Editor Religious Affairs Dr Aamir Liaquat Hussain and uttering abuses against country's courts and the Jang Group.

A case No 591/13 under Section 506 of PPC was registered against the accused on Sunday. However, no arrest was made till filing of the report. The case was forwarded to the Investigation Wing of Racecourse Police for further investigation.

The complainant stated in the FIR that he, along with other Geo channel team members and some other people including Mufti Abdul Qadir, Mufti Muhammad Naeem Qadri, Ahmed Ziaul Haq and Muhammad Mohsin, was present in a local hotel on Saturday night when the anchor passed by. Dr Aamir said when he greeted him, he started using abusive language against his organisation. He said, "You people did whatever you wanted. But now you will see what I will do with you." The anchor said that he did not care about courts, saying "My foot."

Dr Aamir said he tried to calm Mubasher down and told him that he was a guest, but he threatened him with murder and came forward to hit him. However, the people present there stopped him.According to SP Investigation Civil Lines Imtiaz Sarwar, probe was underway and action would be taken according to the law after hearing viewpoint of both parties.

http://www.thenews.com.pk/Todays-News-2-212143-TV-anchor-booked-on-Dr-Aamir-Liaquats-complaint
Comments
comments