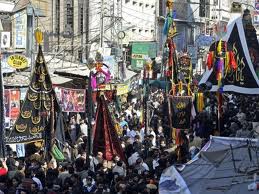 C1 : Only Registered Majalis And Muharram Processions Will Be Allowed Govt. Just Like the Registered Terrorists Are Allowed to Massacre Shias.
C2 : Get registered so that Rana Sanaullah can forward the list to his friends so that security arrangement can be perfected in similar manner to what is being extended to Hazara community. We must salute the a..h..e who has come up with this brilliant idea.
C3 : Theoretically IF the registration is "trouble free" and adds to the security of the Majalis and Processions, I do not find anything wrong with it. But after what we have seen in the recent past, one can't assume anything till security is actually provided and people made to feel it ! Let us pray and hope for the best
C4 : I understand they already have a mechanism of obtaining permission for Majalis and commemorative processions at the public places. As for the comment earlier… Imam Hussain (AS) is for mankind not for Shia's only but Shia's are "Bedar" (awake) and others asleep. If you're a Muslim, it is because of him… open your mind and read about him… "Insan Ko Bedar To Ho Lenain do, Har Qoum Pukarey gi Hammarey Hain HUSSAIN (a.s)"
C5 : I don't know why C1 is getting so upset? Rafidi who commemorate the defeat of rebels by the army of Caliph Yazeed bin Muawiya are wrong. That is why worshippers of true Sahaba Caliph Yazeed Ibne Muawiya, the Lashkar Jhangvi have made polite request that all Rafidi procession be registered. You see, like always, Lashkar Jhangvi, the coalition allies of Comrade Shareefa, want to give protection to Rafidis. Why, oh, Why can't Rafidi forget about the Prophet and his rebel family. Why don't they worship Good Sahaba like Caliph Yazeed bin Muawiya who taught us true values of Islam? Only procession for Good Sahaba should be allowed. The Mushrik procession on 12 Rabi ul Awal is next on the target of LeJ. In the future, only processons by JI, JUI, ASWJ, PTI and PML N will be encouraged. Kapish. The processions in favour of rebels of Karbala against Caliph Yazeed is deeply unsettling to the senses. It causes too many questions to be asked and asking questions about history is against the values of Ghairat!
C5-C1 : You see, I am simply against all those who like to point out things like "double standards" blah blah blah and "hypocrisy" blah blah blah. Being Ghairatmand in the sense of Hazrat Imran Khan, Orya Maqbool Jan, Maulana Ludhianvi means you are never wrong – no matter what you want to say. I am also telling you the true reason why people do not like Rafidi processions. You see, it asks too many questions about history – which is Haraam! Good Liberals who support Ghairatmands on the core issues also help us win the arguements by saying that only Shia and Mushrik Barelvi processions cause civil problems. They will never argue the same for Jamaat Islami, JUI, ASWJ processions or PTI rallies. Or MQM rallies. You and others will call this hypocrisy. We call it Ghairat.
Also, this Rafidi interest in history is most disturbing. Why must we remember who my ancestor, a great Sahaba and Real Founder of Pakistan, Hazrat Hajjaj bin Yousuf, By Mistake, fired a catapult on Hajreh Aswad. He was trigger happy and was just trying to make Ummayad Caliphate happy. Also, when Madina and Mecca were attacked after Karbala, it was just a misunderstanding. Just like Siffin, Just like Jamal. All misunderstandings. That is why History is Haraam. This is the actual reason why Rafidi processions can be so unsettling. The Rafidi who is protesting about history is raising troubling questions. Ghairatmands prefer to forget about this and concentrate on worshipping Caliph Yazeed bin Muawiya and my ancestor, the Real Founder of Pakistan. Some may call this an Ostrich mentality – we call it Ghairat.