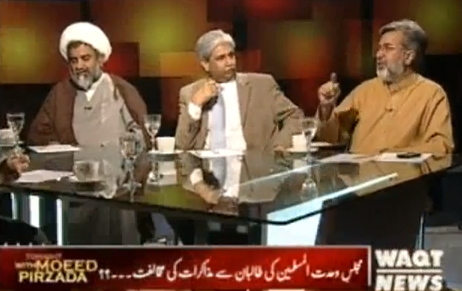 I watched Moeed Pirzada's talk show recorded on 29th October 2013. The debate was about talks with Taliban and the participants included MWM's (Majlis-e-Wadat-e-Muslimeen, i.e., Muslim Unity Forum) leader Raja Nasir Abbas, defense analyst Air Vice Marshal (retired) Shehzad Chaudry and the notorious pro-Taliban news editor Ansar Abbasi (Jang Group).

TonightWithMoeedPirzad29Oct2013 by awaztoday101
Debate started with Moeed Pirzada asking why MWM is opposing talks with Taliban despite the national consensus (referring to almost all religious and liberal parties agreeing upon talks with Taliban in Nawaz Sharif led All Parties Conference). Raja Nasir staid that a State action should be designed in view of three factors, i.e., Morality, Constitution and Islamic Jurisprudence. Raja Nasir said that it's against all these three factors to negotiate with terrorists who are bombing schools, mosques, markets and churches. He highlighted that it will open a door for any private militia to become a stakeholder in a country's foreign and domestic policies. Raja Nasir also claimed to have support of Sunni Ittehad Council which has already declared Talibans the Khwarij of this era. https://lubpak.com/archives/272341 Khawarij or Kharijiites were a7th century  band of utlra-religious Takfiri Salafi fanatics who declared all other Muslims infidels to enforce their narrow puritancial Islamist agenda. http://en.wikipedia.org/wiki/Khawarij
Moeed turned to Ansar Abbasi calling him an Islamic history expert, and as usual Ansar started with his arguments saying that "I agree it is un-Islamic to negotiate with terrorists but it was also un-Islamic to give bases to USA attacking Afghanistan". He claimed that state policies of pro Americanism turned these people (Deobandi and Salafi-Wahhabi Jihadist) into Talibans. Raja Nasir replied then Takfiri Deobandi and Salafi-Wahhabi militants should attack America, why are they attacking Pakistani churches and mosques? Ansar agreed that it was wrong of Taliban to attack Pakistanis.
Then, as is the usual characteristic of anti-Shia bigots who are only good at distraction and cross-blaming, Ansar went on saying that Iran having good relationship with USA after Ahmedinejad. (Are Shia Muslims anywhere on earth answerable to Iran's action?) Ansar Abbasi also subtly said what would Raja Nasir do if the US starts attacking Iran, using Pakistan as its base.(As a Pakistani Shia Muslim, I can ensure Mr Abbasi that we don't have terrorists camps in Pakistan, nor will we go around blowing up mosques, markets, schools, churches or kill polio workers to enforce our political or religious agenda on govt and people of Pakistan.)
The surprising factor was Air Vice Marshal Shehzad Chaudry's support to Ansaar Abbasi's weak arguments of negotiating with Taliban despite the fact that Taliban terrorists have killed thousand of soldiers and officers of Pakistan army, navy and air force. This reflects the fact that Saudi-funde pro-Taliban ideology has made strong inroads into at least some sections of Pakistan armed forces. AVM Shahzad Chaudhry appears to be infected by General Hamid Gul's pro-Taliban, pro-ASWJ-LeJ ideology, which is injurious not only to Pakistan but also to Pakistan army.
There was a point in the show where Ansaar Abbasi being a so-called Islamic expert asked Raja Nasir sarcastically of when Imam Ali took any action against any Khawarij ? To which Raja Nasir replied "in the war of Nehrwan".
Now this was more funny than surprising, Ansar Abbasi doesn't know about the event of Nehrwan where armed Khawarij in a large group attacked the Islamic State and being Caliph, Imam Ali crushed this Khawarij fitna after a full scale war with many casualties. However, this also points out the fact that the war of Nehrwan needs to be highlighted even more today so we that could educate moderate Muslims on how to deal Islamically with big bearded, Quran-reciting terrorists, who pray all night but feel no remorse in killing innoent non-combatants.
The argument continued and both pro-Taliban participants (Ansar Abbasi and Shahzad Chaudhry) tried to justify talks with terrorists despite accepting it being unislamic and immoral.
Something funny was the fact that Ansar Abbasi ask Raja Nasir to leave Islamic arguments aside and be more pragmatic in dealing with this issue. Raja Nasir corrected Ansar again and again when he claimed that Taliban are a reaction to Pakistan's pro-US policy to which Raja Nasir pointed out that they (Deobandi and Salafi Jihadist) have been Pakistan army's strategic depth created for Afghan war and now they have turned against Pakistan. The MWM leader also highlighted that being biggest victim group suffering Shia genocide and a proud son of soil, he asks armed forces for a cleanup operation countrywide to get rid of the Taliban menace without considering them something useful in Afghanistan's future.
Meanwhile, both Shehzad Choudry and Ansaar Abbasi kept on supporting negotiations with Talibans "hoping" that it may bring peace in Pakistan. Raja Nasir said that he can't support negotiations with known terrorists, only because of Ansar and Shehzad's "hope" of it bringing peace.
Although, the program ended but it is a never ending debate and we have to select sides. Clearly, Nawaz Sharif-led APC parties and the military establishment are pro-talks with Taliban terrorists vs a comparatively new party (MWM) which is brave enough to voice their opinions against Takfiri Khawarij terrorists. The decision is yours.
Disclaimer: This post is purely my own view and has nothing to do with LUBP, so don't go about registering FIRs against LUBP or any other social media blog. Seriously, let police do something meaningful against Taliban terrorists and those who promote, humanize and normalize pro-Taliban-ASWJ clerics.