LUBP congratulates Malala Yousafzai
Dear Malala,
You may not have won the 2013 Nobel Peace Prize but you have won the hearts of millions of those who cherish equal rights and education and peaceful resistance.
For refusing to bow down to the medievalist agenda of the Taliban and for exposing them as gutless cowards, Malala has become a global icon.  Her most recent eloquent response on the Daily Show stunned the famous host Jon Stewart and millions of people around the globe.
In the key moment of the interview, Stewart asked her how she would react when she learned that the Taliban wanted her dead. Her answer was absolutely remarkable:

I started thinking about that, and I used to think that the Talib would come, and he would just kill me. But then I said, 'If he comes, what would you do Malala?' then I would reply to myself, 'Malala, just take a shoe and hit him.' But then I said, 'If you hit a Talib with your shoe, then there would be no difference between you and the Talib. You must not treat others with cruelty and that much harshly, you must fight others but through peace and through dialogue and through education.' Then I said I will tell him how important education is and that 'I even want education for your children as well.' And I will tell him, 'That's what I want to tell you, now do what you want.'
For its maturity and focus on empowering women through education, that show segment is worth watching and highly recommended to our readers. The comment showed the world that Pakistan also has a Shaheed Mohtarma (who was emulated by Malala) and Bacha Khan.  The values of peaceful non-violent resistance and the stress on women's education were the hallmarks of Shaheed Benazir Bhutto and Bacha Khan aka Khan Abdul Ghaffer Khan, the Frontier Gandhi.
Malala, there will always be the doubters and those who are filled with envy with your achievements.  There will always be members of the educated urban bourgeoisie of Pakistan, a significant part of whom promote the most silliest and vile conspiracy theories against you.  Then there will be closet Taliban apologists who misuse  Left literature of resistance to subtly take digs at you.  Terms like "White Man's Burden" and "anti-imperialism" will be thrown around to misguide the ignorant.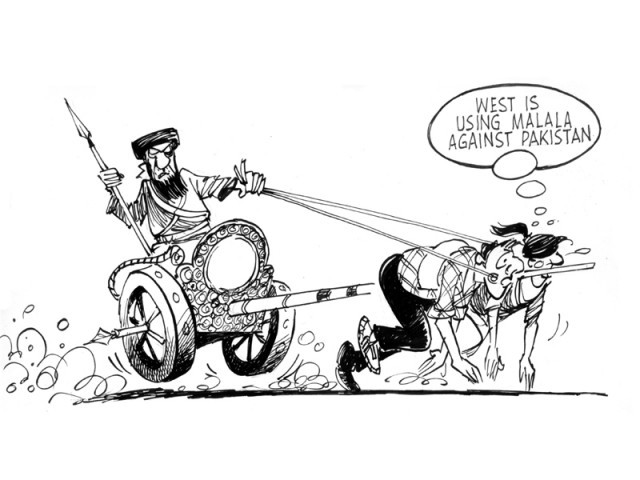 In reality, articles by Sofia Ahmed and Assad Baig in the Huffington Post (UK Edition) are pathetic and weak attempts by Taliban apologists and fans of convicted Wahhabi Al Qaeda terrorists like Aafia Siddiqui.
Their attempts to reduce your achievements are only going to backfire. Obfuscating the Taliban as a reaction to "occupation" by a UN mandated mission in Afghanistan will only fool those Pakistanis who cannot bear to come to terms with history and see the role of their own Army and media in promoting the Taliban.
There is hypocrisy in the West just as there is hypocrisy in the East – especially those who are dishonest in pretending that the Taliban did not exist before 9/11 in Pakistan.  Hypocrisy is not limited by geography.
If Malala is being used to promote universal equal access to education for that half of the human population that is female and to expose the brutality of the Taliban, Amen to that.  The world will be better off if with this kind of "White Man's burden".
Similarly, if a convicted extremist like Aafia Siddiqui is dishonestly being propagated to justify Pakistan's military establishment's policy of supporting the Taliban for Strategic Depth, then apologists should be called out on this.
Comments
comments