Dehati Aurat Gate: Hamid Mir lies, Najam Sethi distributes, Nadeem Paracha covers up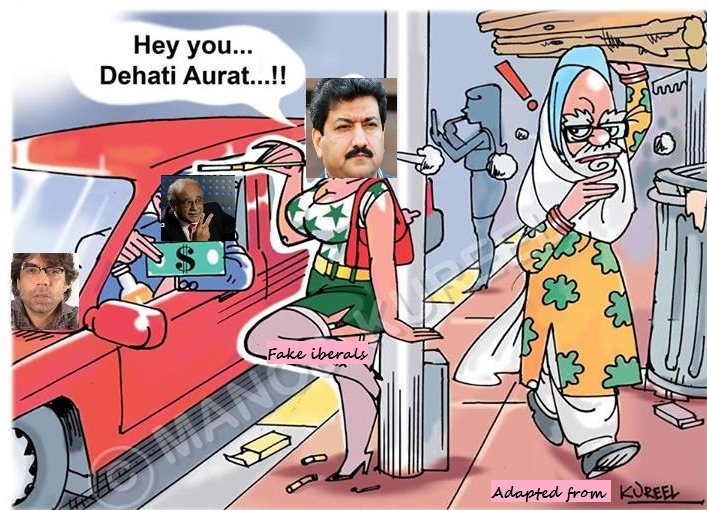 Related post: The dehati aurat remark: Who tasked Hamid Mir to sabotage Manmohan-Nawaz meeting? https://lubpak.com/archives/284931
It was disappointing to see Nadeem Paracha engage in all kinds of deflection tactics to take the heat of his friends at the Jang Group/Geo TV after another volley of their lies had been exposed.
Just two days ago, Pakistan's pro-Taliban media, led by the likes of the notorious pro-Taliban journalist Hamid Mir carefully leaked a false rumour of Pakistan's PM Nawaz Sharif mocking India's PM Manmohan Singh before a crucial meeting between the two at the UN headquarters. Hamid Mir's lies were fully promoted by his co-worker at GEO, Najam Sethi, who did an entire show on the premise of Hamid Mir's lies. (Both Hamid Mir and Najam Sethi (not unlike Ejaz Haider) have been working hard to project themselves as anti-ISI to repair their lost credibility in Pakistan and abroad.)
[youtube id="a47HFJ0imYk" width="600″ height="340″ position="left"]
Like some other stories broken by Hamid Mir and his Jang Group (literal meaning War Group), this turned out to be completely bogus and exposed the petty and misogynist mentality of those who promoted it. In particular, the story was trashed by Indian journalist Barkha Dutt and Absar Alam who categorically stated that Hamid Mir had misattributed the Dehati Aurat remark to PM Nawaz Sharif. Apparently, Hamid Mir and Najam Sethi were tasked by thir handlers in Pakistan army to craft and distribute a false rumour in order to derail the peace dialogue between the elected Prime Ministers of India and Pakistan. The same was also noted by Indian FM Salman Khurshid who said that ISI wanted to hurt the meeting between Nawaz Sharif and Manmohan Singh.
Instead of apologizing and retracting their story, Hamid Mir and Najam Sethi continued as if nothing had happened. So did many other prominent voices from Pakistan social media sector. Dawn's columnnist and satirist Nadeem Paracha, who happens to be a regular flatterer and promoter of Najam Sethi, briefly touched upon this issue but twisted the story to make sure that no blame would fall on either Najam Sethi or Hamid Mir. He did not mention either Hamid Mir who was caught lying or Najam Sethi who distributed and promoted this lie through (Aman ki Asha or Jang ki Bhasha fame) Jang Group. Nadeem Paracha did not mention PM Nawaz Sharif who was alleged to have made the misogynist comment nor did he mention Indian PM Manmohan Singh against whom the comment was directed. Instead, he talked about Manmohan Singh's challenger in India, the infamous Modi who was obviously trapped into the lie crafted and distributed by the Sethi-Mir duo on behest of their handlers. (Refer to BBC's Asif Jilanis' column on how Najam Sethi has previously served the ISI to dent Pakistan-India relations.)
If the same lies had been peddled by Hamid Mir's collegue, Ansar Abbasi, Orya Maqbool Jan or another right wing politician Imran Khan (the convenient, populist punching bags), Paracha would have published two posts by now. But these lies were peddled by his pro-establishment fake liberal friends like Sethi so NFP adopted cover up tactics.
And this is part of an established pattern where an otherwise important liberal voice like Nadeem Paracha compromises himself with his blind promotion of pro establishment gossip mongers like Najam Sethi.
[youtube id="aOvbDPyGJAU" width="600″ height="340″ position="left"]

Comments
comments