The dehati aurat remark: Who tasked Hamid Mir to sabotage Manmohan-Nawaz meeting?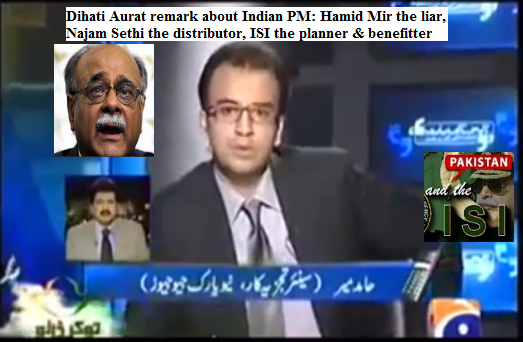 Related post: Dehati Aurat Gate: Hamid Mir lies, Najam Sethi distributes, Nadeem Paracha covers up
[youtube id="a47HFJ0imYk" width="600″ height="340″ position="left"]
Pakistan's pro-military establishment journalist Hamid Mir is heard in the above TV programme (Aapas ki Baat – Geo TV/Jang Group – hosted by another pro-establishment journalist Najam Sethi) as saying that Mr Nawaz Sharif called Barkha Dutt of NDTV and him for a breakfast meet and among other things, smilingly told Barkha Dutt that it seemed Mr Manmohan Singh had gone not as the Indian Prime Minister but as a "dehati aurat" to complain about him to President Obama
Literally, "dehati aurat" would mean a "village woman".  The remark itself reflects a misogynist mindset of the narrator and the distributors.
According to Mr Mir, Nawaz Sharif thinks that Manmohan Singh is in a particularly weakened position because of Rahul Gandhi's "complete nonsense" presser recently and a series of corrutption charges that his government is facting, and that Pakistan sees no reason to make any concessions to a lame duck prime minister and would rather wait till the results of the next elections are out. According to Mr Mir, there would be no declaration for any MFN status for India, and no joint statement or joint press conference after the meeting.
On Twitter, NDTV journalist Barkha Dutt clarified that "this is a distortion entirely" that Nawaz Sharif said "NOTHING of this kind" and that she is "taken aback by the distortion by their own reporters, i.e. Hamid Mir and Sethi"
As she pointed out in a series of tweets, placing the reported remarks in perspective:
Ms Dutt was alluding to Prime Minister Singh's recent meeting with President Obama and the remarks made thereafter.
Clearly, Hamidd Mir belongs to that section which does not want a meeting between Nawaz Sharif and Manmohan Singh, or at least for anything substantive to come out of it, by quoting and distorting off-the-record remarks that are bound to spoil the atmospherics.  http://blogs.outlookindia.com/default.aspx?ddm=10&pid=3040&eid=31
It may be noted that both Najam Sethi and Hamid Mir are known for their links with Pakistan's military establishment. Hamid Mir is widely known for his pro-Taliban and pro-AlQaeda views while Najam Sethi is known for the questionable role he played with the ISI in undermining the democratic government of late Benazir Bhutto in 1990s. BBC Urdu's veteran columnist Asif Jilani has recently revealed that Najam Sethi continues to serve the ISI/Pakistan army to derail political dialogue between India and Pakistan. https://lubpak.com/archives/256617
Barkha Dutt puts the record straight exposing Hamid Mir's distortion of facts


I went to meet PM Sharif to pursue an interview, one that he gave to our network, and one in which he in fact called Prime Minister Manmohan Singh "a good man" whom he would like to welcome in Pakistan "for a long overdue visit". (Watch: Manmohan Singh is a good man, Nawaz Sharif tells NDTV)

Before the interview started, Pakistan's PM was meeting with a small group of people, his officials and some Pakistani journalists for breakfast. PM Sharif invited me to have a cup of tea with them, since I was there for the interview.

During this informal conversation, PM Sharif expressed unhappiness over the fact that Pakistan had been so central to the meeting between PM Singh and US President Barack Obama. He argued that India should have brought its grievances to Pakistan directly. He also said it reminded him of an allegorical story of a dispute between two people in a village, in which one was a woman. The moral of his story was that disputes should be settled between parties directly and not involve a third party.

 The phrase "dehati aurat" was not used for Prime Minister Singh in my presence. There was also, in my presence, no other pejorative word or derogatory phrase used for PM Singh.  His story was an illustrative example of dispute resolutions between India, Pakistan and the United States.

I was taken aback when informed that Hamid Mir of Geo had said otherwise in a phone report. Normally, informal, off record conversations are not for reporting. But when I saw how this conversation, at least the part that I witnessed, was distorted, I felt I must share some of these details to set the record straight. It is significant that since then Hamid Mir, who was the sole basis of this entire controversy, has also retracted his original narrative on Twitter saying that "nothing derogatory was said by Sharif about the PM".

Since this controversy erupted, a senior Pakistan editor, Absar Alam of Aaj TV, who was also present at the breakfast chat, has officially confirmed my assertion that the phrase 'dehati aurat' was never used for Dr Manohan Singh in our presence. He says, his colleague Hamid Mir was the one who came up with the phrase, not Nawaz Sharif. http://www.ndtv.com/article/india/the-phrase-dehati-aurat-was-never-used-for-pm-manmohan-singh-in-my-presence-barkha-dutt-s-account-425317?curl=1380486215

[youtube id="aOvbDPyGJAU" width="600″ height="340″ position="left"]
The above account is also corroborated by the India's Foreign Minister Salman Khurshid's interview with Voice of America in which he said that Pakistan's intelligence agency (ISI) and its military are trying to undermine Prime Minister Nawaz Sharif's efforts to talk to India. http://www.voanews.com/content/india-pakistan-talks/1759253.html

Comments
comments