The Quetta Police Lines Carnage: Thou Shalt Not Speak the Truth! – by Mahpara Qalandar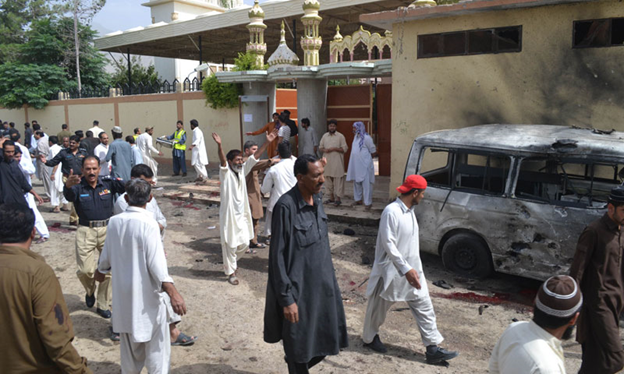 On 8 August, a suicide bomber blew himself up in one of safest places in Quetta: The Police Lines. In the Police Lines mosque, a number of policemen of various ranks had gathered to offer funeral prayers for an inspector who had only hours before been killed by the Taliban. The suicide bomber took 30 men's lives. Those killed included one DIG, two SPs, and a DSP. The rest of them were lower-rank policemen.
Only a couple of hours after the suicide bombing, Shahidullah Shahid, a Taliban spokesman called up a few TV channels saying, "We did it and soon you see another big attack in the next coming days."
But Sarwar Sukhera, the IGP Balochistan followed the line perfected by the likes of Shahbaz Sharif. Reacting to the killing of the policemen, Sukhera who is supposed to lead, comfort, and defend, announced at a press conference,
1. "The killer was a suicide bomber."
2. "Our brave officers embraced martyrdom but we will continue sacrificing our lives for the security of our motherland."
3. "The people involved in this act of terrorism could not be called Muslim or even human beings."
(http://dawn.com/news/1034975/suicide-attack-on-quetta-funeral-kills-30-police-chief)
With these three salient points, Sarwar Sukhera rested the matter once for all. As I have indicated above, this is how the rightwing politicians of Pakistan led by Shahbaz Sharif react to the never-ending campaign of terror by the Taliban. Even when the Taliban have proudly owned up to their murderous crimes, Pakistan's rightwing politicians and journalists go to the most bizarre, indeed absurd, lengths in claiming that the Taliban have nothing to do with those crimes. Sukhera claims that the people involved in the Police Lines crimes were neither humans nor Muslims. What were they, then? Leprechauns? Djinns? Or the zombies raised by the Hindu-Jewish lobby?
By not naming the Taliban as the "people involved in this act of terrorism," Sukhera has trivialized the tragic deaths of 30 policemen who were his own subordinates. This is the sad story of Pakistan. This is what Im the Dim claims. This is what our generals claim by distinguishing good from bad Taliban. Unless this mindset is changed and the Taliban are names and punished for their Islamofascism, there is no hope for the people of Pakistan.
Comments
comments