UK House of Lords meeting hears Shia killings in Pakistan have spiked recently but the govt unwilling to act against terror groups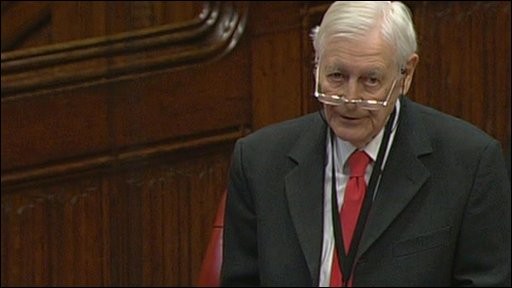 Source: The News, Reporter: Murtaza Ali Shah
LONDON (11 July 2013): Vice Chair of the all-Parliamentary group Lord Avebury has called on the UK to help Pakistan in reforming its security and intelligence agencies to make them fit for purpose in order for them to act against banned terrorists groups, which kill Pakistanis on the basis of their faith and origin.
Lord Avebury summoned an emergency meeting in British Parliament in view of the ongoing relentless killings of the Shia Muslims. Parliamentarians and human rights organisations took part in the conference, organised by International Association of Human Rights.
Lord Avebury said that he had convened the meeting to discuss the appalling phenomenon of targeted assassinations of Shia Muslims in Pakistan in recent years and also to discuss what can be done to help the Pakistani government to put a stop to it. He said he was alarmed that Shia killings have spiked in the last six months and although the wider international community was aware about the problem there was no progress in Pakistan to counter the violence aimed at Shias.
Lord Avebury told The News that Britain should earmark some of the £446 million aid to Pakistan in 2014-15 to help dealing with victims and their families. "We should ensure that the Home Office's Country of Origin Information Service report covers the wave of atrocities against Shi'as; at the moment it stops at December 2012, missing the crescendo of massacres in 2013".
Rubab Mehdi Rizvi, president of International Association of Human Rights said that 85,000 Shias have been deported from various countries recently and there are around 56,000 IDPs living like refugees in their own country and then there is ongoing onslaught to cope with.
She stressed that the attacks on Shias are not isolated incidents anymore but a countrywide pogrom that has so far claimed the lives of thousands of people. She said: "In the years 2012/2013 alone 438 attacks have been carried out (by Takfiri Deobandi terrorist of Sipah Sahaba and Taliban) on the Shia community and in less than six months Shias and Hazaras have dug five mass graves. This is tantamount to genocide and should be classified as such by the United Nations. These are attacks not only on Shias but on the integrity of Pakistan."
She demanded that LeJ, TTP and other organisations, which claim responsibility for these atrocities, should be declared anti-state by a parliamentary resolution.
Tehmina Durrani, renowned activist and writer, spoke through video link to the conference from Lahore. She described the West's violation of the human rights charter against the children of war as being the root that had grown branches in all directions of terrorist activities. She requested that British parliamentarians use their influence and appeal to the world leadership to ensure that the negligence towards the children of war following the end of the Soviet occupation is not repeated.
Ustad Mohaqiq, Afghan parliamentarian and chairman of Islamic Unity Party, told the conference through phone that acts of violence against Shias are totally unacceptable and unjustified. He said that the Hazarajat Shia area of Afghanistan is receiving only a disproportionately small amount of the many billions of dollars being poured into the country.
John Denham MP, the former Home Office Minister said it is crucial to maximise support and pressure to Pakistan particularly from international community to act against the terrorist organisations that are responsible for this violence.
Lord Ahmed of Rotherham said that the people carrying out these atrocities are not only enemies of Shias but also enemies of Sunnis and enemies of Pakistan because they are killing innocent people. He said that the work of intelligence agencies has been overstretched with a lot of things that have been happening on all sides in every section of Pakistan.
Related:
https://lubpak.com/archives/246237
https://lubpak.com/archives/246461
Comments
comments