Cross-party group of MPs in the UK condemn bomb attack as over 30 are killed in Quetta, Pakistan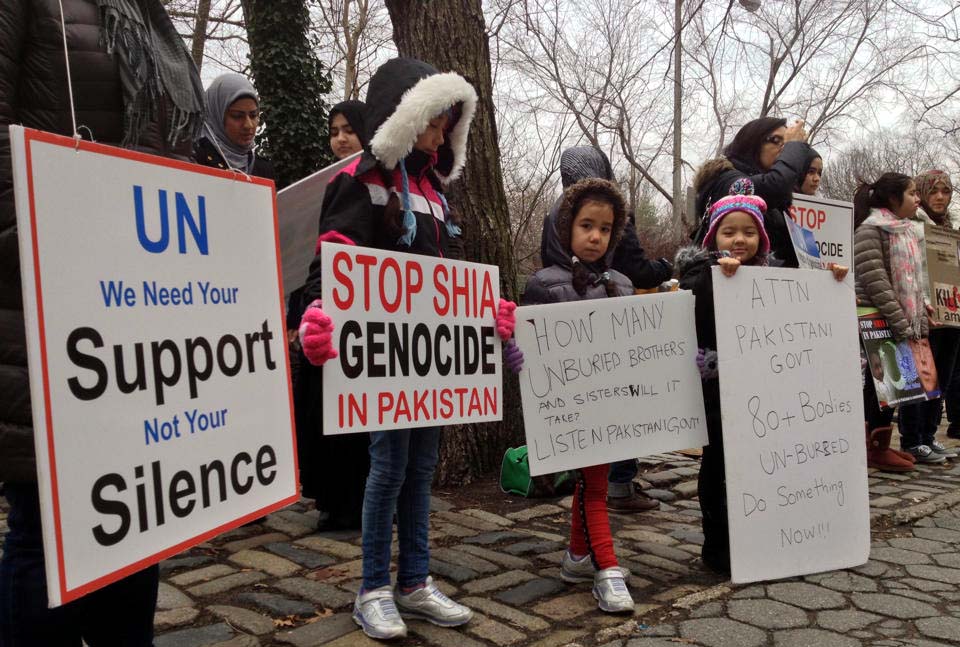 Editors Note: LUBP appreciates the call for action on the issue of Shia Genocide in Pakistan with special attention to the Shia Hazara community by cross-party British MPs' Iain Stewart and John Denham.
The Chair and Secretary of the Hazara All Party Parliamentary Group in the UK have written to the UK Foreign Secretary to press for action following the latest deadly bomb blast in Quetta.
According to media reports, at least 30 people were killed when a suicide bomber targeted a Shia mosque in Quetta's Hazara Townon Sunday.
This is the latest in a line of attacks on the Hazara people in Quetta, in the Balochistan region of Pakistan. Sunday's bombing, in which more than 70 Hazaras were injured, including 15 reported to be in a critical state, follows on from previous attacks in the last few months:
In 2013 alone nearly 300 Hazaras have been killed by an Al Qaeda affiliated group called Lashkar-e-Janghevi.
90 Hazaras were killed on 9 January 2013 in a series of targeted bomb attacks in a busy shopping area, a snooker hall and a car in Quetta.
On 16 February, 110 Hazaras were killed after a bomb hidden in a water tank exploded at a market in Hazara Town.
Hazara police officer Ewaz Ali was also killed in Chaman by his own bodyguard on May 21st,  one of a number of other attacks on Hazara individuals.
The Al-Qaeda affiliated terrorist group Lashkar-e-Janghevi (LEJ) have claimed responsibility for many of the attacks on Hazara people, leading to calls to stop the ongoing genocide of Hazaras in Pakistan in which nearly 1500 Hazaras have been massacred and over 3000 have been permanently disabled. The LEJ has vowed to make Pakistan the "graveyard of Hazaras."
John Denham, former Labour Cabinet Minister and Chair of the Hazara APPG, said:
"On behalf of the Hazara All Party Parliamentary Group in the UK, we condemn this barbaric bomb blast that has cost the lives of 30 Hazaras in Pakistan and injured dozens more. We have written to William Hague, the UK Foreign Secretary, to ask him to work with the Pakistan Government to put an end to this violence and restore human rights to the Hazara people in Pakistan.
"Only this weekend David Cameron met with the new Pakistan Prime Minister and we expect the UK government to be putting pressure on Pakistan to clamp down on terrorist groups like Lashkar-e-Jangvi and end the bloodshed."
Iain Stewart, Conservative MP for Milton Keynes South, said:
"This is an abhorrent act of terrorism on a peaceful community in Quetta. Our thoughts are with the families of the victims at what must be an impossibly difficult time for them. As members of the Hazara APPG we are calling on the Foreign Secretary do all he can support the Pakistani Government in putting an end to these violent attacks on the Hazara community."
ENDS
Notes to editors:
Cameron Tait
Office of John Denham MP
t: 0207 219 0067 | e: cameron.tait@parliament.uk
Comments
comments
Tags: Democracy, Jihadi and Jihadi Camps, Military Establishment, Pakistan Army, Religious extremism & fundamentalism & radicalism, Sectarianism, Shia Genocide & Persecution, Sipah-e-Sahaba Pakistan (SSP) & Lashkar-e-Jhangvi (LeJ) & Ahle Sunnat Wal Jamaat (ASWJ), Supreme Court of Pakistan, Takfiri Deobandis & Wahhabi Salafis & Khawarij, Taliban & TTP, UK