British Secular Muslims welcome BNP leader Nick Griffin's remarks about Saudi-UK sponsored Salafi Wahhabi terrorists in Syria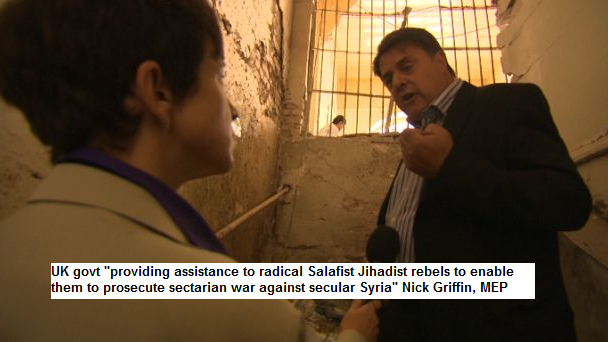 A 17 member EU delegation invited by President Assad visited the Syrian capital Damascus to discuss the impact of the Saudi-sponsored Jihadist war for ordinary people.
According to Nick Griffin of British National Party, Member of European Parliament, UK government led by PM Cameron is providing assistance to rebels to enable them to prosecute sectarian war against secular Syria.
Nick Griffin, the leader of the British National party, tweeted from Syria: 'Why turn stable secular state into Iraq-style hell of sectarian hate?'
Nick Griffin was part an official visit to Damascus as part of a delegation of nationalist European politicians.
Griffin, an MEP for north-west England, used his Twitter account to publicise selected details of his fact-finding trip, calling the Syrian capital a "modern, bustling city". Aside from "occasional explosions" in the distance, life in Damascus was normal, he tweeted.
Syrian state media reported that suicide bombings in Marja Square in the centre of the city had killed 14 people and injured 31. Griffin later visited the site and commented: "Vile … smells like an abbatoir. Hague wants your taxes to arm these terrorists!"
The BNP spokesman Simon Darby said Griffin was not being paid by the Syrian regime and did not want his presence in the country to be seen as an endorsement of President Bashar al-Assad. But anyone entering Syria – as Griffin did by road from Lebanon – needs a visa, which would require the approval of the information and foreign ministries.
Other members of his delegation are MEPs and MPs from Belgium, Russia and Poland. The BNP is part of the Alliance of European National Movements in the European parliament. Other members include Jobbik, the Movement for a Better Hungary, France's National Front, Italy's Tricolour Flame, Sweden's National Democrats and Belgium's National Front.
Damascus has the full support of Russia and Iran but in recent months the government has stepped up efforts to win sympathy in western countries to capitalise on waning support for the rebels, fading calls for outside intervention and the rise of extremist jihadi (Wahhabi-Deobandi) elements such as the Nusra front in the armed opposition.
"What he [Griffin] wants is to let people have a proper view of what is going on in Syria, because at the moment all we have is William Hague and his infantile war-mongering," Darby said. "He wants to ascertain just how many British citizens are fighting out there for the so-called Free Syrian Army and other elements opposed to Assad.
"He is representing the point of view of ordinary British people who don't want any engagement in the Middle East and its troubles, any more than they wanted to fight in Afghanistan and Iraq.
"He is MEP for the north-west and he is sick and tired of seeing lads from Manchester and Liverpool coming back in body bags or with arms and legs missing because the government got them involved in business that isn't any concern of ours."
On Monday Griffin updated his followers on a day in Lebanon, describing Beirut as "less alien than the streets of London". He appreciated Hezbollah, the Iranian-backed Shia group, who helped the Assad regime recapture the Al Qaeda-held city of Qusair last week.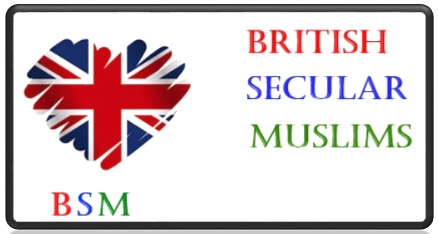 British Secular Muslims (BSM), an independent group of secular Muslim citizens and residents of the United Kingdom, have welcomed Nick Griffin's accurate and bold assessment of the situation in Syria.
BSM calls upon the government of PM Cameron to take tough stance against radical Deobandi and Wahhabi-Salafist militants in the UK, to cut all sort of Saudi-funding to mosques, seminaries and so called charities in the UK and also stop supporting Saudi-sponsored Al Qaeda affiliated Jihadist terrorists in Syria commonly known as FSA aka Al Nusra ak Al Qaeda.
BSM reiterates that radical Wahhabi-Deobandi terrorists do not represent the majority of peaceful Sunni and Shia Muslims. BMS demands that British, Pakistani and all international organizations and governments take tough and swift action against pro-Taliban pro-Al Qaeda Wahhabi-Deobandi clerics and militants including Anjem Choudary of UK, Zakir Naik of India, Ahmed Ludhianvi and Sami-ul-Haq of Pakistan, Farhat Hashmi of Canada, and others who glorify and humanize terrorists.
http://www.guardian.co.uk/politics/2013/jun/11/bnp-nick-griffin-syria-assad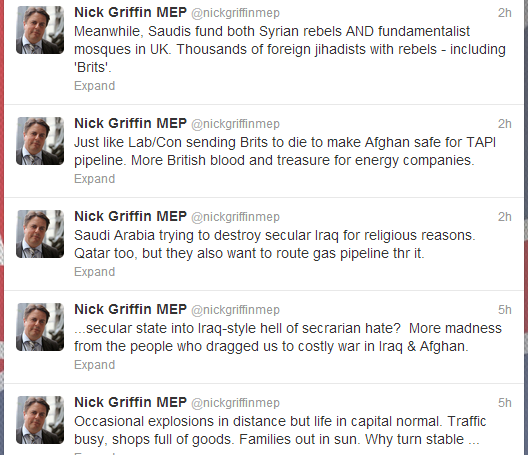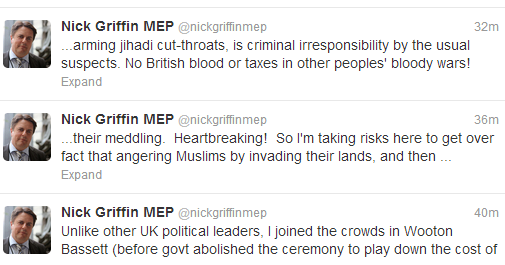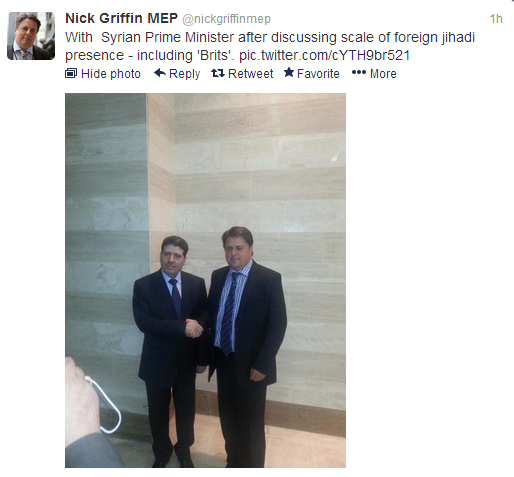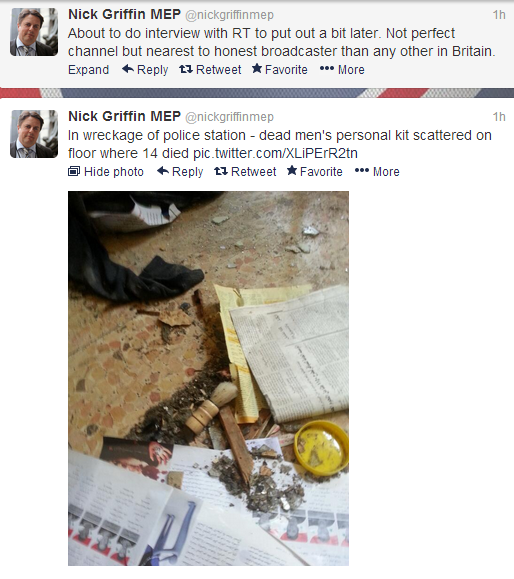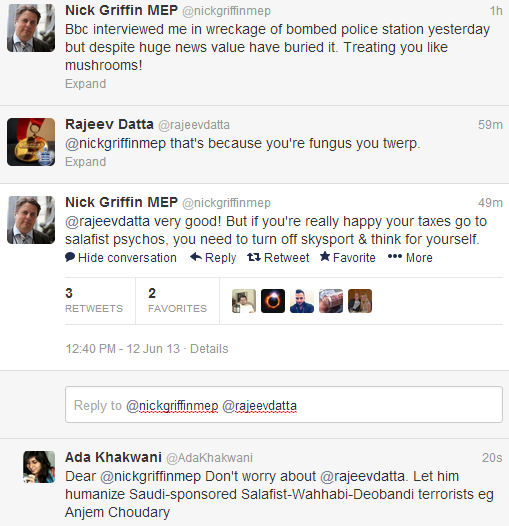 Comments
comments