Deciphering Turkey's Upheaval – by A Z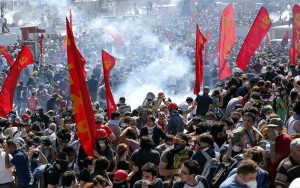 I and my family were in Turkey less than a month ago and stayed very close to Taksim Square for over a week. We had a great time with no inkling whatsoever of what was to follow just three weeks later. So what's actually happening in Turkey? Ok, Taksim Gezi Park is a national landmark, once a military barrack that has survived as a space for the people, and now Erdogan wants to build a shopping centre here. Protesting against building a shopping mall at a park sounds honourable. However, it would be naïve to believe that this is the only cause behind a massive uprising across the country. I think the main reason is the high-handed politics of Erdogan. Erdogan has been pushing for a more theocratic state since he was elected to power in 2003. For a decade Erdogan's government has put in place laws that are moving Turkey away from secularism, and into an autocracy. Hence this is not just a protest for preserving a park, but rather a revolt against what is a worrying encroachment on democracy. At the same time these protests are also not about what some see as creeping Islamisation. Even to hint at such a gloss could sow discord. And, must I point out, these protests have nothing do with the civil war in Syria.    
In my view, the demonstrations that began on Istanbul's Taksim Square should be viewed as just the paroxysm of civil discord that flares up in most countries from time to time, and should not be blown out of proportion. Fantasies apart, the fact that the protests spread so fast has more to do with the power of ubiquitous social media than any revolution in the making. Its greatest achievement may turn out to be to saving some of Istanbul's surviving trees from being cut anytime soon. Now wait, I am not echoing the supporters of the status quo in Turkey. But I do mean to explain that no single cause explains the past week's unrest indicates a more a more disturbing possibility: that Turkey is starting to feel the cumulative effect of all of them. And none of these is going away – not the threatening undulations of the unsettled Arab Spring, not the infiltrations of Islam into Turkey's political sphere, and not the fallout from the war in Syria. The tensions in the region are poised to get worse before they get better, if at all. It was at all times impractical to consider that Turkey could remain detached from the forces battering its neighbours al round it. Turkey's young and fast-growing population, the inadequacies of its education system, and the backwardness of its rural areas have sown seeds of volatility similar to those now evolving elsewhere.
Let's not forget that Erdogan has not singlehandedly presided over a rise in the influence in Islam. Instead the passage of various abetting laws depends on the complexion of parliament elected by popular suffrage. If Turkey is noiselessly discarding the secular origins of its modern state, this is not because of political dictate, but because that reflects the popular mood. Pundits likening Turkey's uprising to the Arab Spring and Tehrir Square seem to be totally mistaken. To put it very bluntly, Erdogan is no Mubarak and Turkey is not the corrupt and long-abused country ruled with an iron hand that was Egypt until three years ago. If anything, Erdogan has restored democracy and people power to its full vigour and glory by reining in the power-hungry generals, judges and bureaucrats. He hasn't merely defanged the army and reinforced democracy but by bringing in constitutional, political and judicial reforms, Turkey's tallest leader since Ataturk has given a new sense of direction and charted a new path altogether for the nation. Erdogan has been able to back his remarkable electoral success, winning three watershed elections each time with greater mandate, with outstanding economic growth and development. From being heavily indebted to the IMF ten years ago, Turkey has emerged as one of the fastest growing economies today. It's one of the few that have survived the global meltdown and chaos next door in Europe. And, most remarkably, Erdogan is also the only one to have seriously dented the myth that Islam and democracy cannot coexist.
At the same time the protests demonstrate that Turkey's secularism will not be lost without a fight. The Kemalist establishment is far from down and out and it sees the Islamists as usurpers of Mustafa Kemal's legacy. However, it is naïve to be certain that the current generation of young Turks will be able to overturn the forces now let loose across the region, and wafting the political sands who knows where. Erdogan needs to summon all his guile and guts in dealing with the most important test of his political career. It would be an utter disgrace if his formidable legacy is wasted by Erdogan's own intolerance. By using power to deal with protests, he would be playing right into the hands of his opponents, who are trying to turn what is essentially a local civic issue into a national movement against the government. While he remains immensely popular, if anyone could bring down Erdogan, it would be Erdogan himself – and that too to the delight and surprise of his enemies, somewhat like Bhutto in the Pakistan of 1977. Like Bhutto, what Erdogan needs to learn is that opposition and forbearance are essential components of an inclusive democracy. Erdogan's flippant initial reaction to the protests has also not been much different from that of Bhutto who also commanded majority but who –quite paradoxically- was despised by the Islamists in the same proportion as the seculars hate Erdogan. It is the same old lesson that a strong-minded leader can start out with good intentions but can be damaged by his own victories. Without the institutional curbs of a vigorous democracy and free criticism allowed to the media and the political opposition, such a leader eventually becomes a blinkered one, unconcerned with anyone's opinions, and certain that he is always right. The avenging furies to Erdogan's agenda have set the stage and his instinct for heavy-handed rule can prove to be his undoing and the end of the dream that he represents. This is a crisis of the wider culture and Erdogan has to show the ability to come to terms with the logic of the modern world.
The Turkish people are simply demanding to have control over how they live their everyday lives. We should ask ourselves, for example, what would the English do if David Cameron decides to turn Hyde Park to a mall? Would their reaction be more about saving the park or about how abnormal it is for their prime minister to get embroiled in a matter such as this? How can someone people elected tell them that if he wants he can cut their internet connections? Also most Turks feel that Erdogan should have stayed out of Syria's war, refusing to allow transit for insurgents and weapons. The misgivings about his religious authoritarianism are further fuelled by his staunchly backing the bloodthirsty Islamists in a proxy war in Syria, where the initial peaceful dissidents have been peeled away.  I think Turkish people are rising in refusal to taking further abuse from Erdogan. He will have to change his ways. It has now become apparent that AKP's demilitarization of society was not for the sake of democracy, but in order to consolidate Erdogan's own power. The same people who applauded Erdogan for strengthening the country's democracy when he freed it from the military control now question his autocratic tendencies and are demanding yet more democracy. So these protests are primarily about democracy and freedom as most people participating in these want to get beyond both nationalistic, moribund Kemalism and Erdogan's dreary reactionary philosophy.
Comments
comments