Home
»
Original Articles
» Sana Saleem, a Pakistani rights activist, gangs up with pro-establishment "fake liberals" to silence critical bloggers
Sana Saleem, a Pakistani rights activist, gangs up with pro-establishment "fake liberals" to silence critical bloggers
posted by SK |

May 16, 2013

| In Original Articles
Sana Saleem, a Pakistani blogger known for activism on elitist, selective and profitable causes, was found ganging up with pro-establishment fake liberals and a pro-Taliban Deobandi cleric in order to rationalize and reinforce harassing and silencing of liberal Pakistani bloggers of LUBP blog (www.lubpak.com).
For a complete list of union of pro-establishment fake liberals, review this post: http://nishapurifc.wordpress.com/2013/02/04/critical-bloggers-reject-bullying-by-fake-liberals/
Instead of expressing support for anti-establishment bloggers who and whose families are facing on-going violence and threats at the hands of pro-Taliban terrorists and pro-establishment fake liberals, Sana Saleem decided to safeguard her commercial and class interests by ganging up with urban-elite fake liberals in order to gag critical bloggers' voice.
Bear in mind that Sana Saleem is the same person who, not unlike Ahmed Ludhianvi Deobandi and Malik Ishaq Deobandi, proposed a moratorium on Shia Muslims' Muharram processions in order to avoid "Sunni Shia clashes" and "further loss of human life". She wrote:
"It was just last week that I argued with a friend about possibility of canceling Muharram processions. I proposed that the scholars must pass a fatwa, keeping in mind the law and order situation, to avoid processions this year. http://blog.dawn.com/2009/12/29/terror-strikes-home-again/"
Her stance on this issue was strongly rebutted by LUBP blog in the following post:https://lubpak.com/archives/33848#comment-144926
Sana Saleem's services to pro-establishment fake liberals are carefully archived on LUBP.https://lubpak.com/archives/tag/sana-saleem
It is, therefore, no surprise that she tried to gag LUBP's voice by ganging up with fake liberals.
Clearly she remains conveniently silent when pro-establishment fake liberals in The Friday Times and Jinnah Institute humanize and glorify terrorists and promote preachers of hate as prophets of peace.

We have only one suggestion. Sana Saleem should change the name of her profitable NGO Bolo Bhi (Speak up!) to Chup Karao (Silence!).
ps: Here's an example of how Sana Saleem reacted to Sipah Sahaba ASWJ terrorists attacks on Shia and Sunni residents of Abbas Town by holding PPP and its leader Sharmila Farooqi responsible for Shia genocide.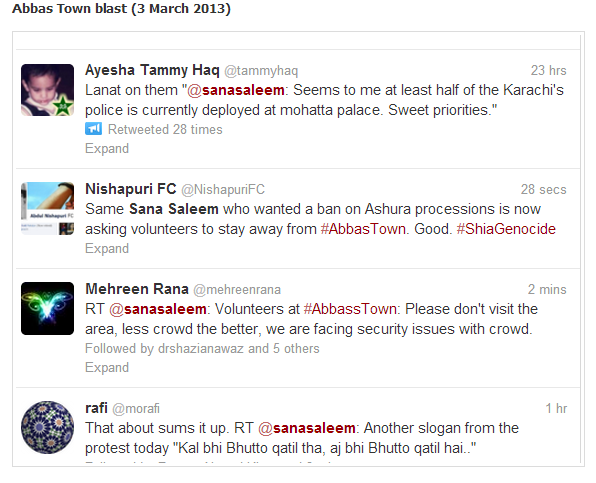 ———
Other tweets: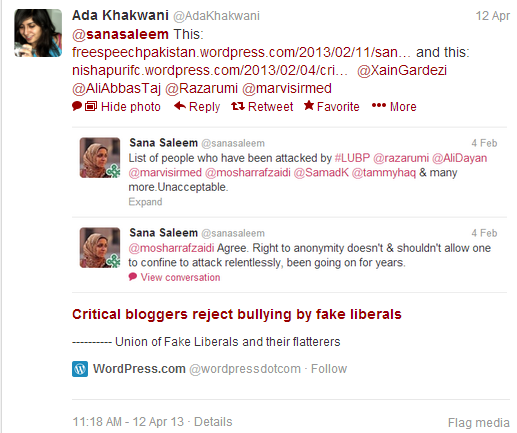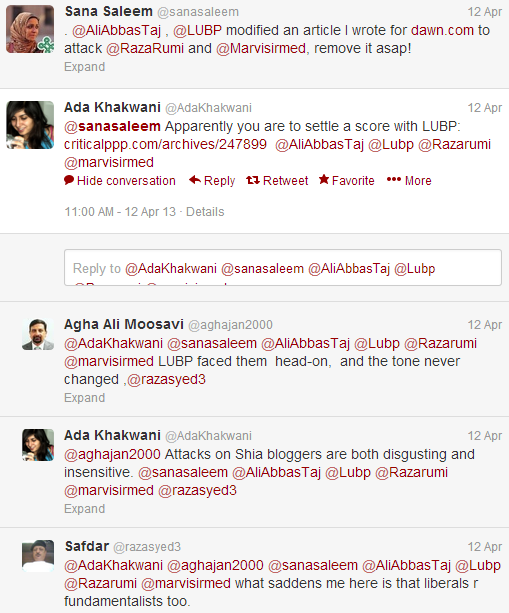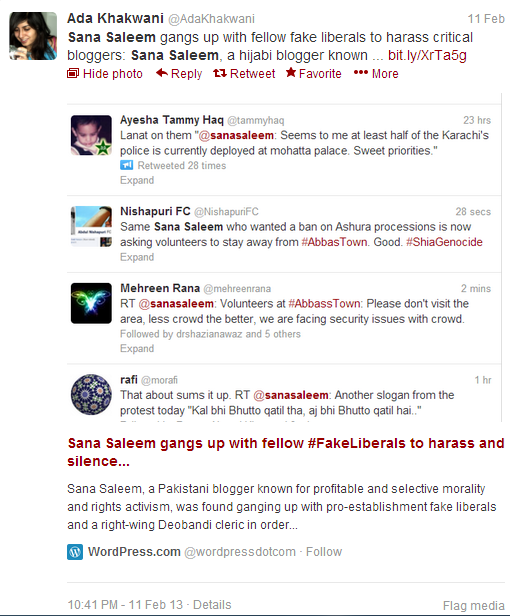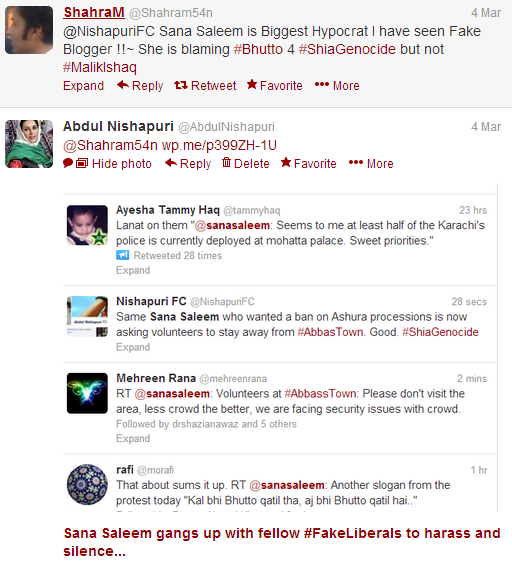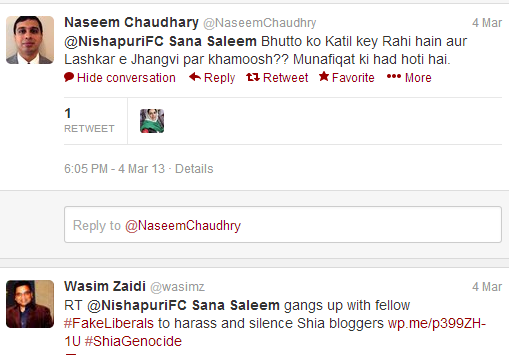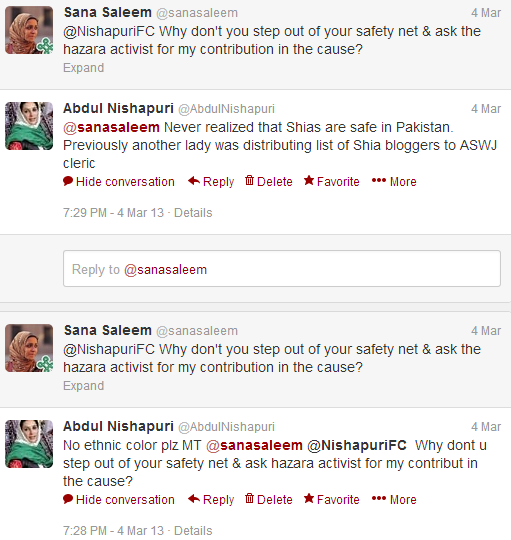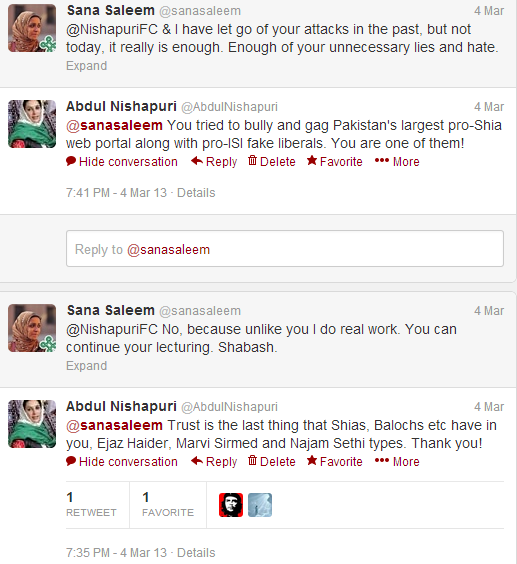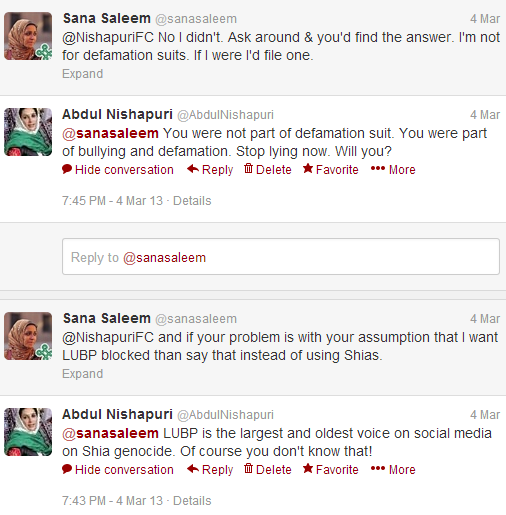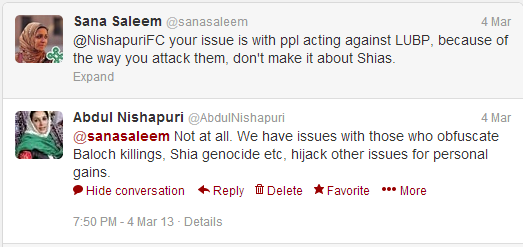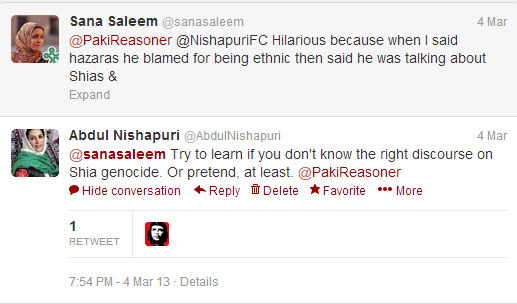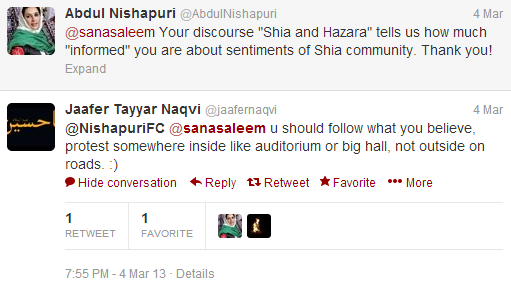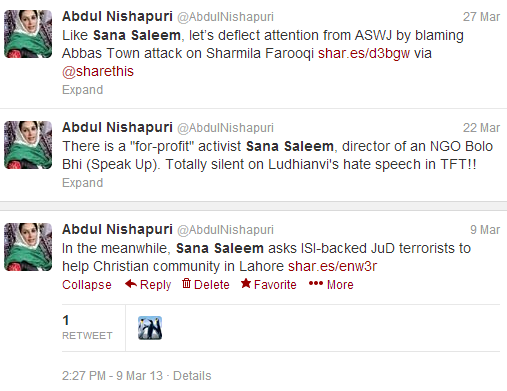 Comments
comments