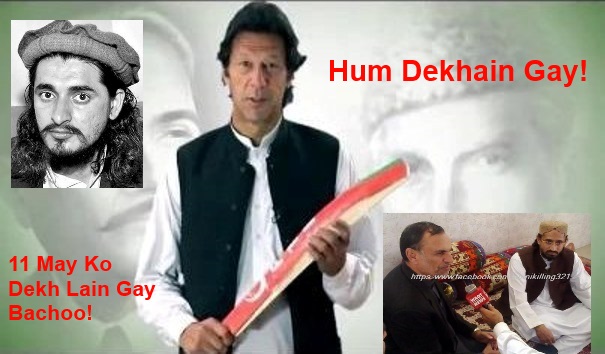 My Dear Mummy Daddy Khanistas,
May 11 is approaching faster than the latest intellectual nugget to emerge from Dr. Shahid Bin Al-Masood Al-Haq. Are you as energized as me after seeing PTI's advertisement "Hum Dekhain Gay"?
Here's a link to the video:
https://www.facebook.com/video/embed?video_id=10151571906486928
I have renamed it as "Dekh Loonga Bachu" (an idea that I have borrowed from the facebook wall of a liberal fascist hehehe).  The same can be said for the PTI advertisement which seems to be inspired by this brilliant scene from the 1979 Cult classic film, "The Warriors".
[youtube id="zL0ipXUD-uU" width="600″ height="340″ position="left"]
After seeing this brilliant ad by PTI, all I wanted to do was to steal my neighbour's well preserved Grey Nichols bat and start intimidating my gardner who supports the Krruupt party of Sindhi RAW agent Bhuttos – just like Imran Khan intends to do with those whom he called "phainta" in one of his rallies.  I wanted to twirl this bat and stand in solidarity with ASWJ-LeJ (Sipah Sahaba) as they, ahem, taught a lesson, cough, cough, to the Rafzis, Qadianis and Currantas of my Lahore.  I mean, can you imagine, the gall of these minorities asking for the right to practice their religion and lead their lives …. With Freedom!!! And Dignity!!  Don't they know that this is against the beliefs of the Islam of Amir ul Momineen Mullah Omar Deobandi – tacitly endorsed by Hazrat Imran Khan?
I want to be just like those boys in this PTI ad who are twirling bats and intimidating an unarmed patwari.
Sure, sure, some of you may be saying I am promoting violence by posting this clip from "The Warriors". Your arguments are just as baseless as those liberal fascists who are saying that "Hum Dekhain Gay" aka "Dekh Loonga Bachu" is promoting vigilante violence by romanticizing this kind of ridiculous moral policing.  Some might say that it is reminiscent of the innocent Burqa Warriors of Lal Masjid brandishing ballas in the streets of Islamabad. https://lubpak.com/archives/260189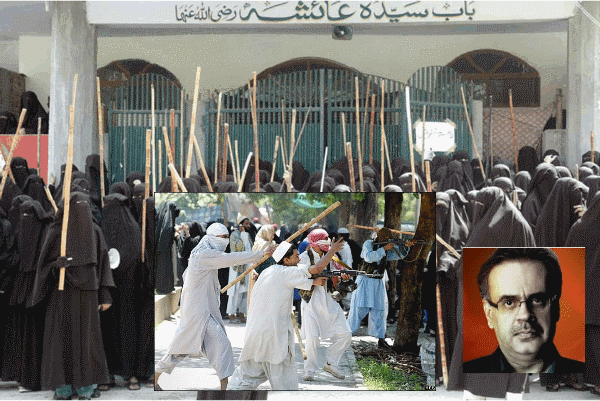 PTI's election campaign for 2013 was actually started in 2007 by Ghazi Abdul Rashid Deobandi Shaheed and Mother of the Nation, Umme Hassan ('Ballay Ballay, ni taur Takfeeran day' fame). Canadian cousin Farhat Hashmi was also a big inspiration for this campaign. In fact, they got so busy with this Ballay-Baaz campaign in 2007 that they forgot to participate in 2008 elections. Honest mistake and can happen to anyone. Now the Ballay-Baaz Khanistas have come full circle to bludgeon their way to victory in 2013 elections.
This is all liberal fascist propaganda because encouraging the formation of self-righteous gangs armed with heavy wooden objects against unarmed civilians is the Way of Ghairat.  As for me, I am so happy that Faiz and Jalib are finally being understood as the resistance poets advocating on behalf of ….. the Sipah Sahaba, Taliban and their supporters.
In solidarity with Faiz, Jalib, Ludhianvi and Imran Khan,
Riaz Bin Malik Al Hajjaji