Najam Sethi's tiff with the ISI is nothing but a fog of deceit
According to media reports and social media, caretaker Chief Minister Najam Sethi is currently busy in making photo copies of classified documents.
Given Sethi's close connections with intelligence agencies of Pakistan and a foreign country, it is being speculated the documents may relate to evidence of real or forged corruption of political parties in Pakistan, including central leaders of the PPP, PML-N, PTI and other political parties. The aim is to hurt and discredit political interests of Nawaz Sharif, Asif Zardari, Imran Khan and other political leaders to further enhance Sethi's leverage who will use these documents to blackmail future government. This is in line with Sethi's role as interim advisor/minister of accountability in the ISI-installed government when Benazir Bhutto's elected government was illegally dismissed in 1996 on flimsy charges of corruption. Sethi played a key role in that era in building an impression that both Benazir Bhutto and later Nawaz Sharif were icons of corruption and dishonesty.
Some documents that CM Sethi is currently copying may also related to national security details (eg, information of high profile Sunni Barelvi, Shia, Ahmadi, Christian individuals) which must not go in the hands of the Sipah Sahaba Taliban and other enemies of Pakistan. In the last few months, Najam Sethi has been promoting and humanizing the head of banned militant group Sipah Sahaba Pakistan (SSP) through his TV program (Geo TV's Aapas ki baat) and English magazine (The Friday Times). In fact, two pro-Sipah Sahaba columnists namely Ali Chishti and Mohammad Shahzad are currently very close to Raza Rumi (editor of TFT) and are also known to work for intelligence agencies.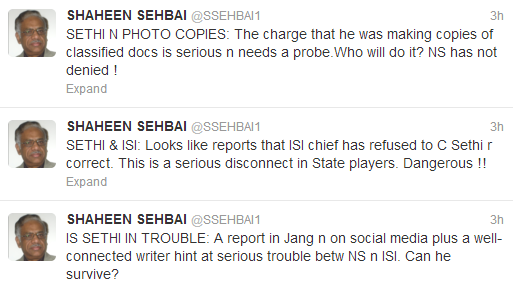 According to senior journalist Shaheen Sehbai, the charge that Sethi was making copies of classified documents is serious and needs a probe. Najam Sethi has not denied! Looks like reports that ISI chief has refused to see Sethi are correct. This is a serious disconnect in State players. Dangerous! A report in Jang and on social media plus a well-connected writer hint at serious trouble between Sethi n ISI. Can he survive?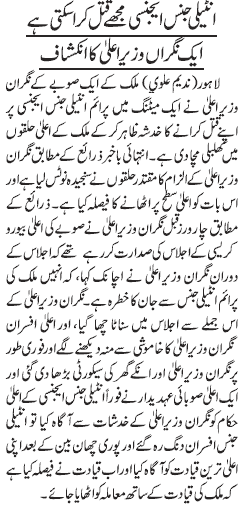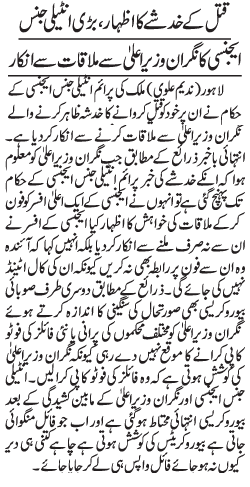 http://e.jang.com.pk/04-12-2013/pindi/pic.asp?picname=518.gif
http://e.jang.com.pk/04-13-2013/pindi/pic.asp?picname=56.gif
It is a fact that since mid 1970s, Sethi has held connections with Pakistan and USA's security agencies, not unlike his junior colleague (late) Saleem Shahzad. In fact Sethi has played a direct role in hurting the cause of the Balochs, Shias and other persecuted groups.
In order to maintain a profile of deception, Sethi appears to be in confrontation with the ISI, as a flag bearer of democracy and liberalism, which is nothing but a cover-up, a Noora Kushti.
Isn't it strange that the caretaker Chief Minister of Punjab, Najam Sethi is getting security from very same people he was accusing of trying to kill him a few months ago?
http://www.guardian.co.uk/world/2012/jul/18/pakistan-najam-sethi-chatshow-offends-isi



Last year Najam Sethi was telling international media he can't come out of his bedroom due to threat by ISI, and now he is easily allowed to be a caretaker CM of the same province. Isn't it something fishy?
Recently senior journalist, former BBC Urdu broadcaster Asif Jilani revealed that Najam Sethi works for ISI. https://lubpak.com/archives/256617
Usual suspects (Hamid Mir, Raza Rumi, Omar Waraich, Nadeem Paracha, Ejaz Haider) are helping Najam Sethi in trying to build an image that he is anti-ISI, not an ISI-tout. They are trying to give an impression that Sethi is the real well wisher of the PPP and other liberal and secular parties of Pakistan.
We clearly recall how a Najam Sethi fan club journalist presented three well-known ISI-friendly jounalists (Hamid Mir, Ejaz Haider and Najam Sethi) as anti-ISI. https://pakistanblogzine.wordpress.com/2011/09/14/omar-waraich-presents-three-anti-isi-heroes-of-pakistani-media/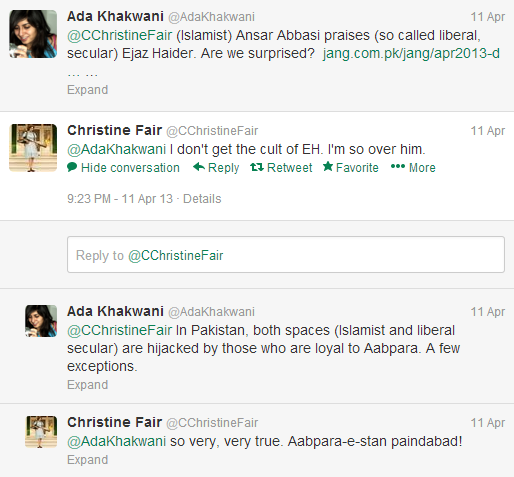 It is often propagated by the Sethi fan club that Sethi was seen close to Benazir Bhutto in her last few years. They hide the fact that as former Prime Minster and leader of Pakistan's largest political party, Benazir used to consult everyone, however, that does not mean she trusted everyone that she consulted.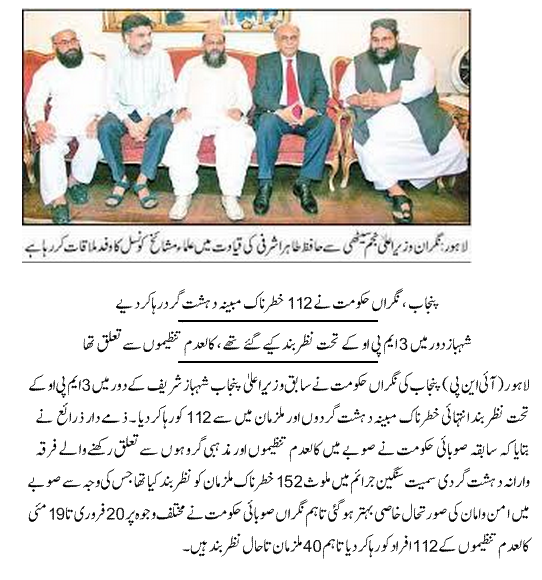 If Najam Sethi is indeed ISI's agent (as stated by late Asad Rahman, senior BBC broadcaster Asif Jilani etc), his flatterers, promoters are not? https://lubpak.com/archives/tag/najam-sethi
This ISI-inspired anti-Shia report was retracted by The News: http://pakistanblogzine.wordpress.com/2012/02/27/jang-group-the-news-retracts-its-isi-inspired-report-on-haideri-taliban/ But published by Najam Sethi's The Friday Times (currently edited by Raza Rumi, who also head a pro-ISI think tank Jinnah Institute): http://pakistanblogzine.wordpress.com/2012/03/02/the-friday-times-misrepresents-the-suffering-of-pakistans-shias-and-
The same magazine TFT has published a number of reports in which Shia genocide at the hands of ISI-sponsored Deobandi militants (Sipah Sahaba) has been presented as routine Sunni-Shia sectarian violence or an ethnic issue.
Comments
comments