Will Najam Sethi and Raza Rumi take care of their sectarian minion Mohammad Shehzad please?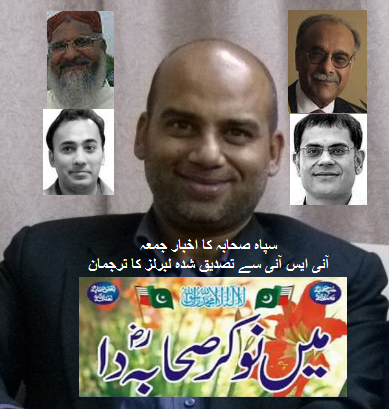 Mohammad Shehzad Deobandi is a regular columnist of The Friday Times (TFT). Under the able editorship of Najam Sethi and Raza Rumi, he has written and published quite a few articles in TFT humanizing leaders and terrorists of the banned Deobandi sectarian outfit Sipah-e-Sahaba Pakistan (currently operating as Ahle Sunnat Wal Jamaat ASWJ an Lashkar-e-Jhangvi LeJ), the terror group that has killed at least 21,000 Shia Muslims, thousands of Sunni Barelvis, Ahmadis and Christians in the last few years in Pakistan.
Not unlike pro-establishment proxies in right-wing dominated Urdu media, (fake) liberal dominated English media too is infested with spokespersons and proxies of intelligence agencies. Journalists in Islamabad and Karachi are aware that at least two bloggers /budding columnists writing in TFT work for intelligence agencies. One of them is Mohammad Shehzad (Deobandi) who is known for his pro-Sipah Sahaba pro-Deobandi militants inclinations. (The other TFT columnist, based in Karachi, is too well known for his leg-work for intelligence agencies and ASWJ.)
Mohammad Shehzad is the same person who recently conducted a notorious interview with ASWJ-LeJ's chief Ahmed Ludhianvi which comprised hate speech and incitement to violence against Shia Muslims. https://lubpak.com/archives/251181
Sadly, instead of apologizing to Shia and Sunni Barelvi Muslims, both Najam Sethi and Raza Rumi shamelessly defended the publication of that interview. https://lubpak.com/archives/251633
Now it appears that Najam Sethi has asked his minion to attack liberal writers and Shia and Sunni activists critical of the ASWJ-LeJ and its promotion via the fake liberal press.
In the following mostly one way exchange, Mohammad Shehazad Deobandi may be seen attacking and abusing liberal writers and bloggers, Shias and PPP leadership. Most distasteful is his abusive attack on the founder and former editor of the LUBP blog; he is oblivious to the fact that Mr. Nishapuri is already forced to retire by physical threats to his family by Akram Lahori's niece (an NGO-liberal based in Islamabad) a few months ago. Now Mr. Nishapuri's account on Twitter is managed by some of his friends and comrades.
Have a look at the abusive content and hatred in Mohammad Shehzad's tweets. Does that person really belong to a liberal magazine? More importantly, do his mentors and promoters Najam Sethi anad Raza Rumi and their RFT really represent Pakistani liberals?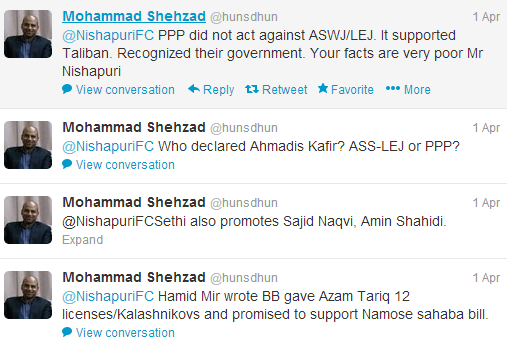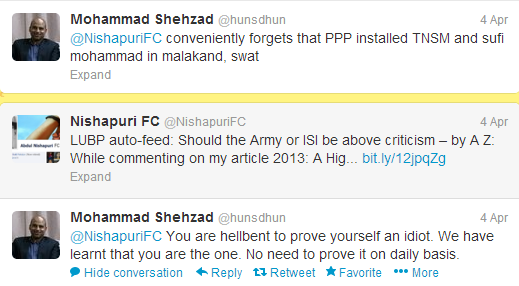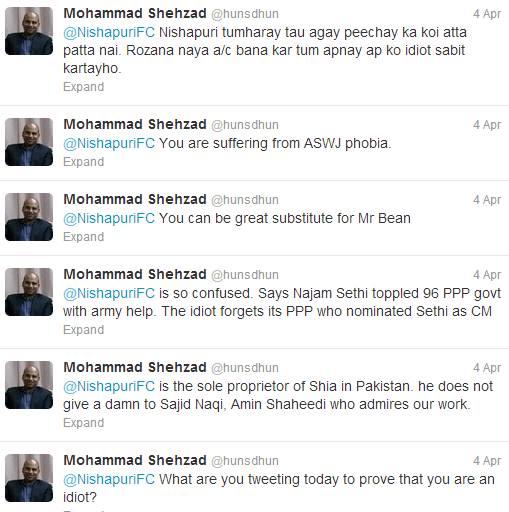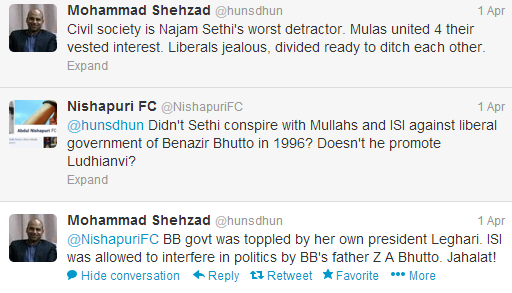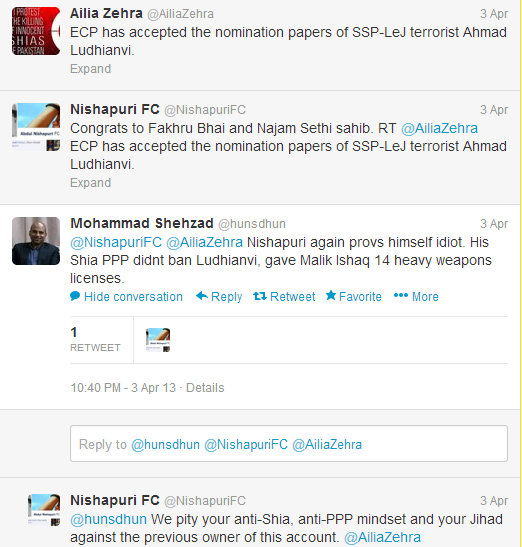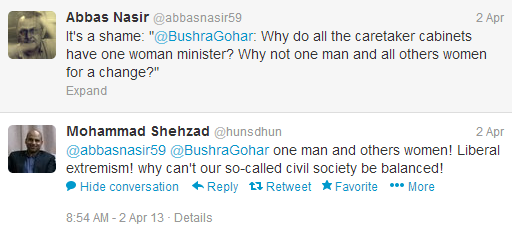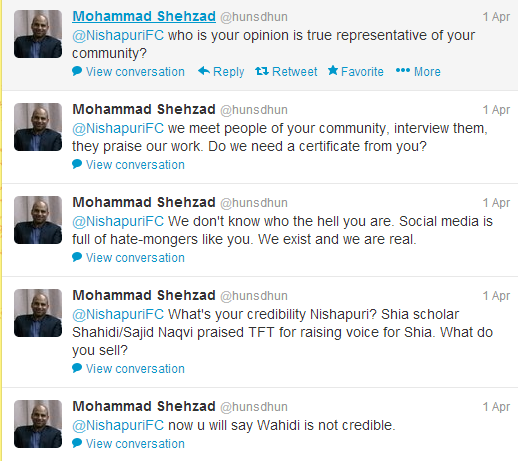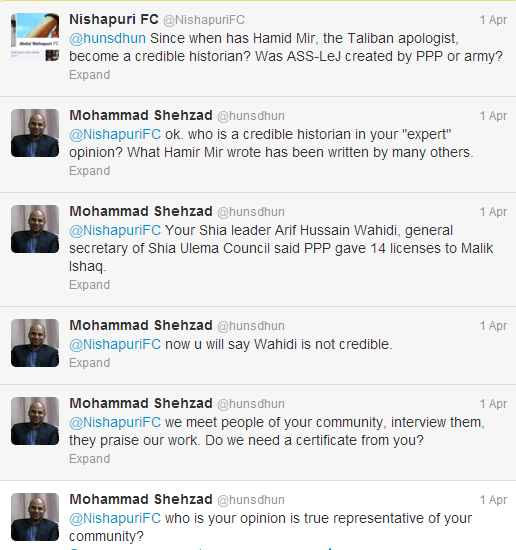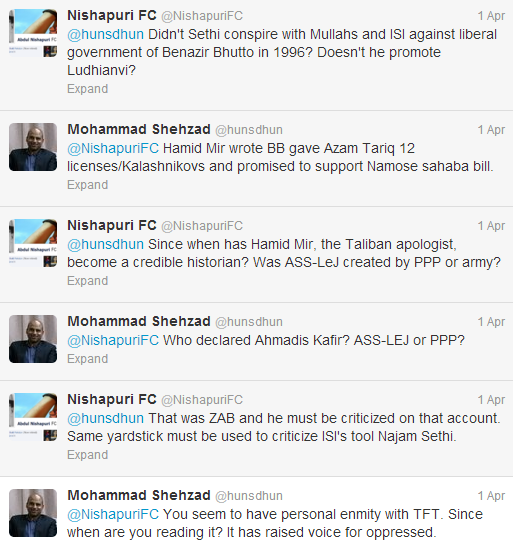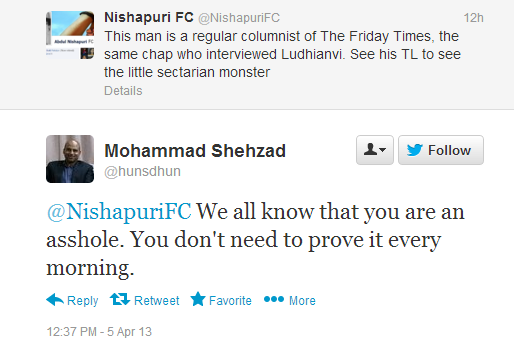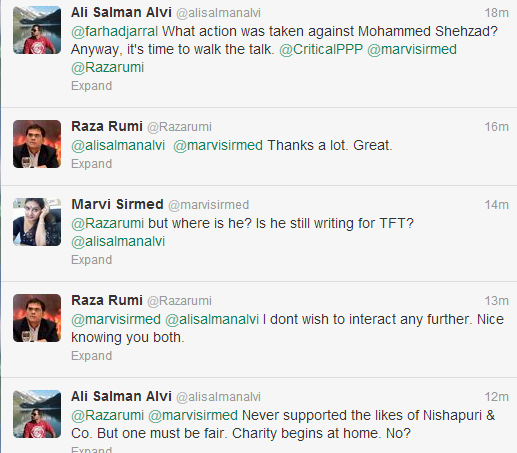 Comments
comments