Editor's note: Voting is a very important decision. LUBP urges its readers to encourage moderate Muslims, Christians, Hindus, Sikhs and all other communities to collectively vote against those parties and candidates that have any ties with or support of Takfiri Deobandis militants of Sipah-e-Sahaba (operating as ASWJ, TTP, LeJ etc). These are enemies of Pakistan who enjoy support of Saudi Arabia and certain rogue elements in Pakistan army. The undermining of the pro-Taliban pro-ASWJ Takfiri establishment should be the biggest issue in the next election.
Sipah-e-Sahaba Taliban terrorists are contesting elections on the platform of Mutahidda Deeni Mahaz (MDM, United Religious Front), an alliance of Takfiri Deobandi militant groups under the leadership of Mullah Samiul Haq Deobandi, Ahmed Ludhianvi Deobandi, Malik Ishaq Deobandi and Hakeem Ibrahim Qasmi Deobandi. Their election sign is 'ladder'. Make sure to bring their ladder down, along with all those parties and candidates who are forging political alliance with these enemies of Pakistan.
LUBP calls on all Pakistan media to join us in this call to vote smart, vote to save your own life and the lives of the oppressed people of Pakistan.
********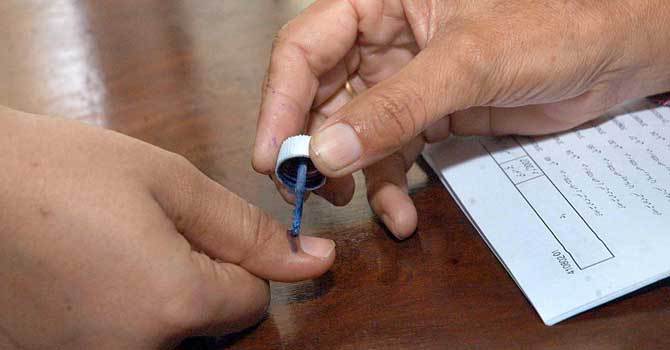 ISLAMABAD: Votes of religious minorities can play a key role in the coming elections in about 96 constituencies of national and provincial assemblies.
Analysts believe minorities can change the electoral scene in many of these constituencies if they choose to collectively vote for specific political parties or candidates.
According to official statistics available with Dawn, there are 2.77 million non-Muslim voters in the country, and 13 districts in Sindh and two in Punjab have significant presence of these voters.
Umerkot and Tharparkar districts in Sindh have as high as 49 per cent and 46pc non-Muslim voters, respectively. In Umerkot, there are a total of 386,924 voters of which 189,501 belong to religious minorities. In Tharparkar, out of a total of 473,189 voters, 219,342 are non-Muslim.
In Mirpurkhas, the total number of voters is 590,035 and among them 192,357 (33pc) are non-Muslim.
In Tando Allahyar, 74,954 non-Muslims constitute 26pc of the total 288,460 voters.
In Badin and Sanghar, the proportion of non-Muslim voters is 19pc. Total number of voters in the two districts is 642,243 and 797,976, with 123,845 and 150,234 non-Muslim, respectively.
In Tando Mohammad Khan, 39,847 non-Muslims account for 17pc of total 231,522 voters. In Matiari, 81,589 non-Muslims constitute 13pc of total 302,265 voters.
In Karachi (south), total number of voters is 1,070,321 and among them 81,589 (8pc) are non-Muslim.
In Ghotki and Hyderabad, 41,031 and 62,243 non-Muslims account for 7pc of the total 571,636 and 928,236 voters, respectively.
In Chiniot and Lahore districts of Punjab — 35,335 and 247,827 non-Muslims constitute 6pc of the total 604,991 and 4,424,314 voters, respectively.
In Jamshoro and Kashmore districts of Sindh, 18,912 and 17,495 non-Muslims are 5pc of the total 373,097 and 355,904 voters, respectively.
Among 2.77m non-Muslim voters, 1.40m are Hindus, 1.23m Christians, 115,966 Ahmadis, 5,934 Sikhs, 3,650 Parsis, 1,452 Buddhists and 809 Jews.
Jews and Parsis are two minorities in which number of women is higher than that of men. There are 1,915 Parsi female voters against 1,735 male voters. The number of Jewish women voters is 427 against 382 men in the community.
Talking to Dawn, National Database and Registration Authority (Nadra) chairman Tariq Malik asked members of the minority communities to check their names in voter lists through Nadra's SMS service by sending the number of their computerised national identity card to the code 8300 in a text message.