How well-meaning but naïve journalists create false Shia-Sunni binary – by Mahpara Qalander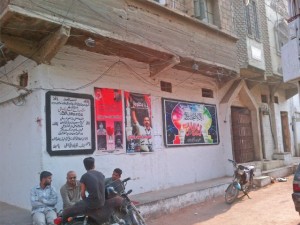 I am not going to talk about Yazidi Shia journalists like Ejaz Haider, Shakir Hussain and Nasim Zehra, or Yazidi-Salafists like Ansar Abbasi, Irfan Sidiqqui, Mosharraf Zaidi and Najam Sethi who have spent better part of their lives spreading the false binary that in Pakistan, it is a Shia-versus-Sunni conflict. These Yazidis, being Yazid, are on a mission blessed by the Pakistan Army and the Kingdom of Saudi Arabia. They are doing their jobs for which they are paid or coerced into it. For they are certainly not being truthful.
This article is about those well-meaning and peace-loving journalists who believe that the Shia genocide is evil, but who still see it as a Shia-Sunni problem and thus when they write, they call it just that: Shia-Sunni problem. Such journalists include both Shias and Sunnis.
Take the example of an article written Rabia Ali and published in Express Tribune. Although the article is written in a great spirit of pacifism, its very title is misleading: "Shia-Sunni conflict: One man's faith is another man's funeral". Rabia Ali writes,
On February 22, 1978, newspapers carried screaming headlines: Karachi had witnessed the first fatalities resulting from a sectarian confrontation. The stones hurled at a chup taazia procession during Rabiul Awwal that year served as a final spark to the mounting tension between Sunnis and Shias of Ali Basti in Old Golimaar.
In another place, she writes, "The cycle of hatred continues. Sectarian killings are now the norm in this side of the city." (The complete article is available at: http://tribune.com.pk/story/505605/shia-sunni-conflict-one-mans-faith-is-another-mans-funeral/)
Another article by a well-meaning journalist named Zahra Sabri is another example of the false Shia-Sunni binary. Published in Dawn (http://dawn.com/2013/03/11/my-sunni-regrets/), it has a misleading title, "My Sunni regrets". The point is: Why should Sunni Muslims regret the killing of Shias when they have nothing to do with it? Non-Takfiri Sunnis condemn Shia killing, but it is the Takfiris who should regret and feel ashamed of their crimes against Shias and humanity.
For Sunnis to b apologetic for Shia genocide would be analogous to Sunnis being apologetic for the murder of the family of Prophet PUBH at Karbala.
Clearly this is not so, the murderers were Yazidi then and are Yazidi now
http://afpak.foreignpolicy.com/posts/2011/12/11/history_lessons_from_karbala
Zahra Sabri writes,
I remember a moment from 2006 when it had hardly been a few days since a European friend moved to Pakistan. "And there's no problem in your friendship?", perhaps she was thinking aloud when she asked this question in mingled pleasure and wonderment, you being Shia and I being Sunni. We exchanged a quick, laughing glance to get over any awkwardness created by a question that underlined a difference we preferred to take for granted after all these years of knowing each other.
All non-Takfiri Muslims must be careful while discussing or even referring to the Shia genocide in Pakistan. We must remember that Brelvis and Ahmadis have nothing to do with it. Deobandis are not even 10 percent of Pakistan's population, but financed by Saudi Arabia and facilitated by the Pakistan Army, they have been killing not just Shias, but members of every community in Pakistan, though the fact is that Shias are their main target. It is they, the Takfiri Deobandis, who have been carrying out the Shia genocide, and not "Sunnis". Unless we all, including the well-meaning journalists, identify the criminals by name (e.g., ASWJ/LeJ) and their association (Deobandi/Salafi), we cannot beat them.
Comments
comments