Pakistan's Most Wanted Terrorists: Leaders, inciters and executioners
Related posts: Deobandi and Wahhabi radicalism is a larger issue than terrorism – by Ayesha Siddiqa
تکفیری دہشت گردی یا سنی شیعہ فرقہ واریت؟ میڈیا جھوٹ کیوں بول رہا ہے؟
Who are Takfiri Deobandis? – by Fahd Khan
Names and pictures of Wahhabi Deobandi terrorists responsible for global terrorism since 9/11
In this post, we are providing an archive of pictures and other details of hate clerics, inciters and actual footsoldiers responsible for terrorism in Pakistan including Shia genocide, attacks on Sunni Sufi shrines, attacks on Pashtun, Mohajir and other national leaders of ANP, MQM and PPP etc. These Saudi-funded Takfiri Deobandi  and Takfiri Wahhabi militants have not only killed 21,000 Shias but have also killed thousands of Sunni Barelvis, moderate Deobandis and Salafis, Ahmadis, Christians, Hindus and members of other communities.
Mullah Daud Badini Deobandi

Senior Leader of LeJ-ASWJ Balochistan

Name: Usman Saifullah Kurd Deobandi  Alias: Muhammad GulSon/of Muha

mmad Noor,  Caste: Kurd, Resident of: Killi Zarin Mian Ghundi

Senior Leader of LeJ-ASWJ Balochistan,             

Killed 700 Shias. Dramatized break out of high security jail in Quetta Army Cantonment.

Dil Shad Deobandi s/o Mir Baig
Caste Bangulzai

Resident of Quetta.

Asghar Ali Deobandi alias Juma, Son of Haji Khan, Caste Sumalani, Resident of Machh

Zia-ul-Haq Deobandi alias Abdullah, Son of Wali Khan, caste Sherwani

Resident of Killi Hassani Dasht

Al Madad Jatak Deobandi sponsor of LeJ-ASWJ

Haq Nawaz Mengal Deobandi

Tahir Ashrafi Deobandi, Malik Ishaq Deobandi and Ahmed Ludhianvi Deobandi
Other LeJ-ASWJ terrorists in Balochistan:
Ramzan Mengal,
Shafique Mengal,
Siraj Raisani,
Abu Bakr
Shafique Mengal etc.
Source: LUBP Research
www.CriticalPPP.com
        

                                     LeJ Balochistan

                            


                           Shafique Mengal Deobandi

                                                     Mullah Mengal head of LeJ-ASWJ Quetta

        
               Aurangzeb Farooqi, 

Hea

d of ASWJ-LeJ Ka

rachi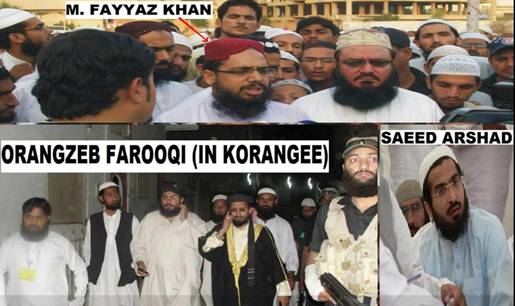 SSP terrorist in Karachi
"WHERE ARE TERRORISTS HIDING IN KARACHI??" "7 PLACES!!"All the Sipah-e-Sahaba recruits and Aslaha is coming from these below:1) MADRASA AHSAN-UL-ULOOM, BLOCK 2, GULSHAN-E-IQBAL,
Across from Samdani Hospita (about 4 minutes drive) Madrasa Run by : mufti Zar Wali Khan Malaoon!2) JAMIA DAR-UL-KHAIR, GULISTAN-E-JOHAR3) JAMIA BINNORIA, New Town (Gurumandir) Madrasa Run By Mufti Naeem
4) JAMIA BINNORIA, Site Area
5) MASJID SIDDIQUE-E-AKBAR, Nagan Chorangee, Buffer Zone
6) JAMIA FAROOQIA, Shah Faisal Colony
7) SIPAH-E-SAHABA'S MAIN MOSQUE ON ABUL HASAN ISFAHANI ROAD NEAR "MASKAN APARTMENTS", GULSHAN-E-IQBAL.
Karachi terrorists
Mufti Zarwali Khan Deobandi
Mufti Rafi Usmani

Mufti Taqi Usmani Deobandi

Mufti Naeem Deobandi, sponsor of ASWJ-LeJ
Sipah Sahaba terrorists in Jhang and Rahimyar Khan


ASWJ Bahawalnagar

Khadim Dhillon, VP of ASWJ-LeJ



Sipah-E-Sahaba Terrorists From Faisalabad Meeting Their 'Chief Terrorist Leader'
Named: "Mullah Zahid Mehmood Qasmi" (Extreme Right Hand Corner With White Cap) (Son Of Eesar-Ul-Qasmi Malaoon)

Muzammil Hussain of Al Azam Tariq Trust
Malik Ishaq left and Ghulam Rasool right (unknown in middle)

Name: Malik Ishaq
Rank: Number 1 Ranked Leader of LeJWas in jail for murder of over 100 Shia muslims.
But was aquitted by the Supreme Court of Pakistan. Enjoys wide support by Saudi Arabia and ISI.
Malik Ishaq's house in Rahimyar Khan
Umar Muaviya of Lahore

Muavia Azam Tariq

Ludhianvi with a main financier of LeJ-ASWJ

Ahmed Ludhianvi

Shamsur Rehman Muaviya, ASWJ chief P

unjab 

Tahir Ashrafi Deobandi (Sponsor of ASWJ-LeJ) and Malik Ishaq Deobandi (Head of LeJ, VP of ASWJ)
Malik Ilyas Ghumman of Sargodha

One standing in the middle with white cap is Masroor Haq Nawaz Jhangvi
 
Sipah-E-Sahaba's Ma

in Terrorist Brains — (From Left To Right):


1) Mullah Tahir Mehmood Ashrafi Thanvi (Fat Man Holding Microphone)
2) Mullah Zahid Mehmood Qasmi (Hand Folded)
3) Mullah Ahmed Ludhianvi (Sindhi Cap)
4) Mullah Ilyaas Ghumman (Wrapped In Shawl)
 
 
| | |
| --- | --- |
| ASWJ Islamabad | Shah Abdul Aziz MNA |
| ASWJ Rawalpindi terrorists | Abdul Aziz of Laal Masjid |
"Where Are Sipah-E-Sahaba Terrorist Hiding In Islamabad?"
1) Jamia Masjid Abdullah Bin Masood (G-9 Islamabad)!
2) Lal Masjid Islamabad!


| | |
| --- | --- |
| Qazi Nisar, Head of ASWJ-LeJ Gilgit |   |
| this person Tippu Jhungavi is like a back bone in sipah yazeed(ssp). He is Office Seceratary to Muhammad | Azam Swati Deobandi with Aurangzeb Farooqi Deobandi |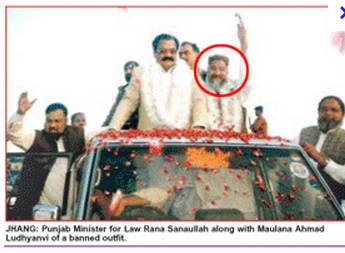 Rana Sanaullah of PML-N, key sponsor of ASWJ
Ahmad Ludhyanvi( ssp head) · Feb 2010 to present. His duty is Managing Secretariat Office Sipah E Sahaba Pakistan in Jhang Sadar. He is a very active and anti shia person.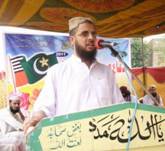 Hakeem Ibrahim Qasmi Rah-e-Haq Party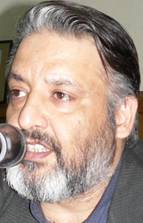 Qazi Saifullah Pakistan Rah-e-Haq Party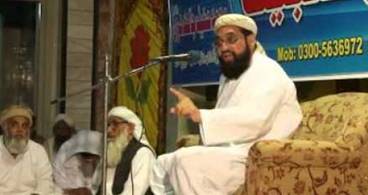 Hanif Jalandhari Deobandi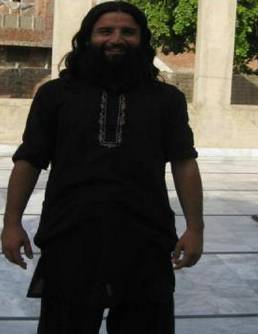 Name??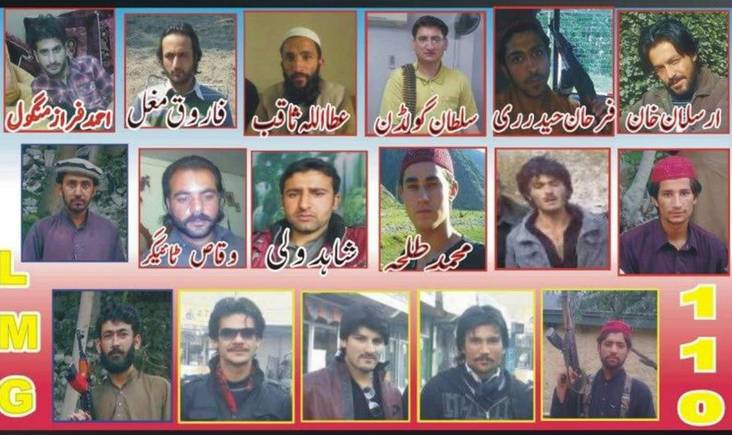 Different militants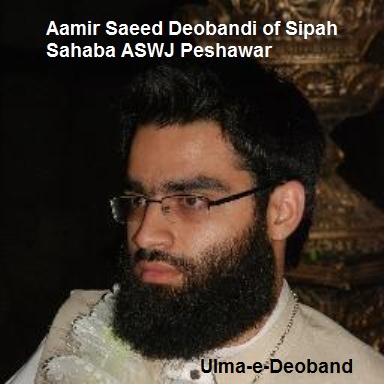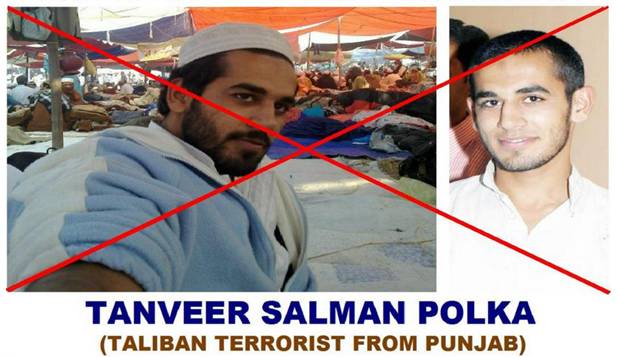 Tanveer Salman Polka from Raiwind, Punjab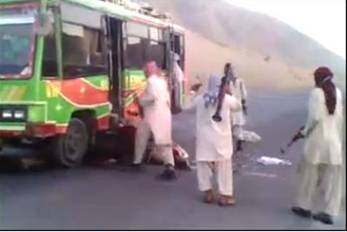 YOUTUBE: The picture (above) is from one of the videos released on YouTube in which the LeJ terrorists are shown singling out the Shia Hazara passengers, shooting them in cold blood, and throwing their bodies outside the bus. No other passengers were harmed.
"These militant outlets are said to be financed by the ISI and trained with the collaboration of Frontier Corps and Military Intelligence in Balochistan. Their main tasks include counter-insurgency, spread of Talibanization, sectarian violence, Killings of Hazaras and Shias, attacks on NATO supply routes and targeting journalists and lawyers."
– Asian Human Rights (Jan 6, 2012)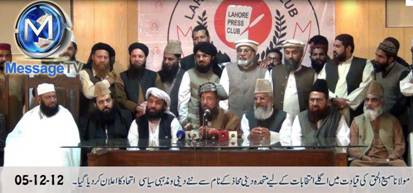 FIVE religious parties formed a new political and electoral alliance with the name of Muttahida Deeni Mahaz (United Religious Front), giving Islamist Deobandi-Wahhabi voters a choice against Maulana Fazlur Rehman-led MMA in the forthcoming elections. Chief of his own faction JUI, Maulana Samiul Haq Deobandi has been appointed as convener of MDM which also comprises two major adversaries of Maulana Fazlur Rehman from his Deobandi school of thought including, MNA Maulana Ismatullah-led JUI-Nazriati and Maulana Muhammad Ahmad Ludhianvi-led Ahle Sunnat Wal Jamaat (ASWJ).
Jamiat Ahle Hadith-Ibtesam (Wahhabi) group is also part of MDM besides JUP-Sawad Azam which is led by Pir Mehfooz Mashhadi. Mashhadi's spokesman Shahid Gardezi said JUP-SA will be part of both MDM and SIC, since it would contest elections from MDM platform while SIC will remain its ideological platform. Leaders of other parties present on the occasion included, Maulana Yusuf Shah, former MNA Shah Abdul Aziz Mujahid, Maulana Saifur Rehman Darkhwasti, Mian Ajmal Qadri, Ikramullah Shahid, Shamsur Rehman Muavia, Muhammad Khan Leghari, Maulana Asim Makhdoom, Maulana Abdul Rasheed Hadoti, Muhammad Ali Yazdani and Mian Muhammad Arif.
http://www.thenews.com.pk/Todays-News-5-146752-Five-religious-parties-form-new-alliance
Comments
comments