Goebbels denies #ShiaGenocide in Pakistan – by Khalid Niazi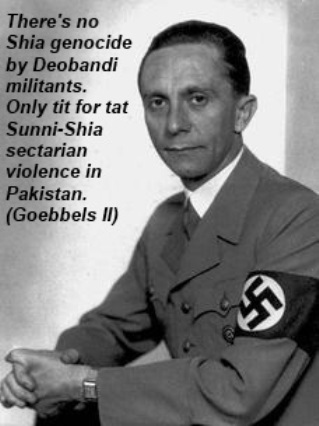 To present Nazi Germany and the Holocaust as a symmetrical tit-for-tat fight between the Nazis and the Polish Resistance would be pretty insensitive.  To arrive at this description on the basis of information provided by Goebbels, Goering and Himmler would be intellectually dishonest.
Unfortunately, that seems to be the manner in which Matthew Green (otherwise a fine journalist) bases his most recent report for Reuters.  Some of the facts are questionable and the report has serious omissions of context. http://www.reuters.com/article/2013/02/24/us-pakistan-sectarian-idUSBRE91N00G20130224#sthash.UcDs6lgC.dpuf
While Matthew alludes to the inter-Sunni conflict in passing, he conveniently omits some crucial facts.  That aside from conducting Shia Genocide, the Al Qaeda affiliated ASWJ-LeJ militants are part of a the larger Takfiri Deobandi militant network that also includes the Taliban and Jaish-e-Mohammad and other similar Deobandi (and some Wahhabi) groups with shared ideology and overlapping membership.  There is no mention in Matthew's report of the links between LeJ-ASWJ and the powerful military establishment that dictates the direction of Pakistan.
Another crucial area of omission by Matthew are the non-Shia massacres by Takfiri Deobandi militants. Aside from general terrorist attack (Sri Lankan Cricket Team, CID building Karachi etc), LeJ-ASWJ has also conducted large scale massacres of Barelvi (Sufi) Sunnis with its large attacks on shrines all over Pakistan.  In the last few years, the LeJ-ASWJ-TTP Deobandi network has killed thousands of Sunni Barelvis including 60 top Sunni clerics at a peaceful gathering in Karachi to commemorate the Holy Prophet's birthday in 2006.
Aside from Sunnis, LeJ has been instrumental in pogroms  and massacres  Pakistan's Christain and Ahmadi minorities.   These omissions are critical as they highlight that:
a)       That LeJ-ASWJ is not an organic entity and owes the basis of its existence to the military establishment and Saudi funding.
b)       LeJ-ASWJ is a violent fascist entity that has spared no one
Selective misrepresentations like Matthew Green's have unfortunately become the norm. And the fault is not entirely his. While his research and presentation are deplorable, what needs to be taken into account is the role of Pakistan's (fake) liberal "intelligentsia" that has positioned itself as the primary source of research but who in reality provide much of the obfuscations and misrepresentations on this issue as well as on others.   For example, in their recent articles, Najam Sethi and  Nadeem Paracha misrepresent Shia Genocide as an Iran-Saudi proxy war.
Here are some areas that Matthew needs to look into for a much needed revision of his original report:
Casualties: Refer to LUBP's database for total and 2012 casualties of Shia Genocide. https://lubpak.com/archives/132675
Do a proper tally of LeJ murders of Sunni Muslims which include casualties at the various shrine attacks by LeJ-ASWJ-TTP.  These numbers also include those prominent Sunnis like senior police officer Ashraf Marth who was killed for his investigations of LeJ https://lubpak.com/archives/244393. LeJ typically launches indiscriminate attacks that leaves scores of dead bystanders and associates. Even a cursory view at various atrocities committed by LeJ would lead one to the logical conclusions that LeJ has killed the largest number of Sunnis in Pakistan. Aside from LeJ's attack on the Sunni leadership in 2006 Karachi, over 20 Sunni policemen, journalists and medics were killed in the January 2013 bomb blasts in Quetta.
In 2001, LeJ-ASWJ (then known as Sipah-e-Sahaba) killed prominent Sunni leader Saleem Qadri. After Saleem Qadri's guard returned fire injuring one the hitmen, the rest killed him too before making their escape Sipah-e-Sahaba has killed many Sunni Barelvis.
In addition to all this, LeJ has even killed those Sunnis who it views as having "Shia sounding names" like Ali, Hussain and Fatima.  Furthermore, Forensic examination reveals that Sipah Sahaba behind murder of both Sunni and Shia in Karachi.
In 1997, the State crushed the handful of Shia vigilantes whose reactionary tactics were discriminate and focussed on LeJ leaders and militias.  The State did the same thing in 2010 when it attacked the combined Shia-Sunni Pashtuns who took on the Taliban in Parachinar http://www.dailytimes.com.pk/default.asp?page=2011%5C07%5C07%5Cstory_7-7-2011_pg3_2 and http://dailytimes.com.pk/default.asp?page=2010%2F11%2F04%2Fstory_4-11-2010_pg3_2.
This important context is completely missing from Matthew Green's report to Reuters.  While quoting LeJ-ASWJ's Aurangzeb Farooqi's willingness for a "dialogue", did Matthew Green even bother to research the anti-Shia hate literature published by LeJ-ASWJ and their parent body, the Ulma Deoband, the largest hate site against Shias, Sunni Barelvis, Ahmadis and Christians?  Refer to https://lubpak.com/archives/241085. This is the same kind of bigotry that is published by the Saudi financiers of the LeJ-ASWJ against Christians and Jews http://www.nbcnews.com/id/13804825/
Apostatizing someone in a society overflowing with State-backed armed extremists is passing a death sentence.  Like other important context, this too has been left out in the Reuters' report. When even the UN has taken note of Shia Genocide, Reuter's continues to misrepresent this as a tit for tat conflict. Shame.
Comments
comments