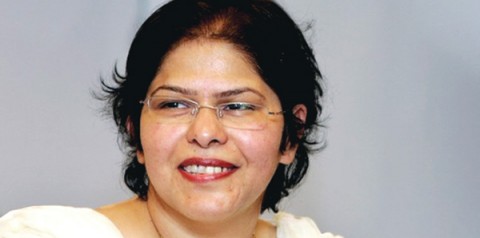 Related posts: Comparing Karachi Literature Festival 2012 with Difa-e-Pakistan Conference
#FakeLiberal Festival: A Gathering of Life Style Liberals in Karachi – by Anila Shamsie
"I've been in a rickshaw": Some critical reflections on the Karachi Literature Festival 2011
Editor's Note: It is heartening to see at least one article in Pakistan's mainstream press that dares to be critical of the pro-military establishment Karachi Literature Festival (KLF). We hope that other articles like this are also published instead of high fives and self-congratulations from the urban elite participants themselves. Kudos to Pakistan Today. 
KARACHI – Karachi Literature Festival (KLF), an annual international literary festival held in Karachi, starting from February 15 till 17, will be having no anti-army analysts moderating any sessions this year to avoid discomfort for pro-army analysts.
Interestingly, Dr Ayesha Siddiqa, an intellectual, author and op-ed writer, was assigned the status of 'persona non grata' by organisers of KLF for creating discomfort for the British, pro-Pakistan Army author Anatol Lieven in last year's session.
The session was about the book of Anatol Lieven 'Pakistan a hard country' which was not received well by some analysts in the country for its military-friendly approach, and could not do well in liberal circles.
Dr Ayesha Siddiqa, who is considered an anti-military analyst and was co-moderator during, last year's session, asked some pinching questions from Anatol Lieven, which caused discomfort for the British author.
She was not called to moderate any KLF 2013 session and was not invited to participate in the festival despite a request from Lahore University of Management Sciences (LUMS) professor Dr Muhammad Waseem.
"I talked to KLF organisers and they told me that I was awarded the status of persona non grata," Ayesha Siddiqua told Pakistan Today.
"LUMS Professor Dr Muhammad Waseem called me a few months back and told me that he wished that I should moderate a session at KLF 2013," Dr Siddiqa said.
"I accepted the offer from Dr Waseem and he sent my name as a co-moderator to KLF organisers but he could not get a response from the management of the literary festival, she said, adding that Dr Waseem called KLF organiser Raheela and Muneeza for sending her the invitation to moderate the session with him."
"Over this I contacted KLF organisers for their non-serious attitude on Dr Waseem's request following which they told me that the administration of the festival has granted me the status of persona non grata," Dr Siddiqa said.
"Last year I had a one-on-one discussion with pro-military British author Anatol Lieven on his book 'Pakistan: a hard country' but on arrival, KLF organisers had told me that Mohsin Hamid and Ghazi Salahuddin would also participate in the session with me," she said.
"Some of my friends in the KLF organising team told me that Mohsin Hamid and Ghazi Salahuddin were added on the request of Anatol Lieven," she said, adding that they also told her that the British author asked the organisers to remove her name but they added names of two more persons instead, to ease Lieven.
"Failing this, Anatol Lieven was brought to me by one of the KLF organisers for negotiations regarding what I had to put forth into the discussion, but I refused," Dr Siddiqa added. "In this year's KLF, the Urdu version of my book Military Inc. would be exhibited with the title 'Khaki Company'," she added.
LUMS Professor Muhammad Waseem when approached confirmed he had sent the name of Dr Ayesha Siddiqa for co-moderating a session at KLF 2013.
"I called KLF organisers many times and later I was informed that the literary festival has a very low budget and they cannot afford travelling expenses of Lahore-based defence analysts," he said. "Now I have two Karachi-based persons in the session," he added.
KLF DIRECTOR DENIES: KLF Director Ameena Saiyid told Pakistan Today that all decisions regarding speakers are taken by the KLF committee. "No one can force us to invite anyone. We try to get new authors every year for the benefit of the audience or we get authors who have published a new book. Ayesha is not entitled to be invited every year. She is not persona non grata and is welcome to attend KLF…it is free and open to all," she said.
Source: Pakistan Today