#KLF Fake Liberal Festival: A Gathering of Life Style Liberals in Karachi – by Anila Shamsie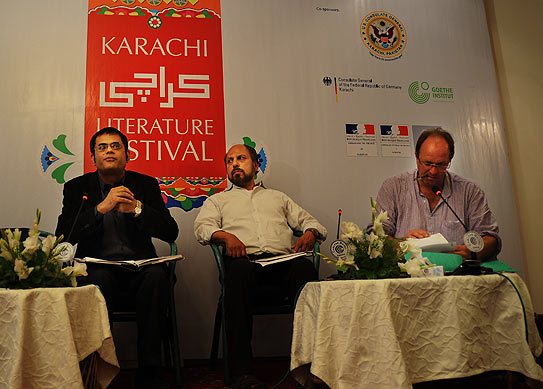 Related posts: Comparing Karachi Literature Festival 2012 with Difa-e-Pakistan Conference
Dr. Ayesha Siddiqa: Persona non grata at Karachi Literature Festival #KLF
"I've been in a rickshaw": Some critical reflections on the Karachi Literature Festival 2011
Welcome to another conglomeration of pro-establishment "Liberals" at Karachi's "elitist" literary festival. This time, the festival has shifted from one swanky hotel to another one. Voices that differ from the mainstream have been further marginalized in this festival.
One needs to go no further than to see the treatment meted out to Dr. Ayesha Siddiqa. Dr. Siddiqa has written extensively on the financial power of Pakistan's military establishment. She has further highlighted how the military establishment in Pakistan ensures that it cultivates its civilian proxies and develops its younger "assets" amongst not only right-wing Islamists but also amongst fake liberals, together they make fake civil society (FCS).
For being critical of military establishment assets like Anatol Lieven, Dr. Siddiqa has been declared persona non grata.
Refer to http://www.pakistantoday.com.pk/2013/02/15/news/national/persona-non-grata/

"Interestingly, Dr Ayesha Siddiqa, an intellectual, author and op-ed writer, was assigned the status of 'persona non grata' by organisers of KLF for creating discomfort for the British, pro-Pakistan Army author Anatol Lieven in last year's session."
Dr. Siddiqa's tweets earlier this week highlighted the same issues.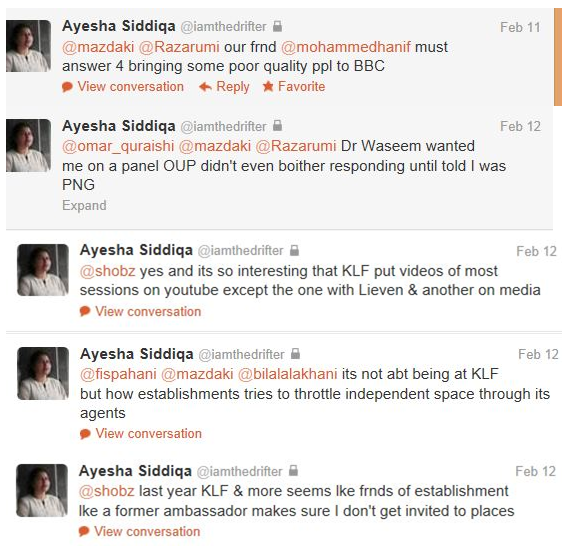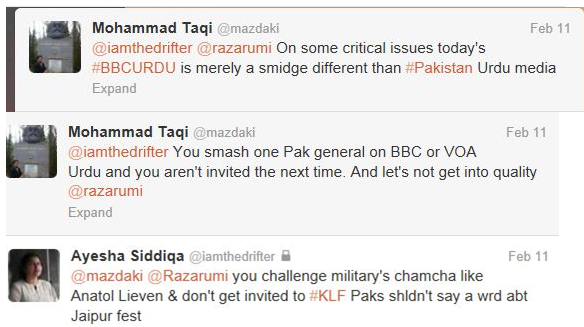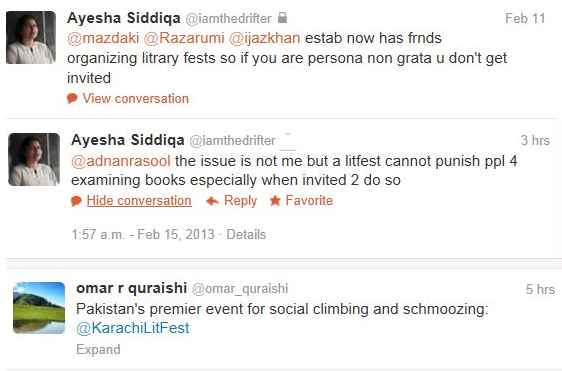 Just as Dr. Siddiqa has been marginalized from KLF, the current Director of the Pro Taliban/Pro Military establishment, Jinnah Institute, has been given multiple spots to moderate the discussion. KLF is rapidly being reduced to a pro-establishment gathering dominated by opportunistic pseudo liberals.
While there will be some interesting events which have literary merit, these well funded elitest festivals are done to showcase and pad the credentials of pro-establishment "liberals". This is the class of people that has engaged in an active campaign to present itself as the drop of liberalism surrounded by a sea of ignorance and extremism. It is hard to imagine a greater case of narcissism combined with sheer intellectual dishonesty.
The narrative of this group is easy and predictable. This group is comprised mostly of the Punjabi-Muhajir elite that has dominated Pakistan's civil-military bureaucratic establishment. With a long track record of supporting dictators and demagogue fanatics such as General Zia ul Haq, General Musharaf and PCO judge Chaudhary Iftikhar, this group maintains that it is the only pristine force worth funding in Pakistan. It thrives on NGO style liberalism that does not stray too far into dangerous causes – especially those that run counter to the military establishment. The voices of resistance are either co-opted or silenced and regular attempts are made to hijack causes and misrepresent them.
There will be crude jokes and abuses reserved for PPP and perhaps even PTI. However, for those looking for a more critical picture of the military-judiciary establishment and its civilian proxies like MQM and PML N, they are best advised to look elsewhere. The KLF will stick to safe areas and the literary debate will be limited to safe targets.
While this indictment does not apply to everyone at KLF, the manner in which Dr. Siddiqa has been sidelined in spite of the wishes of one of the organizer's speaks volumes as does the vague statement of Amina Sayeed.
For the last two years, LUBP has highlighted the hypocrisy and dishonesty of this pseudo liberal elite mafia that aligns itself with the powerful military-judicial establishment and its Jihadi proxies like ASWJ-LeJ. LUBP has repeatedly confronted the falsehood and propaganda published by these Fake Civil Society mafias. For this effort, LUBP writers, editors and supporters are repeatedly harassed, blackmailed and threatened – culminating in the shameful act that lead to the resignation of LUBP's founding editor.
If the world wants to see the parade of pro establishment hacks, go down to the Beach Luxury Hotel of Karachi. At this literary festival, just don't expect to hear much critical debate or significantly differing viewpoints. This literary festival is mostly reduced to fake liberals promoting themselves and their compadres – just like they do on twitter.
Comments
comments