World Shia Forum lauds HRW's report on #ShiaGenocide in Pakistan, condemns harassment tactics by security establishment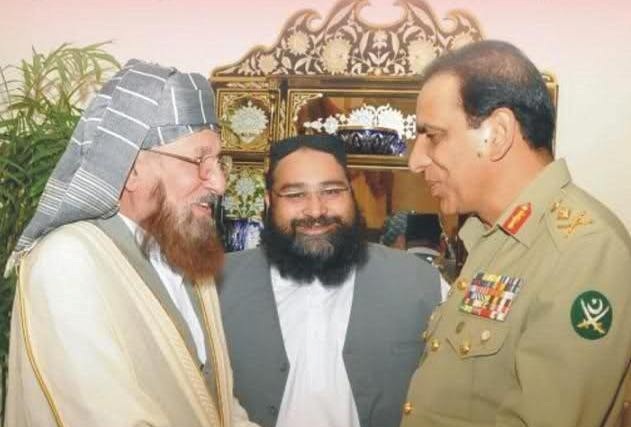 Coverage of Shia genocide in Human Rights Watch 2013 report on Pakistan

Religious minorities continued to face insecurity and persecution as the government failed to provide protection to those threatened or to hold extremists accountable. Islamist militant groups continued to target and kill Shia Muslims—particularly from the Hazara community—with impunity.

In 2012, at least 325 members of the Shia Muslim population were killed in targeted attacks that took place across Pakistan. In Balochistan province, over 100 were killed, most of them from the Hazara community. On August 16, gunmen ambushed four buses passing through the Babusar Top area of Mansehra district in Khyber Pakhtunkhwa province. The attackers forced all the passengers to disembark, checked their national identity cards, and summarily executed 22 travelers whom they identified as belonging to the Shia community. A spokesman for the Tehrik-e-Taliban Pakistan, the Pakistani Taliban, claimed responsibility. On August 30, gunmen shot dead Zulfiqar Naqvi, a Shia judge, in Quetta, Balochistan's capital. In two separate attacks on September 1, 2012, gunmen attacked and killed eight Hazara Shia in Quetta.

Sunni militant groups, including those with known links to the Pakistani military, its intelligence agencies, and affiliated paramilitaries—such as the ostensibly banned Lashkar-e Jhangvi—operated with widespread impunity across Pakistan, as law enforcement officials effectively turned a blind eye to attacks.

Suicide bombings, armed attacks, and killings by the Taliban, al Qaeda, and their affiliates continued in 2012, targeting politicians, journalists, religious minorities, and government security personnel. Many of these attacks were claimed by groups such as the Haqqani network, the Lashkar-e-Jhangvi, and other al Qaeda affiliates.

Source: http://www.hrw.org/world-report/2013/country-chapters/pakistan?page=3
We are concerned and not surprised by the public harassment campaign by Pakistan army (directly via Inter Services Public Relations ISPR, indirectly via certain pro-establishment media persons e.g. Ansar Abbasi and his affiliates of Jang Group) against HRW because of their damning and factual reporting on the sad state of human rights in Pakistan.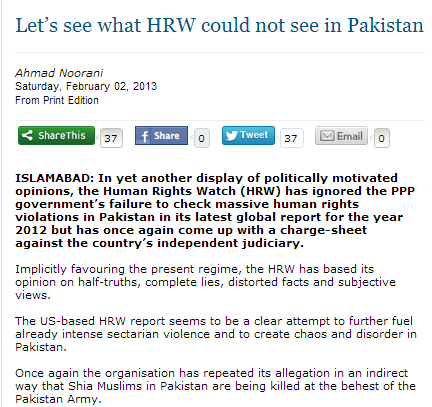 We have gone through this repeatedly and in the most recent instance, anti-establishment, human-rights activists/bloggers have been forced to resign.
Therefore, we completely empathize and support Ali Dayan Hasan (Pakistan Director of HRW) in the current situation. The latest HRW report correctly holds the government and its various security agencies responsible for not making the lives of its citizens safer and in the case of Balochistan, clearly identifies the culprits. It also talks about the increasing threat to the Shia Muslims of Pakistan.
Anti-establishment rights activists in Pakistan have gone hoarse shouting that the country's Shia Muslims are facing a "slow motion Shia Genocide". This stance has put them in the cross hairs of Takfiri Deobandi extremists allied with Sipah Sahaba Taliban as well as their "fake liberal" supporters.
The HRW numbers on Shia Genocide are off and the numbers are clearly higher. Total number of Shia Muslims killed in Pakistan during 2012 is 1450, not 400. https://lubpak.com/archives/236793 We request HRW to refer to the database available on Shia Killing, Shaheed Foundation, Shia Post, Shiite News and/or refer to LUBP's meticulously constructed database. https://lubpak.com/archives/132675
Moreover, it is inaccurate to describe killers of Shia Muslims as Sunni militant groups. https://lubpak.com/archives/236725 The group involved in Shia genocide in Pakistan (operating variously as Ahle Sunnat Wal Jamaat ASWJ, Lashkar-e-Jhangvi LeJ, Sipah-e-Sahaba Pakistan SSP, Tehreek-e-Taliban Pakistan TTP, Jundullah etc) are Takfiri Deobandi groups who do not represent moderate Deobandi or Sunni Barelvi Muslims. They not only kill Shias but also kill Sunni Barelvis, moderate Deobandis and Wahhabis, Ahmadis, Christians etc. Thus, they must be described as Takfiri Deobandi militants instead of Sunni militants.
We are somewhat assured to see that HRW has gone to the root of the problem, i.e., the pro-Jihadist military establishment while not sparing a spineless government that is increasingly just a front.
Anti-establishment rights activists have been saying the same things for the last few years and have been critical of earlier human rights reports for their vagueness and misrepresentations. This report is an improvement but it still has ways to go, e.g., the identification of Takfiri Deobandi militants as Sunni militants is a sweeping generalization.
However, unlike Ali Dayan Hasan who preferred to stand quiet while fake liberals along with a radical cleric were harassing anti-establishment bloggers (e.g. of LUBP, Shia Killing etc), we on principle will stand with Ali Dayan Hasan in this instance while he is being harassed by Pakistani security establishment directly (in the shape of ISPR) and indirectly (via the Jang Group in the shape of Ansar Abbasi, Ahmed Noorani etc).
World Shia Forum lauds HRW's report on #ShiaGenocide in Pakistan, condemns harassment tactics by security establishment
———-
HRW Rejects ISPR Statement on Shia killings report
Ali Dayan Hasan, Pakistan Director, Human Rights Watch rejects Pakistan Army statement (below) dismissing it as "ludicrous and preposterous." 4 Feb 2013
———-
Postscript: Recently, Pakistan's Interior Minister Rehman Malik too admitted that Shia genocide in Pakistan is not an outcome of Sunni-Shia sectarian violence. Speaking to Shia and Sunni protesters against Shia genocide, Mr Malik said that Takfiri Deobandi terrorists of LeJ-ASWJ, not Sunnis, were killing Shias.
لندن میں شیعہ نسل کشی کے خلاف احتجاج کرنے والے شیعہ سُنی سے پاکستان کے وزیر داخلہ رحمان ملک نے بات چیت کرتے ہوئے کہا کہ پاکستان میں شیعہ سُنی کا مسئلہ نہیں بلکہ شیعوں کے قتل عام میں کالعدم سپاہ صحابہ،لشکر جھنگوی ملوث ہیں۔
Comments
comments