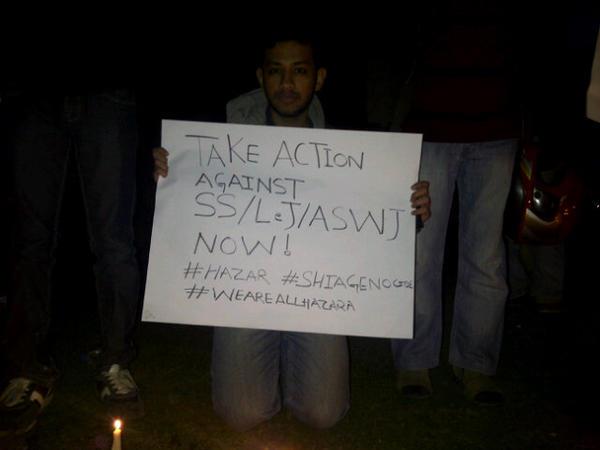 My good friend Usmann Rana wrote on his facebook status regarding the protest at Liberty Market Lahore:
"Apparently the organizers were to afraid to name the real culprits behind Quetta Killings and those responsible for claiming Hazara/Shia lives. Whoever said I was going to sit back and not put a fight? Made THREE posters,there and then,NAMING LeJ ,SS,and ASWJ,terrorist outfits,demanding immediate action.
What did I learn? Sometime you have to hijack the protest/solidarity events when the organizers suck at it or are too cowardly. They were just happy to offer fateha.Could have done at homes."
Well Usmann it takes courage to do what you did and you showed the world the true face of Yazeed of our time, Malik Ishaq (SSP ASWJ LEJ TTP).
Usmann defines what a Hussaini should do:
A Hussaini should stand up against the oppressor and clearly and in no uncertain terms condemn the oppressor.

Source:  World Shia Forum