#Justice4BakeryBoy: CM Shahbaz Sharif's daughter Rabia gets an innocent bakery worker beaten up by Elite Police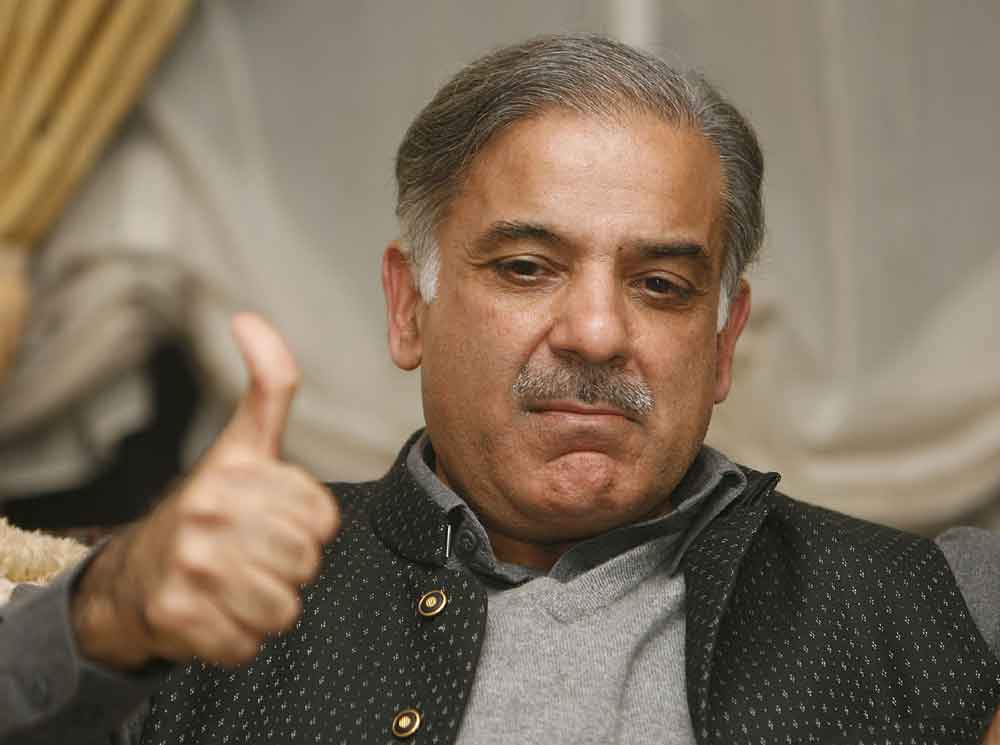 Related post: Justice, PML-N style: Bakery case victim tells court CM Shahbaz Sharif's son-in-law, guards not culprits
Mrs Rabia Imran, daughter of the so called Khadim-e-Aala (in fact Sarparast-e-Aala of PML-N goons and LeJ terrorists) Chief Minister Shahbaz Sharif, gets an innocent man beaten up by Elite Police in Lahore. His only crime? He refused to serve her during the shop's off-hours.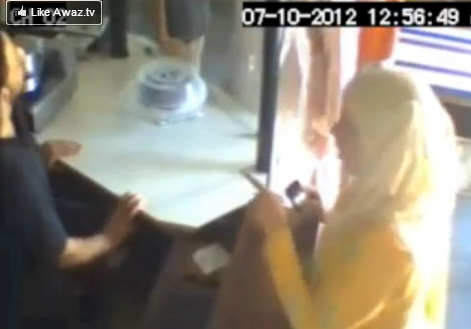 The bakery worker told Rabia that the shop is closed and it will open at 3:00 PM and then he will be able to sell anything. Rabia started harassing and abusing the poor bakery worker and insisted to buy the bakery items (probably a cake) without late. After threatening him, she left with her driver and security guard but, a few hours later, at around 6:30 PM, three people came to the shop with police force, identified the worker, escorted him outside the shop and beat him badly.
Apparently, Geo TV (of Jang Group) has conducted interviews with the aggrieved bakery employee and the bakery owner, however, CM Shahbaz Sharif used his influence and stopped Geo TV and other media outlets from publishing this news.
Here is an exclusive CCTV footage!
Youtube link:
This is a shameful incident. Who the hell does this woman think she is? This is seious assault for a trivial bakery item and an abuse of democracy and resources by her father.
Culprits (Rabia Imran, her father Shahbaz Sharif) should be arrested, and given exemplary punishment. Will our Suo Moto fame Chief Justice Iftikhar Chaudhry care to provide justice to the poor bakery boy? Why is this case less important than Waheeda Shah's slap?
Shame on PML-N and its leaders Nawaz Sharif and Shahbaz Sharif who have plundered the Punjab province's resources and are treating innocent citizens as their servants and slaves.
You are beating somebody just because he is poor? Shame on you!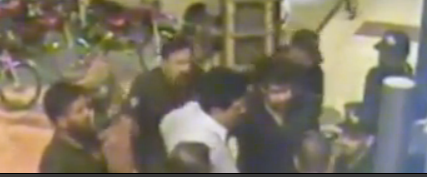 یہ خادم اعلیٰ کی صاحب زادی مسز رابعہ عمران ہیں اور ان کے والد خود کو پنجاب کی عوام کا خادم کہتے ہیں مگر ان کی بیٹی ایک بیکری ملازم کو اس لیے ایلیٹ فورس سے مار پڑوا رہی ہیں کہ اس نے وقت سے پہلے ان کی خدمت کرنے سے انکار کرنے کی ہمت کی – یہ بھول گئی ہیں کہ یہ طاقت ہمارے ووٹ کے بل بوتے پر ہی ملی ہے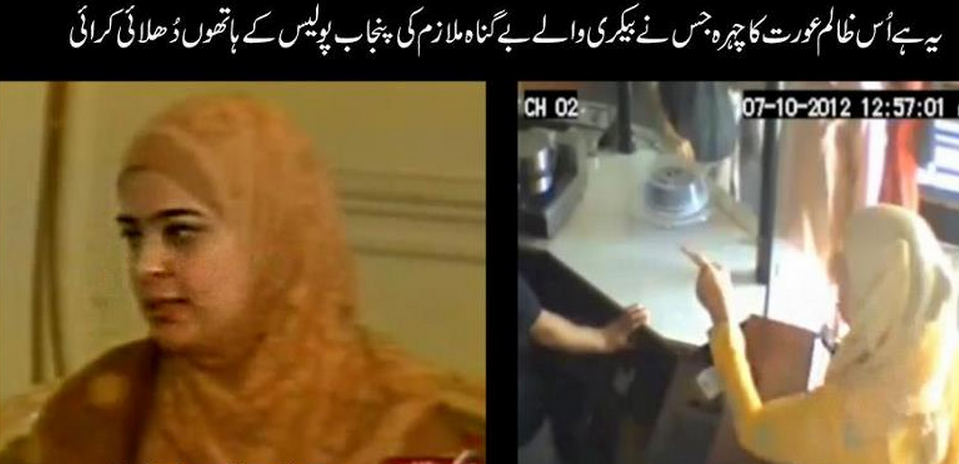 Note: CCTV timer is showing a human error (AM being shown as PM), nothing more. Denial won't do. We seek #Justice4BakeryBoy
Here's another example of abuse of power by CM Shahbaz Sharif's daughter (published in daily Dawn last month):
Punjab CM's car
From the Newspaper | 12th September, 2012

WHILE recently driving on the Mini Market roundabout, my car was hit by a Toyota Land Cruiser (LC-91) from behind at 9.15pm. The traffic warden while assessing the situation asked both the vehicles to be parked aside to resume the busy traffic.

Since I was reluctant to move the car for fear of the other driver running off, the warden very rudely said that he would restrain him. But, in a matter of a few seconds, while I was parking my car, the other driver had a tete-a-tete with the traffic warden who let him go without having him even coming out of his vehicle and looking at the damage he had inflicted upon my car.

When I protested, the warden was abusive and said that it was the Punjab chief minister's vehicle with his daughter sitting inside and hence he had no option.

The whole incident left me appalled and disgusted. I would like to ask the 'Khadim-i-Ala': is he above the law? Is his family above the law? Even are his drivers above the law now? Are rules made only for commoners and not for these ruling elites?

NIDA ZAFAR
Lahore

http://dawn.com/2012/09/12/punjab-cms-car/
Update: Now that Hamid Mir has telecast the above video in his talkshow (Capital Talk), Shahbaz Sharif resorted to populism and hypocrisy and instructed suspension and arrest of six security guards, instead of taking action against his arrogant daughter who had instructed them to beat the poor bakery worker. Needless to say, the entire beating took place under the watchful eyes of Chief Minister's elite police squad.
Professional shoe-lickers are praising CM Shahbaz Sharif on suspending poor servants who followed his daughter's orders. At least one newspaper editor who was so far in denial about the involvement of CM's daughter in the entire bakery incident was seen praising CM Shahbaz after Hamid Mir's show. Low IQ or dishonest? Shame on hypocrites and flatterers.
This particular incident was luckily caught on the camera. Wonder how many other uncaught incidents are happening around Lahore, the personal fiefdom of Shahbaz Sharif and his elder brother.
We demand immediate arrest of Rabia Shahbaz Sharif and her husband Ali Imran.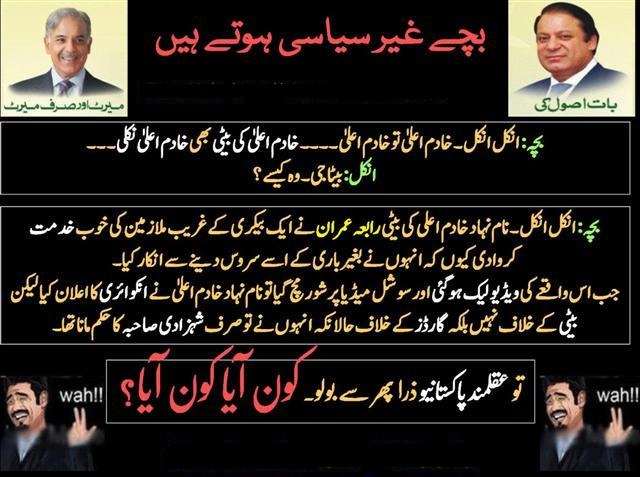 Source: Facebook, Twitter
Update: Khurram Dastgir (PML-N) MNA accepts that the bakery beating woman is Shahbaz Sharif's daughter:
Fahd:
http://www.youtube.com/watch?v=vMa3XrCNW5c
Kashif Abbasi:
http://youtu.be/POGbBbXN81Y?t=33s
Comments
comments