General Zia-ul-Haq personally intervened for Haq Nawaz Jhangvi's release: Tariq Khosa's revelations in the Senate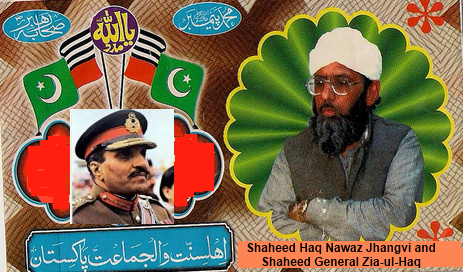 Related post: This is how Haq Nawaz Jhangvi contributed to Benazir Bhutto's murder
According to daily Dawn, Pakistan Senate's defence committee broke fresh ground in the country's parliamentary history on Friday (20 Sep 2012) by holding a public hearing on issues of national security that were long kept shrouded in excessive secrecy. Hearing experts' views about changing nuances of the country's security doctrine, official patronage of sectarianism and how drones had been more effective than counter-militancy operations in Fata was a refreshing experience in the chambers long dominated by official narrative.
Former DG FIA Tariq Khosa told the Senate Committee that as a young police officer (Assistant Superintendent of Police) in Jhang, when he arrested Haq Nawaz Jhangvi (founder chief of Takfiri Deobandi militant group Sipah-e-Sahaba), General Zia-ul-Haq personally called to get him released. Khosa bluntly spoke about how sectarianism was patronized by the State in 1980s. He said General Zia's era was decade of decadence.
For critical readers of Pakistani politics and history, it's neither surprising nor new to hear that an army chief (who also happened to be an usurper president) would intervene for release of a high profile Takfiri Deobandi militant (Haq Nawaz Jhangvi).
Khosa's account confirms what is already known, i.e., Pakistan Army's support to Jihadi-sectarian militant groups including Takfiri Deobandi-Salafists (Sipah-e-Sahaba currently operating as Lashkar-e-Jhangvi and Ahle Sunnat Wal Jamaat). His account, per se, is sufficient evidence that Pakistan Army is the key sponsor of Shia genocide since 1980s.
Critical readers and analysts are aware of the fact that senior army officers (ISI and MI officers in particular) routinely call police officers and judges to get (a few arrested) LeJ-SSP men released.
General Zia's policies of state patronage of Takfiri Deobandis were continued by his successors including but not limited to Generals Aslam Beg, Hamid Gul, Musharraf and now Kayani.
General Musharraf's backed party (PML-Q) begged Azam Tariq's support for PM Zafarullah Jamali and in return granted ASWJ-LeJ with free hand to spread hatred against Shias, Sunni Barelvis, Ahmadis, Christians and other persecuted groups.
In the last few decades, the Deep State (also known as Dangerous Duffers) has only refined its tactics. During General Musharraf's regime (1999-2008) and also during General Kayani's period as army chief (2007 to date), Pakistani State has provided full freedom to ASWJ-LeJ militants to spread hate speech and also facilitated Sipah-e-Sahaba to become an electoral reality. General Musharraf and now General Kayani transformed LeT into JuD and LeJ-SSP into ASWJ and presented terrorists as undisputed philanthropic and nationalist organizations (e.g. Difa-e-Pakistan Council).
During the Senate public hearing, Tariq Khosa said few years back 25000 Afghan trained men were identified in Punjab by secret services, but no action was taken. Khosa demanded judicial review of judgements which released alleged terrorists.
Senator Faisal Raza Abidi at Senate hearing said if investigation was flawed, Pakistan laws provide for punishing prosecutor. "How many were held accountable?", Abidi asked. He blamed the courts for setting free 22000 terrorists, some of whom had been sentenced to death.
Tariq Khosa covered militancy and counter- terrorism areas and said that the government should also ban office- bearers of banned outfits instead of banning militant organisations. Khosa said that since the government had introduced effective laws to curb illegal transactions to the banned outfits through "Hundi and Hawala", annual remittances had grown manifold.
Khosa recalled how sectarian groups like the Sipah-i-Sahaba received official patronage at the highest level in the 1980s. Reminiscing about his early days in police force, he said when he was an ASP in Jhang district, he apprehended Haq Nawaz Jhangvi, the founder of the SSP, for delivering a provocative speech. But the then president Ziaul Haq himself intervened for his release, Mr Khosa added. Similarly, in another incident he had hauled up a cache of weapons, but was asked to release that on directives from none other than Gen Zia. After 9/11, Mr Khosa said, dealing with Al Qaeda and Taliban became an exclusive domain of ISI's counter-terrorism wing. He disclosed that a survey had revealed that 25,000 young men hailing from Punjab had been trained in Afghanistan. Based on the findings, Mr Khosa had recommended their de-radicalisation, but during his testimony he regretted that not much had been done in that direction. The mastermind of last month's Kamra attack was also someone who had fought in Afghanistan, the former FIA chief said.
Khosa said he was aware of more details of the investigation into the Mumbai attacks but it would not be proper to disclose them at a public forum. He spoke at length on sectarian and extremist groups, including the Lashkar-e-Jhangvi, and efforts to counter their activities. He revealed that there were an estimated 25,000 youths in Punjab who had either trained or fought in Afghanistan.
Khosa also offered a peek into the probe of the 2008 Mumbai attack, saying sleuths had uncovered two LeT training camps in Sindh province that were used by militants involved in the assault on India's financial hub. Khosa, who supervised the probe of the Mumbai incident while heading the Federal Investigation Agency, said investigators had found the Lashkar-e-Taiba camps at Thatta and Karachi, the capital of Sindh province. These camps were used by those involved in the attacks, he said. The investigators also found the Pakistani boat that was used by the team of 10 terrorists to travel from Karachi to Indian waters, Khosa said. The boat had been repainted when it was traced but the original colours were found underneath, he said while speaking at the first public hearing organised by a parliamentary panel. The number on the boat's engine had been tampered with by the militants. Investigators used forensic techniques to ascertain the engine number and then found out that the engine had been imported into Pakistan, Khosa said. By following up these leads, investigators were able to find the shop in Lahore which had sold the engine, he said. Khosa said he was aware of more details of the investigation into the Mumbai attacks but it would not be proper to disclose them at a public forum.
Regarding the Balochistan unrest, Khosa said that the government should revive policing across the province and the FC should be sent to bordering areas and police should replace Levies. Khosa emphasised that the provincial government should take concrete steps to counteract terrorism. Moreover, he added that the monitoring of highways should be assigned to the Frontier Constabulary. He said Baloch youth were very much loyal to the state and and they should be engaged and employed properly to end poverty in the province. Khosa called for peaceful resolution of the Balochistan crisis, putting the national counter-terrorism agency under the control of prime minister, giving legal cover to ISI's counter-terrorism wing and review of anti-terrorism laws.
Senior journalist and former Afghan Jihadist Salim Safi gave an overview of the law and order situation in Afghanistan and FATA. He told Senate Committee that Pakistan would have to stop using militancy for foreign policy objectives. He told Senate Committee that drones were more effective than military operations in FATA. "It were drones that broke the backbone of TTP". Safi pointed out that a new grouping was emerging in Afghanistan and in the fast changing scenario, no single group could emerge victorious in the war torn country. He proposed that Pakistan should support an Afghan-owned and Afghan-led solution to the Afghan problem as keeping eggs in one or two baskets had proved counter-productive. He said that the situation was fluid in Afghanistan and any mistake could prove fatal for Pakistan. He said that the people of FATA had become a sandwich between the rival forces and it was imperative for the government to bring the tribal areas in the mainstream and annul FCR and other black laws. Safi said the much criticised drone attacks were actually effective in breaking the backbone of militants in tribal areas. He said only an all-inclusive reconciliation process would work to Pakistan's advantage. Mr Safi said Al Qaeda had lost influence in Afghanistan, but was gaining ground in Pakistan.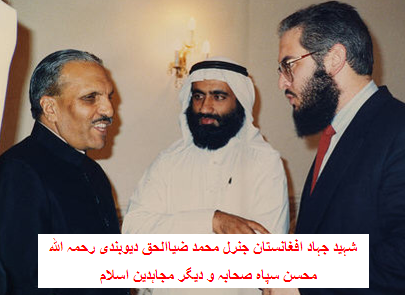 (Source 1, Source 2, Source 3)
Comments
comments