Imran Khan accepts Mullah Omar as his leader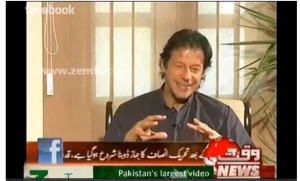 In an interview with  Fareeha Idrees, 8pm" Waqt News – 27th September 2012 , Imran Khan was emphatic in his agreement with the ideology, stance and direction of Sheikh Rashid's Pro-Taliban worldview.  In responding to a specific question about PTI's relationship with Sheikh Rashid and the latter's famous abusive-laden acknowledgement of Mullah Omar as his leader (Amir ul Momineen), Imran Khan was clear in that he supported this current veiwpoint of Sheikh Rashid.
Background
In an infamous public rally (August 13-14, 2012) where he was joined by Imran Khan, Sheikh Rashid abused and incited murderous violence against Pakistan's elected President Zardari (Keeeeeellllll the B——!).  He repeatedly incited the Chief Justice of Pakistan's Dictator-appointed Judiciary to kill President Zardari.
Not surprisingly, given his pro-Jihadist biases, the, Chief Justice who even takes notice of samosa prices and two bottles of smuggled wine, did nothing on this criminal incitment.  In the same speech, Sheikh Rashid also specifically warned the Chief of Army staff to stop operations against the Taliban.
He went so far as to call Mullah Omar his Amir ul Momineen (Leader of the Faithful) and requested Mullah Omar to give Imran Khan a visa for North Waziristan – in preparation for his anti-Drone rally planned in  October.
This speech by Sheikh Rashid with Imran Khan on the same stage can be accessed via this link
http://www.youtube.com/watch?v=_LYKnFKEh-A
Go to the  1:57 mark where Sheikh Rashid call Mullah  Omar his Amir ul Momineen (1:57 sec in to the clip).   At the 4:19  and 6:16 mark, Sheikh Rashid repeatedly urges the Chief Justice to kill President Zardari.  The Sheikh asks COAS General Ashfaq Pervaiz Kiyani (7:17) to stop army operation against the Taliban in on Swat and North Waziristan.
Imran Khan endorses Sheikh Rashid
It is this incident that the interviewer, Fariha Idrees specifically refers to when questioning Imran Khan on where he stands with Sheikh Rashid.  This segment of the interview is Part 2 (second video) and  is available at
http://www.zemtv.com/2012/09/27/8pm-with-fareeha-idrees-imran-khan-answers-shireen-mazari-allegations-27th-september-2012/.
The reference to Sheikh Rashid starts at the 14:50 mark and Imran Khan's emphatic support for Sheikh Rashid's clear support for Mullah Omar and judicial murder is at the 16:45 mark.
In his typical inarticulate and intolerant style, Imran Khan slanders the elected leaders of Pakistan and disses his former collegue and former PTI VP, Shireen Mazari.  As PTI's self-appointed head, he expresses his contempt for formulating party policy as per the aspirations of his party workers.  It is disappointing to see such disdain for PTI activist's aspirations by their own leader Imran Khan.
During the same interview Imran Khan claims to be in control of his party-  he claims to be the person who dictates the party agenda.
Was the wanton looting, arson and vandalism in last Friday's protests also part of the PTI agenda??
Refer to this clip http://tinypic.com/player.php?v=55qxj4&s=6 to see PTI workers engaging in destruction along with Jamaat-e-Islami and Al Qaeda activists.
The corrupt and compromised Chaudhry Iftikhar and the Taliban-apologist Imran Khan is the darling of the upper-middle class civil society elites of Pakistan.  As per unconfirmed sources, the former US ambassador to Pakistan, Cameron Munter is allegedly said to be in favour of supporting Imran Khan's political agenda.
Comments
comments