Sham Hijab Conference: Prime Minister's wife shouldn't participate in a JI event
It is indeed a matter of concern for the progressive elements within Pakistan Peoples Party that Prime Minister Raja Pervez Ashraf's wife Nusrat Ashraf has accepted an invitation to participate as chief guest in Jamat Islami Pakistan's organised event "Hijab Conference".

Jamat Islami abuses religion for political gain
Jamat Islami has always been on the forefront of abusing religion for political gains and point scoring. PPP and other progressive parties and organisations have always faced worst abuses, propaganda, character assassination by the activists and supporters of jamat Islami in their organs and media outlets under their influence. Since the very first day of PPP foundation, they have been the worst opponents of progressive forces at every front from Colleges, universities, trade and labour unions and electoral campaigns.
(JI and its student militant wing IJT hands are soaked in the bloods of thousands of progressive political workers, members of minority sects e.g anti-Ahmadi riots 1953 and AlBadr, Alshams in 1971, all major universities of Pakistan.)
From the 1953 anti-Ahmadi riots, Ghalaf-e-Ka'aba train March, Yaum-e-Shaukart-Islam, Declaring Ahmadis as minority, Tehreek-e-Nizam-e-Mustafa, Joining hands with Ziaul Haq, Afghan Jihad, Mehran Bank scandal, formation of MMA, they have not missed an opportunity to abuse and exploit religious aspirations for political vested interests.
Hijab Debate
It must not be ignored that the recent Hijab campaign too is another political ploy by the premier Islamist group to malign secular and liberal elements for being pro-west and far from traditional religious practices. While some of the confused lot in the liberals, "Liberals with a beard inside" also endorses advocacy for Hijab by calling it a matter of personal choice, ignoring the fact that the proponents of Hijab will not give others the choice to abandon it, whenever they have the the powers to coerce others.
In Pakistan, wearing Hijab is not an issue after all, in a society where acts of sexual assaults and harassment against women not observing Purdah are defended by the same advocates of Hijabs by shamelessly saying that woman not wearing hijab has "Asked for it" by exposing her face and other body parts to provoke sexually uncontrolled breeds of Men for attacking women with verbal abuses or harassing them physically.
Jamat Islami Motives behind such event
The only motive behind the Hijab conferences is to promote their anti-west agenda, where Hijab is banned in many countries, and where its a matter of intense debate among various sections of society. While electoral victories by the Islamists in Turkey, Egypt and Tunisia have motivated their Pakistani sympathisers aka Jamat Islami to promote and defend their token steps regarding Islamisations while ignoring the economic and political aspects, which are nothing but continuity of their predecessors policies.
Jamat Islami: Guardians of religio-nationalist state ideology
Jamat Islami which has been always a political failure on electoral grounds but it has always helped nourishing rightists elements to make inroads and assimilate in political parties from the left or right spectrum. Also the state's approval of Jamat Islami version of religion and history on educational and intellectual level have elevated them to the status of major source for the aspirants of the religio-nationalism.
Embracing individuals influenced with Jamat Islami version of Islam was too a matter of concern for the workers of the party, who have whole of their lives fought them on different level, but endorsing their reactionary and conservative religious stance on an issue will damage the party as well as raise concerns among PPP women activists who will never choose to be counted with religiously motivated JI women workers at any level.
A Question to the advocate of Hijab as personal choice
Throwing away the Hijab too is a personal choice?
This two year old post on an honour killing in Canada is an eye opener.
Aqsa Pervez: who will speak for the daughter of Pakistan?
Sixteen-year-old Aqsa Parvez did not want to wear the hijab. The Middle Eastern head covering has become the most significant icon for Islam in the West, which is unfortunate, since 90 per cent of Muslim women in this country don't wear one. By extension, they get dismissed as not being authentic Muslims.
The CBC's own Little Mosque on the Prairie plays into this stereotype by showing every prominent Muslim woman in a hijab. This superficial measurement of Muslim-ness has become so prevalent that a small but increasing number of families are pushing it on their daughters.
Aqsa, a Pakistani-Canadian, was just one of the victims of this growing obsession.
Now that Aqsa is dead, who will speak for her? Who will speak for the countless Muslim girls who lead double lives and who suffer in silence in their homes? Who will make sure they aren't abused or killed?
Hina Rabbani Khar wearing it in Iran and while meeting Saudi diplomat too was a her personal choices??
Two pictures of Hina Rabbani Khar
Hina Rabbani Khar, a niece of the much married ex-tiger of Punjab Mr Ghulam Mustafa Khar and currently the ultra-glamorous foreign minister of Pakistan (an improvement over the last blowhard and a reasonably intelligent woman), went to Tehran recently to attend the non-aligned summit conference.
Here is a picture of Hina Rabbani Khar in Teheran.(Source)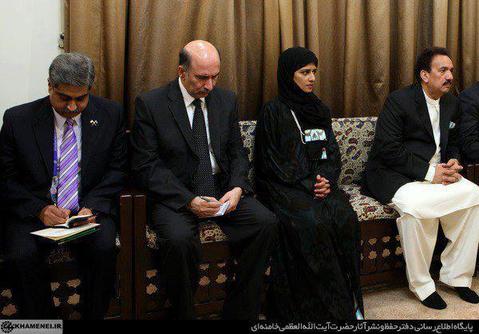 And here is one in India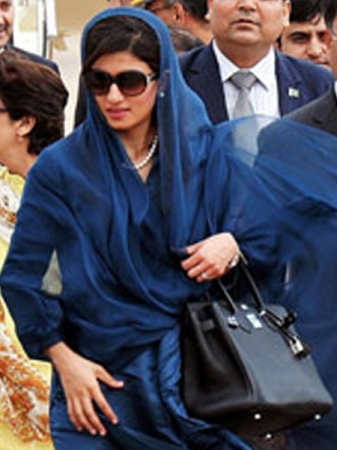 A meeting between Minister of State for Foreign Affairs Hina Rabbani Khar and her Saudi counterpart Dr Nizar bin Obaid Madani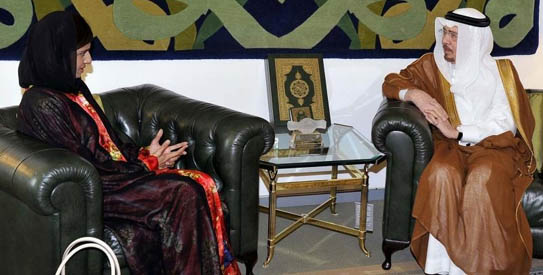 Comments
comments