Shia genocide continues unabated: Passenger buses in Naran attacked, 25 dead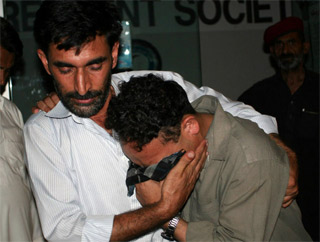 A Pakistani man comforts a mourner, following the killing of Shia Muslims, at a hospital in Ghari Hbibullah in the northwestern district of Mansehra on August 16, 2012.
Related Post #ExpressTribuneShiaPhobia – Misreports massacre of 30 Shias in Gilgit as Sunni massacre
Editor's Note: Due to the grotesque misrepresentationn of the latest Shia massacre by Express Tribune, some of our correspondents and authors have made active efforts to reconfirm that the massacre is in fact that of Shia muslims.  Independant websites that have often been suppressed by the State and Interior Ministry, have also confirmed that the latest atrocity is in fact part of the ongoing Shia Genocide in Pakistan.  Express Tribune needs to thoroughly investigate who is responsible for publishing misrepresentations that not only  obscure Shia Genocide but also incite more hatred against the victims!
The Lashkar-e-Jhangvi (Sipah-e-Sahaba/Ahl-e-Sunnat-wal-Jamaat) terrorists have once again attacked buses carrying Shia passengers from Islamabad to Gilgit in Naran area. According to reports, around 20 Shias were killed and at least 20 other were injured when gunmen opened fire on the buses.
Previously on 3 April 2012, at least six passenger buses were stopped by Al Qaeda affiliated Lashkar-e-Jhangvi/Ahle Sunnat Wal Jamaat (ASWJ) militants in Bonar Das area in Chilas (Gilgit Baltistan), passengers were segregated by checking their identity documents, those found or believed to be Shia Muslims were shot dead and many other Shias were kidnapped. The number of Shias killed was thought to be close to 200. Later a video of the incident was also released which showed how brutally the Shias were killed. In the video, dozens of terrorists are seen laughing while they fired upon innocent Shias. The terrorists also raise slogans such as Shia Kafir and joked with each other while killing innocent Shia Muslims.
A similar incident also took place in February 2012 when ASWJ-SSP militants stopped buses and vans travelling to Gilgit on the Karakoram Highway in Kohistan, verified the identity of the passengers before killing 16 members of the Shia community.
Pakistan's Shias have been under attack in all parts of the country at the hands of ISI-backed and Judiciary-supported Lashkar-e-Jhangvi/ASWJ terrorists who are also affiliated to Al Qaeda. Thousands of Shias have been killed in Karachi, Quetta, Mastung, Dera Ismail Khan, Chilas, Parachinar and many parts of Punjab. The Shia killings continue unabated as the Pakistani state continues its jihadist policies with support from Pakistani media and Pakistani judiciary.
Related posts:
Eyewitness accounts of Shia genocide in Gilgit and Chilas – by Shujat Hussain Mesam
Congratulations on Chilas victory – by Riaz Malik
What exactly happened with Shia passengers in Chilas? – by Ali Raza
What happened in Chilas: An interview with a Skardu-based educationalist – by Nakvisson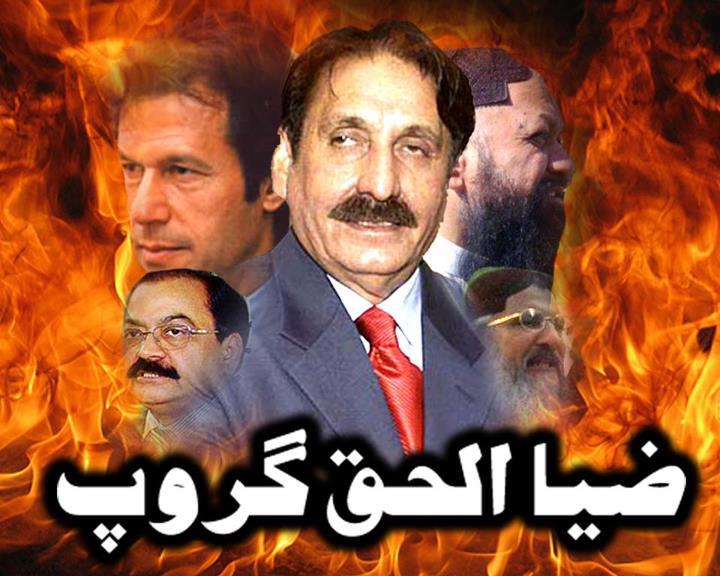 Comments
comments