This All Began in 1947: The Jihadist Operations of Pakistani State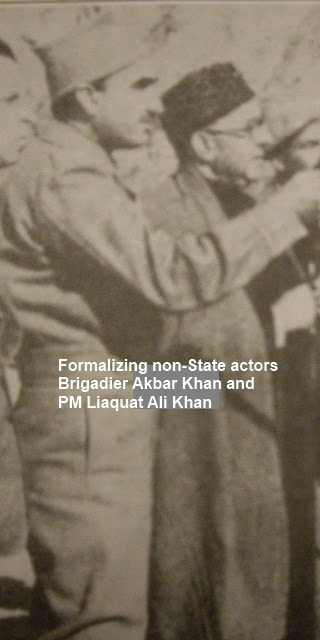 Related post: This too was Pakistan (1947-71): A response to Nadeem Paracha's "Also Pakistan"
General Zia-ul-Haq and to a lesser extent Zulfikar Ali Bhutto are often blamed for using or cultivating non-State actors (Jihadi proxies) to promote Pakistan's (or Pakistan army's) strategic agendas in neighbouring regions (Afghanistan, Kashmir, India), this post is a quick compilation to document the often untold history of Pakistani State's wilful deployment of non-State actors (Jihadi mercenaries) for military strategic purposes. And this did not start with the so called Jihad-e-Afghanistan in late 1970s, this started right in 1947, only a few weeks after Pakistan came into being.
Central to this policy of using radicalized non-State actors was General Akbar Khan (full details below).  Before Partition, he was instrumental in massacring fellow Pashtuns at the behest of the British Raj in the 1937-38 operation in Pashtun Tribal areas.  During that time, he built up his networks within the local tribes, particularly with the Mehsuds of South Waziristan – a seed that would be used for a deadly harvest later.  Just months after Partition, he was charged with leading the "Jihad" in Kashmir – a tragic operation that saw an indiscriminate and brutal massacre of Kashmir's indigenous Muslim and Hindu partition. In 1948, the same General Akbar lead the annexation of the State of Kalat that became Balochistan.
Young Pakistanis need to examine the involvement of the State in using Non-State actors to further their strategic objective – objectives that are based on xenophobia and paranoia.  The central character in these initiatives is General Akbar – one of the most useful Pashtun sepoys in service of the Punjabi-Mohajir dominated civil-military bureaucracy that still has an iron grip on Pakistan's affairs.  It is high time that Pakistan's youth generation discards the Ostrich opproach to the unsavoury aspects of our shared history.  Unless we cannot learn from the mistakes of the past, we cannot move ahead, to paraphrase a cliche.
After having completed sixty-five years as a fractured country, we need to rethink our romantasized and selective past and embrace historical facts in their entirety.  As right-wing crypto-Jamaati ideologues drone on about their simplistic and romantisized understanding of historical figures such as Jinnah, Liaquat Ali Khan and Iqbal, the youth is desperately in need of a reality check. By misappropriating historical figures to buttress a concocted public discourse culled from Pakistan Studies textbooks of questionable merit, we are doing ourselves no favours.
In the butchery of Pashtuns, Baloch and Kashmiris, General Akbar was not acting in isolation. We can no longer afford to see the Quaid-e-Azam in the Quasi Divine light that we are used to.  Similarly other "civil society" and "Marxist" elites can no longer pretend that today's Pakistan is simply the result of bad policies of the elected Bhutto and the military dictator Zia.  Their own roles are less than exemplarary.  After all, were it not the celebrated comrades Faiz Ahmed Faiz and Sajjad Zaheer who stood aligned with General Akbar (the murderer of Pashtuns, Kashmiris and Balochs) in the Rawalpindi Conspiracy Case.  Clearly, Pakistan's history is not as simply as Uncle Urfi on PTV.
The remainder of this post is a quick compilation of events and reports (mainly by Dr Shabir Choudhry, Major (retired) Agha H. Amin, Dr. Ishtiaq Ahmed and other authors of diverse views and interpretations) about the role of Pakistan's ruling elite (led by Pakistan Muslim League) and Pakistan army in conceiving and implementing the unholy Proxy War doctrine. The doctrine involved exploitation and deployment of Pashtun and other Jihadis to achieve strategic objectives of the newly founded country in 1947. The tribal invasion of Kashmir was the first formal declaration of the fact that the State of Pakistan, particularly its army leadership, will accept massacre of innocent human beings as collateral damage as long as the State's strategic objectives are (hoped to be) achieved. This is a scenario not much different from Pakistan of 2012 when we see millions of Pashtuns, Balochs, Shias being sacrificed as collateral in Pakistan army's vain pursuit of strategic depth. Happy reading!
1947: Pakistan army hires tribal mercenaries to liberate Kashmir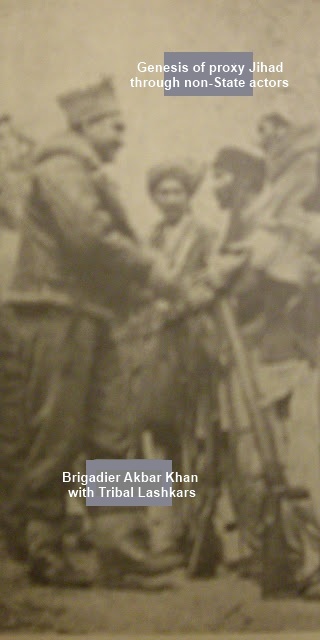 Tribal invasion of Kashmir started on 22 October 1947, an outcome of collaboration between Pakistan army, Pakistan Muslim League and Muslim Conference. Muslim Conference not only invited the tribal attack but also actively joined the raiders. Reward for this collaboration was that they were appointed rulers of this region known as Azad Kashmir; they and their political masters in Pakistan kept on feeding lies to people to strengthen the impression that the 'tribesmen' were 'liberators', and they came to Kashmir to fulfil their religious obligation.
The Tribal Invasion was a contentious and significant action, because of its serious consequences; and because it clearly violated the Standstill Agreement concluded between Pakistan and the Ruler of Jammu and Kashmir. Furthermore, it resulted in death and destruction of thousands of innocent people; and it forced the Maharaja of Jammu and Kashmir to seek help from India, which was only made available after the 'provisional accession' to India. Apart from that it divided Kashmir resulting in enormous problems for thousands of families on both sides of the divide. It should also be remembered that the Tribal Invasion, apart from other problems also resulted in the first India and Pakistan war, bringing its own problems, animosity and subsequent wars.
While discussing about brutalities of the Tribal attack, Khawaja Abdul Samad said: 'Hindus and Muslims were taking refuge in separate areas. Most of the properties that belonged to Hindus had been burnt down. Many Hindus and Sikhs had been mercilessly slaughtered and most of their bodies were still lying in their homes or on the streets. In the past two days, the tribesmen had dragged numerous bodies and thrown them into the river………..Their attack had totally devastated Muzaffarabad. The homes of Hindus and Muslims were looted, shops were plundered and all the stock loaded onto trucks. Places of worship were not spared; they entered and took whatever they considered to be of value. They tore down mandirs and desecrated masjids. In their lustful search for gold, silver and rupees they even used digging equipment to search beneath the stone floors of shops. Whatever they could find would be amassed in a collective place where tribal leaders would supervise the whole process. From here, everything would be loaded onto trucks and sent on their way to the North West Frontier Province. In Muzaffarabad and its surroundings, no Muslim home was spared from this tribal bounty-hunt.' (Tribesmen steal from a Masjid – Mosque.)
Khawaja Abdul Samad, while discussing the loot and plunder carried out by the tribesmen who apparently came to Jammu and Kashmir for the purpose of 'Jihad' and to 'liberate' people of Jammu and Kashmir, explained how they even looted materials hidden in a Masjid:
'As there was no restriction on how much booty the tribal Pathans could take home, some of us locals consulted with each other and made a plan. We decided that in order to protect Hindu assets from being seized by the tribesmen, we would take upon ourselves (Muslims) to transport goods and valuables from Hindu homes and store them in the masjid. Some Hindu youngsters, many of whom were our close friends; who had yet somehow avoided the deathly onslaught were also utilised in this exercise….. 'The 'Bazaar Wali' masjid was a two-storey building. By the evening, so much stock had been stored there that there was barely room for even a solitary 'sandooq' (large metal box for storing valuables) to fit in. We locked up the masjid at night and left for our respective camps of refuge. When I returned in the morning, I found that the masjid had been stripped bare clean. I was later to learn that the tribesmen had come late the night before and taken everything.' (Source)
General Akbar Khan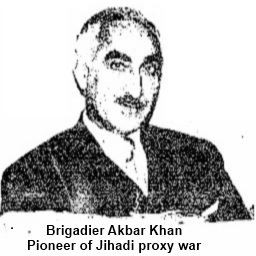 Major General Akbar Khan, DSO also known as Mohammed Akbar Khan, was a Pakistan Army officer who was the Brigadier-in-Charge in Kashmir on the Pakistan side in Indo-Pakistani War of 1947. He also served as a commander of the Pakistan Army's division to stop the first Baloch insurgency of 1948. Khan later served as appointed Chief of National Security under prime minister Zulfikar Ali Bhutto in 1970s. Under Khan's guidance, the Army had quelled the Balochi Insurgency during the early and mid 1970s. In spite of his engaging military career, Khan is mostly known in Pakistan as the main conspirator of the first but failed coup attempt of 1951, which came to be known as the Rawalpindi Conspiracy.
Akbar Khan was born in 1912 in a fairly affluent Pashtun family. He belonged to a village named Utmanzai (Parichkhail Family) in the district of Charsadda. He received his education at Islamia College, Peshawar, and took a commission into the British Army. After officer training at Sandhurst Military Academy, he joined The Hampshire Regiment in 1934, and later transferred to the 13th Frontier Force Rifles, part of the British Indian Army.
Before Partition in 1947, Akbar Khan took part in operations in Waziristan war during 1937–1938. During World War II he served in the 100th Indian Infantry Brigade of the 20th Indian Division during active combat operations against the Imperial Japanese Army in Burma. He was awarded the Distinguished Service Order (DSO) for conspicuous gallantry and leadership displayed during the Battle of Kwanlan Ywathit whilst serving in the 14th Battalion of the Frontier Force Rifles.
At the time of Independence, Akbar Khan was a member of the sub-committee involved in partitioning the armed forces between India and Pakistan. Less than two months after Independence, fighting started in Kashmir, the Indian Army landed in Srinagar and confronted the Pathan tribesmen who were advancing towards the valley. Akbar Khan, who was then a Brigadier, assumed command of the regulars and irregulars fighting against the Indian forces and was given the code name "General Tariq".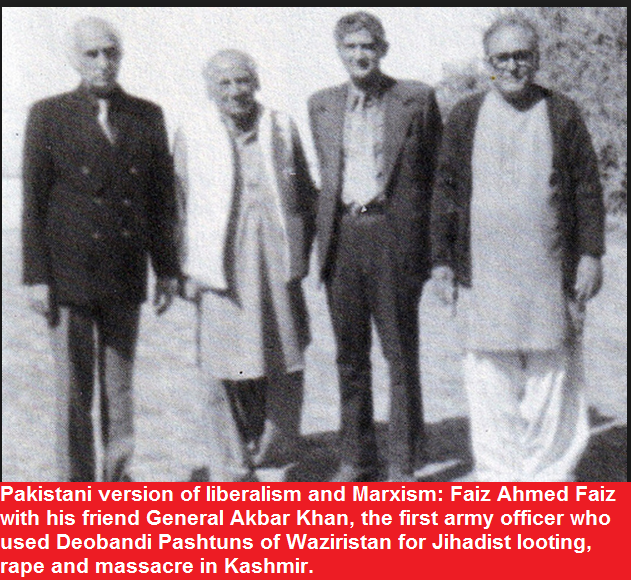 Although Akbar Khan's actions in Kashmir were in direct compliance with wishes and instructions of the ruling elite (Jinnah, Liaquat, other PML leaders), he became dissatisfied with the moral and material support being given to the Pakistani fighters by Liaquat Ali Khan's government. He also had a grudge against General Douglas David Gracey, then Commander-in-Chief of the Pakistan Army, who had put a brake on the deeper involvement of the army on the Kashmir front. Akbar Khan was of the opinion that acceptance of the ceasefire in Kashmir when he was only four hours away from capturing Srinagar, was a mistake and the armed operation against the Indian Army should have been continued.
The administrative constraints under which Akbar Khan had to conduct the battle in Kashmir made him a very frustrated and dissatisfied person. Clearly he was much more ambitious than the ruling political elites. By nature he was extremely brave and, in fact, rather rash. He was also very ambitious. All these qualities and tendencies combined to propel him towards conjuring up a plan to remove the Liaquat government by means of a coup d'état.
Reassessing Liaquat Ali Khan's role
— by Riaz Shahid
Nawabzada Liaquat Ali Khan was the first prime minister and a founding father of Pakistan. Being the closest lieutenant of Quaid-e-Azam has given him a semi-divine status in Pakistani history. There is, to this date, very little objective assessment of his role as prime minister. I believe this is a folly since Liaquat Ali Khan lived a much longer time compared to Quaid-e-Azam after the birth of Pakistan, and his legacy still shapes Pakistan today in several critical areas.
First and foremost is the fact that Pakistan's disastrous constitutional history has much to do with Liaquat Ali Khan. He had no constituency in Pakistan. His hometown was left behind in India. Bengalis were a majority in the newly created state of Pakistan and this was a painful reality for him. While India was able to promulgate a constitution by 1950 and hold a first direct election on adult franchise in 1951, the Muslim League under Liaquat Ali Khan scrupulously avoided its responsibility to frame a constitution. The reason was simple. Had a constitution been framed, the Bengali demographic majority would have granted Bengalis political power and Liaquat Ali Khan would have been sent out of the prime minister's office. The person who would have replaced him would have been Hussain Shaheed Suhrawardy, the most popular political leader of Bengali Muslims and a great stalwart of the freedom movement. He had been chief minister and head of a Muslim League government of United Bengal before partition. Of course, the West Pakistani political elites, particularly those of Punjab, were also against a permanent Bengali majority in the National Assembly. Had Liaquat Ali Khan ignored his personal political interests and respected the ground reality of the Bengali majority, Pakistan might have got itself a workable constitution 60 years back. He was in a position to ignore the Punjabi elites and do the right thing. The Pakistani army was in formative stages and was in no position to challenge civilian authority. All the service chiefs were British.
Liaquat Ali Khan was the one to bring for the first time religion into politics. His alliance with the mullahs produced the 'Objectives Resolution', which declared Pakistan to be an 'Islamic state'. Common perception holds Zia or Bhutto responsible for mixing religion and politics, but it was Liaquat Ali Khan under whose leadership mullahs were given entry into politics and the right to decide the fate of the nation.
Then there is Kashmir. During the initial stages of the Kashmir conflict, Sardar Patel, India's deputy prime minister, offered Pakistan to exchange Hyderabad Deccan for Kashmir. This fact is corroborated by a host of impeccable sources including Maulana Abul Kalam Azad and Chaudhri Muhammad Ali, Liaquat's close confidant. The latter has described how this offer was made by the Indians in his masterly biography, The Emergence of Pakistan. Hyderabad Deccan was a gone case from day one. It was surrounded on all sides by the Indians and had a Hindu majority. Kashmir, on the other hand, was Pakistan's jugular vein and we should have aimed to get it by hook or crook.
Lastly, Liaquat Ali Khan paved the way for Pakistan's first military dictator. Ayub Khan was merely a colonel in 1947. Quaid-e-Azam had given orders that he will not wear wings for one year and will be transferred to East Pakistan forthwith due to his involvement in looting evacuee gold and silver. No less a person than Sardar Abdur Rab Nishtar had written a report on Ayub Khan's misconduct. Ayub Khan's British superiors had given him a horrible ACR for his timidity and refusal to participate in combat in Burma in World War II. Had independence not come about, the British would have retired him early. Most importantly, Ayub Khan had not even taken part in the Kashmir war. Strangely, this bad service record was ignored by Prime Minister Liaquat Ali Khan who also happened to be Pakistan's first defence minister, and appointed Ayub Khan as Army Chief over two senior generals.
I do not deny that Nawabzada Liaquat Ali Khan played a tremendous role in the creation of Pakistan, but this does not mean that we deify him and not critically analyse his policies and actions.
The 1947-48 Kashmir War
— Ishtiaq Ahmed
DAILY TIMES—Tuesday, March 16, 2010
I was quite intrigued by the convoluted reasoning underpinning Riaz Shahid's op-ed, 'Reassessing Liaquat Ali Khan's role' (Daily Times, February 15, 2010). In it he assailed Liaquat Ali Khan for a number of wrong decisions, among which one that generated controversy was the allegation that he appointed Ayub Khan as Pakistan's army chief when the latter had allegedly been given very bad references for timidity and lack of leadership during World War II when he was posted on the Burmese Front; more damning than that was, according to Riaz Shahid, Ayub's absence from the Kashmir War. The lack of battle experience, argues the author, rendered him unfit to be promoted as the highest soldier of Pakistan.
Since I am in the process of completing a book on the role of the Pakistan military in Pakistani politics, I have had to go through the literature on the Kashmir War as well. I must say that with or without Ayub Khan's participation, initiating hostilities in Kashmir cost us that state. Mian Iftikharuddin, Faiz Ahmed Faiz and Dr MD Taseer had been tasked to woo Sheikh Abdullah over to the Pakistani point of view on Kashmir. They gave up in despair when scores of tribal warriors backed by Pakistani regulars and irregulars entered Kashmir in the last week of October to liberate it from Dogra rule.
The tribal warriors quickly forgot the mission they were supposed to achieve, and succumbed prey to a vice deeply rooted in their culture and history — looting, pillaging and raping. Among their victims were some European nuns, presumably engaged in meditation and helping the poor. Why some of our senior officers could not keep such characters under control is of course another matter, but Kashmiri opinion quickly turned against the infiltrators. The rape of the nuns brought along international disapprobation and condemnation.
The tribal warriors had no clue that something called the Accession Bill privileged the rulers of princely states to determine their state's relationship with India and Pakistan. That Pakistani officers and jawans were also oblivious of the same is rather astounding. The fact is that even Quaid-e-Azam did not realise the great folly in going into Kashmir. There is overwhelming evidence to suggest that he had instructed a number of ministers to help the 'freedom fighters' whereas Liaquat and some others were lukewarm in their support. This difference of opinion in the central cabinet comes out clearly in Major (retd) Agha Humayun Amin's book on the Pakistan Army to which Riaz Shahid has referred in his above-mentioned essay.
But here are some arguments to prove that the Kashmir War actually set in motion a process that diminished our claim on Kashmir. Maharaja Hari Singh Dogra had no intention of merging his state with either India or Pakistan. The Pakistan-sponsored insurgency forced him to choose sides. The Indian emissary, VP Menon, arrived in Srinagar with a document that stipulated Indian military help only if the Maharaja signed the Accession Bill. There is some dispute as to the actual date on which it was signed, but the document that the Indians have in their possession gives October 26 as the date on which it was signed.
At that time the British officers were holding commanding positions on both sides. The only reason some of them stayed behind was to ensure that these two states were not dragged into an armed conflict with each other; another reason was to train and groom them to become part of the grand Commonwealth reservoir of troops, which Britain deluded itself into believing will still be its role in South Asia for a long, long time to come. It is clearly stated in the 12th and last volume (1983) of the Transfer of Power that the British government has released on the partition of India that British officers who agreed to serve in India and Pakistan were under clear instructions not to fight in case war broke out between these two states.
Even more importantly, it is now time to wonder if our leaders acted responsibly in opening a front in Kashmir when more than 14 million people had been uprooted, some 1-2 million killed — of which at least half of the fatalities were that of Muslims — in the rioting, and hundreds of thousands of women abducted by men from the 'enemy religions'. Pakistan was on the verge of bankruptcy. In 1948, the Pakistani international border with India was as vulnerable — in fact infinitely much more — as in 1965.
Take up any book published in Pakistan on the division of the common assets of the Indian Royal Armed Forces and you will find Pakistan, justifiably, claiming that it was not given a fair share of the tanks, guns and ammunition and so on. Had the Indians opened the front at Lahore or Sialkot in 1948 as they did in 1965, our bluff would have been called forthwith.
The fact remains that the British Acting Commander-in-Chief, General Gracey (the C-in-C General Messervy was away on leave) did not let down Pakistan by dissuading Jinnah to let the conflict escalate. He did a favour. This does not sound very patriotic, but as a scholar I must speak the truth. The 1947-48 Kashmir was a much more irresponsible adventure than the one that was initiated in 1965.
In August 1965, infiltrators were despatched into India. They were able to report some spectacular successes though the evidence now tells a story of both advances and reverses. The Indians opened the front along the Punjab border on September 6. For a few days our armed forces fought with great courage and determination, but so did the Indians. After a few days, we had run out of spare parts, ammunition and armaments. The situation on the other side was perhaps not any better.
On our side this happened even when for almost a decade we had been recipients of state-of-the-art US military aid and training. In 1948 we were poorly armed and proper training and organisation were absent. It would have not made an iota of a difference if Ayub had fought in 1947-48 and gained battle hardiness. Such romantic phraseology is totally unwarranted. It only perpetuates a vain myth that the Pakistan military is some invincible fighting machine and the fault lies in some generals.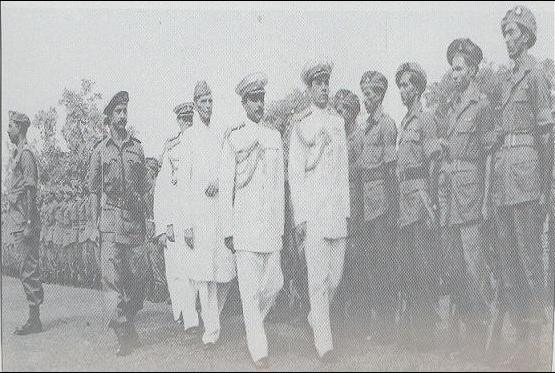 Jinnah's role in the Kashmir War
—Yasser Latif Hamdani
The issue of whether Jinnah knew about it is a contentious one, primarily because there is no evidence, let alone 'overwhelming' one, of Jinnah's knowledge of the tribal invasion. On the contrary, the evidence as well as consensus amongst the majority of the students of the Kashmir dispute is that Jinnah was entirely ignorant of the tribal invasion till at least October 10, 1947
In his article 'The 1947-48 Kashmir War' (Daily Times, March 16, 2010), Dr Ishtiaq Ahmed has insinuated that there is overwhelming evidence that Jinnah not only knew about but was instrumental in the organisation of the invasion of Kashmir led by General Akbar Khan.
In this, Dr Ahmed claims to have relied on Major (retired) Agha Humayun Amin's History of the Pakistan Army, though that book itself makes no such claim nor cites any overwhelming evidence. The chapter on Kashmir War does, however, praise Jinnah for his "leadership" in the war and for his "initiative". Major (retired) Amin waxes eloquent about how Jinnah was a great leader — a rock even — of men, who might have wrested Kashmir had he on his side a Patel, which Nehru in India was lucky to have.
These glowing left-handed tributes to Jinnah's decisive leadership on the Kashmir issue seem quite out of place when one considers that Jinnah's direct orders for mobilisation of the Pakistan Army were defied by the first Commander-in-Chief, General Gracey, and Jinnah had no choice but to back down. Any biographer of the man will tell you that Jinnah's greatness was never in any real superhuman strength but his ability to project invincibility where there was none. He was always the poker player dealt repeatedly a bad hand by fate. This is what makes Jinnah one of the most fascinating characters in modern history.
The issue of whether Jinnah knew about it is a contentious one, primarily because there is no evidence, let alone 'overwhelming' one, of Jinnah's knowledge of the tribal invasion. On the contrary, the evidence as well as consensus amongst the majority of the students of the Kashmir dispute is that, sitting in Karachi in the first two months of Pakistan's creation, Jinnah was entirely ignorant of the tribal invasion till at least October 10, 1947, when it was officially underway in the north.
Here it is pertinent to quote Alastair Lamb, the author of Incomplete Partition, who says on page 137 of this book: "What part had the government of Pakistan to play in this venture into the military venture into the state of Jammu and Kashmir?…The Governor General, M A Jinnah was kept ignorant of all the details, though naturally he was aware that there was trouble of some sort brewing in Kashmir, and the Pakistan cabinet did not take a minuted stance."
Fatima Jinnah confirms this as well. Sorraya Khurshid, the wife of K H Khurshid and sister to Khalid Hasan, writes in her book Memories of Fatima Jinnah on page 87 that Fatima Jinnah told her that Jinnah had no clue about the tribal invasion. She is quoted as saying, "In fact, he did not know anything about it [Kashmir attack by tribals] at all and was very sorry that a thoughtless step had been taken in such a crude and unorganised manner."
George Cunningham also seconds the view that Jinnah was unaware of the tribal invasion till very late. He is quoted in the book Sir George Cunningham: A Memoir (Blackwood, 1968), on page 140 as saying: "On October 25, Colonel Iskandar Mirza arrived from Lahore. He told me all the underground history of the present campaign against Kashmir, and brought apologies from Liaquat Ali for not letting me know anything about it sooner. Liaquat had meant to come here last week and tell me about it personally but was prevented by his illness…Apparently Jinnah himself first heard of what was going on about 15 days ago, but said, 'Don't tell me anything about it. My conscience must be clear'…It was decided apparently about a month ago that the Poonchis should revolt and should be helped. Abdul Qayyum was in it from the beginning."
The issue to my mind is an academic one. It is quite possible that despite all the evidence pointing to the contrary, Jinnah was in complete control and was organising the insurgency sitting in Karachi. However, the issue at hand is how historical inaccuracies are invented and then recycled by academics who use their credentials to hedge all criticism levelled at them for glaring omissions or inaccuracies in their work. Dr Ahmed's piece has now been quoted by many armchair generals in the great war of history being waged in the sewers of that monstrosity humanity has invented for itself called the web.
The fact is that Dr Ahmed had no basis to claim "overwhelming evidence" whatsoever. His entire reliance was on one book that only praises Jinnah's role as the "Father of the Pakistan Army" (actually Jinnah may only be termed as the father of the Indian Army given his role in the founding of Dehradun Military Academy in India) and implies that because he was a man in control, he could not have been in the dark. Major (retired) Amin credits Jinnah for having gotten Pakistan what little Kashmir Pakistan has today whereas Dr Ahmed uses the same to argue that Jinnah had planned the ill-advised invasion of Kashmir.
Both contentions fly in the face of reality however. Jinnah had little or no interest in military matters beyond a political angle — he had campaigned for the Indianisation of the army as an Indian nationalist leader and after Pakistan was created, he had reversed the age-old martial race theory by forming Bengali regiments. Perhaps somewhat exaggerated, but not entirely off the mark, American scholar Stephen Cohen writes in The Idea of Pakistan: "Jinnah cared little for military matters — he told the first commander-in-chief of the Pakistan Army, Sir Douglas Gracey, to run things together with Liaquat Ali Khan" (page 102).
To be fair though, Jinnah tried to assert himself when he ordered the Pakistan Army to mobilise against the Indian Army's movement towards Srinagar, but he was dissuaded from doing so by what can legally only be called 'mutiny' and nothing else. It would be fair to say that had the Pakistan Army moved at that time, the Kashmir dispute would have been resolved in one fair blow. Dr Ishtiaq Ahmed's contention that India would have opened a front at Sialkot as they did in 1965 is also erroneous. As the former Kashmiri Prime Minister Mehr Chand Mahajan's book shows clearly, the document of accession was not signed till the Indian troops were firmly on ground in Srinagar. Swift action then would have saved both Pakistan and India considerable heartbreak that has come their way due to protracted conflict.
Did Jinnah know about the Kashmir War?
—Ishtiaq Ahmed
Those who want us to believe that an obscure colonel forced Pakistan into a war without the knowledge of the top political leadership, especially someone of the stature of Jinnah, are insulting common sense.
In his comment, 'Jinnah's role in the Kashmir War' (Daily Times, March 24, 2010) on my op-ed a week earlier, 'The 1947-48 Kashmir War' (Daily Times, March 16, 2010), Yasser Latif Hamdani writes:"There is no evidence, let alone 'overwhelming' one, of Jinnah's knowledge of the tribal invasion." In the next paragraph he quotes Alastair Lamb who writes, "The Governor General, M A Jinnah was kept ignorant of all the details, though naturally he was aware that there was trouble of some sort brewing in Kashmir…" Lamb speaks about Jinnah being kept ignorant about details, not about the event itself.
The relevant portion from NWFP Governor George Cunningham's quote Hamdani invokes strengthens the inference I draw above. Cunningham remarked, "Apparently Jinnah himself heard first heard of what was going on about 15 days ago, but said, 'Don't tell me anything about it. My conscience must be clear'." In plain English, one can only read it to mean that Jinnah did not want others to know that he knew about the Kashmir campaign. Hamdani calculates that Jinnah first learnt about it around October 10, 1947. That means 14 days before "tribal warriors backed by Pakistani regulars and irregulars entered Kashmir in the last week of October", as I wrote earlier. Fourteen days is long enough to put a stop to a misadventure. It was distinctly separate from the uprising in Poonch in August that comprised mainly Poonchis who had served in the Indian and Kashmir armies. The issue at debate is the invasion that started on October 24, 1947, that precipitated the decision of the Maharaja to accede to India. The events that preceded it are not relevant.
Hamdani claims that Major (retired) Agha Humayun Amin makes no claim about Jinnah being in the know about the Kashmir tribal incursion. In his book, The Pakistan Army till 1965 (1999), Amin writes, "The Muslim League's high command had tasked Mian Iftikharuddin, Minister for Refugees, to prepare a plan aimed at ensuring that the Muslim majority state of Kashmir should join Pakistan. Brigadier Akbar Khan then serving in the Pakistan GHQ wrote an appreciation 'armed revolt inside Kashmir' on Mian Iftikharuddin's request. It appears that Mr Jinnah had tasked Iftikharuddin to plan/handle the Kashmir business" (p 89). Further down, Amin talks of three principal parties that were involved in the whole invasion affair. Of the three, "One side was the Muslim League leaders like Shaukat Hayat (an ex-major), Iftikharuddin and Khurshid Anwar who had been ordered by Mr Jinnah to do something to help the Kashmiri Muslims…" (p 89).
Later Amin writes, "It may be noted that Mr Jinnah had ordered General Gracey the British Acting C-in-C…to attack Kashmir." Gracey refused because Field Marshal Auchinleck, who was the Supreme Commander of both India and Pakistan, overruled British officers to take part in a war between India and Pakistan. Amin goes on to develop an argument that the Kashmir war was winnable. That is the opinion of a military officer and an author. One need not concur with that.
Hamdani latches on to Amin's belief in victory in Kashmir and makes this interesting remark, "Jinnah tried to assert himself when he ordered [on October 24 or 25, 1947] the Pakistan Army to mobilise against the Indian Army's movement towards Srinagar, but he was dissuaded from doing so by what can legally only be called 'mutiny' and nothing else." How very interesting and original indeed! Instead of charging Gracey with mutiny, Jinnah promoted him as Pakistan's second commander-in-chief in February 1948, which is several months after he allegedly mutinied. Gracey was C-in-C till 1951 when Ayub Khan took over.
Professor Ayesha Jalal has the Kashmir war in her book, The State of Martial Law: The Origins of Pakistan's Political Economy of Defence (1990). She observes: "One has perforce to conclude that the government of Pakistan with the connivance of the Frontier ministry was actively promoting the sentiments that had encouraged the tribesmen to invade Kashmir. Admittedly, the Pakistani leadership refrained from officially committing the army in Kashmir. But they did so because of the severe shortage of arms and ammunition, not because this was the preferred course of action. If they had been in a position to do so, the Muslim League leaders, with Jinnah's blessings, would have thrown in the army behind the tribal effort…The commander-in-chief of the Azad forces was a Pakistani army officer, colonel Mohammad Akbar, who went under the pseudonym of 'General Tariq' [legendary conqueror of Spain in the 8th century] and was known to be in close contact with Qayum Khan and through him with Jinnah and the League leaders in Karachi" (pp 58-9).
Hamdani and others who want us to believe that an obscure colonel forced Pakistan into a war without the knowledge of the top political leadership, especially someone of the stature of Jinnah, are insulting common sense. If that were true, then why did Jinnah not order Akbar Khan to be tried for gross insubordination that was tantamount to treachery? Akbar Khan should have been court-martialled. He was not, because he had acted only after clearance from the very top. Before he became really ill in June 1948, Jinnah exercised real power and authority and made key decisions. Liaquat Ali Khan was practically his sidekick.
In April 1948, Gracey was convinced by Jinnah to send troops into Kashmir. By that time some arms had been procured from Britain, writes Brian Cloughley in his book, A History of the Pakistan Army: Wars and Insurrections (2000). Thus officially Pakistan and India were at war from April 21, 1948. Cloughley notes that May 1948 onwards, India began to enjoy the upper hand, but the war remained stalemated with neither side scoring victory (pp 20-21). Major-General (retired) Shaukat Riza reached the same conclusion, that neither side could win the war in Kashmir in his book, The Pakistan Army 1947-1949 (1989). Under the circumstances, it was not extended to Punjab, but would have had India felt it needed to checkmate Pakistan. That is what I concluded in my previous article.
Jinnah was a poker player who projected invincibility even when he was dealt a bad hand by fate, asserts Hamdani. It is a peculiar way to sum up Jinnah's politics, to say the least. I am convinced that if the Kashmir gamble had succeeded, Miss Jinnah, Soraya Khurshid, Yasser Hamdani and many others would have described it as yet another marvellous poker gambit of Jinnah. Our heroes never make a wrong move. If they do we feign ignorance about it.
First Kashmir War 1947-48
The India-Pakistan War of 1947-48, sometimes known as the First Kashmir War, was fought between India and Pakistan over the princely state of Kashmir and Jammu from 1947 to 1948. It was the first of four wars fought between the two newly independent nations. The result of the war still affects the geopolitics of both countries.
On 22 October 1947 the Pakistani armed forces crossed the border with the claim that they needed to suppress a rebellion on the southeast of the kingdom. Local tribal militias and the Pakistani forces moved to take Srinagar but on reaching Uri they encountered defensive forces. Hari Singh made a plea to India for assistance and signed the Instrument of Accession. The British government also took part in stopping the Pakistani forces from advancing.
The war was initially fought by the forces of the princely state and tribal militias from the Khyber Pakhtunkhwa and Federally Administered Tribal Areas. Facing the assault and a Muslim revolution in the Poonch and Mirpur area, the ruler of princely state of Kashmir and Jammu signed an Instrument of Accession to the Indian union. Indian and Pakistani armies entered the war subsequently. The fronts solidified gradually along what came to be known as the Line of Control. A formal cease-fire was declared at 2359 hours on the night of 1/2 January 1949.
The partition of British India and the independence of the new states of India and Pakistan was the result of the Indian Independence Act 1947. Article 2 of the Act provided for the termination of British suzerainty over the princely states with effect from 15 August 1947, and recognized the right of the states to choose whether to accede to India or to Pakistan or to remain outside them.
Before and after the withdrawal of the British from India, the ruler of the princely state of Kashmir and Jammu came under pressure from both India and Pakistan to agree to accede to one of the newly independent countries. Faced with painful choices, the Maharaja of Kashmir, Hari Singh, decided to avoid accession to either country. Following a Muslim revolution in the Poonch and Mirpur area and an allegedly Pakistani backed:18 Pashtun tribal intervention from the Khyber Pakhtunkhwa that aimed at supporting the revolution, the Maharaja asked for Indian military assistance. India set a condition that Kashmir must accede to India for it to receive assistance. The Maharaja complied, and the Government of India recognized the accession of the erstwhile princely state to India. Indian troops were sent to the state to defend it. The Jammu & Kashmir National Conference volunteers aided the Indian Army in its campaign to drive out the Pathan invaders.
Pakistan was of the view that the Maharaja of Kashmir had no right to call in the Indian Army, because it held that the Maharaja of Kashmir was not a heredity ruler, that he was merely a British appointee after the British defeated Ranjit Singh who ruled the province before the British. There had been no such position as the "Maharaja of Kashmir" prior to British rule. Hence Pakistan decided to take action, but the Army Chief of Pakistan General Douglas Gracey did not send troops to the Kashmir front and refused to obey the order to do so given by Muhammad Ali Jinnah, Governor-General of Pakistan. Gracey justified his insubordination by arguing that Indian forces occupying Kashmir represented the British Crown and hence he could not engage in a military encounter with Indian forces. Pakistan finally did manage to send troops to Kashmir but by then the Indian forces had taken control of approximately two thirds of the former principality. The Gilgit and Baltistan territories were secured for Pakistan by the Gilgit Scouts and the forces of the state of Chitral, another princely state that had acceded to Pakistan.
The state forces stationed in the border regions around Muzaffarabad and Domel were quickly defeated by tribal forces (some state forces mutinied and joined them) and the way to the capital was open. Rather than advancing toward Srinagar before state forces could regroup or be reinforced, the invading forces remained in the captured cities in the border region engaging in looting and other crimes against their inhabitants. In the Poonch valley, the state forces retreated into towns where they were besieged.
After the accession, India airlifted troops and equipment to Srinagar, where they reinforced the princely state forces, established a defence perimeter and defeated the tribal forces on the outskirts of the city. The successful defence included an outflanking manoeuvre by Indian armoured cars. The defeated tribal forces were pursued as far as Baramulla and Uri and these towns were recaptured.
In the Poonch valley, tribal forces continued to besiege state forces.
Indian forces ceased pursuit of tribal forces after recapturing Uri and Baramula, and sent a relief column southwards, in an attempt to relieve Poonch. Although the relief column eventually reached Poonch, the siege could not be lifted. A second relief column reached Kotli, and evacuated the garrisons of that town and others but were forced to abandon it being too weak to defend it. Meanwhile, Mirpur was captured by the tribal forces on 25 November 1947.
The tribal forces attacked and captured Jhanger. They then attacked Naoshera unsuccessfully, and made a series of unsuccessful attacks on Uri. In the south a minor Indian attack secured Chamb. By this stage of the war the front line began to stabilize as more Indian troops became available.
The Indian forces launched a counterattack in the south recapturing Jhanger and Rajauri. In the Kashmir Valley the tribal forces continued attacking the Uri garrison. In the north Skardu was brought under siege by the Gilgit scouts.
The Indians held onto Jhanger against numerous counterattacks, who were increasingly supported by regular Pakistani Forces. In the Kashmir Valley the Indians attacked, recapturing Tithwail.
The Indians continued to attack in the Kashmir Valley sector driving north to capture Keran and Gurais (Operation Eraze)[10]:308-324. They also repelled a counterattack aimed at Tithwal. In the Jammu region, the forces besieged in Poonch broke out and temporarily linked up with the outside world again.
During this time the front began to settle down. The siege of Poonch continued. An unsuccessful attack was launched by 77 Parachute Brigade (Brig Atal) to capture Zoji La pass. Operation Duck, the earlier epithet for this assault, was renamed as Operation Bison by Cariappa. M5 Stuart light tanks of 7 Cavalry were moved in dismantled conditions through Srinagar and winched across bridges while two field companies of the Madras Sappers converted the mule track across Zoji La into a jeep track. The surprise attack on 1 November by the brigade with armour supported by two regiments of 25 pounders and a regiment of 3.7 inch guns, forced the pass and pushed the tribal/Pakistani forces back to Matayan and later Dras. The brigade linked up on 24 November at Kargil with Indian troops advancing from Leh while their opponents eventually withdrew northwards toward Skardu.
The Indians now started to get the upper hand in all sectors. Poonch was finally relieved after a siege of over a year.
At this stage Indian Prime Minister Jawaharlal Nehru decided to ask UN to intervene. A UN cease-fire was arranged for the 31 December 1948. A few days before the cease-fire the Pakistanis launched a counter attack, which cut the road between Uri and Poonch. After protracted negotiations a cease-fire was agreed to by both countries, which came into effect. The terms of the cease-fire as laid out in a United Nations resolution of August 13, 1948, were adopted by the UN on January 5, 1949. This required Pakistan to withdraw its forces, both regular and irregular, while allowing India to maintain minimum strength of its forces in the state to preserve law and order. On compliance of these conditions a plebiscite was to be held to determine the future of the territory. In all, 1,500 soldiers died on each side during the war and Pakistan was able to acquire roughly two-fifths of Kashmir, including five of the fourteen eight thousanders plus peaks of the world, while India maintained the remaining three fifths of Kashmir, including the most populous and fertile regions.
Participation of Pashtun mercenaries (Mehsuds of South Waziristan) in Jihadist attack on Kashmir
Immediately after Pakistan came into existence,, Mahsuds raised a tribal lashkar which entered Kashmir to help the newly created state Pakistan to capture Kashmir. They quickly reachedBaramulla town, the gateway to the Kashmir valley, but indulged in loot, arson, rape and murder at Baramulla for several days forgetting that they had to reach the capital, Srinagar, to seize Kashmir completely.
Charles Chevenix Trench writes in his 'The Frontier Scouts' (1985):
In October 1947… from all over the Frontier tribal lashkars hastened in lorries – undoubtedly with official logistic support – into Kashmir. Scouts were instructed to see nothing, hear nothing, say nothing and do nothing in this matter, although at least one British Officer, Harvey-Kelly of the SWS, took part in the campaign. It seemed that nothing could stop these hordes of tribesmen taking Srinagar with its vital airfield. Indeed nothing did, but their own greed. The Mahsuds in particular stopped to loot, rape and murder; Indian troops were flown in and the lashkars pushed out of the Vale of Kashmir into the mountains. The Mahsuds returned home in a savage mood, having muffed an easy chance, lost the loot of Srinagar and made fools of themselves.
A large number of tribals from Pakistan attacked Kashmir under the code name "Operation Gulmarg" to seize Kashmir. The invading tribals started moving along Rawalpindi-Murree-Muzaffarabad-Baramulla Road on 22 October 1947 with Pakistani army men in plain clothes. Muzaffarabad fell on 24 October 1947. They reached and captured Baramulla on 25 October. There they stayed for several days looting, raping, killing, burning, plundering and desecrating and vandalising shrines and temples instead of moving on to Srinagar 50 km away and capture its airfield which was not defended at all. The raped and killed European nuns (only one survived) at Baramulla's St. Joseph convent and Christian nurses at the missionary hospital. This savage orgy of loot, rape, murder and abduction of girls continued for several days.[3] Baramulla suffered this savage orgy but saved the rest of Kashmir because the airplanes carrying the Indian troops airlifted from Delhi on the morning of 27 October could land at Srinagar airfield as the invaders were still at Baramulla.
Biju Patnaik (who later became Chief Minister of Orissa) piloted the first plane to land at Srinagar airport that morning. He brought 17 soldiers of 1-Sikh regiment commanded by Lt.Col. Dewan Ranjit Rai. "…The pilot flew low on the airstrip twice to ensure that no raiders were around… Instructions from PM Nehru's office were clear: If the airport was taken over by the enemy, you are not to land. Taking a full circle the DC-3 flew ground level. Anxious eye-balls peered from inside the aircraft – only to find the airstrip empty. Nary a soul was in sight. The raiders were busy distributing the war booty amongst them in Baramulla."
In the words of Gen Mohammad Akbar Khan (Brigadier-in-Charge, Pakistan, in his book "War for Kashmir in 1947"): "The uncouth raiders delayed in Baramulla for two (whole) days for some unknown reason." [4]
It took two weeks for the Indian army to evict the raiders, who had been joined by Pakistani regular troops and became well-entrenched, from Baramulla.
http://en.wikipedia.org/wiki/Mehsud
http://www.nps.edu/Programs/CCS/Docs/Pakistan/Tribes/Mehsud.pdf
http://www.kashmir-information.com/KoshSam/Kashmir_Affairs.html
http://www.frontlinekashmir.org/2011/10/october-27-1947-dakota-in-my-dell.html
http://www.raf.mod.uk/history_old/line1918.html
Tribal Invasion and Kashmir
Dr Shabir Choudhry
http://in.news.yahoo.com/tribal-invasion-kashmir-085818495.html
Tribal attack on Kashmir was a major event in contemporary history of Jammu and Kashmir with far reaching consequences. The Tribal Attack not only ended Kashmir's sovereignty, but it also resulted in division of the State between India and Pakistan; and to date, it remains divided and families are forcibly separated since 1947.
Another sad part of this tragedy is that the brutal attack was launched in holy name of 'jihad' and liberation of the people of Jammu and Kashmir. The fact, however, is that those who planned this ferocious and unprovoked attack wanted to capture Kashmir; and majority of those who joined the attack did not do it because of any religious duty but for the purpose of looting.
It is unfortunate that because of very strong propaganda of the Pakistani ruling elite who planned this attack; and then justified it in name of Islam, still majority of people believe that the tribal attack was arranged to liberate people of Jammu and Kashmir. Furthermore, they claim Kashmir was part of Pakistan and illegally occupied by India; therefore, this attack was necessary and justified.
Before we discuss this, it is important that we explain the legal position of Jammu and Kashmir. The British Raj in India consisted of two units, namely British India and Princely India; whereas the former was directly ruled, the latter enjoyed semi autonomous status. The Rulers of the Princely States were allies of the British and under different treaties they accepted the British Paramountcy.
Many Muslims of Pakistan and Jammu and Kashmir are manipulated that because Pakistan was created in name of religion; and because Jammu and Kashmir was a majority Muslim State, therefore, it should have become part of Pakistan. That is not true; as Two Nations Theory did not apply to the Princely States, including the State of Jammu and Kashmir.
The Two Nations theory, whatever its value after the fall of East Pakistan, and after the separatist trends within the present Pakistan, was only applicable to the British India. The Rulers of Princely States had a choice to accede to either India, accede to Pakistan or negotiate some new terms with India or Pakistan.
Mohammed Ali Jinnah was a constitutional expert. He knew the Two Nations Theory did not apply to the Princely States; and that is why before the establishment of Pakistan he never asked Kashmir's inclusion in Pakistan. When people asked him a question about future of Kashmir and other Princely States, he asserted:
"Constitutionally and legally, the Indian States will be independent sovereign states on the termination of Paramountcy and they will be free to decide for themselves to adopt any course they like. It is open to them to join the Hindustan Constituent Assembly, the Pakistan Constituent Assembly, or decide to remain independent. In the last case, they enter into such arrangements or relationship with Hindustan or Pakistan as they may choose."
Mohammed Ali Jinnah demonstrated this policy by accepting accession of Junagarrh's to Pakistan, even though this State had overwhelming non Muslim majority; and if the Two Nations Theory was applicable to the Princely States then this State would have automatically become part of India. Similarly, on question of Hyderabad, Mohammed Ali Jinnah supported Ruler of this State's right to remain independent, even though this State also had overwhelming non Muslim majority; and if the Two Nations Theory was applicable to the Princely States then Hyderabad also should have automatically joined India.
Apart from that Governor General of India Lord Louis Mountbatten in his address to a Special full meeting of the Chamber of Princes on July 25 1947, said:
"Now, the Indian Independence Act releases the States from all their obligations to the Crown. The States will have complete freedom- technically and legally they become independent."
The above examples prove without any doubt that the Two Nations Theory was only related to the British India and was not applicable to the Princely States. The Maharaja of Jammu and Kashmir had no intention to join either India or Pakistan and lose his power and status.
The Maharajah of Jammu and Kashmir knew that the British Raj was going to end soon; and after the lapse of paramountcy, he wanted to become an independent Ruler of his State, so he decided to sign Standstill Agreements with India and Pakistan. Whereas, Pakistan signed the Standstill Agreement with the Maharajah of Jammu and Kashmir, India wanted to discuss this matter further.
Those who justify this unprovoked and brutal aggression claim that the tribal attack was arranged to save Muslims of Jammu and Kashmir who were killed because of communal riots. It is interesting to note that the riots took place in Jammu, whereas the tribal attack was launched in the Valley of Kashmir where the Muslims had overwhelming majority; and hundreds of miles away from the trouble spot.
The aim of this attack was to punish the Ruler of Jammu and Kashmir for not acceding to Pakistan and to capture his summer capital and the political and economic hub. Jammu and Kashmir was important to Pakistan because of its great strategic location, natural resources and security it provided to Pakistan.
If the entire Jammu and Kashmir had gone to India, and the Indian forces were deployed on Kashmir's border with Pakistan, then that would have seriously endangered Pakistan's main civil and military lines of communication between Rawalpindi and Lahore. If Pakistan was to safeguard this route properly then that would make cities of Lahore, Sialkot and Gujrat vulnerable to the Indian invasion. Apart from that Jammu and Kashmir was important to Pakistan's economy, especially agriculture. So as far as Pakistani ruling elite were concerned they felt it was absolutely necessary to get Kashmir at all costs.
With that in mind the Pakistani leaders and Pakistani officers of the Pakistan army (all senior officers were British at that time) started formulating a policy to capture Kashmir soon after the partition of India. Major General Akbar Khan, who was in charge of this military campaign, went to Murree, the hill station near the Kashmir border two weeks after the partition of India. This is where he met Sardar Ibrahim Khan (who was appointed President of Azad Kashmir by Khawaja Abdul Rahim Commissioner of Rawalpindi), and Mian Iftikhar Khan a leader of Pakistan Muslim League, Lahore; and who was on way to Srinagar to assess the situation there.
Major General Akbar Khan, at that time was a serving officer of the Pakistan Army, and was Director of Weapons and equipment at the GHQ. In his book, 'Raiders in Kashmir', while referring to the meeting with Mian Iftikhar Khan, he wrote:
'All he could tell me was that some money could be spent…he said that any action by us to be of an unofficial nature, and no Pakistani troops or officers were to take an active part in it. With this inadequate data in my possession, I spent the next day or so with Sardar Ibrahim and others and returned to Pinidi where I wrote out a plan'.
1. The whole plan needed a lot of assistance from the Pakistan army in the form of military plans, weapons, and supply of ammunition, communications, intelligence and able and committed manpower to implement that plan. The plan had to be kept secret not only from the Indians; but also from senior Pakistani army officers of the British origin. Major General Akbar Khan produced a plan to capture Kashmir with the title of: 'Armed revolt inside Kashmir'.
As the name suggests, the Pakistani plan was that it should look like a 'revolt' of the people of Jammu and Kashmir against its (non Muslim) Ruler. I know many people claim that it was a Kashmiri 'revolt' against a tyrant and non Muslim Ruler; and they give details of their sacrifices or sacrifices of their families.
I will not deny the sacrifices made by the people. Also I don't want to hurt anyone's feelings, however, as a researcher and a political analyst, I have to see what were the motives of those who planned this brutal and unprovoked attack that resulted in forced division of our motherland; and which was to be the main cause of animosity and wars between India and Pakistan.
It would be a good analogy, if we look at the uprisings in Libya and Syria. One can say, people of these countries revolted against the rulers of these countries; and made great sacrifices. Yes, they have made great sacrifices and suffered immensely, but were these 'revolts' indigence or local with no help and support from outside?
Those who plan revolts of this nature always ensure that the fighting people believe that they are fighting for their own cause; and to advance interest of their nation, tribe or faith. I agree people of the present Azad Kashmir, especially people of Poonch had resentments against the Maharajah; but is it not true that foreign countries always exploit local, regional or tribal grievances and religious sentiments to start a revolt.
The man in charge of the campaign wrote: 'As open interference or aggression by Pakistan was obviously undesirable, it was proposed that our efforts should be concentrated upon strengthening the Kashmiris themselves internally – and at the same time taking steps to prevent of arrival of armed civilians or military assistance from India into Kashmir.'
2. To stop the Indian help reaching Kashmir he proposed 1,000 men to be stationed near Kathua and 200 men to be stationed near the Srinagar airport.
Total army of the Maharajah, at that time, was 9,000 out of which only 2,000 were Muslims; and because of the communal situation in the entire region, he was reluctant to put too much faith to his Muslim units. His remaining 7,000 army was widely scattered, and could not defend the borders; and in view of what the Muslim units subsequently did in various parts of the State, his judgement was not wrong.
Apart from Major General Akbar Khan other key protagonists were Mr Khurshid Anwar, Commander of the Muslim League National Guards, Mr Zaman Kiani, Commander of the former Indian National Army, Sardar Shaukat Ayat Khan a senior leader of Muslim League and a Minister in the Punjab government. All these met the Prime Minister of Pakistan in Lahore, in presence of Mr Ghulam Mohammed, Finance Minister and later Governor General of Pakistan and Mian Iftikhar Khan. In this meeting many important decisions with regard to the whole plan were discussed and finalised.
3. He claims that he also took some senior officers, like Brigadier Sher Khan, who was Director Intelligence at that time and based in the GHQ, in to confidence. Also he claims to have had support of Pakistan Air Force through Air commodore Janjua and others who helped them with winter clothing, ammunition and weapons etc.
4. I have always maintained that if there was no tribal attack then it was possible that we people of Jammu and Kashmir could have been still independent. We were attacked by the Tribesmen supported by Pakistani officials; and we lost our sovereignty as a direct result of this brutal and unprovoked aggression. Our suffering, deaths and destruction; and all that what has happened since October 1947, could be linked to that aggression.
Even Major General Akbar Khan tends to support this view point that the Maharajah was forced to seek help from India because of this brutal attack. He even agrees that Sheikh Abdullah was not in favour of acceding to India; and this is the view point I have asserted with evidence many times. Major General Akbar Khan wrote:'But then, suddenly at this stage, the whole situation was radically altered by the entry of Frontier Tribesmen into Kashmir on 23 of October. This event was of such significance that it led to the accession of the State to India within four days.'
5. When the Maharajah of Jammu and Kashmir realised that the Pakistani authorities have violated the Standstill Agreement and have managed a tribal attack which has resulted in killing of innocent men, women and children and rapes and kidnapping of women and young girls, he had no option but to seek help from the other neighbour – India.
India was eagerly waiting for this invitation to intervene from the beleaguered Maharajah; in fact, in anticipation on 25 the October, they had alerted their Services Chiefs to prepare plans for sending troops in to Jammu and Kashmir. On the same day three senior officers flew to Srinagar to assess the situation and to advise the Maharajah to move to Jammu for safety.
There is plenty of evidence to prove that both the Maharaja of Jammu and Kashmir and the most popular Kashmir leader, Sheikh Abdullah were not happy to join India; if anything, they wanted to maintain independence of Kashmir by having cordial relationship with both India and Pakistan.
By having the Standstill Agreement with Pakistan, the Maharajah provided a foot hold to them in Kashmir. Sheikh Abdullah on his part tried his very best to meet Mohammed Ali Jinnah, Governor General of Pakistan and reach some consensus; but alas, he was insulted and Mohammed Ali Jinnah refused to meet the tallest Kashmiri leader when the latter had secretly travelled to Lahore to meet him. In fact, Mohammed Ali Jinnah said: "I don't need to meet this man, Kashmir is in my pocket'
Humiliated and disappointed Sheikh Abdullah returned to Srinagar. Although, he had was bitter and did not want to join Pakistan, but he did not close doors for some future dialogue; and his emissaries were still in Lahore waiting to see senior Pakistani officials to reach some agreement when the tribal aggression was launched.
Thinking in some important circles in Pakistan was, why talk to these Kashmiri leaders when we can get Kashmir by force. However, by use of force, within five days they pushed bulk of Kashmir in to the Indian corner, where it remains since that time.
It is sad that we people of the former Princely State of Jammu and Kashmir are forcibly divided and oppressed on both sides of the divide. It is also sad that despite our sufferings and sacrifices we cannot see any light at the end of the tunnel; hence no end to our suffering, humiliation and miseries. But it is more disturbing that people who matter in Islamabad have not learnt anything from the past mistakes; and still that mindset prevails that they can get rest of Kashmir by use of gun.
Those who planned and launched that disastrous tribal attack, or took part in it, their followers and those who represent forces of extremism, violence and hatred will sharpen their knives and attack me for writing the above. Already for the past four months a concerted and well coordinated smear campaign is going on against me for speaking truth and for exposing those who have made the Kashmiri struggle for independence their business.
All those who speak truth and choose to travel on right path, ultimately suffer at the hands of those who either represent forces of the status quo, have personal or professional envy or they lack the ability to differentiate between good and bad. Whatever the real reason for their hate campaign, they need to understand that by smear campaign and by promotion of hate they cannot promote any cause, let alone winning independence for people of Jammu and Kashmir.
Prophet Mohammed (PBUH) said: "Say what is true, although it may be bitter and displeasing to people", so as far as I am concerned, I will continue my jihad of speaking truth, no matter how bitter it is, and exposing those who are using sentiments of simple and innocent people to advance their personal and political agenda. By Dr Shabir Choudhry (ANI)
Pakistani attempts to get Kashmir
When the Government of Pakistan realised that the Maharaja of Kashmir was not interested in accession to Pakistan they resorted to other methods to get Kashmir. Not only they encouraged and actively supported a military rebellion in some parts of the State, especially in Poonch where there was a strong resentment against the government; they violated the Standstill Agreement and stopped the supply of the vital items, including food to Jammu and Kashmir.
Apart from that, the Government of Pakistan sent a junior army officer ASB Shah to seek accession of the State to Pakistan. Justice Muhammad Yusuf Saraf in his book, 'Kashmiris Fight For Freedom' commented:
'A junior officer who may have successfully served in the tribal area where gold and guns were the modus operandi in those days, he was definitely too unequal to the job. He was as ignorant of Kashmir's political scene and its intricacies as anyone could be. To have expected of him to deliver the goods in a situation which was being handled on the Indian side by intellectual giants like Mehr Chand Mahajan, VP Menon and Gopal Swami Ayyanger, was to have well asked for the moon.' 1
Major Shah was a son – in – law of one of the important Secretaries of the Pakistan Government. He reached Srinagar and started negotiations in a typical military style. Mehr Chand Mahjan in his book, 'Looking Back' noted that, Major Shah:
'Was in Srinagar with a whip in one hand and a letter of accession in the other. He had been trying to persuade General Janak Singh and Mr Batra to advise the Maharaja to accede to Pakistan………….He was keen to have assurance of State's accession to Pakistan or in alternative, a negative assurance that I would not advise the Maharajah to accede to India. I told him that I could not give any positive reply without discussing the matter with my Cabinet and the leading men of the State and then with His Highness and that it would take some time. But he was not prepared to wait. When I found out that he had come there almost with an ultimatum, I said, "If you raise the blockade and allow food, clothes and petrol to enter the State I will discuss the matter in detail with you". He agreed to persuade Mr Jinnah to remove the blockade and sent a telegram to him at Lahore, but got no favourable reply. He then saw me again and said, "Mr Jinnah invites you toLahore. Go there and have a talk with him". 2
Mahjan was an experienced Statesman and fully understood why he was invited to Lahore. In any case, he had no desire to accede to Pakistan; he further wrote: 'I was in no mood to present myself at Mr Jinnah's Darbar, fall in Pakistani hands and meet my doom. I declined the invitation, as the object was to coerce me in to securing the State's accession to Pakistan. When Major Shah failed in his efforts, he sweetly departed, but with a parting shot, declaring that His Highness would soon come to grief and realise his folly. I retorted bluntly that the result of such action on the part of Pakistanwould be to throw the State in the lap of India, no matter what the result. I assured him that we could not be coerced by such tactics to sign an agreement of accession of the State to Pakistan.' 3
Major Shah was correct. The Maharajah didn't have to wait long for Major Shah's prophesy to come true. Already there was some resistance going on against his government in some areas of the State. Also there were communal riots in Jammu, which further complicated the matters and destroyed peace and harmony in some areas of the State.
In order to punish the Maharaja for not yielding to whims of the Pakistani government, they further violated the Standstill Agreement and managed the Tribal Attack and trampled the sovereignty of the State of Jammu and Kashmir. It must be reiterated that at the time of this unprovoked aggression the State of Jammu and Kashmir was a sovereign country. They sent hordes of tribesmen to Kashmir in name of Jihad, who had special skills in brutally killing and frightening their opponents.
This event – the tribal invasion was designed to get Jammu and Kashmir or, at least, the Kashmir Valley. The problem with wars is that they don't always proceed according to plans and achieve the desired results. Same was the case with the Tribal Invasion because it did not go according to the plan. The plan was to enter the State territory with the lightening speed and capture Srinagar – the biggest city of the State and the Summer Capital.
Why the Tribesmen did not proceed to Srinagar
The majority of the attackers were Tribesmen, who had little appreciation for the strategic importance or military priorities of the Pakistani government which arranged this attack; and they spent more time in looting raping and kidnapping women. In Muzaffarabad and on way to Baramullah, the tribesmen did not hesitate to loot, set on fire shops, rape women and kidnap them. It is reported that hundreds of Kashmiri women were taken back to the Frontier Province and sold to brothels or forced to convert them to Islam and married.
It must be pointed out that not all those who joined Tribal Attack went there for the purpose of looting; there would be some who genuinely believed that they were performing obligations of 'Jihad'. Anyhow, when these reports got back to Khan Abdul Qayyum Khan and the damage it was causing to their mission, he sent Pir of Manki Sharif to Baramullah to tell his followers that:
'Plunder was not the primary purpose for which they entered Kashmir'. He further 'told them what were the commands of God and our Holy Prophet (Peace Be Upon Him) about the rules of conduct in a war and how essential it was to protect every body's honour, life and property, regardless of religious beliefs.' 4
Baramullah was the second biggest town in the Valley of Kashmir; and was only one hour bus drive from Srinagar as road even at that time was among the best roads of the region. It was fast developing as a tourist resort; and centre of fruit and timber industry. Major General Akbar Khan who reached Baramullah on 29th October 1947, while explaining the town wrote: 'This used to be a town of orchards, schools, roads, river transport stations, shops and restaurants- in short a bright and cheerful looking place. But now it looked as if an earthquake had shaken it.' 5
After the fall of Baramullah, conquering Srinagar, Summer Capital and economic hub of Jammu and Kashmir was not difficult, as the town was only 35 miles away and was left defenceless after the Maharajah fled for safety to Jammu. Major General Akbar Khan puts it like this: 'Only 35 more miles remained of level road and virtually no resistance. The tribesmen had a barely two hours journey left –and before them lay Srinagar, seemingly trembling at their mercy.' 6
Justice Yusuf Saraf comments on the situation: 'The road to Srinagar lay open but while the city of seven bridges kept hourly waiting; the tribesmen did not resume their advance. They wasted three most precious days which was not only to cost us our freedom, for how long, God only knows, but that was also to damage the reputation of tribesmen so much that it was never to be the same again. 7
The Tribesmen did not move towards Srinagar, as they had other priorities – looting, raping and kidnapping and celebrating their victory. Once they realised that there was nothing else left to plunder and they have made arrangements to send back what they looted and girls they kidnapped, they started moving towards Srinagar.
It would be pertinent to point out that some tribesmen in form of small groups did proceed to Srinagar, but this was uncoordinated movement and resulted in many problems and deaths because of some resistance by citizens of Srinagar. Also it is believed that the tribesmen were not fully aware of the problems or natural defence of the city in the form of water rain, marshland, small lakes, river and paddy fields.
It is debatable if these tribesmen advanced before the others to conquer Srinagar or they saw Srinagar as a 'bigger prize' than Baramullah; and wanted to make most of it by looting and kidnapping beautiful Kashmiri women. If the intention was to conquer Kashmir before the arrival of the Indian army then even a person with ordinary sense would have gone to take control of the airport to stop Indian aid reaching there by air; rather than attacking the city defences. Evidence suggests that individual groups tried to enter the main city; and did not proceed towards the airport.
One view is that they were held in Baramullah by their Commander, Major Khurshid Anwar, who sent a message to Azad Kashmiri leaders that if he conquered Srinagar what position he would get in the Kashmir government. The Road to Srinagar was plain, but the road back to Rawalpindi where the Azad Kashmiri leaders were staying was mountainous and difficult to travel; and convoys of tribesmen and other transport carrying these Jihadi groups and arms and supplies slowed down the journey back. So by the time the Major Khurshid Anwar's messenger could reach back to Baramullah after meeting the Azad Kashmiri leaders, the Indian army had landed in Srinagar, and the game was over. 8
While explaining India's position on Kashmir, Mr Gopal Swami Ayyanger said:
'India without Kashmir would cease to occupy a pivotal position on the political map of Central Asia. Strategically Kashmir is vital to the security ofIndia; it has been so ever since dawn of history. Its northern provinces give us direct gate –ways to the North West Provinces of Pakistan and Northern Punjab. It is India's only window to Central Asian Republics of USSR in the north, China on the East and Afghanistan on the West.' 9
Pakistan had its own reasons for capturing Kashmir. Not only that Jammu and Kashmir was a Muslim majority State, it was important to Pakistan because of its great strategic location, natural resources and security it provided to Pakistan. If the entire Jammu and Kashmir had gone to India, and the Indian forces were deployed on Kashmir's border with Pakistan, then that would have seriously endangered Pakistan's main civil and military lines of communication between Rawalpindi and Lahore. If Pakistan was to safeguard this route properly then that would make cities of Lahore, Sialkot and Gujrat vulnerable to the Indian invasion. Apart from that Jammu and Kashmir was important to Pakistan's economy, especially agriculture. So, as far as Pakistani ruling elite were concerned they felt it was absolutely necessary to get Kashmir at all costs.
Jammu Riots and the Tribal Attack
It is unfortunate to note that majority of Pakistanis and many Kashmiri people, including some writers and academics still believe that the Tribal Attack was essential because Muslims were being killed in Jammu in communal riots; and some non Muslims from neighbouring States entered the region for the purpose of killing Muslims.
No one can deny about the communal riots in Jammu where the Muslims were victims; but if the aim of those who planned the Tribal Attack was to help the Muslims of Jammu then why they did not arrange attacks from Sialkot which is about 28 miles from Jammu or from Gujrat side which provides easy access to the various towns of Jammu Province. Why they had to send tribesmen towards Muzaffarabad, Uri, Baramullah and Srinagar where Muslims were in great majority and there were no communal disturbance? Answer is very simple, the Maharajah was in Srinagar, Summer Capital of the State; and more importantly they wanted to capture the Valley of Kashmir because of its resources and great strategic importance.
Furthermore, the communal disturbances started in Jammu in the third week of August 1947. Why the government of Pakistan remained quiet over this issue till mid October? Why they did not send any military help to Jammu where the Muslims were victims? Again reason is very simple; the Pakistani government, at that time, expected the Maharajah to accede to Pakistan, and they did not want to do anything to annoy him. However, when they realised that the Maharaja had no interest in joining Pakistan, they decided to punish him and take over his State by force, hence the attack on Muzaffarabad and Baramullah to capture Srinagar.
Major Khurshid Anwar was a retired officer of the Indian Army, and belonged to Jhullandur (now part of Indian Punjab). His wife was a Kashmiri Pathan. He played a leading role in Punjab Disobedience Movement on behalf of the Muslim League. He was later sent to North West Frontier Province to organise a similar movement; and because of his skills and experience he was appointed a Commander of the Muslim League National Guards.
He was a brave man with good contacts with different Tribal Chief and the Muslim League leaders, including Khan Abdul Qayyum Khan, a key Muslim League leader in that region. According to him, initial planning was to attack Muzaffarabad on 15th October 1947. He came to Rawalpindi on 12 October and requested Syed Nazir Hussain Shah to provide him with four – five guides that he could secretly proceed with 500 hundred armed men and capture Srinagar airport. 10
Tribal Attack and 'Jihad'
However, there were some wise men who wanted to give a last chance to the Maharajah before taking the military option. As explained above, Major Shah was sent to Srinagar for 'negotiations'; and few days after his failed mission, the Tribal Invasion was launched in name of 'Jihad' with disastrous consequences for people of Jammu and Kashmir and for the rest of South Asia, as genie of 'jihad' used for the first time to advance political agenda in October 1947 is still haunting us all.
It is claimed that these people went to Kashmir to perform religious duty of 'jihad'. One may ask why sentiments of 'jihad' did not influence them when their Muslims brothers were killed in Jammu in August; and why they had to wait nearly two months before they decided to perform this religious duty? Moreover why they did not proceed to the spot – Jammu Province where the Muslims were in minority and were under attack?
Because of hyped religious sentiments and division of the British India on communal lines, it created hatred and set one community against the other; and to make things worse they launched the tribal attack in name of jihad to advance political agenda of the government. It was not the last time the name of 'jihad' was used to sponsor violence, promote extremism and advance a political agenda.
After the invasion of Afghanistan, 'jihad' for some became a thriving industry, which attracted recruits from many parts of the world. Those who sponsored this kind of 'jihad' not only became extremely rich, but they wielded unimagined power and influence; and in some cases dictated foreign policies of many countries. Sad thing was that no one could even speak against the actions committed in holy name of 'jihad'; even now people are reluctant to speak against actions taken in name of 'jihad' because of threat of serious repercussions.
Many of the problems we face in South Asia today; and India Pakistan rivalry that we have witnessed over many decades have its roots in that unfortunate and ill advised military action to conquer Kashmir in October 1947. I know we cannot turn back the clock of history; but just for a moment if we assume that there was no Tribal Attack, then State of Jammu and Kashmir could have remained independent.
An independent Jammu and Kashmir could have had friendly and cordial relations with all its neighbours; and could have been a bridge of friendship between India and Pakistan. Both countries wanted Jammu and Kashmir and had their own arguments to justify their claims; but it was possible that they could have accepted an independent buffer state which could have helped them to boost their trade and have joint projects to improve quality of life in the region, instead of competition in military warfare.
The partition of India on communal lines promoted sentiments of hatred and resentment against each other that created a gulf between the two countries, but that could have healed with time; however the competition over 'ownership' of the State of Jammu and Kashmir ensured that this 'wound' keeps on bleeding and generate hatred and extremism. This resulted in wars and arms race between the both countries and the resources that should have been spent to provide better quality of life to people were diverted to build large armies and military hardware. Millions of people are below the poverty line in both countries; yet the ruling elite in both countries spend billions on military preparedness.
Many Pakistanis hold us – people of Jammu and Kashmir responsible for their problems, lack of democracy and fundamental human rights. Their contention is that if there was no Kashmir dispute perhaps the ruling elite might not have spent so much on defence and deprived them of democratic rights. This is to blame the victims. We are suffering because of the policies of both India and Pakistan. We don't want to be occupied, forcibly divided and denied of our basic rights. The Ruler of Jammu and Kashmir did not ask rulers of Pakistan to violate the Standstill Agreement and attack his country.
Yes, I agree that many problems of Pakistan and that of South Asia are directly related to the Kashmir dispute; but it must be understood that we did not create this dispute. It was the Tribal Attack that landed us in this quandary and deprived us of our independence, right of movement and many other rights. Furthermore, it divided the State of Jammu and Kashmir between the two countries and started a new era of competition, confrontation, violence and hatred in South Asia.
I also agree that the Kashmir dispute has to be resolved in order to have peace and harmony in the region; and if the ruling elites of both countries have realised that the Kashmir dispute is holding back their progress then they must make serious and sincere efforts to put right mistakes of the past, and allow people of the divided State to determine their own future.
Writer is a political analyst and author of many books and booklets. Also he is Director Institute of Kashmir Affairs.
Email: drshabirchoudhry@gmail.com
http://www.faxts.com/index.php?option=com_content&view=article&id=866:tribal-invasion-sovereignty-of-kashmir-and-problems-of-south-asia&catid=132:reporters&Itemid=177
I did my own research on this tragic and treacherous event of the Tribal attack when I was looking for materials for my MPhil, title of which was 'Kashmir and Partition of India'. However, Muhammad Saeed Asad is the first person to interview those people who either suffered during the Tribal attack or witnessed the carnage and produced a book in Urdu with the name of 'Yadoon Kay Zakhm'. This book was later on translated in to English and published by Institute of Kashmir Affairs with the name of 'Wounded Memories'.
http://dailykashmirimages.com/news-tribal-invasion-some-more-facts-i-26817.aspx
In the Foreword of this important book, Professor Dr Sabir Affaqi of Muzaffarabad, wrote:
'When I visited Indian-occupied Kashmir in 2008, I met many Hindus and Sikhs in Jammu who had fled from Muzaffarabad and its surrounding areas in the wake of the tribal attacks of October 1947. When I asked them about the situation leading up to the tribal invasion, they stressed that they were living as brothers and friends with their Muslim neighbours. There was no bone of contention between them. That all hell broke loose with the arrival of the tribal invaders.' 1
On the question that the tribesmen went to Jammu and Kashmir for the purpose of 'Jihad' he wrote:
'As the tribesmen had limited awareness of genuine Islam and the true spiritual philosophy of jihad, it would be utterly incorrect to term the tribal attack on Muzaffarabad as a religious duty, holy war or jihad. Furthermore, the effect of this invasion had such negative implications for the politics and history of the region that in no terms could it be described as beneficial for the people of Jammu and Kashmir. The unity of Kashmir was obliterated, it was taken over by foreign powers, it's social, religious, cultural and civilisational attributes were wounded to the extent that it has yet to recover and pick up the pieces. Blood is still seeping out from both sides of the divide and the deeply cut body is ever yet hopeful that somebody will patch up the wounds.' 2    In the preface of this important book, author Muhammad Saeed Asad, while discussing the tribal invasion, wrote:
'This ill-fated and pre-conceived plan of the 22nd of October 1947 was designed to dismember our body. It totally disintegrated our society. It turned our history on its head and it buried our dignity. These aforementioned reasons laid the background for my search for an authentic version of our history. Further, to bring that authenticity to the fore. To bring public awareness of our past history that had hitherto been buried deep under the earth by fear and political correctness.' 3 While criticising the Tribal Invasion, author of 'Wounded Memories', Muhammad Saeed Asad asserted:
'Many eye-witnesses of the time along with a number of writers have opined that the tribal invasion of Kashmir was an ill-thought out and idiotic plan, which has proved fatal for Kashmir and Kashmiris…. In my opinion, there remains no doubt and there is no room for a second opinion that the planners and perpetrators of the tribal invasion on Kashmir: stand out as enemy number one of the Kashmiri nation. I would go further to say that if this invasion didn't take place; a dispute on Kashmir would not have arisen. As India and Pakistan emerged as nation states, so would have Kashmir.' 4
Muhammad Saeed Asad further said:
'The planners of the tribal invasion and their Kashmiri agents are the original and actual culprits of the Kashmiri nation. It is important for the nation to identify these criminals, bring them forth and make them stand in the court of time….I have strong hope that the new generation of Kashmir will not remain ill – informed or misdirected, as to who are foremost in killing their future and the enemy of their freedom struggle.' 5
Khawaja Abdul Samad, while explaining the communal and religious harmony of Muzaffarabad before the Tribal Invasion to the author of this book, he said:
'There was no concept of hatred or inferiority based on religious identity. When somebody amongst the Muslim community passed away, Hindus and Sikhs of the community would accompany us to the burial ground. As we would offer the funeral prayer, they would also stand in a separate line and witness the procedure. Whilst burying our dead, they would join us in the rite of putting soil over the deceased and offering prayers for their salvation. In a similar manner, we would also accompany their deceased to the funeral pyre and partake in the rites as appropriate. Religious celebrations such as Eid, Holi and Diwali were collectively celebrated by members of each community.' 6
He further narrated:
'Tara Chand was a prominent Hindu of Muzaffarabad at the time. He would recite 'naats' in an extremely melodious and sweet manner. Muslims were always keen to invite him to their gatherings for recitation. For worship, we would proceed to the masjid. Hindus would proceed to the mandir (Hindu place of worship). We would worship before sunrise, they would worship during sunrise. Time was the only difference. We would visit 'Saheli Sarkar' (prominent tomb and place of worship in Muzaffarabad) and they would visit the mandir opposite 'Saheli Sarkar'.' 7
While discussing about brutalities of the Tribal attack, Khawaja Abdul Samad said:
'Hindus and Muslims were taking refuge in separate areas. Most of the properties that belonged to Hindus had been burnt down. Many Hindus and Sikhs had been mercilessly slaughtered and most of their bodies were still lying in their homes or on the streets. In the past two days, the tribesmen had dragged numerous bodies and thrown them into the river………..' 8 Khawaja Abdul Samad further said:
'Their attack had totally devastated Muzaffarabad. The homes of Hindus and Muslims were looted, shops were plundered and all the stock loaded onto trucks. Places of worship were not spared; they entered and took whatever they considered to be of value. They tore down mandirs and desecrated masjids. In their lustful search for gold, silver and rupees they even used digging equipment to search beneath the stone floors of shops. Whatever they could find would be amassed in a collective place where tribal leaders would supervise the whole process. From here, everything would be loaded onto trucks and sent on their way to the North West Frontier Province. In Muzaffarabad and its surroundings, no Muslim home was spared from this tribal bounty-hunt.' 9 Tribesmen steal from a Masjid – Mosque
Khawaja Abdul Samad, while discussing the loot and plunder carried out by the tribesmen who apparently came to Jammu and Kashmir for the purpose of 'Jihad' and to 'liberate' people of Jammu and Kashmir, explained how they even looted materials hidden in a Masjid.
'As there was no restriction on how much booty the tribal Pathans could take home, some of us locals consulted with each other and made a plan. We decided that in order to protect Hindu assets from being seized by the tribesmen, we would take upon ourselves (Muslims) to transport goods and valuables from Hindu homes and store them in the masjid. Some Hindu youngsters, many of whom were our close friends; who had yet somehow avoided the deathly onslaught were also utilised in this exercise….. 'The 'Bazaar Wali' masjid was a two-storey building. By the evening, so much stock had been stored there that there was barely room for even a solitary 'sandooq' (large metal box for storing valuables) to fit in. We locked up the masjid at night and left for our respective camps of refuge. When I returned in the morning, I found that the masjid had been stripped bare clean. I was later to learn that the tribesmen had come late the night before and taken everything.' 10  must add, as I have done it on many occasions before that, not all Tribesmen came there for the purpose of looting. There must be some who came for 'Jihad'. Similarly, I do not undermine the role of people of Poonch. My contention is that rulers of Pakistan encouraged that 'rebellion' to advance their agenda on Kashmir. Major General Akbar Khan, who was in charge of the operation, produced a Plan known as 'Armed Revolt Inside Kashmir'.
As the name suggests, the Pakistani plan was that the Kashmiri rebellion should look like a 'revolt' of the people of Jammu and Kashmir against its (non- Muslim) Ruler. I know many people claim that it was a Kashmiri 'revolt' against a tyrant and non – Muslim Ruler; and they give details of their sacrifices or sacrifices of their families.
However, Major General Akbar Khan said:
'As open interference or aggression by Pakistan was obviously undesirable, it was proposed that our efforts should be concentrated upon strengthening the Kashmiris themselves internally'. 11 Question is should I believe a story narrated by Major General Akbar Khan who was in charge of this operation, or someone with myopic view and who is full of bias; and who has no knowledge of historical events?
My father was in the Indian British Army and fought for the British in the Second World War; he later on fought the First Kashmir War and took part in the 'liberation' of areas now known as Azad Kashmir. He can tell me details of the war at the micro level; but he would not know in detail the purpose of the war, because his senior officers ordered him to proceed to a sector and fight. Later on he was told to stop fighting; and he followed the instructions.
I adore my father, love him and highly respect him, like any loving son would do; but as far as motives of the war were concerned I would give more credence to the information given by the Commander who planned the war, because my father with all his sincerity and sacrifices would not have access to the information available to the Commander and to those who planned the tribal attack.
I do not deny the sacrifices made by the people. Also I don't want to hurt anyone's feelings, however, as a researcher and a political analyst, I have to see what were the motives of those who planned this brutal and unprovoked attack that resulted in forced division of our motherland; and which was to be the main cause of animosity and wars between India and Pakistan.
It would be a good analogy, if we look at the uprising in Libya. One can say, people of Libya revolted against the rule of Colonel Kaddafi; and made great sacrifices. Yes, they have made great sacrifices and suffered immensely, but were this 'revolt' indigence or local with no help and support from outside? We know it was planned from outside with help of USA, UK and France.
Some people claim that most of the areas of the present Azad Kashmir were 'liberated' before the tribal attack; and try to take credit for this. Yet the fact is that Major General Akbar Khan claims that he met Sardar Ibrahim Khan and some other leaders in the last week of August 1947; and encouraged people to take up arms against the Ruler of Jammu and Kashmir.
If these areas were liberated in the last week of August (which they were not) then the claim of these people is correct; but if they were liberated in late September and by middle of October then one has to believe the story narrated by Major General Akbar Khan, who claims with evidence that he formulated the plan for uprising in Kashmir for liberation of Jammu and Kashmir.
Many Muslims of Pakistan and Jammu and Kashmir talk a lot about the Jammu massacres. It was a tragic communal event, in which tens of thousands of people, especially Muslims were killed; and some people hold functions on 6 November in their memory. I also condemn that butchery. However, communal riots in Jammu started in the third week of August 1947; and got worse with time. Question is why 6 November is commemorated as a day of Jammu martyrs? Professor Dr Sabir Affaqi, a known writer and historian puts it like this:
'Meanwhile, when clusters of Hindu and Sikh survivors of the genocide reached Jammu on the 6th November: their blood drenched attire and pitiful condition, evoked hatred amongst the locals for Pakistan and Muslims. As a reaction, extreme right wing elements amongst the Hindus of Jammu: with the assistance of like – minded Hindu militia from India decided to take revenge. Consequently, a genocide of Muslims that lived in Jammu and in its surrounding areas took place, on a similar scale to what to what happened to Hindus and Sikhs in Muzaffarabad, just days earlier.' 12
I do not agree with everything the learned Professor has said, but I would not call him 'anti Pakistan', 'anti Islam' or 'anti Tribesmen'. That is his view of the events. In my opinion right wing non – Muslim extremists reached Jammu in the third week of August when migrants from Pakistani Punjab, especially from areas of Sialkot reached Jammu; and in the communal riots that ensued tens of thousands of Muslims were killed. May be on 6 November it got worse because of what happened to non- Muslims in areas of Jammu and Kashmir, now called Azad Kashmir; but the scale of massacres were not same as more Muslims were butchered in Jammu.
On issue of the Tribesmen and their role in 'liberation' of areas of Azad Kashmir, even Sardar Ibrahim Khan, first President of Azad Kashmir acknowledge acknowledges it in the following words:
'Tribesmen played an important role in the movement of Azad Kashmir. They came all the way from different parts, from settled and unsettled areas of tribal territory, to fight in Kashmir. Sulemankhel tribesmen came all the way from Afghanistan to take part in this Jehad.' 13 The Tribesmen marched triumphantly towards Muzaffarabad, Uri and Baramullah, killing civilians and looting; but as soon as they encountered the Indian army they retreated with a great speed.
Despite his praise of the Tribesmen and their fighting skills, Sardar Ibrahim Khan had to say:
'…They disintegrated in to smaller groups and vanished; leaving the territory entirely defenceless….All the tribesmen reached Abbottabad (a city in Pakistan) safe and sound, leaving a completely helpless people to their own defence. At this juncture, General Tariq (real name Major General Akbar Khan of Pakistan Army) held back the Indian Army with fifteen men.' 14 Lastly, why is it that when one explains a situation about Pakistan, which does not look favourable to Pakistan even though it is based on some hard facts, some people say it is anti-Pakistan? For example, if I say Pakistan lost East Pakistan in a war and more than 90 thousand soldiers surrendered; that Pakistan has experienced four military dictatorships; that a civil war is going on in Balochistan and Pakistan is having very serious economic and political problems; by saying all that I have not been anti Pakistan. I have simply stated some hard facts which some Pakistanis and some pro Pakistan Kashmiris don't want to hear.
Some of Kashmir's and Pakistan's problems are directly related to this fact that people are not allowed to speak truth; and anyone who dares it, is immediately labelled as 'anti –Pakistan', 'anti – Islam' or an 'agent' of some country. This weapon has proved very effective in the past; but with time it is losing its impact. We need to mentally grow up and face problems of the real world; and must not live in past or glorify significant achievements of Muslims many centuries ago. We need to see what contribution we are making to the mankind now; and how we can make progress and face challenges of the 21st Century.
References:
Wounded Memories, Muhammad Saeed Asad, page 6
Raiders in Kashmir, Major General Akbar Khan, page 14
The Kashmir Saga, Sardar Ibrahim Khan, page    97
http://dailykashmirimages.com/news-tribal-invasion-some-more-facts-ii-26885.aspx
Tribal Invasion of Kashmir: An American Reportage
Margaret Bourke-White was a correspondent and photographer with American magazine LIFE. She authored many books, based on her coverage of Africa, England, France, China, Russia, Italy and Germany during the Second World War. Bourke-White also covered tribal invasion of J&K in 1947-48. Her reportage on Kashmir –  "Democracy in the Himalayas' and 'Struggle for Kashmir' form part of her book on India 'Halfway to Freedom' (New York, 1949).
The 'Struggle for Kashmir' deals specifically with Raiders' invasion. Bourke-White was in Pakistan when invasion was beginning. Pakistan government was reluctant to let her cross into Kashmir. They feared that an upright journalist like Bourke-White would not hesitate to tell the world truth about Pakistan's complicity in the invasion. Pakistanis trotted out excuses to put her off saying, 'there was nothing to photograph', 'it was very dangerous for a woman,' 'Tribesmen abducted women'. When she insisted on visiting places which were bases for invasion local officials escorting her would drive her over 'picturesque but deserted roads to the border of Kashmir and show her 'a breathtaking vista of mountain scenery which had fine picture-postcard value but little news value'.
On occasions Bourke-White was able to slip out unescorted and meet tribal Pashtun invaders. She narrates her conversation with one Invader leader, Badsha Gul of Mohmand tribe. Gul had brought one thousand tribals, a convoy of trucks and ammunition for invasion of Kashmir. The trucks and buses would at times come back within a day or two "bursting with loot, only to return to Kashmir with more tribesmen, to repeat their indiscriminate "liberating" – and terrorising of Hindu, Sikh, and Muslim villagers alike".
About the buses and lorries Bourke-White writes "taxi companies (in Rawalpindi) were donating twenty or ten or a couple of trucks each, the number I suppose depending on the intensity with which the owner believed the Muslims in Kashmir needed 'rescuing'.
Bourke-White debunked the myths that arms for the invasion came from tribesmen themselves, some of whom owned arms factories. She writes, "I photographed one of the larger of these munition works, belonging to the Afridi tribe. It was a rock-bound shack where five men worked. Since it took one man a month to make a rifle, it is doubtful whether all the shacks on the North-West Frontier would account for more than a fraction of the equipment with which the tribesmen poured into Kashmir during the fall of '47. Certainly these miniature ballistics establishment would hardly explain the mortars, other heavy modern weapons, and the two aeroplanes with which the invaders were equipped".
In an eyewitness account about the delivery of arms she writes, "In Pakistan towns close to the border, arms were handed out before daylight to tribesmen directly from the front steps of the Muslim League headquarters".
She makes revelations e.g. 'From Pakistan's Capital a train loaded with medical supplies and volunteer personnel left every Wednesday morning for the Kashmir frontier, "some of the 'Azad Kashmir' soldiers, taken as PoWs by the Indian army, were found to have pay books of the Pakistan Army in their pockets'.
While Bourke-White was still in Abottabad she had the opportunity to meet the nuns from St. Joseph Hospital in Baramulla who survived the carnage. They had escaped over the border at dawn. A nurse gave her a detailed description of how raiders ransacked the babies' ward on the Convent grounds. She said, "the tribesmen began smashing up X-Ray equipment, throwing medicine bottles to the ground, ripping the statuettes of saints out of the chapel, and shooting up the place generally. Two patients were killed: an Englishman and his wife who were vacationing at the mission were murdered; and two nuns were shot".
For nine days Baramulla witnessed reign of terror under the forces of occupation. About the situation in the Convent Bourke-White records, "The nuns, their hospital patients, and a few stray towns people who had taken refugee at the mission were herded into a single dormitory and kept under rifle guard. On one of these days, after an air attack from the Indian Army had left the tribesmen in a particularly escited and nervous mood, six of the nuns were brought out and lined upto be shot. It was the accident that one of them had a conspicuous gold tooth that saved the sisters. One of the riflemen wanted to get that tooth, before his colleagues had a chance at it. In the scuffle that followed, one of their chiefs arrived; he had enough vision to realise that shooting nuns was not the thing to do, even in an invasion, and the nuns were saved".
Bourke-White visited Baramulla soon after its liberation by Indian forces. She records, "The once lovely town, straddling the Jhelum River at the gateway to the Valley, was as heaped with rubble and blackened with fire as those battered Jewels of Italian towns through which many of us moved during our war in Italy…the deserted convent on the hill was badly defaced and littered…We made our way into the ravaged Chapel, Wading through the mass of torn hymnbooks and broken sacred statuary. The altar was deep in rubble". She also gives a graphic account of how martyr Maqbool Sherwani was killed by Pakistanis. Bourke-White met Sherwani's father and brothers. On seeing Sherwani's photograph Bourke-White notes, "Even the soft-focus effect of the fuzzy studio portrait could not erase the intensity of the eyes and the look of strength in the high forehead". (Sentinel Research Bureau)
Raiders' Evidence
Major General Mohammad Akbar Khan was  in active service in the Pakistan Army in October 1947. He commanded the raiders under the pseudonym "General Tariq". Excerpts of his interview published in the "Defence Journal" (Karachi, June-July, 1985) are reproduced below:
Planning of the Invasion:
"A few weeks after partition, I was asked by Mian Iftikharuddin on behalf of Liaquat Ali Khan (Prime Minister of Pakistan) to prepare a plan for action in Kashmir. I found that the Army was holding 4,000 rifles for the civil police. If these could be given to the locals an armed uprising in Kashmir could be organised at suitable places, I wrote a plan on this basis and gave it to Mian Iftikharuddin. I was called to a meeting with Liaquat Ali Khan at Lahore where the plan was adopted, responsibilities alloted and orders issued. Everything was to be kept secret from the Army. In September the 4,000 rifles were issued at various places and the first shots were exchanged with the Maharaja's troops and the movement gathered weight.
He (Khurshid Anwar) had joined the Muslim League and he had been appointed commander of the Muslim League National Guards. In September 1947, when the Prime Minister launched the movement of the Kashmir "struggle" Khurshid Anwar was appointed Commander of the Northern Sector. Khurshid Anwar then went to Peshawar and with the apparent help of Khan Qayyum Khan raised the Lashkar which assembled at Abbottabad… Thereafter he (Khan Qayyum Khan) continued to take active interest in Kashmir and helped with the tribal Lashkars through the Kashmir operations."
On Looting of Non-Muslims:
"It was part of their (Pakistan Govt.) agreement with Major Khurshid Anwar of the Muslim League National Guards who was their leader that they would loot non-Muslims. They had no other renumeration". Conclusions drawn: Once a Sufferer, always a SAFFERER.  (Source: kpindia, kpnetwork)
http://panunkashmir.org/blog/history/tribal-invasion-an-american-reportage/
The pamphlet cover displayed above is from a title published in 1948 by the Kashmir Bureau of Information in Delhi. The design is arresting, and clearly leftist in inspiration. The designer (the name is in the bottom left hand corner) was Sobha Singh, at the time a young progressive artist. In later years, he became better known for his religious paintings of the Sikh Gurus.
The woman in the foreground depicted lying on the ground and aiming a rifle is Zuni Gujjari, a woman from a milkman's family who became renowned as a militant supporter of the National Conference, the main Kashmiri nationalist party. The black and white photograph is of members of the Women's Self Defence Corps, a women's militia set uplargely by Communist supporters of the National Conference in October-November 1947, when Srinagar was in danger of being overrun by an army of Pakistani tribesmen. Altogether, a very remarkable image – and one which made me think more deeply about the political and social alignments in the Valley as the Kashmir conflict first erupted.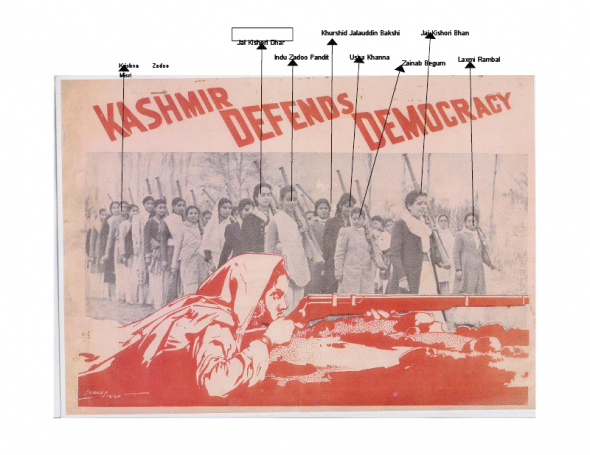 Krishna Misri (nee Zardoo), a veteran of the women's militia, has helped me identify some of those featured in the photograph. She is towards the back, third from left. Much more prominent at the head of that file, wearing what looks to be a light coloured smock, is her younger sister, Indu. Two further right, looking down, is Usha Kashyap – better known now as Usha Khanna and the founder of the renowned Samovar restaurant at the Jehangir art gallery in Mumbai. In front of her is a shorter woman, also looking down, wearing a narrow white headscarf. She's Begum Zainab, one of the leaders of the militia. To her right, more prominent and with a white scarf around her neck, is Jai Kishori Bhan.
It's wonderful that more than sixty years after this photograph was taken, it is possible to retreive the names and the stories of many of those featured.
For an article about the People's Militia in Kashmir in 1947-48 and its political context, follow this link.
More photographs from this pamphlet have been posted further down the page.
UPDATE March 2011: With the help of Vinayak Razdan, who generously posted some of the images on this page on his own excellent website, Search Kashmir, another of the women in the photo above has been identified.  He states: 
Got the name of one more woman in that pamphlet thanks to Vijay Kashkari Ji. He writes: "My mother Shanta Kashkari is also in photograph. She was an active member of the peace brigade formed for voluntary works, when Kashmir was raided by the raiders.My mother is  2nd behind Jai Kishori Ji [woman under first 'E' of DEFENDS]. She is wearing white saree, head and arm is covered by the saree." Shanta Kashkari would be the woman under left edge of 'D' of DEFENDS.
Among the other gems on Vinayak's site is a copy of Kashmir's civil list for 1947.
Tribal Jihadi Mercenaries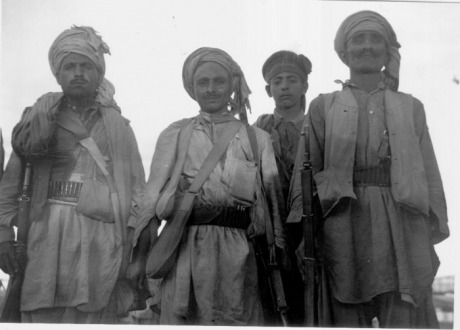 These are the men whose invasion of Kashmir prompted the women above to take up arms. They are members of the 'lashkar', the raiding party of tribal fighters from Pakistan which crossed into Kashmir from October 22nd 1947.
This remarkable photograph is of Orakzai tribesmen on their way to fight in Kashmir. It was taken in Rawalpindi on 13th November 1947.
The photographer was Frank Leeson, who had been serving with the khassadars in Waziristan, the scouts who were being trained to work alongside the local establishment. He took a huge number of photographs, which he labelled with great care. Many were used in his book Frontier Legion, eventually published in 2003.
Frank gave me permission to use this image in my book A Mission in Kashmir, and indeed it is such a striking image it features on the cover.
Women Militia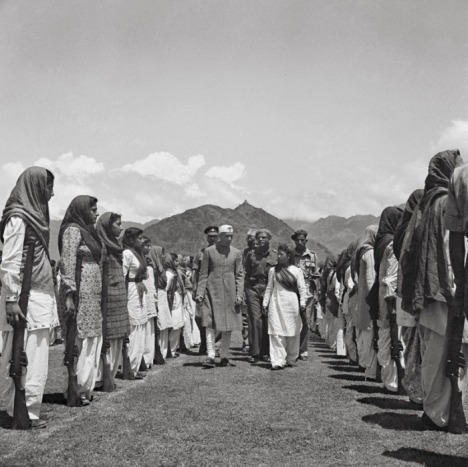 A compelling photograph (above)  of Jawharlal Nehru inspecting the Kashmir women's militia – the women's self-defence corps – in Srinagar. I am not sure of the date – almost certainly the end of 1947 or early in 1948. Begum Zainab, the leader of the militia, is escorting Nehru. In the background is a Srinagar landmark the Takht-e-Suleiman or Shankacharya Hill. Krishna Misri tells me that the woman one from the far left, with the patterned top, is Sajda Begum.
The women's militia drilled and was trained in how to fire a rifle and throw a grenade. Its main intention was to allow young women to protect themselves and their households should Srinagar be overrun. The tribal army got to the outskirts of the city but not further. The women's militia did not see active service, though many of its members were involved in relief work for the refugees resulting from the invasion.
This photograph was taken by the master photographer Ram Chand Mehta. His business, Mahatta, is still going on the Bund at Srinagar – when I was last there I popped in to say hello to the current proprietor, Ram Chand Mehta's son. I am posting this photo with the permission of Hemant Mehta, Ram Chand Mehta's grandson. The rights rest with Hemant's picture agency, India Picture.
Children Militia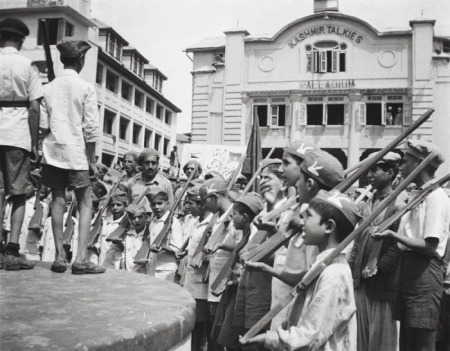 Another photograph by Ram Chand Mehta taken in Srinagar in 1947-48. These are youngsters drilling with wooden rifles in Lal Chowk in the centre of the city. In the excited political atmopshers of late October and November 1947, when the maharajah had fled and Sheikh Abdullah came to power and straight away faced an invasion of Pathan tribesmen, thousands of people of Srinagar took up arms in some fashion or another. Several members of the men's milita were killed in service – including Pushkar Zardoo, the brother of Krishna Misri.
The photograph was taken outside the Palladium Cinema, which the National Conference took over as their headquarters. The building still stands, just, but is a ruin – bearing witness to the agony Kashmir has endured over the last twenty years in particular.
Again, I am very grateful to Ram Chand Mehta and India Picture for allowing me to post this photo.
The People's Militia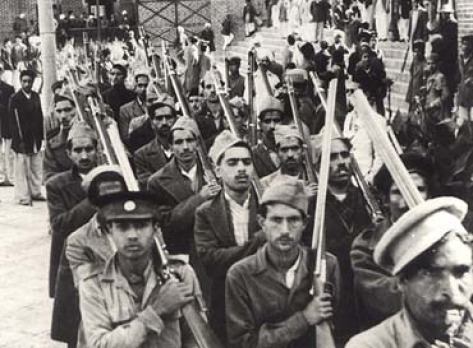 A wonderful photo, which appeared in 'Outlook' to accompany Omar Abdullah's review of my book. It's captioned: Circa '47: Peace brigades marching towards the Secretariat on the eve of Sheikh Abdullah's taking over of the Emergency administration. I hadn't seen it before, and the magazine doesn't make clear the provenance.
If the caption is accurate, this dates from early November 1947. The National Conference militia has clearly been armed – by the Indian army – but the rather haphazard drill suggests that training hasn't got very far. The image underlines the ad hoc nature of the militia. And although it was raised to defend the status quo – to keep Pakistani irregulars out of Srinagar and to defend Kashmir's accession to India – it was also a revolutionary force. After almost four centuries of what those in the Kashmir Valley would regard as outside rule, a Kashmiri Muslim with popular support had just taken the helm in the Valley – and these men were willing to fight to keep it that way.
St Josephs's Barmula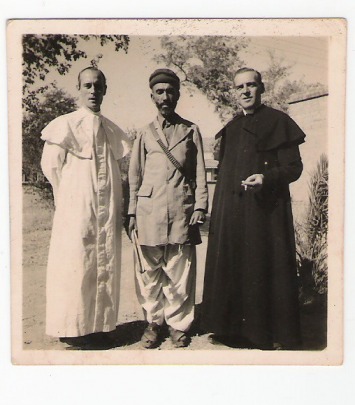 A photo with quite a story attached. The two priests are Father George Shanks (right) and Gerry Mallett – the two Mill Hill missionaries based at St Joseph's college, Baramulla, in 1947. With them is a man dressed in Pathan style and bearing an ammunition belt. He seems to be holding a paper, and he and Father Shanks are smoking.
I believe this was taken in October – November 1947 when the convent and mission hospital at St Joseph's was ransacked by the tribal lashkar. Six people were killed in the attack. Among the dead was Jose Barretto whose wife Greta Barretto was the hospital doctor. This photo is in the possession of their daughter, Mrs Angela Aranha.
The priests and about seventy others were held captive by the tribesmen for about eleven days – holed up in a ward of the mission hospital. The full story is told in A Mission in Kashmir, and it also formed the basis of H.E. Bates's novel The Scarlet Sword.
The Pathan may well have been Syed Sarwar Shah, described by George Shanks is his manuscript account of the ordeal at Baramulla – held in the Mill Hill Missionaries' archive – as 'a friendly Mahsud'. Shanks wrote: 'I shall always have a warm spot in my heart for Sarwar Shah, in spite of his casually mentioning afterwards that he had been all in favour of shooting us all at first'.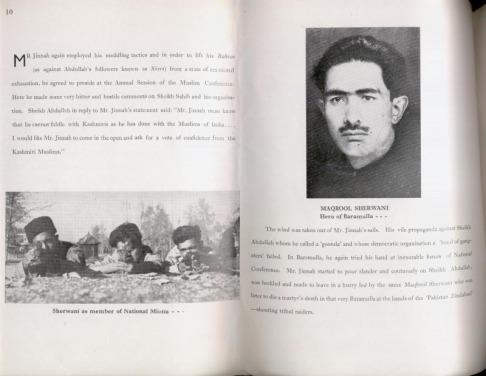 Muhammad Maqbool Sherwani
Small deeds of courage indulged in by the common folk have changed the complexion of battles all over the world. One such case of a civilian 19-year-old unsung hero, who laid down his life in the 1947 war, has come to light only now.
Hardly anybody outside Baramulla has heard of Mohd Maqbool Sherwani, or how he died and the decisive role he played in saving Srinagar from falling to Pakistani raiders (tribal mercenaries also known as Kabilis or Qabailis) who attacked Kashmir in the year of Independence.
Sherwani was a gutsy boy of 19 who single-handedly thwarted the advance of thousands of raiders (Kabailis) from Baramulla, thereby giving valuable time to the Indian Army to land in Srinagar and prevent an ignominious defeat.
The nation may not remember his sacrifice, it may not even be aware of it, but the legend of Sherwani lives on in Baramulla.
His tactics to hold back the raiders were very simple, not the stuff case studies in military history are made of.
He went around on his bike telling the Kabailis, who stormed Baramulla on October 22, 1947, not to advance towards Srinagar as the Indian Army had reached the outskirts of Baramulla.
His bluff worked. The enemy froze in its tracks for four days. By then, 1st Sikh had landed in Srinagar, on October 27, now celebrated as Infantry Day.
When the Kabailis came to know of Sherwani's game plan, they shot him dead and crucified him.
Ali Mohammed Bhat, 93, an eyewitness to the martyrdom of Sherwani, told TOI, "The Kabailis couldn't digest that a young boy had fooled them. I saw a Kabaili on a motorcycle with an almost dead Sherwani slung across the petrol tank. He was put on a wooden cross, nailed and fired upon 10-15 times. He remained like that for two to three days. His body was brought down when the Army reached the place."
Sherwani's bravado gave the Army precious time to prepare for the historic Battle of Shalateng, near Srinagar. Over 700 raiders were killed here.
Col Harwant Singh (retd), 85, who fought at Shalateng, said Sherwani's contribution changed the complexion of the 1947 operations, turning the tide in India's favour. Acknowledging Sherwani's contribution, the Army's 19 Division has set up a community hall here in his memory at a cost of almost Rs 1 crore.
Francis Rath, an octogenarian Baramulla doctor, said, "I was on my way to Srinagar after the fighting was over. Vultures and dogs were feeding on the bodies of the Kabailis. Shalateng became their graveyard because of Sherwani."
http://timesofindia.indiatimes.com/a…ow/1200682.cms
At last, he was discovered and apprehended somewhere between Sangrama and the dense forests on the left of Wular lake. He was brought down to Baramula and after several days of interrogation, was tied to an electric pole in the centre of the town and nails were driven into his hands and forehead. Ultimately he was shot dead.
http://www.kashmiri.info/Kashmir-Fight-for-Freedom-by-Yousaf-Saraf/maqbool-sherwani.html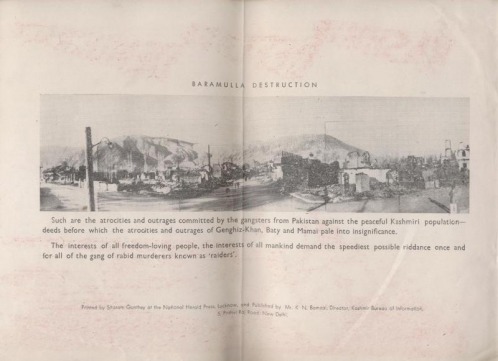 A panorama of a devastated Baramulla burnt and looted by tribal Jihadi mercenaries from South Waziristan and other areas of NWFP and FATA.
——-
The 1948 War
Today, it is fashionable to blame the Indians, Mountbatten, Gracey etc as far as the 1947-48 War is concerned. A dispassionate study of the events of 1947-48 clearly proves that victory was closer in 1947 than ever again as far as the Pakistan Army was concerned. Opportunities were lost because very few people who mattered at any level apart from Mr Jinnah, Brigadier Akbar Khan and some others were really interested in doing anything!
The 1948 war was fought over the Muslim majority state of Kashmir ruled by a Hindu ruler, who did not want to accede to Pakistan. The specific sole and immediate aim of this chapter is to briefly analyse the 1948 war and to explain why Pakistan failed to achieve, what was within its grasp and why the Indians despite their overall material superiority could not achieve as much as they should have done.
The morality of Kashmir dispute and who is morally right is beyond the scope of this book, except the simple point that as far as the broad mechanics of the philosophy governing the partition of India was concerned; i.e. division of India on a communal basis and as Non-Muslim and Muslim India, Kashmir should have been a part of Pakistan.
There are detailed accounts of the Kashmir Dispute and whole books have been dedicated to it, a reader interested in this dispute should study those books. So we shall directly move on to the exact discussion of military mechanics of the 1948 war.
Theoretically, a Princely state could join any state i.e. India or Pakistan or stay independent. The British policy in this regard was not precise. A Princely State could join one of the two states i.e. India or Pakistan, with regard off course to physical propinquity. The choice of country was left entirely to the rulers of the princely states. As far as physical propinquity was concerned the state of Kashmir had all road rail and river communications with Pakistan and none with India.
As far as the sentiments of the population were concerned, everything indicated that they did not certainly want to join Hindu majority India. The ruler Hari Singh was not inclined to joining Pakistan. In the third week of August 1947 the Kashmir State Force opened fire on a political meeting at a village near Dhirkot in Poonch district. On 24 August 1947 the Muslims of the area started a small rebellion under Qayyum Khan an ex sepoy from the army. Other similar rebellions of small scale broke out in various parts of the state and the state forces were soon dispersed all over the state in internal security duties. It may be noted that the Kashmir State Forces consisted of nine infantry battalions out of which had the communal ratio of 22.2 % Muslim, 5.5 % Sikh and 55.55 % Dogra 1.
As the rebellion spread the principal anti-India leader Sardar Ibrahim fled to Pakistan and started considerable efforts to mobilise Pakistani public opinion and military support in sustaining the rebellion, which had little chance of success at least in the valley in case the Hindu ruler was able to secure Indian Army's assistance by virtue of acceding to India2. As true or exaggerated reports of anti-Muslim atrocities reached the Trans-Indus Pathan tribal area the Pathans who have been historically famous for a multi- faceted motivation combining thirst for glory, Islamic zeal and lust for loot started movement towards Abbottabad and Murree on their own initiative.
While all this was going on Hari Singh the ruler of Kashmir kept sitting on the fence, inclined to joining India, but unable to arrive at a firm resolve to do so for fear of the backlash against this decision from the Muslims, who constituted the 75 % majority. The situation was getting very swiftly out of control of the Maharaja's forces.
There were more than 60,000 demobilised Muslim ex- servicemen who were World War II veterans, and many of these men formed militias and started harassing the dispersed state forces and harassing the various roads and bridges in the state.
By 15th October these militias forced the State Forces to abandon Fort Owen, around the same time the Dogra communication between Kotli and Poonch was severed and the state forces Muslim troops had almost deserted and joined the rebels while the non- Muslim units were besieged at Bhimbar, Mirpur and Mangla3. It must be remembered that at this moment the Pakistani GHQ was not involved in the operations.
The Muslim League's high command had tasked Mian Iftikhar ud Din Minister for Refugees to prepare a plan aimed at ensuring that the Muslim majority state of Kashmir should join Pakistan. Brigadier Akbar Khan then serving in the Pakistani GHQ wrote an appreciation 'armed revolt inside Kashmir ' on Mian Iftikhar ud Din's request. It appears that Mr Jinnah had tasked Liaquat to handle the Kashmir business.
Liaquat in turn earmarked Mian Iftikhar ud Din. Iftikhar requested Sardar Shaukat Hayat and Brigadier Akbar Khan for advice. A conference presided by Liaquat was held at Lahore in September 1947. This was attended by Akbar whose appreciation had already been shown to Liaquat by Iftikhar ud Din earlier. Ghulam Mohammad the Finance Minister who was a contemporary of Liaquat at MAO College Aligarh4 and at this time was foremost in playing sycophant par excellence with Liaquat also attended the conference.
Brigadier Akbar recalls that everyone was enthusiastic but no one including the Prime Minister had any concrete idea about the tangible and concrete aspects of the actual plan of operations, specially as far as the logistic and armament aspect was concerned. Shaukat was appointed as overall incharge with Major Khurshid Anwar (Retired) commanding the northern tribal force which was as per Akbar's appreciation to attack on Muzaffarabad-Srinagar axis and Major Zaman Kiani of the INA to command the southern force tasked to operate against the Kathua area in the south.
Brigadier Akbar Khan D.S.O briefs Prime Minister Liaquat Ali Khan.Disgusted with Liaquats conduct in Kashmir war Akbar later planned a coup against him in 1950
Shaukat Hayat was not in favour of appointing Khurshid Anwar since he was a non-fighting arm soldier. Shaukat states in his book that Liaquat under Ghulam Mohammad's influence appointed Khurshid Anwar, then commander of the Muslim League's semi-military national guard to command the main northern invasion force. Akbar was to provide logistic support to the tribesmen which were to be employed for the invasion. There were three principal parties in the whole invasion affair.
On one side was the Muslim League leaders like Shaukat Hayat (an ex-major) Iftikhar ud Din and Khurshid Anwar who had been ordered by Mr Jinnah to do something to help the Kashmiri Muslims. Then there were the tribesmen who were concentrating at Batrasi opposite the Kashmir border and there was Brigadier Akbar Khan a Burma DSO who was Director of the newly formed Weapon And Equipment Directorate at the General Headquarters, tasked unofficially to support the tribal raiders logistically, using all resources at his disposal in GHQ as Director Weapons and Equipment without letting the Britishers controlling the Pakistan Army know!
Brigadier Akbar Khan , DSO chats with the tribal raiders
The tribesmen were brought from the NWFP tribal areas on trucks requisitioned by Government of Pakistan and concentrated in Batrasi north-east of Abbottabad. The invasion was to commence from 20th October 1947; the main northern tribal force invading Kashmir under Khurshid Anwar on Abbottabad-Garhi Habibullah-Muzaffarabad-Srinagar axis with a smaller auxiliary force advancing along Murree-Kohala-Muzaffarabad axis.
The official history does not mention the Lahore conference presided by Liaquat but merely states that 'Major Khurshid Anwar (as a result of some divine revelation!) undertook to organise and lead (whether voluntarily or on someone else's orders is left to the readers' imagination!) the tribesmen into Kashmir when the opportunity arose' ! In addition Major Aslam Khan an ex- Kashmir State Force Officer and a MC of WW Two also joined the Lashkar. Aslam was son of Brigadier Tor Gul who was a loyal subject of the Hindu Dogra ruler of Kashmir before 1947! The Lashkar of tribesmen had been assembled by the efforts of Khan Khushdil Khan of Mardan. On the night of 20/21 October 2,000 tribesmen captured the bridge spanning the Neelam river on the Hazara Trunk Road linking Muzaffarabad with Abbottabad without a fight, since the all Muslim guard platoon of 4 Jammu and Kashmir Infantry joined the tribesmen.
The Muslim companies of his state forces 4 Jammu and Kashmir Battalion in Muzaffarabad area rebelled and joined the tribesmen. By morning of 21 October the 2,000 raiders assisted by the Muslim Companies of the 4 Jammu and Kashmir State Infantry Battalion had captured the first major border town Muzaffarabad. Fighting continued till 23 October since other Dogra troops of the 4 Jammu and Kashmir infantry fought on till 23 October in the localities of Domel and Kohala.The 1947-48 Kashmir War had formally started.5
Geography, weather, sentiments of the bulk of the population, initial comparative location of regular army troops available for action in Kashmir and the layout/alignment of communication; all favoured Pakistan. Rawalpindi was not more than 47 miles from Abbottabad, 51 miles from Murree and 90 miles from Rawalpindi the three major garrison towns of Pakistan.
All the major road and rail links to the state ran through Pakistan. The likely direction through which the Indians could rush in the reinforcements ran through a dirt road from Pathankot to Jammu and from here to Riasi across the Bannihal Pass (snowbound from November to March) to Srinagar which was more than 257 miles long. Whereas Muzaffarabad was linked to Srinagar by an all weather tarmac road without any major water obstacle or any serious gradient.
The distance between Srinagar and Muzaffarabad was less than 100 miles. The only rail link of the state was the one connecting the town of Jammu with Sialkot in Pakistan. The only way Indians could reinforce the State and save its capital Srinagar was by airlifting troops to Srinagar. If Srinagar was captured the whole Kashmir vale and the entire northern areas including Ladakh could no longer be held by the Indians. There were no subtleties or complexities of operational strategy in the whole situation except following one simple straightforward plan ie; a bold and swift advance to Srinagar assisted by a troop or squadron of armoured cars. We will discuss in brief in the following paragraphs what actually happened and the major reasons which led to failure.
The entire Kashmir War of 1947-48 was fought over a large area comprising more than 89,000 square miles and over the highest mountain barriers in the world. However the innumerable actions of the war studied in detail are confusing and do not provide the layman reader with a clear picture, thus the result is a situation in which the trees become more important than the whole forest. In brief the Kashmir War was fought in four areas, one of which was most important and the centre of gravity for the other three. These four areas were the Jhelum Valley or the Muzaffarabad-Srinagar Road, the Northern Areas comprising the Gilgit-Leh axis in the Indus Valley and the Zojila Pass area, the Poonch River Valley and fourthly the area between Jammu and Mirpur. The centre of gravity of the whole war was the Jhelum Valley, which was the only place where an advantageous decision could have been achieved at the earliest and in the relatively shortest time and space as far as the Pakistan Army was concerned; had the Pakistani political and military leadership possessed greater strength of resolution and independent spirit; than they actually did!
The fate of the war in Indus valley depended on the degree of success in the Jhelum Valley since the Indian line of communication to this theatre lay through the Jhelum Valley. The fighting in Poonch river valley also depended on the success of the struggle for Jhelum Valley, since a Pakistani success in Jhelum Valley in terms of capture of Srinagar would have freed all Pakistani troops for a concentration against Poonch town from the north and would have definitely led to the capture of Poonch.The fourth sector of the war i.e. the area south of Bannihal Pass and between Akhnur Tawi river was the only area that the Indians could have held with a certain degree of success in terms of relative forces available, geographical location and the terrain factor.
**************
First of all we shall deal with the battles in Jhelum Valley on the Muzaffarabad-Srinagar Axis, the most decisive part of the whole war where the Indian position was most critical and hung on the razors edge.We have already seen that the tribesmen assisted by the Muslim elements of the Kashmir State Forces had successfully cleared Muzaffarabad-Domel area by 23 October. In terms of odds and comparative forces this was a predictable affair since the Hindu Dogra elements of the 4 Jammu and Kashmir Battalion, approximately two companies or about 350 men were dispersed in penny packets over an area of thirty miles, and were further internally weakened by having a 50% Muslim strength or two companies. Added to these the 2,000 tribesmen who attacked Muzaffarabad on 21 October achieved complete surprise since the crucial bridge over the otherwise impassable river Neelum (Kishanganga) was handed over to them by the Muslim guard of the 4 Jammu and Kashmir infantry, and all that they had to deal were isolated Dogra platoons dispersed in various localities separated by many miles.
After capturing Domel the last Dogra held locality on the main road to Srinagar on 23 October in lorries and trucks. There was practically nothing between Muzaffarabad and Srinagar to stop the tribesmen. Brigadier Rajinder Singh the chief of staff of the Kashmir State Forces was a brave man.
He rushed to Uri 63 miles west of Srinagar on the main Muzaffarabad-Srinagar road with 200 soldiers and blew a bridge spanning a nullah (water course smaller than a river) on the main road on 23 October 19476. This delayed the advance of the tribesmen and other volunteers who now numbered about 5,000 by one day. Brigadier Rajinder Singh who believed in leading from the front was killed in action on 24th October.
The tribesmen resumed advance and captured Baramula which was 35 miles west of Srinagar on 26th October 1947. A very respectable Indian military historian has frankly admitted that 'had the lashkar gone on,there was nothing between Baramula and Srinagar to stop it7' The tribesmen sole motive was not liberation of Kashmir, and they started looting the town. Srinagar was just a few hours lorry drive away from Baramula.
According to Sardar Shaukat Hayat who was one of the Muslim League men tasked to oversee the invasion the issue was Rs 300,000 found in the Kashmir State Treasury. Khurshid Anwar foolishly argued that this money belonged to Pakistan Government (as if the tribesmen were fighting just for two nation theory, while no Muslim League leader was sixty miles near Baramula!) while the tribesmen correctly asserted that it belonged to them8. Once this issue was settled the tribesmen who had no conception of Time and Space factor insisted that they will not move before the three day Eid festival was over9. In the meantime the Indian GHQ was acting real fast. The Maharaja of Kashmir had been requesting the Indian government for military aid since 24th October and on 26th October signed the Instrument of Accession joining India. Meanwhile the Indians had already sent a staff officer from their military operations department on 25th October to study the military situation.
The Indians collected 30 Dakotas for the airlift and flew two companies of 1 Sikh to Srinagar on 27th October from Willingdon airport near New Delhi. At this moment the Indian situation was highly critical; only 40 men were holding a weak defensive position 5 kilometres east of Baramula. It was Indian good luck that all commanding officers during this situation believed in leading from the front, Lieutenant Colonel Dewan Ranjit Rai the Commanding Officer of 1 Sikh being another such man.
Dewan on landing at Srinagar immediately rushed in lorries to Baramula hoping to stop the Lashkar at the mouth of the funnel which opens east of Baramula into a wide valley as one advances from Baramula towards Srinagar. 1 Sikh joined the state troops 5 kilometres east of Baramula, but could not hold the Lashkar of 5,000 men. Dewan was killed in the fighting and the remaining elements of 1 Sikh withdrew eastwards losing 24 men (killed) to take another defensive position at Patan 25 kilometres west of Srinagar10. On 28th more Indian troops flew into Srinagar and the balance of strength started tilting in Indian favour.
The tribesmen who were used to fighting based on hit and run tactics could not use weight of numbers in the open valley and resorted to bypassing tactics instead of the conventional infantry attack. They bypassed 1 Sikh's position at Patan from the flanks but was forced to stay close to the main road since manoeuvrability in the whole area was restricted by marshes and small lakes and the lashkar Pathans were by and large non swimmers11! By 2nd November the Indians had flown in a very strong infantry brigade (161 Brigade) consisting of approximately four battalions into Srinagar.
In addition the overall command of Indian Army operations in Kashmir was entrusted to Headquarters Jammu and Kashmir Force based at Srinagar and headed by Major General Kalwant Singh. The commander of 161 Indian Infantry Brigade(from 2nd November) was Brigadier L.P Sen a Bengali Hindu with an excellent Second World War record (unlike the first Muslim C-in-C of Pakistan Army as we shall discuss later) in Burma where he had won a Distinguished Service Order12.
The tribesmen had lost the really golden opportunity to capture Srinagar on 27th October. There is no doubt that Pakistan had lost its first decisive battle without the Pakistan Army's direct involvement. All was not over still; and another major opportunity to capture Srinagar was yet to be lost. We will discuss this in a subsequent paragraph.
It may be noted that Mr Jinnah had ordered General Gracey the British Acting C-in-C (Messervy being on leave) of the Pakistan Army to attack Kashmir. Gracey who had been handpicked by Mr Jinnah on the grounds that Field Marshal Auchinleck the Supreme Commander of both the armies did not allow it!13 Auchinleck flew to Lahore the next day and convinced Mr Jinnah to retract his order. Auchinleck's threat that all British officers would be withdrawn in case such an order was pressed further convinced Mr Jinnah into retracting this order14. Mr Jinnah was unlucky unlike Nehru in having no Patel by his side. When Bucher the British C-in-C of the Indian Army advised the Indian government not to attack Hyderabad till the Kashmir War was over,and Patel insisted otherwise, Bucher threatened to resign.
Patel simply told him on the spot that he could resign and then ordered Sardar Baldev Singh,the Defence Minister 'The Army will march into Hyderabad as planned tomorrow morning'15. Mr Jinnah was undoubtedly; by virtue of having taken an iron and most resolute stand on the division of the Indian Army; the father of Pakistan Army.
It was remarkable that as a very sick 71-year-old man in 1947, Mr Jinnah possessed the tremendous Coup d Oeil (unusual strategic insight) and resolution to order Gracey in October 1947 to employ two brigades of Pakistan Army to attack Kashmir; one from Sialkot going for Jammu and one from Rawalpindi going for Srinagar !16 It was indeed a pity that he did not possess any adviser, who could be called a 'Man' (A MAN LIKE PATEL) of sufficient ability and independent judgement to convince him to override Gracey who was behaving little better than a glorified headclerk and mouthpiece of Auchinleck!
It was yet another tragedy that this glorified headclerk was retained and succeeded Messervy as the second C-in-C of Pakistan Army! It is strange that Shaukat Riza who wrote his book in the 1990s did not even mention this incident. A reflection on the roundabout way in which the book was written and on the analytical ability and grasp of military history of all the brilliant Principal Staff Officers of Pakistan's General Headquarters whose name are so proudly mentioned in the Acknowledgement section of his book17.
The Indian GHQ ordered 7th Light Cavalry to be ready to move into Kashmir in the end of October. Its Hindu Jat Squadron equipped with armoured cars (this was from 6 Lancers which went to Pakistan) started movement from Ambala on 1st November and after a tough march reached Srinagar on the evening of 5th November. It has to be noted that although the Indians starting reinforcing Srinagar from 27th October onwards, the Indian superiority till the end of the first week of November was not as formidable as to ensure that Srinagar could not be threatened again, in case the Pakistan Army joined the tribesmen.
This was so because the Indians were forced to defend simultaneously various locations which if lost could seriously jeopardise the whole Indian position in Kashmir. Their communication from Pathankot to Jammu ran parallel and very close to the Pakistan border. Jammu the main town on their north-south communications was a few miles from Pakistan. In addition several Dogra garrisons at Bagh, Mirpur, Mendhar Poonch, Skardu, Leh etc were besieged by the various local militias and their fall could further exacerbate the Indian position in Kashmir.
We had left the battle at Patan where 1 Sikh had taken a defensive position after being forced to withdraw from 5 kilometres east of Baramula. The tribesmen launched an attack on the reinforced Indian position at Patan on 30th October but failed to capture it due to intense strafing by Indian Air Force and the inherent defensive strength of the Indian defensive position which was well sited and dominated the area around. The tribesmen now decided to infiltrate, bypass the Indian position from both north and south and capture the Srinagar airfield, which was the centre of gravity of the whole battle. The tribesmen who were masters of guerrilla warfare successfully went into the rear of the Indian position from its south by infiltration (see definition) and managed to reach Badgam a village just a few kilometres away from the Srinagar airfield on 3rd November. Here they successfully raided and dispersed an Indian infantry company inflicting in the process an extremely heavy loss on the Indians in terms of men killed including the Indian Company commander Major Somnath Sharma18.
The tribesmen were very close to establishing a roadblock between Srinagar airfield and town, but their paucity in numbers restrained them from doing so. At this critical juncture when no Pakistani politician ever dared to cross the River Jhelum (it may be noted that till ceasefire in Dec 48, no major Muslim League leader including the Prime Minister ever visited Kashmir!) in order to inspire and pat the indomitable tribesmen. The Indian political leadership was more energetic and on hearing about our indomitable tribesmen's action at Badgam Sardar Patel the second most important Indian leader after Nehru visited Srinagar on 4th November19. Patel stressed the importance of holding Srinagar and assured the soldiers that reinforcements were on the way.
****************
There is one extremely important event which has generally been ignored by most Pakistani military historians including Shaukat Riza.This was a conference held between 30th October and 4th November. Brigadier Akbar Khan the military man incharge of the raiders operations had returned to Pindi after a visit to the frontline at Srinagar. The tribesmen had not yet been repulsed and were planning infiltration operations with the aim of capturing Srinagar airfield. Akbar Khan's analysis about the operational solution to the problem of tribesmen's inability to attack well entrenched Indian infantry, supported by aircraft and artillery was to provide the tribesmen with armoured cars.
Major Masud from 11 Cavalry stationed at Rawalpindi volunteered to take his own squadron's armoured cars to Srinagar, on his own initiative, without informing any superior headquarter. Akbar Khan states in his book 'Raiders in Kashmir' that Major Masud said that the armoured cars would go without official permission, at his own risk and that the men would be in civilian clothes. This fact is proved by two independent authorities who were not from armoured corps and thus had no ulterior motivation or desire to project 11 Cavalry.
One was General Akbar who was present at the conference and the other was Brigadier Amjad Ali Khan Chaudhry who was a gunner, and was also present at the same conference20. Akbar states that as the conference was coming to an end Raja Ghazanfar Ali Khan a Muslim League leader and Central Government Minister entered the room. Brigadier Sher Khan who was the Director Military Operations had also joined the discussion. This, Raja Ghazanfar (despite being from a so-called martial area) was horrified about the armoured cars proposal, and according to both Akbar Khan and Amjad Chaudhry opposed the idea. He was supported by Brigadier Sher (Lion) Khan! Both the Minister and the Lion Hearted brigadier feared that such a step would lead to an open war between Pakistan and India21.
Amjad Chaudhry states that one of the participants at this conference a Muslim League minister Raja Ghazanfar Ali Khan even voiced an apprehension that the unruly tribesmen may get unruly and damage the Maharajas palace at Srinagar22!
Thus in the end Akbar Khan who was not directly in charge of the operations of tribesmen was overruled by a pacifist Minister more keen to enjoy ministerial perks and a paper tiger brigadier wearing the mask of the high-sounding appointment of Director Military Operations!
Major General Akbar Khan ,the real hero of the 1947-48 War.A DSO of Burma and the architect of philosophy of armed insurrection by aiding non state actors as state proxies.His ideas of use of non state actors as advanced in his writings were picked up much later and practised in Afghanistn,NEFA and Kashmir
The only difference between India and Pakistan was not whether one side possessed armoured cars or not, but the simple fact that while Mr Jinnah did not have any able Muslim deputy to advise him about military affairs (whether Punjabi, Hindustani or Pathan)
Nehru was assisted by a much larger team of more resolute, more intellectually capable Hindu deputies like Patel who ensured that armoured cars of 7th Light Cavalry; under command Lieutenant N.G David; did reach Srinagar area on 7th November and inflicted on the poorly armed tribesmen equipped with bolt action rifles a defeat at what the Indians themselves call the decisive battle of Shalateng!
It may be noted that on the night of 2/3 November the tribesmen had successfully infiltrated north of the Indian main position at Pattan and had reached Shalateng in the rear of Pattan and a little to the north of Srinagar. Sen the Indian brigade commander countered this move by ordering 1 Sikh to pull back from Patan and to take a position at milestone four astride the Srinagar-Baramula road. By 6th November a large number of tribesmen who had been slowly infiltrating since 3rd November had gathered at Shalateng.
Major Aslam and Major Khurshid Anwar the Pakistani officers in charge of these tribesmen decided to launch their main attack on Srinagar on the night of 6/7 November. The Indian Brigade Commander Brigadier Sen was also simultaneously analysing this threat and had decided to launch a deliberate attack on this force supported by 7th Light Cavalry's squadron on 7th November. Sen's plan was to launch a frontal attack supported by aircraft while one troop of 7th Light Cavalry under Lieutenant David which had already been sent towards Bandipura on a recce mission and was already in the tribesmen's positions rear was ordered by wireless to attack the tribesmen from the rear23. The result was the battle of Shalateng on the morning of 7th November.
The tribesman had started their main attack by infiltration on the night of 6th November and were fighting on the northern outskirts of Srinagar when the Indians launched their main attack at first light. David's troop had already got into the rear of the tribesmen as planned; thus while the tribesmen were attacked frontally by Indian infantry supported by armoured cars and aircraft, armoured cars were attacking them from the rear. This was too much for men armed with bolt action rifles. The tribesmen were routed and it was with great difficulty that the situation was finally stabilised at least temporarily at Rampura a narrow defile halfway between Baramula and Uri24.
The abandonment of the conduct of war to tribesmen armed with bolt action rifles; while the Indians attacked them with Spitfires, Tempests, Harvards and Daimler/Humber/GMC Armoured cars was without any doubt one of the most disgraceful acts in Pakistani military history. Even in the whole of 1947-48 War in all probability no regular Pakistan Army officer beyond the rank of captain was killed! An indicator that officers were not leading from the front. General Akbar Khan's views about the whole affair at Shalateng are more controversial. Akbar is of the opinion that, no battle ever took place at Shalateng, since the bulk of tribesmen had already withdrawn to Baramula on 5th November25.
Akbar was not present at Shalateng and there is no doubt that a battle did take place at Shalateng; however it is possible that after appearance of the Indian regular army units supported by aircraft; and no similar counteraction from Pakistani side in shape of a similar commitment in terms of army/airforce involvement; it is likely that many tribesmen may have withdrawn from Srinagar area between 27th October and 5th November. Akbar who was a man of much greater integrity than one thousand Aslam Khans etc was more accurate once he said in his book; ' They felt themselves let down by Pakistan.
They had, of their own free will, agreed to come and fight in Kashmir but only against the State Army. In this they had done more than what was expected of them. But no one had arranged with them. But no one had arranged with them to fight also against the regular Indian Army, with artillery tanks and aircraft26. It must be noted that there was one very major difference between the tribesmen and the vast majority of Muslim League leaders like Ghazanfar Ali and men like Aslam Khan, Khurshid Anwar etc, i.e.; these men and their ancestors since 1849 had been serving the British and even the Dogras (as far as Aslam Khan was concerned) and suddenly in 1940 or 1947 these men had become leaders of Pakistan or officers of the Pakistan Army; in contrast the tribesmen and their ancestors had been fighting the British with unequal intervals since 1849!
**********************************************************
Baramula was recaptured by Indians on 8th November and the Indians aided by their airforce which was attacking the entire tract of road between Baramula and Muzaffarabad27 continued their advance towards Uri. The Indian Prime Minister Nehru visited Kashmir on 11th November and travelled in an armoured car of 7th Light Cavalry till Baramula28. Compare this with the attitude of the Pakistani politicians. Neither Liaquat the Prime Minister nor any single of his ministers; Hindustani, Punjabi, Sindhi, Bengali or Pathan crossed river Jhelum29. The attitude of Gracey in not agreeing to commit the army to Kashmir, however disgraceful and negative can be explained by saying that he was a foreigner!
While Nehru boldly visited frontlines in Kashmir during the war ,Pakistans prime minister Liaquat Ali Khan dared not visit Kashmir till after cease fire.Extreme left Brigadier Akbar Khan ,the only Pakistani observer who noted this fact in his monumental book "Raiders in Kashmir"
What kept the Pakistani political leadership from visiting the tribesmen who had won a territory that to this day has been ruled by Pakistan is hard to explain. Akbar Khan was not wrong once he said that fear prevented these leaders from visiting Kashmir while the war was on30! Liaquat eventually fell victim of an assassin in 1951.
Had he died because of enemy action while visiting Kashmir, posterity would have remembered him as a much greater man. According to Akbar, Messervy was the main culprit for spreading a fear of Indian reaction in Pakistan Army. 'Messervy addressing a meeting of G.H.Q officers warned us against hostilities with India. He said that, in his opinion, in case of war India would overrun Pakistan within ten days' 31. Compare this negative attitude with the Israeli Army which defeated far better armed and well organised Arab armies in the 1948 War. Just 30,000 Jews had served in the British Army in the second world war32. More than 600,000 Muslims, more than half of them from areas which constituted
Pakistan had fought in the Second World War and yet the Pakistani leadership was unwilling to stand on its own feet preferring the two unreliable British crutches i.e. Messervy and Gracey! Mr Jinnah had already done too much for the army by insisting on the division of Indian Army, against tremendous opposition on part of the Britishers. The great tragedy was that Mr Jinnah was surrounded by men of zero military insight and devoid of all independent judgement. The Secretary of Defence, Mirza being a man who had never fought in actual war and the Muslim League politicians who were only good followers!
General Akbar Khan (then Lieutenant Colonel) met the tribals at Uri on 8th November .The tribals questioned Akbar about why Pakistan Government was behaving so spinelessly and not assisting them with artillery/regular troop support etc.Akbar Khan had no answer and tried to explain the legal position or simply lack of guts in the Pakistani political leadership and lack of guts in most the Pakistan Army's Muslim officers, except few indomitable men like Major Tommy Masud to risk their commissions by disobeying orders of the British C-in-C and showing some initiative (authors opinion in italics) 33.
According to General Akbar Khan the tribesmen were so demoralised and disappointed by lack of Pakistan Army support that they withdrew from the frontline opposite Baramula on 31st October and 10th November, and withdrew to Uri area, contemplating about returning to the tribal area34. Had the Indians possesses sufficient resolution or a commander with coup d oeil there was nothing stopping them from capturing Muzaffarabad between 31st October and 10th November. The same viewpoint is advanced by the official history35.
The probability that Akbar Khan who wrote the famous book 'Raiders in Kashmir' or Major Aslam, whose personal account was one of the many personal accounts used by the official historians who compiled the official history dealing with operations in Kashmir, were exaggerating their own role cannot be ruled out. There is one fact, however, that stands out as the crux of the issue, and which still raises the stature of the tribesmen higher than both Akbar or Aslam; i.e. the fact that the initial shock of the tribal onslaught on Srinagar was so traumatic that it imposed a 'once bitten twice shy approach' on the mind of the Indian Commanders. This ensured that the Indians despite the absence of any tribals in front of them; (as Messrs Akbar and Aslam allege) were in no mood to advance hurriedly towards Muzaffarabad after having captured Baramula.
After 10th November according to Akbar Khan the Mahsud and other tribesmen returned and played a major role in stabilising the front between Uri and Muzaffarabad36.
As one advances westwards from Baramula to Uri the Jhelum Gorge becomes narrower and the defenders task becomes easier while the attackers task becomes more difficult. The Indian Army although supported by aircraft artillery and armoured cars was too psychologically shattered to advance rapidly westwards, despite the fact that most tribesmen were not fighting the battle, at least temporarily few demolitions and a few snipers who were too motivated to withdraw stopped the Indian advance approximately 3 miles west of Uri37.
The official Pakistani history is hell bent upon giving the credit for this to Aslam Khan, while Akbar Khan also claims the credit for having stopped the Indians. The tribesmen who did the actual dirty work of fighting were never consulted by the authors of the official account! The start of snowfall from first week of December ensured that no major fighting took place between December 1947 and April 1948.
We must also remember that the tribals did the actual fighting between 20th October and in November 1947,while books were written by Pakistan Army officers from 1970 onwards, some 23 years after the war. The Indian behaviour after capture of Uri showed that their higher commanders lacked the initiative, which was the only commodity required to capture Muzafarabad as far as the Indians were concerned. Instead the Indians wasted three infantry battalions,two artillery batteries and a squadron of armoured cars in passively defending Uri38.
The Indian problem like Pakistan Army as we shall see later, was not lack of valour, for there was plenty of valour at the lower level; but lack of resolute leadership at the higher level. In the same Uri area there was a living legend of the pre-1945 British Indian Army; i.e. Jemadar Nand Singh a Punjabi Sikh who (as a Naik in 1/11 Sikhs) had won the Victoria Cross in Burma at the Battle of Buthidang in Arakan on 12th March 1944 for having cleared three Japanese foxholes singlehandedly39. But there were no Rommels or Nicholsons or Bluchers. Thimaya who came to Uri area later was a little better than other Indian commanders, but his initiative was limited and kept in check, by the higher military Indian commanders.
The battles around Srinagar, although small in terms of size of forces involved were the most crucial battles of the Kashmir War. By 13th November when the Indians captured Uri the remotest chance of any future threat developing ever again to Srinagar was removed. The Srinagar Valley was the heartland of Kashmir. Possession of it meant that the Indians could reinforce and relieve its besieged garrisons at Leh, Skardu, Poonch. Attack Muzaffarabad, Tithwal, Kargil and mount air attacks on all supply routes on Murree-Muzaffarabad-Uri Road, Kaghan-Babusar-Chilas track, all tracks and roads around Poonch etc.
****************
The next logical Indian operational objective should have been to straight thrust westwards from Uri to Domel-Muzaffarabad and close the main raider point of entry into Kashmir. We have already seen that the Indians were too psychologically shattered to do so. Instead they wasted their strength in various relief operations which we will discuss in brief. Since September-October various Kashmir State Forces garrisons consisting of Hindu Dogra troops were besieged all over the state by the tribals who had entered various parts of Kashmir and by local Kashmiri Muslim militias of ex-World War II veterans.
The besieged garrisons were defended by numerically small forces and started surrendering one by one; Bhimbhar and Mendhar on 3rd November, Bagh was abandoned by its non-Muslim garrison on 9th November which broke out to join Poonch Garrison. Rajauri was captured by the Militia/Tribals on 12th November and Rawalakot whose defenders managed to breakout and join Poonch around the same time40. In various Pakistani and Indian accounts both sides accuse each other of atrocities against prisoner women and other non-combatants.
I have deliberately avoided discussing these, since; the subject of this book is not ethics or human rights violation. I am of the firm conviction that both sides were guilty of this charge and both i.e. the Tribals/Militia and the Dogras/Indian Army were not angels or philanthropists by any definition; the best course being to accept the fact there were villains in higher proportion on both sides as far as the Non-Regular Forces i.e. Kashmir State Force and Tribals/Kashmiri Militia were concerned. In mid-November the Indians brought another regular army brigade i.e. 268 Infantry Brigade in Kashmir.
This brigade relieved 50 Para Brigade which had been earlier located in Gurdaspur area and had entered Kashmir in end October of the defence of Jammu Akhnur area. The Indians now planned a relief operation aimed at relieving Mirpur Poonch and Kotli garrisons, two battalion size force (from 161 Brigade) was to move from Uri southwards to Poonch while a brigade size force (50 Para Brigade) supported by a squadron of armoured cars of 7th Light Cavalry which had joined it at Jammu on 9th November41, was to move from Jammu northwards on axis Jammu-Akhnur-Nowshera-Jhangar-Kotli-Mirpur relieving Mirpur right on the Kashmir Pakistan border by 20th November 1947.
The Indians were not wholly successful in executing this plan. Tribal/Militia resistance was tough and the terrain difficult, and the Uri force could not relieve Poonch but managed to breakthrough to it and reinforcing it with one battalion. The force attacking northwards from Jammu i.e. 50 Para Brigade succeeded in capturing Nowshera Jhangar and relieving Kotli garrison on 26th November. However, news of fall of Mirpur which had been captured by the tribals/militia on 25th November forced the Indians to abandon Kotli, which could not be defended, while Mirpur was in hostile hands. Around the end of December the Indians inducted another regular army brigade in Kashmir i.e. the 80 Infantry Brigade in area Chamb-Akhnur.
This brigade captured Chamb on 10th December and had been captured by the militia soon after the rebellion started in October. It may be noted that the 50 Para Brigade was commanded since end of November by Brigadier Usman an Indian Muslim officer who had decided to opt for the Indian Army42. Intense fighting involving small size forces took place in area Bhimbhar-Jhangar-Mirpur etc; we will not discuss these minor actions since they did not have any major impact on the overall strategic situation in Kashmir.
Most important of these actions but of limited tactical consequence was recapture of Jhangar by the Militia/Tribals on 24 December. In mid-February 1948 the Indians inducted 19 Brigade (three infantry battalions) in Nowshera area43.
It may be noted that the Indians were extra sensitive about the security of Jammu and had deployed two squadrons of Stuart Light Tanks (one from 7th Light Cavalry and one from Central India Horse) at Jammu from December onwards. In addition a squadron of Sherman Tanks (Deccan Horse) was stationed first at Samba on the Pathankot-Jammu road from January 1948 and later moved to Jammu44 .
****************
It may be noted that the overall incharge of all Indian Army operations in Kashmir was Lieutenant General Russell in the capacity of General Officer Commanding in Chief, Delhi and Punjab Command. This Russell performed his task most religiously and ably in marked contrast with the two inefficient British crutches employed by Pakistan i.e. Messervy and Gracey. British government however had imposed a ban on Russell's entry in Kashmir, and Russell who was a brave man and a good soldier asked the Indians to either lift this ban or relieve him of his command. Once the ban was not lifted the Indians replaced Russell by Lieutenant General Cariappa on 20th January 194845.
Sources:
Ministry of Defence, Government of India. Operations In Jammu and Kashmir 1947-1948. (1987). Thomson Press (India) Limited, New Delhi. This is the Indian Official History.
Lamb, Alastair. Kashmir: A Disputed Legacy, 1846-1990. (1991). Roxford Books. ISBN 0-907129-06-4.
Praval, K.C. The Indian Army After Independence. (1993). Lancer International, ISBN 1-897829-45-0
Sen, Maj Gen L.P. Slender Was The Thread: The Kashmir confrontation 1947-1948. (1969). Orient Longmans Ltd, New Delhi.
Vas, Lt Gen. E. A. Without Baggage: A personal account of the Jammu and Kashmir Operations 1947-1949. (1987). Natraj Publishers Dehradun. ISBN 81-85019-09-6.
Cohen, Lt Col Maurice. Thunder over Kashmir. (1955). Orient Longman Ltd. Hyderabad
Hinds, Brig Gen SR. Battle of Zoji La. (1962). Military Digest, New Delhi.
Sandhu, Maj Gen Gurcharan. The Indian Armour: History Of The Indian Armoured Corps 1941-1971. (1987). Vision Books Private Limited, New Delhi, ISBN 81-7094-004-4.
Singh, Maj K Brahma. History of Jammu and Kashmir Rifles (1820–1956). (1990). Lancer International New Delhi, ISBN 81-7062-091-0.
http://en.wikipedia.org/wiki/Indo-Pakistani_War_of_1947
'Kashmiris Fight For Freedom', Justice Muhammad Yusuf Saraf, Feroz Sons Limited, Lahore, volume 2, page 803
'Looking Back', Mehr Chand Mahjan, page 269
Justice Yusuf Saraf, page 908
Major General Akbar Khan, 'Raiders in Kashmir', Pak Publishers Limited, Karachi, Pakistan, pages, 36-37
Justice Yusuf Saraf, page 904
Major General Akbar Khan, Page 38
Justice Yusuf Saraf, page 886
http://www.andrewwhitehead.net/kashmir-47-images.html
http://en.wikipedia.org/wiki/Akbar_Khan_(Pakistani_general)
http://indopakmilitaryhistory.blogspot.co.uk/2011/02/1947-48-kashmir-war-major-aghahamin.html
Comments
comments