This too was Pakistan (1947-71): A response to Nadeem Paracha's "Also Pakistan" – by Abdul Nishapuri
Related post: This All Began in 1947: The Jihadist Operations of Pakistani State
Nadeem F. Paracha's (NFP) history of Pakistan in the four part series in daily Dawn suffers from an error of exclusion. It is the history of Pakistan's upper-middle classes in an urban setting where lifestyle choices imply that somehow Pakistan was more liberal in the past.  It also reduces Pakistan to a (mainly) Punjabi-Muhajir urban upper-middle class landscape – like the plays of Fatima Surayya Bajia, Hasina Moin and Ashfaque Ahmed or romantic writings of Shafique-ur-Rehman and Nasim Hijazi.
The pictures in NFP columns tell a story of an upper middle class whose "liberal" membership has shrunk.  Simultaneously, it also reinforces the myth that there is a tiny bulwark of upper-middle class activists who are protecting Pakistan from complete Talibanisation – as long as their literary festivals, social media melas and fashion shows are well funded by foreign consulates and donor agencies.
In terms of strategy, "liberals" tactics are very similar to the post-9/11 strategy of General Musharaf.  In the first half of the last decade, this strategy was employed to the hilt by Musharaf in trying to convince the West that he and the army under him represent the last stand against the Taliban.  Of course, now the whole world knows the dual policy of Pakistan's military establishment of officially opposing the Taliban but protecting and sponsoring  them and their local Jihadi affiliates at the ground level. Plausible deniability was taken to a new level by Pakistan's military establishment. Similarly, it is commonly known that several of Pakistan's "noted liberals" including but not limited to Najam Sethi, Ejaz Haider and their predecessors in the past have played a questionable role in undermining democratic governments in Pakistan.
What NFP has presented in this series is only a limited remembrance of Pakistan from an elitist, upper-middle class perspective. If a narrow window of Pakistani society can be described as Pakistan, rest assured such Pakistan exists even today within its typical confines, e.g., five star hotels, private beaches, civil society melas, literary festivals, aman ki asha events etc in secluded luxury hotels or private residences.
What NFP did not describe is how the country was shaping itself right from its inception when Jinnah and his close comrades authorized military take over of Balochistan, despatch of Pashtun and Punjabi mercenaries to Kashmir, dismissal of Dr. Khan's government in NWFP and suppression of Bangla language. In 1948 and beyond we saw a repeat of similar events, e.g., when Jinnah's funeral was refused to be led by a Shia cleric, when Objectives Resolution was passed by Pakistan's first legislative assembly thus formalizing the ascendancy of Sunni Islam, when anti-Ahmadiyya riots took place in streets of Lahore and other cities of Pakistan. NFP also did not mention the fact that long before General Zia's Islamization, one of the bloodiest massacres of Shias took place in Terhi Sindh in 1963. That too was Pakistan.
Romanticizing of Pakistan from an upper-middle class lens is a great thing to write and read and we are not challenging the fact that confines of the upper-middle class lifestyle have relatively reduced in the past few decades courtesy General Zia, Zakir Naik, Farhat Hashmi, Imran Khan etc, however, that lifestyle featuring several elements of social hedonism is still available and enjoyed by the select elite.
The photos and narrative also reinforce the upper-middle class narrative that the seeds of extremism, intolerance and hypernationalism were sown during Bhutto's time and harvested by Zia ul Haq.  Unfortunately, this selective narrative excludes the role of Pakistan's urban elites (eg Rana Liaquat Ali Khan, Qudratullah Shahab, Altaf Gauhar etc) who silently watched the destruction of a pluralist society and the resulting rampant extremism while their own socio-economic interests were taken good care of.
The seeds of extremism in Pakistan were not planted by Zia or Bhutto but were there much earlier and should be highlighted.  Today, Pakistan's Shia Muslims are undergoing a slow-motion genocide which is deliberately being misrepresented or ignored by the urban elites who have positioned themselves as the "Endangered Liberal Species". Such elites have largely participated in inexplicable silence on the massacre of at least 19000 Shia Muslims in Pakistan in the last few decades.
1947: A country created on the basis of communal hatred and othering
Pakistan was a country created on the basis of communal hatred and exclusion. The bloodshed was only natural in 1947-48 at the time of partition.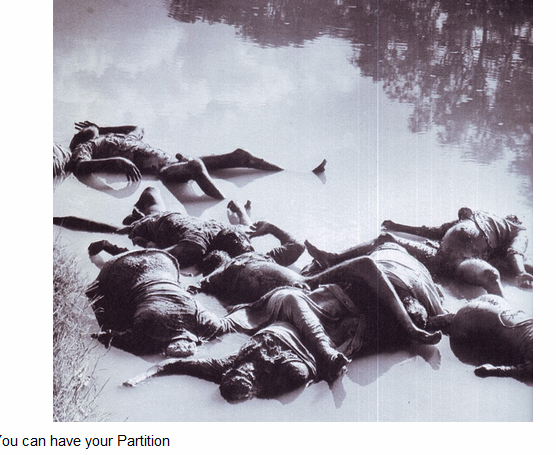 Pre-1947: Founder of a communal state is evasive about his own communal identity
The country's founder was a Shia but it was Mr. Jinnah himself who was evasive about his Shia Muslim identity.
The founder of the state, Mohammed Ali Jinnah, although himself a Twelver Shia after conversion from the Ismaili sect, was wont to describe himself in public as neither a Shia nor a Sunni. His stock answer to a query about his sect was: was Muhammad the Prophet [pbuh] a Shia or a Sunni? (Source)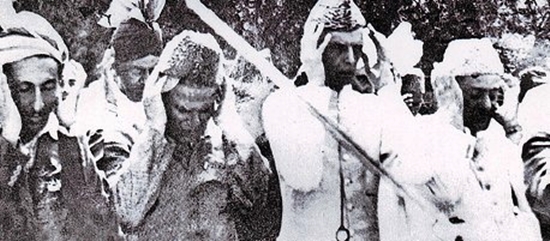 1947: Pakistan army hires tribal mercenaries to liberate Kashmir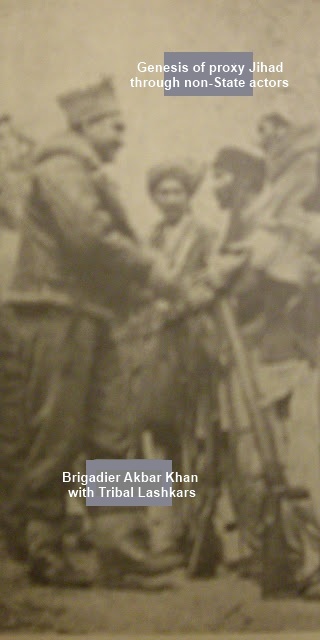 Tribal invasion of Kashmir started on 22 October 1947, an outcome of collaboration between Pakistan army, Pakistan Muslim League and Muslim Conference. Muslim Conference not only invited the tribal attack but also actively joined the raiders. Reward for this collaboration was that they were appointed rulers of this region known as Azad Kashmir; they and their political masters in Pakistan kept on feeding lies to people to strengthen the impression that the 'tribesmen' were 'liberators', and they came to Kashmir to fulfil their religious obligation. The Tribal Invasion was a contentious and significant action, because of its serious consequences; and because it clearly violated the Standstill Agreement concluded between Pakistan and the Ruler of Jammu and Kashmir. Furthermore, it resulted in death and destruction of thousands of innocent people; and it forced the Maharaja of Jammu and Kashmir to seek help from India, which was only made available after the 'provisional accession' to India. Apart from that it divided Kashmir resulting in enormous problems for thousands of families on both sides of the divide. It should also be remembered that the Tribal Invasion, apart from other problems also resulted in the first India and Pakistan war, bringing its own problems, animosity and subsequent wars. While discussing about brutalities of the Tribal attack, Khawaja Abdul Samad said: 'Hindus and Muslims were taking refuge in separate areas. Most of the properties that belonged to Hindus had been burnt down. Many Hindus and Sikhs had been mercilessly slaughtered and most of their bodies were still lying in their homes or on the streets. In the past two days, the tribesmen had dragged numerous bodies and thrown them into the river………..' 8 Khawaja Abdul Samad further said: 'Their attack had totally devastated Muzaffarabad. The homes of Hindus and Muslims were looted, shops were plundered and all the stock loaded onto trucks. Places of worship were not spared; they entered and took whatever they considered to be of value. They tore down mandirs and desecrated masjids. In their lustful search for gold, silver and rupees they even used digging equipment to search beneath the stone floors of shops. Whatever they could find would be amassed in a collective place where tribal leaders would supervise the whole process. From here, everything would be loaded onto trucks and sent on their way to the North West Frontier Province. In Muzaffarabad and its surroundings, no Muslim home was spared from this tribal bounty-hunt.' Tribesmen steal from a Masjid – Mosque. Khawaja Abdul Samad, while discussing the loot and plunder carried out by the tribesmen who apparently came to Jammu and Kashmir for the purpose of 'Jihad' and to 'liberate' people of Jammu and Kashmir, explained how they even looted materials hidden in a Masjid. 'As there was no restriction on how much booty the tribal Pathans could take home, some of us locals consulted with each other and made a plan. We decided that in order to protect Hindu assets from being seized by the tribesmen, we would take upon ourselves (Muslims) to transport goods and valuables from Hindu homes and store them in the masjid. Some Hindu youngsters, many of whom were our close friends; who had yet somehow avoided the deathly onslaught were also utilised in this exercise….. 'The 'Bazaar Wali' masjid was a two-storey building. By the evening, so much stock had been stored there that there was barely room for even a solitary 'sandooq' (large metal box for storing valuables) to fit in. We locked up the masjid at night and left for our respective camps of refuge. When I returned in the morning, I found that the masjid had been stripped bare clean. I was later to learn that the tribesmen had come late the night before and taken everything.' (Source)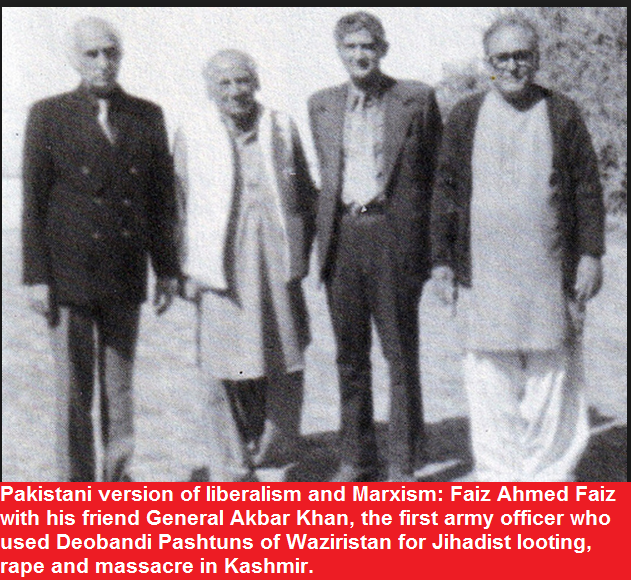 The Founder of Pakistan Jinnah with GOC East Pakistan Ayub Khan in 1948. Not yet Field Marshal, Ayub Khan was barely a Brigadier at that time. In 3 years he would be the C-in-C and 7 years more the Head of State. The person recieving the military cross is Mohammed Ahmed who became a Brig. and subsequently military sec to Ayub Khan.
1947: Jinnah dismisses an elected government in NWFP Province
Khan Abdul Jabbar Khan popularly known as Dr. Khan Sahib was a pioneer in the Indian Independence Movement and a Pakistan politician. On 15th August 1947 Mr. Jinnah took oath as Governor General of Pakistan and on 22nd August, just after a week dissolved the elected government of Dr. Khan. In 1958, Dr Khan was assassinated in Lahore.
1948: Bacha Khan remains in intermittent house arrest from 1948 to 1964
Khan Abdul Ghaffar Khan (Bacha Khan) was always presented as a traitor of Pakistan and an Indian agent. Ghaffar Khan was placed under house arrest without charge from 1948 till 1954. He was re-arrested in 1958 until an illness in 1964 allowed for his release.
1948: At least 150 Pashtuns massacred in Babhara village, Charsadda
On August 12, 1948, while Jinnah was at deathbed, the security forces opened fire on a protest rally of Khudai Khidmatgars in Babhara village, resulting in the killing of more than 150 people and injuries to over 400 men and women. Some reports, however, put the death toll at 602 while the number of wounded was stated to be in thousands.
1948: First military operation in Balochistan
The rebellion against Pakistan's forced occupation of Balochistan was led by Prince Abdul Karim Khan, brother of the Khan of Kalat, Mir Ahmad Yar Khan. In April 1948 the central government sent the Pakistan army to harass and force Mir Ahmed Yar Khan to give up his state (Kalat). Mir Ahmed Yar Khan signed an accession agreement ending Kalat's de facto independence. His brother, Prince Karim Khan, decided to carry on with the struggle. Basing himself in Afghanistan he conducted guerrilla warfare against the Pakistan army. Abdul Karim organized a rebellion against Pakistan in the Jalawan area. He received assistance from Mir Gohar Khan Zahri, an influential tribal leader of the Zarkzai clan. Major General Akbar Khan, who was in charge of the Pakistani army's Seventh Regiment, was ordered to attack the insurgents and force them to surrender. Prince Karim and his 142 followers were arrested and imprisoned in the Mach and Quetta jails. Many Baloch insurgents were killed and others served rigorous imprisonments. Karim's revolt is important in Baloch history for two reasons. First, it established that the Baloch did not accept the accession of Kalat with Pakistan. Second, it led to the wide-spread Baloch belief that Pakistan had betrayed the safe conduct agreement. The Baloch regard this as a first series of broken treaties that have created distrust between them and Pakistan's central government/army. Karim and his followers were all sentenced to long prison terms and became rallying symbols for the Baloch liberation movement.
1948: State funeral for Jinnah cannot be led by a Shia cleric
Both Jinnah sahib and his sister Fatima Jinnah were given private Shia burial rituals initially before the State they created swung into motion and made a sectarian issue of their burials.
Jinnah's state funeral was not allowed to be led by a Shia cleric. That was a formal declaration that Pakistan is a Sunni State. Mufti Shabbir Usmani was an uncle of Mufti Taqi Usmani and Mufti Rafi Usmani, the mentors and apologists of the Taliban and Sipah-e-Sahaba in Pakistan.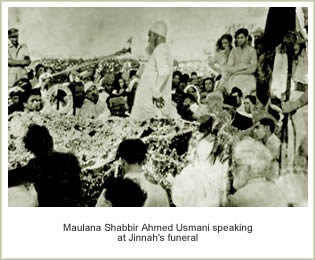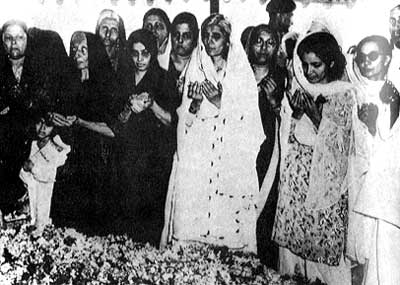 Fatima Jinnah organized a private Shia funeral for Jinnah inside the house.
1949: Islamisation of Pakistan begins. Objectives Resolution passed by PM Liaquat Ali Khan
The Speech of Mr Sris Chandra Chattopadhya in Opposition to Objectives Resolution, Constitutent Assembly of Pakistan, 12 March 1949
https://lubpak.com/archives/5788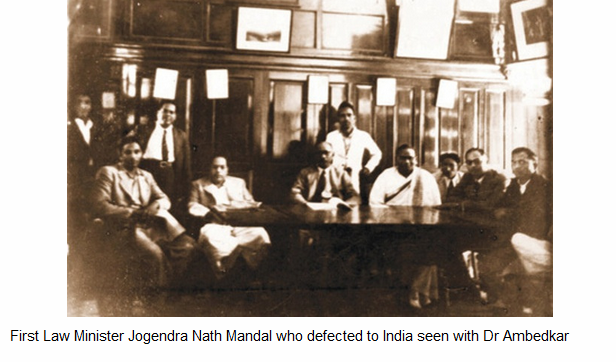 1951: A Jihad-e-Kashmir mercenary kills PM Liaquat Ali Khan
1952: Bangla language riots in East Pakistan
On 21 February 1952, a demonstration in the Language movement demanding equal and official status to the Bengali language turned bloody, with many fatalities caused by police firings.
The seeds of Bangladeshi liberation and independence were laid when Jinnah denied Pakistan's largest ethnic group the right to their rich language.  From 1947-1971, the Bengladeshis were subject to constant persecution and discrimination  – an element that is missing from the happier times pictures in NFP's collection.
http://www.socialismtoday.org/154/bangladesh.html
http://www.letsstartthinking.org/history/pakistan-timeline-1947-1956.asp
1953: Anti-Ahmadiyya riots in Punjab
In 1953, a religious movement began to agitate for the removal of the Ahmadiyya Muslims from power positions, and demanded a declaration of Ahmadis as a non-Muslim minority groups. Due to government's lack of action, mass rioting broke out in the Punjab against both the government and followers of Ahmadis. Several dozens were killed by violent mobs of Jamaat-e-Islami and other Sunni Deobandis, Wahhabi and Barelvi groups.
General Azam Khan – the first Martial Law Administrator having hard talk with Sardar Nishtar. With the government failing to contain anti-Ahmadi riots in Lahore, property of civilians being destroyed and truoble spreading to other major cities of the Punjab in 1953, Prime Minister Khwaja Nazimuddin, an ineffective administrator while presiding over a cabinet meeting in Karachi kept saying what should I do, what should I do. Lahore was on fire and the Governor of Punjab had just confirmed the fact. Defense Secretary Iskander Mirza was asked to find out the exact situation. He went to the ante room and called GOC Lahore General Azam Khan who confirmed the reports. 'How long will it take you to control the situation?' Mirza asked him. 'One hour' quipped Azam. 'Then go ahead' Mirza advised him. He returned to the Cabinet room and announced that he had declared Martial Law in Lahore. True to his word Azam restored law and order, arrested Maulana Maudoodi and Maulana Abdul Sattar Khan Niazi, tried them in a summary military court, sentenced them to death and sent them to the black cell for hanging the next morning. A call from King Saud however got them a reprieve. But with the carte blanche given to Gen Azam, military supremacy had been ensured in Pakistan for all times to come. Also Saudi hegemony in protecting and sponsoring Wahhabi-Deobandis of Pakistan was also established.
Pakistan was co-opted by a powerful civil-military bureaucracy immediately after coming into existence. This establishment ensured that Deobandi clerics and organizations e.g., Shabbir Ahmed Usmani, Maulana Maududi  were given a prominent place in a non-democratic setup.  The Objectives Resolution followed quickly and a large scale pogrom against the Ahmadi Muslims took place in Pakistan in 1953.  None of this is reflected in the pictures selected in NFP's collection – incidentally, that is not Stewart Granger and Ava Gardner either – although both of them were here for the filming of Bhowani junction.  The most abiding memory of them  isn't Ava Gardner's ethereal beauty or Granger's rackish charms. Rather is the pride felt by the urban elites when Stewart Granger was slapped by an army officer (Suo Moto anyone)
In terms of presenting an alternate history and point of view, it is important to appreciate some of Nadeem's earlier anti-establishment work.  However, it is also important to highlight the limitation of these views as an urban reflection which do not delve deeper into the historical roots of the problems currently facing Pakistan.  Unwittingly, this presentation reinforces the selective elite narrative which works overtime to shift the blame from the establishment and the liberal class to convenient scapegoats (generals and politicians).
1955: One unit system adopted in West Pakistan
One-Unit System Adopted Sep 30, 1955. West Pakistan adopts a one-unit government system, with Lahore as its capital, in an attempt to ease tensions between provinces over their representation in the National Assembly. In practice, this meant Punjabi dominance over Sindhis, Pashtuns, Balochs and other minority ethnic groups. It also means that Bengali majority was undermined by equating them with a much smaller ethnic group, Punjabis. Ayub Khan is appointed as Chief Minister of the One-Unit system.
1956: Islamic name for Pakistan
Islamic Republic of Pakistan Mar 23, 1956. Pakistani leaders dissolve the Dominion of Pakistan and establish the Islamic Republic of Pakistan, with Iskander Mirza — a vocal advocate of "controlled democracy" (including an electoral college) — as president.
1958: Second military operation in Balochistan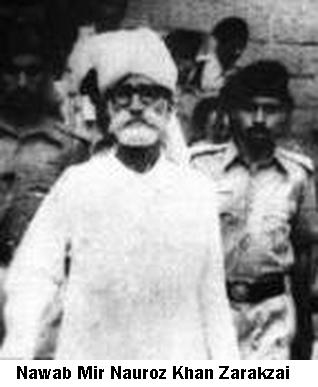 The next violent outbreak of Baloch sentiments came in 1958 as a direct result of the centralising policies pursued by Pakistan central government and army. Fears of Bengali domination in the 1950s had propelled the Punjabi leaders of West Pakistan, who controlled the levers of power, to consolidate the Western Wing of Pakistan into a unified province to counter Bengali numerical strength. This One Unit plan was resisted by the Baloch, both by Abdul Karim who had completed his prison term in 1955 and the Khan of Kalat who mobilised wide spread demonstrations through tribal chieftains. Balochi nationalists urged Iskander Mirza to exempt Kalat from the One Unit scheme, and to allot more government spending on developmental activities in Kalat. But General Ayub Khans ambitions changed the political matrix in Pakistan and when some Baloch sardars started non-cooperating with the Pakistani commissioner, under a flimsy pretext that the Khan had raised a parallel army to attack Pakistani military, Ayub ordered Pakistani army to march into Kalat on 6 October 1958, a day before he imposed martial rule in Pakistan. The army arrested the Khan and his followers and accused them of secretly negotiating with Afghanistan for a full-scale Baloch rebellion. The arrest touched off a chain reaction of violence and counter-violence with the government bombing villages suspected of harbouring guerrillas. Pakistan military's campaigns in Danshera and Wad were resisted by the Jhalawan Sardars loyal to the Khan. The octogenarian Chief of the Zehri tribe in Jhalawan, Nauroz Khan put up a stiff resistance in the Mir Ghat mountains, but the Pakistani military swore an oath by the Quran and urged Nauroz to give up arms and prepare for negotiations. Nauroz surrendered in anticipation of safe conduct and amnesty but the army put Nauroz and his sons behind the bars as soon as they laid down their arms. Naurozs sons were hanged soon afterwards, in Hyderabad and Sukur, in July 1960. A shocked and surprised Nauroz died soon afterwards in Kohlu prison in 1962. Ayubs message to the Balochis of Kalat who were the first to challenge the might of the Pakistani state, was clear. He reportedly threatened the total extinction of Balochis if they did not mend their ways.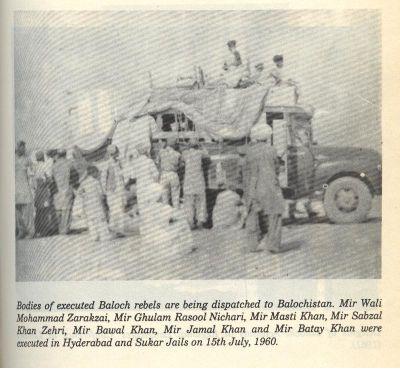 The 1958 revolt was followed by the Pakistan Army setting up new garrisons at key points in the interior of Balochistan. This in turn provoked the Baloch to plan for more armed guerrilla movements capable of defending Balochi interests. The movement was led by Sher Mohammed Marri who was far-sighted in classic guerrilla warfare. The Pararis, as the guerrillas were called, ambushed convoys, bombed trains and so on. In retaliation, the army staged savage reprisals. For example, the Army bulldozed 13,000 acres of almond tress owned by Sher Mohammed and his relatives in the Marri area. The fighting continued sporadically until 1969 when the Yahya Khan withdrew the One Unit plan and got the Baloch to agree to a ceasefire.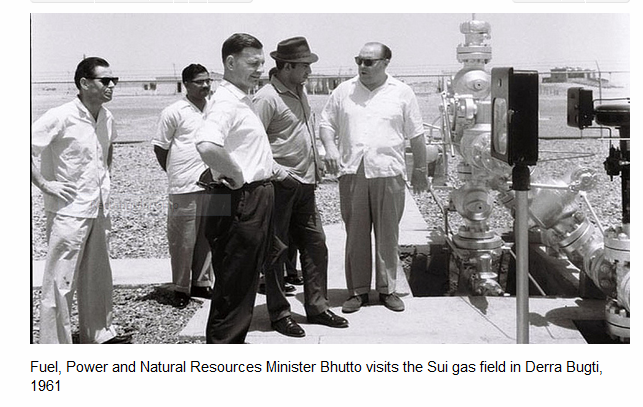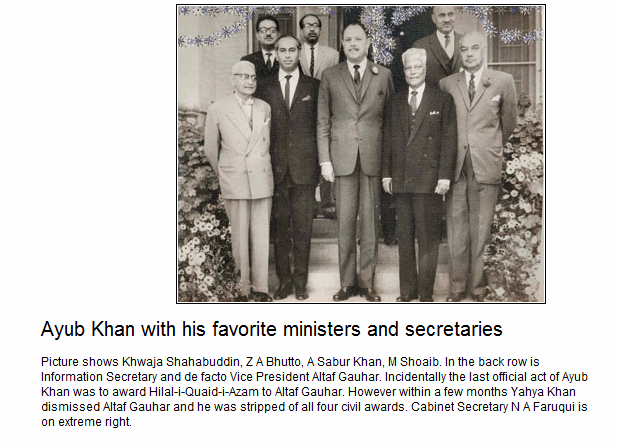 1963: Shia massacre in Therhi, Sindh
At least 116 Shia Muslims were massacred in district Khairpur's village Therhi (Sindh) on June 6, 1963. Police stood by while radical Deobandis and Wahhabis massacred Shias. This was the first major incident of Shia genocide in Pakistan. Justice was not done to the martyrs of Therhi and the anti-Shia terrorists and their masterminds were not awarded exemplary punishment. Lack of due action against the ferocious killers encouraged them to continue the genocide of Shia Muslims in Pakistan.
http://www.shaheedfoundation.org/tragic.asp?Id=13
The 1963 Theri massacre of Shia was a landmark event but does not seem to merit a space in the photographical history presented by Nadeem Paracha. Of course such pictures and also those of the 1953 anti-Ahmadi riots would disturb the romanticized, liberal-baptized version of Pakistan which never was!
1965: Operation Gibraltar and the Pakistan India war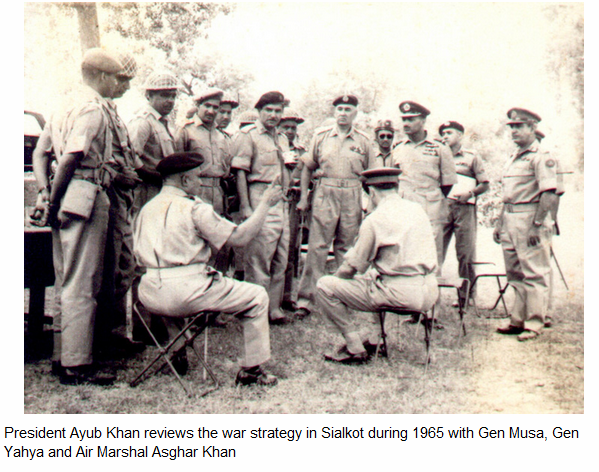 Operation Gibraltar was the codename given to the strategy of Pakistan to infiltrate Jammu and Kashmir, the northernmost state of India, and start a rebellion against Indian rule. Launched in August 1965, Pakistan Army's 50th Airborne paratroopers and Pakistan Army's guerrillas, disguised as locals, entered Jammu and Kashmir from Pakistan with the intention of fomenting an insurgency among Kashmiri Muslims. However, the strategy went awry from the outset as it was not well-coordinated and the infiltrators were soon found. The debacle was followed by an Indian counterattack that resulted in the 1965 Indo-Pakistani War.
1967: Fatima Jinnah's funeral
Mr. I.H. Ispahani was present when Miss Fatima Jinnah died in Karachi in 1967. He himself arranged the ghusl and janaza for her at Mohatta Palace according to the Shia ritual before handing over the body to the state. Her Sunni namaz-e janaza was held later at the Polo Ground, after which she was buried next to her brother at a spot chosen by Ispahani inside the mausoleum. Ritualistic Shia talgin (last advice to the deceased) was done after her body was lowered into the grave. (Jinnah had arranged for talgin for Ruttie Bai too when she died in 1929).
Fatima Jinnah's own funeral became something of a theatre of the absurd after her friends had given her a Shia funeral before the state could give her a Sunni one. Field Marshal Ayub Khan writes in his Diaries:
11 July 1967: Major General Rafi, my military secretary, returned from Karachi. He had gone there to represent me at Miss Jinnah's funeral. He said that sensible people were happy that the government had given her so much recognition, but generally the people behaved very badly. There was an initial namaz-e janaza at her residence in Mohatta Palace in accordance, presumably, with Shia rites. Then there was to be namaz-e janaza for the public in the Polo Ground. There an argument developed whether this should be led by a Shia or a Sunni. Eventually, Badayuni was put forward to lead the prayer. As soon as he uttered the first sentence the crowd broke in the rear. Thereupon he and the rest ran leaving the coffin high and dry. It was with some difficulty that the coffin was put on a vehicle and taken to the compound of the Quaid's mazar, where she was to be buried. There a large crowd had gathered and demanded to converge on the place of burial. This obviously could not be allowed for lack of space. Thereupon, the students and the goonda elements started pelting stones on the police. They had to resort to lathi charge and tear gas attack. The compound of the mazar was apparently littered with stones, Look at the bestiality and irresponsibility of the people. Even a place like this could not be free of vandalism. (Source)
1971: Bangladesh Liberation War and the genocide of pro-freedom Muslims and Hindus of East Pakistan
The Bengali people in East Pakistan had long felt exploited and underrepresented by the Pakistani government, and for valid reason: despite a purportedly democratic election which the Bengali leader Sheikh Mujibur Rahman had clearly won, the new military President Yahya Khan refuse to surrender power. East Pakistanis are outraged and begin agitating non-violently for autonomy. West Pakistani forces try to put down the demonstrations in a brutal campaign to execute East Pakistan's intellectuals, political leaders, and other civilians. Western Pakistan soldiers terrorize the East with methods including the rape of Bengali women and girls. Western Pakistan's Army Chief Tikka Khan became known as "The Butcher of Bengal."
But the western Pakistan militias are repulsed by an ad-hoc force made up of Bengali soldiers, paramilitary, and civilians, all backed militarily and economically by neighboring India. In an attempted end-around, the West Pakistani forces launch pre-emptive strikes into India, but are soundly defeated by the Indian Army. Pakistan's surrender in December 1971 marked the birth of Bangladesh (the former East Pakistan).
Liberation War of Bangladesh: NBC News Footage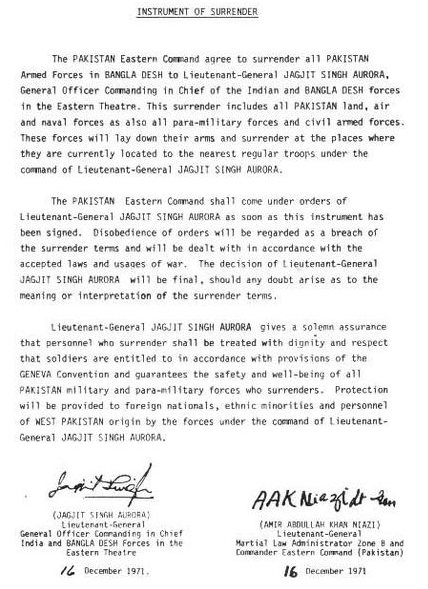 Text of the Instrument of Surrender, 16 December 1971

The Pakistan Eastern Military High Command agree to surrender all Pakistan Armed Forces in Bangla Desh to Lieutenant-General Jagjit Singh Aurora— General Officer Commanding-in-Chief of the Indian and Bangla Desh Forces in the Eastern Pakistan. This surrender includes all Pakistan land, Air Force and Naval forces as also all paramilitary forces and civilian armed forces. These forces will lay down their arms and surrender at the places where they are currently located to the nearest regular troops under the command of Lieutenant-General Jagjit Singh Aurora.

The Pakistan Eastern High Command shall come under the orders of Lieutenant-General Jagjit Singh Aurora as soon as this instrument has been signed. Disobedience of orders will be regarded as a breach of the surrender terms and will be dealt with in accordance with the accepted laws and usages of war. The decision of Lieutenant-General Jagjit Singh Aurora will be final, should any doubt arise as to the meaning or interpretation of the surrender terms.

Lieutenant-General Jagjit Singh Aurora gives a solemn assurance that personnel who surrender will be treated with dignity and respect that soldiers are entitled to in accordance with the provisions of the Geneva Conventions and guarantees the safety and well-being of all Pakistan military and paramilitary forces who surrender. Protection will be provided to foreign nationals, ethnic minorities and personnel of Pakistan origin by the forces under the command of Lieutenant-General Jagjit Singh Aurora.

Signed at Ramna Course in Dacca, East-Pakistan at 1701Hrs (6:01pm PST) on the Sixteenth day of December, 1971, by J.S. Aurora (India and Bangla Desh) and A.A.K. Niazi (Pakistan) on behalf of Republic of India and State of Pakistan, in the interests of succession of East Pakistan as Bangladesh, at war with Pakistan.

Lieutenant-General Jagjit Singh Aurora
Supreme Commander of Indian Eastern Command and Bangla Desh Forces in the Eastern Theatre.

Amir Abdullah Khan Niazi
Unified Commander of Pakistan Eastern High Command

Vice-Admiral Mohammad Shariff
Commander of Pakistan Eastern Naval Command.

Vice Admiral R.N. Krishna
Commander, Eastern Navy Command

Air Vice Marshal Patrick D. Callaghan
Commander of Eastern Air Force Command, Pakistan Air Force

Lieutenant-General Jacob Farj Rafael Jacob
Chief of Staff, Indian Eastern Command
Note: Several pictures in this post have been cross-posted with thanks from the on-line collection of Dr Ghulam Nabi Kazi. Several paragraphs in this post have been contributed by a fellow editor. This post is a quick compilation of several articles taken from web to present a picture of a much larger, bigger and more real Pakistan than what was presented in NFP's collection of happy times.
We cannot move forward until we reconcile with our past. For a progressive, pluralist and secular Pakistan, we cannot be selective of our history and genesis.  By perpetuating a selective and concocted version of history, we are doomed to repeat our follies.
Comments
comments