Imran Khan and Sheikh Rashid must not apologize to liberal fascists – by Riaz Malik Hajjaji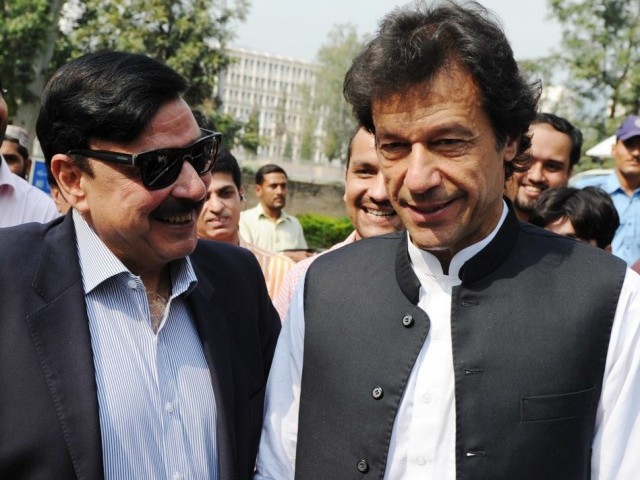 Many a times when I read statements by Hazrat Imran Khan and other holy leaders of the PTI, it reassures me that PTI will restore the national sport of hockey to its former glory, Jazakallah! Our skills to deflect have become, wait for it, LEGENDARYY!! (copied from Barney from the Sitcom "How I met your Mother")
Together with my PTI comrades, I think we will sweep Pakistani media, Twitter, and then Pakistan itself. When these liberal fascists (LUBP, PB types) talk about extremism, we deflect it to capitalist Neocon Zionist Kardashian America. If they start critisizing HIK, we start bashing Hindu RAW agent ZAB.
With such brilliance in our intellectual wings, we will sweep PTI to the glory of the Khilafat of Banu Omayya and Banu Abbas.
I love how my PTI comrades deflect arguements by liberal fascists and refuse to acknowledge deviant sects of Islam. Brilliant. You define Islamic as well as our fellow DPC comrade and PTI vice President Ejaz Chaudhry. Let us not be ashamed of being part of DPC since its beginning as was it not great "Rebel Without A Cause" aka Baaghi and Islamo-Marxist commoner Makhdoom Javed Hashmi, another senior PTI leader who gave press release that he came up with name of DPC.
Now we are also linked with another Ghairatmand Stud like Sheikh "The Sheeda Tully" Rashid – another visionary leader of DPC. This budding romance has been going on since Good looking Jamaati Hafeezullah Niazi (HIK's brother in law) and some army generals saw the vision of PTI in a dream and the rest, as they say, is history. http://www.laaltain.com/good-looking-jamaat-e-islami/
PTI -DPC alliance is here to stay like the love of Romeo and Juliet. We must not hide our romance for DPC just to appease Zalim Samaaj like Sheema Kirmani. Remember the dialogues of Rajesh Khanna and how he refused to hide love due to oppression of Zalim Samaaj. Just like that PTI must not hide its love for DPC and as an avowed believer of both and follower of the teachings of late Azam Tariq, Hazrat Imran Khan, Nasim Hejazi, Ejaz Haider, Hamid Mir, Najam Sethi, Ansar Abbasi and Tariq Ali, I feel it is my duty to highlight our romantic history with DPC on this forum:
Imran Khan's PTI joins banned terrorist groups in pro-army rally in Lahore https://lubpak.com/archives/66829
Imran Khan's Vice President Ejaz Chaudhry's links with sectarian terrorists! http://pakistanblogzine.wordpress.com/2011/11/01/imran-khans-vice-president-ejaz-chaudhrys-links-with-religious-fanatics/
The Parties on Sunday http://www.thefridaytimes.com/04022011/page9.shtml
Imran Khan's message to the Defence of Pakistan rally in Lahore – by Hakim Hazik https://lubpak.com/archives/68452
Pakistan army outsources the Defence of Pakistan to killers of Shias, Ahmadis and Christians https://lubpak.com/archives/70528
Wajahat Khan facing death threats after exposing Hamid Gul's lies about Malik Ishaq and Difa-e-Pakistan https://lubpak.com/archives/72119
To the rest of the liberal fascist "scum", I say this:
PTI is IJI 2.0, a PML (i) if you may. It is the same philosophy of Hazrat Maududi and Syed Qutb but with better looking people like Hazrat Imran Khan and The Tully; both of whom are the hirsuite ghairatmand hunks of Pakistan; look at how these two ghairat hunks have always been one:
http://www.youtube.com/watch?v=TIQnjV4PX9k
We should not apologize to these liberal fascists. Instead we should come out and say where we stand.
The Taliban are with us – see how they took back the death threats. You can always count on them to give a good statement to create distance and then bridge that same distance in the space of 48 hours, Subhanallah. To see the real love between HIK and Taliban, see how the future Quaid-e-Insaaf (HIK ofcourse) comes to the defense of his misunderstood child, the Taliban.
Syed Riaz Bin Al-Malik Hujjaji
Keeper of the Two Nation Theory and Jaan Nisar of CJP
Comments
comments