Interior Minister Rehman Malik's bold and courageous speech – by Syed Ahsan Abbas Rizvi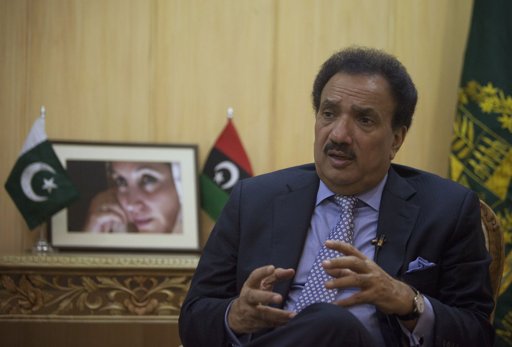 In his last speech in Senate, Interior Minister Rehman Malik told the Upper House that 14 organizations are operating in Balochistan and both friends and enemies of Pakistan were financing and encouraging them for uprising.
He subtly provided the missing link between the Baloch dissidents and neighboring countries. He, however, avoided naming the friendly countries and once again requested for an in-camera briefing.
The House decided that the minister would give an in-camera briefing to the senators, Inter-Services Intelligence (ISI) and other security agencies about the facts. Date of the session would be finalized later.
Interior Minister said, "Give me an opportunity and let me tell you what our friends are doing with us. Let our enemies be aside but I have astonishing facts about the friends."
It's a conspiracy of the highest order in Balochistan, and his speech helped to clear lots of misconception regarding the law and order situation of the province.
He was perfectly composed and determined against all terrorists outfits throughout his speech. He gave the sign to launch "full-fledged operation" against militants in province like Lashkar-e-Jhangvi, a main terrorist organization responsible of Shia Genocide.
In addition to that, he said, Tehreek-e-Taliban Pakistan (TTP) was operating from the area spreading from Zhob to Chaman under the leadership of Anees-ud-din Khanzada.
Rehman Malik added that the basic objective of these organizations was to destabilize Pakistan by supporting the independent Balochistan movement.
He also showed proof about training camps being run in Afghanistan and a number of official letters written by the Afghan government to its departments to provide funds, visas, passports and arms and ammunition to dissident leaders inside Balochistan.
He also unveiled proof about Pakistani insurgents getting training in Kandahar and other areas. He also mentioned strong links of dissident leaders with Afghanistan and India. The minister claimed that there were 24 training camps for terrorists in Kandahar alone.
Rehman Malik said certain elements were playing in the hands of enemies and trying to balkanise Balochistan. He said the Baloch loved Pakistan but some people were getting support from their foreign masters.
Presenting proof of training camps inside Afghanistan, he gave a number of official letters written by none other than the Afghan government to its security agencies, calling for funding "dissidents to create Bangladesh-like situation in Balochistan".
The minister requested nationalist parties to support the government, before it was too late. He made it clear that no compromise would be made on the national interest and all decisions would be taken in this regard.
He laid out government's agenda clearly that no compromise will be made on the national interest.
The speech was not only brave and courageous but one of Rehman Malik's most politically astute. His handling of the Balochistan's law and order situation and terrorism was simply awesome.
The most important part was the speech's aggressive and brave tone, interior minister was fearless in presenting Pakistan's case and projecting what is exactly happening now with terrorism and control of the law and order situation in the province.
Interior Minister Rehman Malik has shown by his own words and through his own actions that he is continuously working to improve law and order situation and try to eliminate terrorism in all forms.
Comments
comments