Ahmed Ludhianvi of Sipah-e-Sahaba hits back at PPP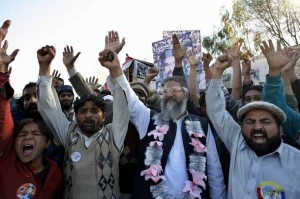 Some important points:
1. Ahmed Ludhianvi accuses 25 PPP MNAs including Qamar Zaman Kaira, Faisal Karim Kundi and Jamshed Dasti of taking the support of Sipah-e-Sahaba in their election campaigns. According to him, there is an equally long list of PML-Q and PML-N politicians who have accepted support from Sipah-e-Sahaba.
2. Ahmed Ludhianvi seems to be making an attempt to cleanse the image of his group in the public perception. He claims that SSP is peaceful and says that Lashkar-e-Jhangvi parted ways with SSP because Lashkar-e-Jhangvi pursues violence while SSP does not. This whole interview by Asma Chaudhry seems to be part of an effort to cleanse the image of Sipah-e-Sahaba – the guests interviewed by Asma Chaudhry (Haroon ur Rasheed and Mujeeb ur Rehman Shami) also portray a soft image of Sipah-e-Sahaba – Haroon ur Rasheed even says that he commends Sipah-e-Sahaba for never responding with violence to his columns criticizing them. Is Ahmed Ludhianvi's effort to improve his image a result of his desire to protect his group from the impending anti terror operation in Punjab?
Here is a very interesting article by Zia M Khan which might explain why Ahmed Ludhianvi is reaching out the media in this way. According to it there is a new plan by the security agencies to break away local militant groups from Al-Qaeda.
Officials said the government has no plans for a military or paramilitary operation against these militants, mostly based in the districts of Bahawalpur, Rajanpur and Dera Ghazi Khan. Rather, they added, the focus would be on neutralising them by curbing their ability to strike by breaking the nexus between them and al Qaeda and the TTP.

For this, one security official explained, the leadership of these groups could be persuaded to control their operatives.

SSP chief Maulana Muhammad Ahmed Ludhianvi is said to have agreed to offer his services for this "noble cause."
Qamar Zaman Kaira denies Ahmed Ludhianvi's allegations:
LAHORE: Reacting to SSP leader Muhammad Ahmed Ludhianvi's allegations, Federal Minister for Information and Broadcasting Qamaruz Zaman Kaira said that he does not even know Ludhianvi, adding that no banned outfit had supported his success in the general elections. Only the PPP workers and their votes had brought him success in the polls, he said. He said that he had never had connections to any outlawed group, neither, he added, did he intend to. Meanwhile, Fauzia Wahab, the information secretary of the PPP, said that Ludhianvi's statement has surprised her, and added that the PPP has no relation with the banned organisation. Her party, she said, does not belong to any sectarian group nor has it ever forged any such alliances. The PPP has never had any electoral alliance with any religious group, she said. The PPP never asked for the SSP's support when it came to the elections, the channel quoted her as saying. daily times monitor
According to Salman Masood:
Both the PML-N and the PPP are guilty of relying on clandestine support of extremist groups to garner electoral victories. PML-N managed to woo Sipah-i-Sahaba in the by-elections in Jhang. This is thanks to the pragmatism and financial incentives offered by Rana Sanaullah, the provincial law minister. Maulana Muhammad Ahmad Ludhyanvi, the chief of the Sipah-i-Sahaba, in an interview given recently to a TV channel has already stated that his workers supported Jamshed Dasti, the PPP candidte, in Muzaffargarh. Sipah-e-Sahaba is now lending support to PML-N candidate Nighma Mushtaq in Jalalpur Pirwala district by elections.
Comments
comments