In denying Malala the credit she deserves, we belittle ourselves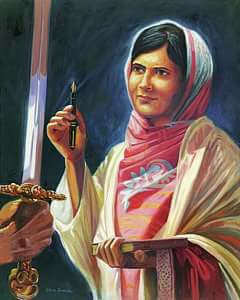 Malala stood for up for education and the rights of female students since 2009-10. Those were the dark days when the Pakistani State was in retreat in front of the Takfiri sectarian terrorists of the Taliban. During that time, the Taliban had their allies both in parliament (PML N) and outside (the nascent PTI).
The PPP-ANP government was constantly under attack and weakened not just by the Taliban but their backers like General Kiyani, Nawaz Sharif, PCO Chaudary, Imran Khan, Media (Hamid Mir, Ansar Abbasi, Kamran Khan, Kashif Abbasi, Talat Hussain).
In 2012, Taliban terrorists shot and wounded Malala. At that time, I can clearly remember that President Zardari and Benazir's kids stood by her. Of course there were civil society chatterers who latched themselves on Malala's misfortunes for their own cheap publicity but they are irrelevant in Pakistan.
After getting initial treatment at an Army hospital and supported by Zardari, Bilawal, Bakhtawar and Aseefa, Malala went abroad and used her celebrity status to support education in Pakistan.
Her trust is supposed to have provided millions in repairing schools and supporting education in Pakistan and for that, she should must be given credit. She must also be given credit for not succumbing to the Taliban.
If there is criticism against Malala, it must be valid and not based on spite or envy. After all, it is PML N/IJI right wing types who established the low bar of dirty attacks where others have followed.
There is Valid criticism such as her naïveté that education in and of itself is a cure all – a prescription contradicted by the facts that many highly educated Pakistanis are not immune from sectarian bigotry and prejudice. Aafia Siddiqi, Omar Sheikh, Saad Aziz and others all had a secular education but that did not prevent them from succumbing to the hate speeches of Haq Nawaz Jhangvi and Farhat Hashmi. Similarly, Malala's views on Takfiri terrorism and Syria need a full upgrade.
Then again, this valid criticism must be weighted against her young age and the culpability of those who are around her. After all, senior actors like Liam Neeson peddle far worst propaganda on Syria.
The fact is that Malala is viewed as an icon for standing up to the Taliban and for stressing on education. It is requested that she must be engaged with instead of vilified and that criticism against her must be proportionate to her age/life experience and the role of her handlers.
Let us hope that soon, Aitzaz Hassan, Mehzar Zehra and young Ali Asghar (struggling for his life after his 2-year body was pumped with bullets from Sipah Sahaba Taliban terrorists) are acknowledged and supported by Malala.
Comments
comments
Tags: Al-Qaeda, Civil Rights, Human Rights, human rights organizations, Human Rights Watch (HRW), Malala Yousafzai, Muslim Women, pakistani society, Sipah-e-Sahaba Pakistan (SSP) & Lashkar-e-Jhangvi (LeJ) & Ahle Sunnat Wal Jamaat (ASWJ), Takfiri Deobandis & Wahhabi Salafis & Khawarij, women, Women's rights