Recognizing the common enemy – Hassan Kazmi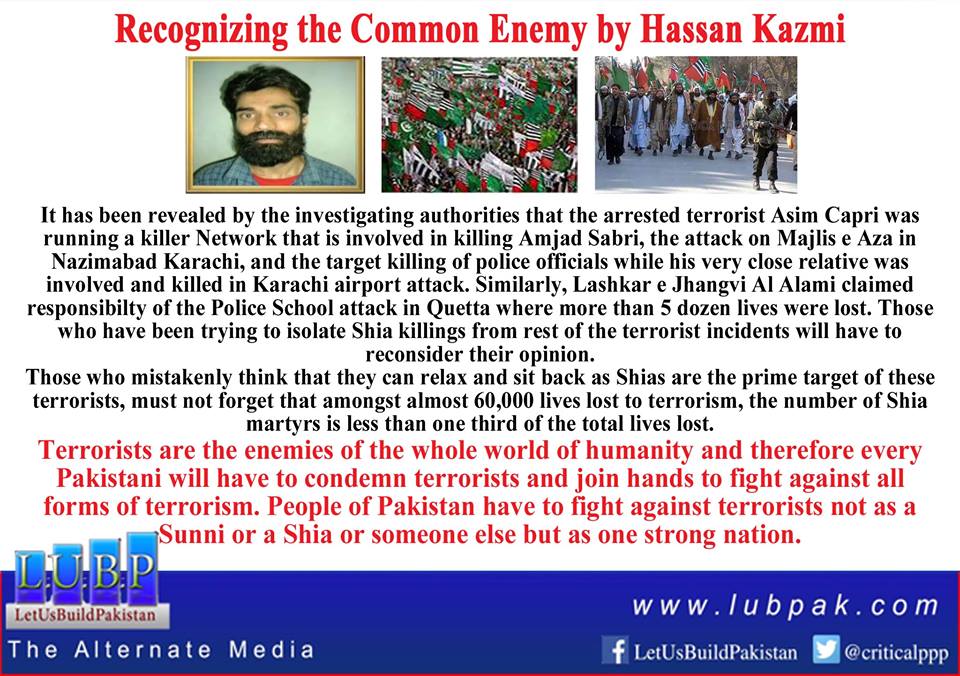 It has been revealed by the investigating authorities that the arrested terrorist Asim Capri was running a killer Network that is involved in killing Amjad Sabri, the attack on Majlis e Aza in Nazimabad Karachi, and the target killing of police officials while his very close relative was involved and killed in Karachi airport attack.
Similarly, Lashkar e Jhangvi Al Alami claimed responsibilty of the Police School attack in Quetta where more than 5 dozen lives were lost. Those who have been trying to isolate Shia killings from rest of the terrorist incidents will have to reconsider their opinion.
Those who think that a terrorist who is killing a Shia today is not a threat for non-Shias must know that it is not the Shias Vs Terrorists but in fact it is Pakistanis (Shia, Sunni, Minorities) Vs. Terrorists or let me say the humanity Vs Terrorists on an even larger canvas.
Those who mistakenly think that they can relax and sit back as Shias are the prime target of these terrorists, must not forget that amongst almost 60,000 lives lost to terrorism, the number of Shia martyrs is less than one third of the total lives lost.
Terrorists are the enemies of the whole world of humanity and therefore every Pakistani will have to condemn terrorists and join hands to fight against all forms of terrorism. People of Pakistan have to fight against terrorists not as a Sunni or a Shia or someone else but as one strong nation.
Comments
comments
Tags: Al-Qaeda, Amjad Sabri, ISIS Daesh ISIL, PMLN's support to ASWJ LeJ Taliban AlQaeda LeT, Religious extremism & fundamentalism & radicalism, Saudi Arabia KSA, Sectarianism, Shia Genocide & Persecution, Sipah-e-Sahaba Pakistan (SSP) & Lashkar-e-Jhangvi (LeJ) & Ahle Sunnat Wal Jamaat (ASWJ), Takfiri Deobandis & Wahhabi Salafis & Khawarij, Taliban & TTP, Terrorism