Banned ASWJ-LeJ terrorists Killed in Karachi is simply a Balancing act by PML N, establishment to create False Binary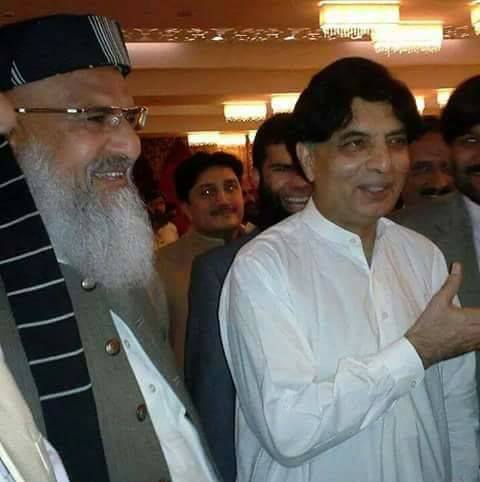 The ghastly and cowardly murder of Shia and Sunnis by Deobandi terrorists of ISIS affiliate ASWJ in the last month had created immense press against the latter. During this time frame, ASWJ massacred unarmed Shia women, children and seniors along with their Sunni friends during the commemoration ceremonies of Imam Hussain. In between murdering women and children, ASWJ also massacred 70 police cadets in Quetta.
ASWJ handlers in the PML N government like Interior Minister Chaudhary Nisar were under immense pressure and in order to deflect attention away from the ASWJ, the PML N government and establishment (rangers) engineered the murder of low-level ASWJ activists and a couple of their hate clerics. This was actually a favour to the ASWJ who immediately seized the opportunity to protest their "victimhood". Unfortunately, a mostly biased and bigoted media will allow them to get away with this brazen dishonesty.
Prominent Senator Faisal Raza Abidi was arrested along with other Shia citizens on the orders of banned terrorist Aurangzeb Farooqi! This dastardly tactic by the PML N and establishment is simply a ruse to perpetuate a false binary that will then be regurgitated by their mouthpieces like Jibran Nasir.
The scores of innocent victims of ASWJ's terrorism will then be dismissed as part of a "Sunni vs Shia/Iran vs Saudi" proxy war obfuscation. These disgusting tactics are not new.
After another wave of targeting of Shia professionals including Pakistan's leading eye surgeons, Dr. Ali Haider and his 9-year old son by banned Deobandi terrorist outfit ASWJ-LeJ, the Punjab leader of ASWJ was killed by his own organisation. This was covered by the media "Murders they Wrote" (The News).
We request all Pakistanis to wake up to the reality of these "balancing act" and "False flag" operations that are being used to protect ISIS-affiliated Banned terrorist outfits like ASWJ-LeJ
Comments
comments
Tags: Al-Qaeda, ISIS Daesh ISIL, PMLN's support to ASWJ LeJ Taliban AlQaeda LeT, Religious extremism & fundamentalism & radicalism, Riaz Malik Hajjaji, Seattle, Sectarianism, Shia Genocide & Persecution, Sipah-e-Sahaba Pakistan (SSP) & Lashkar-e-Jhangvi (LeJ) & Ahle Sunnat Wal Jamaat (ASWJ), Takfiri Deobandis & Wahhabi Salafis & Khawarij, Taliban & TTP, Terrorism, US Citizen Victims of Deobandi terror