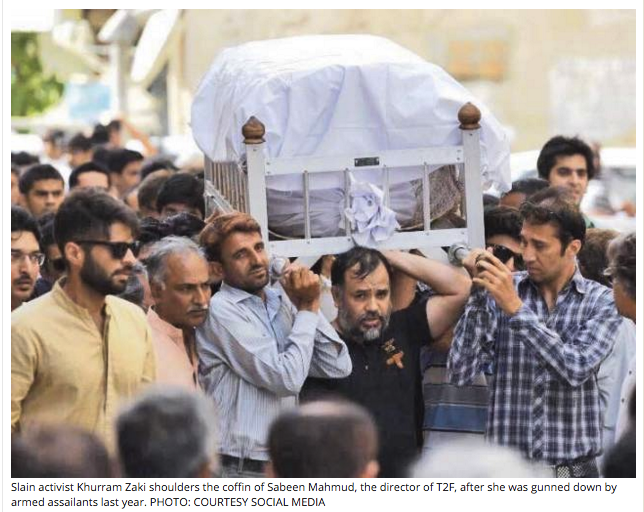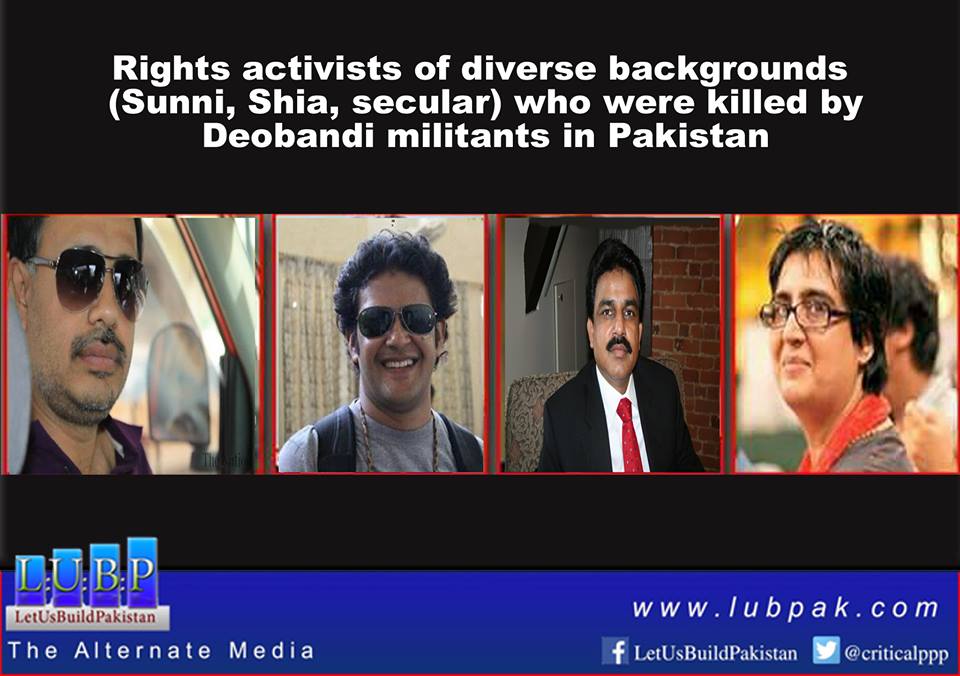 The related murders of Sabeen Mahmud (2015) and Khurram Zaki (2016) underscore the importance of exposing the sinister Takfiri Deobandi network whose multiple organs function on several fronts in tandem but has been criminally overlooked for too long. This network consists of Jamaat-e-Islami and its student wing  as terrorist nurseries, moles in mainstream parties such as PML-N as benefactors, Deobandi seminaries, and militant groups such as Sipah-e-Sahaba/Lashkar-e-Jhangvi/ASWJ and Jundullah as the muscle.
In 1951, Said Ramadan, son-in-law of Muslim Brotherhood founder Hasan al-Banna and an important brotherhood leader traveled to Pakistan where he met a young self-styled scholar named Abul Aa'la Mawdudi. The same year, the student wing of Jamaat-e-Islami was also formed in Ramadan's presence and was named the Islami-Jamiat-e-Tulaba (IJT). The main purpose of IJT's establishment was to develop an armed cadre that could suppress the liberal and secular elements in Pakistan and ultimately take control of the state through force. Ever since, the Jamaat-e-Islami and its armed student wing have been a part of the global Islamist network and also the nursery for militant Deobandi groups operating in Pakistan and Afghanistan.

It may also be pertinent to mention that Said Ramadan was a mentor to both Syed Qutb and his brother Muhammad Qutb, the latter known as teacher and spiritual guide of Osama Bin Laden. (Those interested further in the issue can read works by Robert Dreyfus and Seyyed Vali Raza Nasr on the subject).
For years, Jamaat-e-Islami tried to pose as a mere political party with a semi-educated urban base despite its thorough involvement in the Afghan War, however during the last couple of decades, it has become common knowledge that Jamaat-e-Islami and its student wing provide manpower and logistical support to global terrorist organizations such as Al-Qaeda, and domestic support in recruitment, ideological training, and logistics to local Deobandi terrorist groups such as Sipah-e-Sahaba/ASWJ and Jundullah.
While the arrest of Khalid Sheikh Muhammad from the house of a woman office bearer of Jamaat-e-Islami once again brought attention to Jamaat-e-Islami's international connections, the recent arrests of Saad Aziz Deobandi and his group cast light upon its nefarious harbouring of and support for Pakistani Deobandi terrorists. Saad Aziz and his group have been charged with the murder of Sabeen Mahmud and the Safoora Goth massacre among other incidents. It is pertinent to mention that Saad Aziz's mother and aunt are heads of Jamaat Islami's women chapter in Karachi. According to Dawn's report, for a while, Saad also joined the Tableeghi Jamaat. Thus the Deobandi-JI connection was reinforced which was further cemented when he started listening to speeches of ASWJ/LeJ's founder hate cleric Haq Nawaz Jhangvi.
Muhamamd Amir Rana writes in Dawn that in addition to Jamaat-Islami, Saad Aziz Deobandi was also involved with Jundullah. The phenomenon of Jundullah is important in the perspective of urban militancy and understanding this new stream of militancy. In the same manner as there are many Punjabi Taliban groups, many groups are also operating under the Jundullah nomenclature in Pakistan. While the Punjabi Taliban emerged from Deobandi and Salafi militant groups, the Jundullah groups are breakaway factions of the Jamaat-e-Islami (JI) and its student and militant wings. With the exception of Jundullah in the Iranian Balochistan region, the remaining entities under this label, active in Karachi and the Peshawar valley, are of a similar disposition. With their Islamist background, they are naturally inclined towards the Islamic State (IS) militant group and like a few commanders of the Hizb-e-Islami — a JI-affiliate in Afghanistan — apparently intend to announce their allegiance to the IS.
After graduation from IBA, Saad Aziz went somewhere for a few months. "Someone said he had gone for jihad training," said another friend. Apparently, he transitioned from the first stepping stone, the Deobandi Tableeghi Jamaat to the Deobandi militant network of ASWJ/TTP/JI. In the year 2013, around eight 'like-minded' IBA graduates (part of Jamaat-e-Islami social media wing led by Shamsuddin Amjad) from the 2010 and 2011 batches began publishing an online Deobandi jihadist magazine, titled 'Al Rashideen' [The Rightly Guided] in English. Saad, who had expertise in producing different kind of pro-al Qaeda and Taliban media, was a part of its editorial team. "We present you this first issue of Al Rashideen," he wrote under the screen-name 'the editor's desk'. "We hope this to be a platform where relevant issues facing the Ummah are studied and analysed upon by students of colleges and universities, and Muslim youngsters whose first or second language is English." The first issue of this amateurishly-designed magazine, a copy of which is available with The Express Tribune, had "Iran must fall before Palestine can be liberated" as its cover story along with other disturbingly radical content. For instance, a sectarian speech made by Haq Nawaz Jhangvi , the Deobandi militant cleric who founded Sipah-e-Sahaba in the 1980, was translated and reproduced with the title 'The men who rocked Kufr'. (Express Tribune)
Interestingly, Saad Aziz Deobandi, once a very normal, fun-loving kid, started to radicalize at the IBA through his interaction with members of the Jamaat-e-Islami. His parents and maternal aunt happen to be active members of the Jamaat-e-Islami. His exposure to Islamism /Deobandism and radical ideas associated with it began at IBA. Earlier, Aziz was fond of football, had a girlfriend and friends from same socio-economic status, and performed well in studies during first two years of business school. His radicalization began when he joined Iqra Society, a Deobandi religious reading and discussion group at IBA. The society was formed by members of Jamaat-e-Islami, the Islamist twin of Egyptian Muslim Brotherhood in Pakistan. From then onwards, he gradually disconnected himself from all of his previous friends and only maintained contacts with his religious friends. The Islamist members of Iqra Society exposed Aziz to the writings of ultra-radical Islamist ideologue Sayyid Qutb. He once asked his friend "Have you read Milestones by Sayyid Qutb? It has changed my life." Some of his friends even believe that he received training at some jihadi camps as he was out of contact for some months. One of his friends remarked "he went somewhere for a few months. Someone said he had gone for jihad training." (Source)
Apart from Khalid Sheikh, several Al Qaeda terrorists have been arrested from houses and university hostel rooms of Jamaat-e-Islami and Islami-Jamiat-e-Tulaba members – at the Punjab University and other universities across Pakistan.
Jamaat-e-Islami has functioned very cleverly in Pakistan. On one hand, it directly takes part in elections and infiltrates mainstream parties (such as PML-N and PTI) in order to remain relevant in the parliamentary process, and on the other it has had traditionally strong links with both local and international terrorist organizations working to subvert the electoral process and take over the state through force.
The big impediment in the path of Jamaat-e-Islami and its Takfiri Deobandi allies like Sipah-e-Sahaba/ASWJ are the Shias, Sufi-Barelvis, Christians and Hindus of Pakistan. They are well cognizant that as long as these groups are socio-politically and economically strong in Pakistan, their flagitious dream can never be materialized. It is for this purpose that Jamaat-e-Islami and its ideological children – the deobandi terrorists of Pakistan – are on a rampage killing anyone and everyone associated with these groups.
The most endangered within these groups are the voices that relentlessly rise against this insidious takeover of the state by Jamaat-e-Islami and its allies. Be it Salmaan Taseer, Shahbaz Bhatti, Sabeen Mahmud or Khurram Zaki, it is made sure that the voices are silenced. In this regard, the Deobandi mafia works on several levels. There are those – like Shamsuddin Amjad and his Mashal Facebook page in Shaheed Khurram Zaki's case– that identify the dissidents and conduct propaganda against them in order to isolate them and soil their public image. Once this is achieved, the militant wing operating in unison with them but under the banner of Sipah-e-Sahaba/ASWJ eliminates the target. The Taliban then step forward to accept responsibility and divert the blame from their allies.Their moles in media, mainstream parties and law enforcement agencies do their best to protect and support their ideological brethren even against the national interest.
Therefore, in order to understand the problem of Deobandi terrorism in Pakistan, it is very important to place Jamaat-e-Islami right at the heart of this network and trace the links back to it, be they from Taliban or Sipah-e-Sahaba/ASWJ.