Hajjaji musings on the LeT/JuD Salafi Sharia Courts in Lahore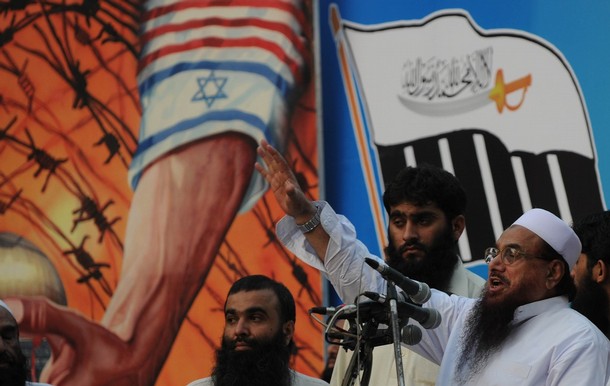 These days, Pakistan's superior Judiciary is more interested in providing Janitorial services to their chief patron Nawaz Sharif. There is so much dirty laundry to clean and retired self-righteous as-hoc judges like Ramday could only do so much. Another PML N janitor/intriguer Saeed uz Zaman Siddiqui is getting very old. With the Superior judiciary busy with cleaning up PML N's Lungis, clearly they have given their blessing to LeT/JuD picking up some of their slack.
After all, the Salafi JuD/LeT have been longtime allies of PML N aka Noora league. In 2008 after the Mumbai attacks, it was strongly alleged that Shahbaz Sharif had tipped off JuD/Let to clean out their official bank accounts before the impending freeze.
In return, LeT/JuD supported the PML N government against the anti-Taliban protests of Sunni Barelvi group PAT in 2014.
PM Nawaz Sharif has publically stated his desire of emulating the Taliban regime in Afghanistan circa 1996-2001 in Pakistan.
Just as General Zia up Haq, General Hamid Gul, General Gillani, General Beg, General Kiyani played Sugar Daddy for the Noora League, the Noora League today is also the sugar daddy for some (commercial) "liberals" who are defending them on social media.
Since sycophancy for Noora league is the antidote for "saving democracy" in Pakistan and since the PML N-sponsored Judiciary is too busy bailing out "businessmen" like "Dr." Arsalan Chaudhary Ibne PCO Chaudhary, who else but LeJ/JuD will provide "justice" in the heartland of the Noora dynasty that Lahore is today.
Any implied criticism of actual Janitors is not intended. Janitor work is hard work and back breaking and an honest profession. As opposed to the Superior Judiciary, which barring the odd exception, is the watering hole for compromised bureaucrats aspiring to the ultimate goal- Corruption cum Self Righteousness infused with regular urges to lick the boots of dictators and their spawn like the Nooras.
In 2008 the Superior Judiciary's judgement to strike down the NRO read in parts like like the Manifesto of banned Deobandi terrorist groups like the Sipah Sahaba/ASWJ-LeJ and ISIS. It was a long rambling copy-pasted plagiarism that yearned for the glory days of the Ommayad and Abbasaid caliphates and the draconian era of Proto Taliban ruler Aurangzeb. With such precedents why are we surprised about JuD/LeT sharia courts.
Comments
comments
Tags: Chief Justice Iftikhar Chaudhry, Jamaat-ud-Dawa (JuD) and Lashkar-e-Taiba (LeT), Nawaz Sharif, PCO Judges, PMLN, Riaz Malik Hajjaji, Saudi Arabia KSA, Sipah-e-Sahaba Pakistan (SSP) & Lashkar-e-Jhangvi (LeJ) & Ahle Sunnat Wal Jamaat (ASWJ), Takfiri Deobandis & Wahhabi Salafis & Khawarij, Taliban & TTP, Terrorism