Violence against Ahmadis in Pakistan: Why are Sherry-Sethi liberals silent on Tahir Ashrafi's incitement ? – Riaz Malik Hajjaji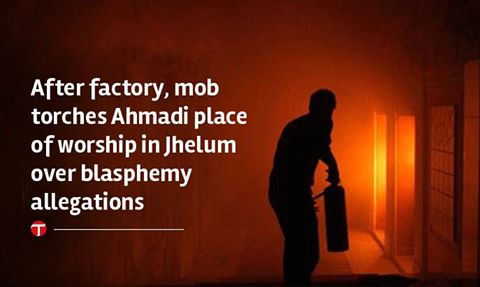 In talking about the tragic attacks on Ahmadi mosques and businesses, why is no one talking about radical Deobandi cleric Tahir Ashrafi's sustained incitement campaign against Ahmadis.
For the last couple of weeks, Tahir Ashrafi has run a campaign on social media Twitter against Ahmadi businesses. He then blamed the peaceful Ahmadi and Shia communities for the Paris attacks in his typically pathetic attempt to deflect criticism away from the Wahhabi/Salafi ISIS.
The Sherry Rehman – Najam Sethi lobby actively promotes Tahir Ashrafi. Jinnah Institute, a Sherry Rehman & Establishment project promotes Tahir Ashrafi as a moderate. Najam Sethi promotes Tahir Ashrafi also. Both Sethi & Sherry are projected as dons of liberalism in Pakistan. I wonder if their fans in India know about their connections with the Takfiri lobby of Tahir Ashrafi. 
Tahir Ashrafi is connected to Deobandi Jihad nexus whose leading light is Azhar Masood of Jaish and the Haqqani network. Tahir Ashrafi was key in the release of ASWJ-LeJ terrorist Malik Ishaq.
Tahir Ashrafi is infamous for his incitement to violence against Shahbaz Bhatti days before Bhatti was killed by Tahir's comrades from the radical Deobandi terrorist group, the Taliban. Why does a certain section of the media still portray Tahir Ashrafi as a "moderate" and "progressive"?
https://lubpak.com/archives/343877
LAHORE: An Ahmadi place of worship was set ablaze  in Jhelum on Saturday, a day after an unbridled mob burnt down a factory owned by members of the Ahmadiyya community in the same area after one of its employees was accused of committing blasphemy.

According to reports, hundreds of people surrounded a chipboard factory and set the facility ablaze after reports surfaced that one employee had allegedly desecrated the Holy Quran.

Local clerics made provocative speeches against Ahmadis, causing the enraged mob to resort to violence.

Police officials claimed to have arrested a member of the Ahmadiyya community Friday night, after which he was put under judicial remand.

According to sources, an FIR was registered against the accused under blasphemy charges after locals of the area accused him of burning pages of the Holy Quran.

"About 80% of the factory, Pakistan Chipboard Factory, has been destroyed along with six residences in the factory," spokesperson of Jamat-e-Ahmadia Saleemudin told The Express Tribune. He added that all workers and residents were safe.

"Ahmadi families have fled the area to save their lives, leaving their houses at the mercy of the unbridled mob."

Further, the spokesperson added that the incident occurred in the presence of the police, which was unable to control the enraged mob.

Saleemudin further added that a wave of fear has gripped the community. "If the police does not take stern action against the perpetrators, there are chances of them burning down the houses of the Ahmadis too," he said, while pointing out that none of the attackers have been arrested so far.

Meanwhile, Mujahid Akbar Khan, District Police Officer Jehlum, told The Express Tribune, "Last night, the police used the most amount of force it has to control the mob." The DPO also said that the news of the place of worship being burnt down can only be confirmed once he reaches the sight where the place of worship is located.

The mob managed to set the factory on fire despite the presence of heavy contingents of police and Rangers being present at the site.

Police were unable to disperse the protesters despite using tear gas and Rangers had to be called in for support.

The police did, however, arrest three members of the community.

Talking to The Express Tribune, a Jamaat-e-Ahmadiyya spokesperson said three Ahmadis were arrested without reason. The spokesman added that he wasn't sure as to whether those trapped inside the factory had been rescued.

Jhelum DPO Mujahid Akbar Khan was unavailable for comment despite several attempts to reach him.

Source:

http://tribune.com.pk/story/995808/after-factory-mob-torches-ahmadi-place-of-worship-in-jhelum-over-blasphemy-allegations/
Comments
comments