Tahir Ashrafi's hate mongering provokes attacks on Ahmadiyya
After systematic anti-Ahmadi propaganda by Tahir Ashrafi and other hate clerics, in which Ahmadi factory owners had been falsely alleged of blasphemy, a group of extremist Deobandis and other Sunnis attacked a Chipboard factory in Jhelum on 20 November 2015. The factory was burnt to ashes. The fanatic Deobandi clerics and crowds also tried to burn the Ahmadi, Sunni and Shia employees of the factory alive.
After burning down the factory owned, the extremist mob ransacked an Ahmadi Mosque in Kala Gojran (Jehlum), cleansed it by burning its property in the streets and then offered Asar prayer inside. Now it's a Deobandi Mosque!
Moreover, to save and deflect attention from Salafi and Deobandi jihadists of ISIS, Pakistani hate cleric Ashrafi blamed peaceful Ahmadis for the Paris massacre. Tahir Ashrafi can only be described as an ISIS recruiter and spokesperson. His hate and incitement caused arson and put Ahmadi and non Ahmadi lives in danger.
This is nothing new and Tahir Ashrafi's hateful incitement in the past had lead to the unfortunate slaying of Shahbaz Bhatti, the former minority affairs minister of Pakistan. .  https://lubpak.com/archives/34
The Jhelum factory unfortunately is owned by Ahmadi owners. An angry mob set ablaze a factory owned by members of the Ahmadiyya community in Jhelum on Friday.
According to sources, the mob attacked the factory after accusing one person who worked there of committing blasphemy.
Many workers fled the factory complex, which contains a residential area, with their families, sources said. But some workers were reportedly still inside the factory when it was set on fire.
The mob, meanwhile, continued to block GT Road in protest. Police were unable to disperse the protesters despite using tear gas and Rangers had to be called in for support.
Instead of arresting Ashrafi and other fanatics, the police arrested three members of the victim community.
A Jamaat-e-Ahmadiyya spokesperson said three Ahmadis were arrested without reason. The spokesman added that he wasn't sure as to whether those trapped inside the factory had been rescued.
http://tribune.com.pk/story/995654/blasphemy-allegations-mob-torches-factory-in-jhelum/
Tahir Ashrafi is responsible for this vandalism. He is responsible for putting the lives at risk of Ahmadiyya and non Ahmadiyya Mulslim workers at the factory.
Tahir Ashrafi's is probable ISIS recruiter which is proven by his deflection tactics on behalf of ISIS as well as his attacks on Ahmadiyya community.
Shame on the (Fake) liberals who promote this Anti-Ahmadiyya bigot.
Shia scholar Ammar Nakshawani condemns persecution of Ahmadis, Christians and Sunni Sufis. from lubp on Vimeo.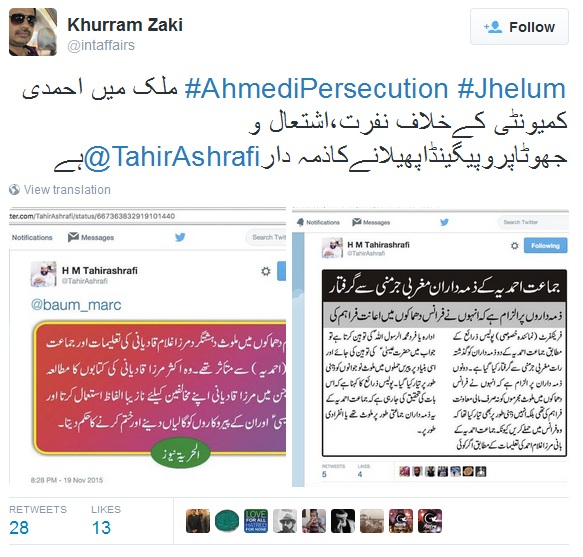 Deobandi hate cleric Tahir Ashrafi incites mob to burn Sunni Ahmadiyya factory in Jehlum. from lubp on Vimeo.
Shia scholar Ammar Nakshawani condemns persecution of Ahmadis, Christians and Sunni Sufis. from lubp on Vimeo.
Comments
comments