Murders of non-Hazara Shias in Quetta and media's silence – by Laleen Ahmad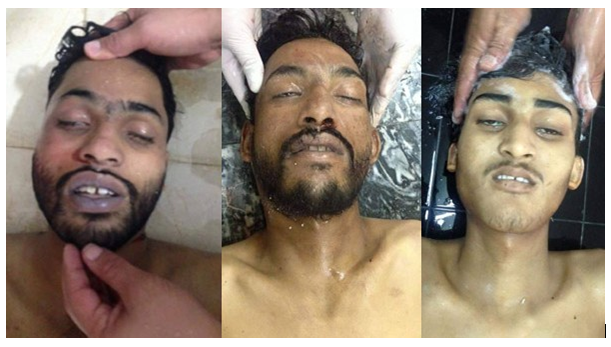 On 1 July 2015, three non-Hazara Shias were assassinated. These Shias were from Punjab and had been working in Quetta as welders. They were working in a Sirki Road workshop when two terrorists on a motorcycle shot them and escaped.  So far, no one has claimed responsibility, but it appears that it is part of the ongoing Shia genocide being committed by the Deobandi terrorists of Ahle-e-Sunnat Wal Jamaat (ASWJ)/Lashkar-e-Jhangvi (LeJ).
The names of the deceased are: Nadir Hussain s/o Gulzar Hussain, Asad Ali s/o Zulfiqar Ali, Ali Waris s/o Liaquat Ali.
The Quetta-based ASWJ/LeJ spokesman may take responsibility in a day or two, which is what he often does. The point to note here is that no Pakistani newspaper or TV channel has reported the tragic killing of these three young men who had left their homes and families only to earn a living in Quetta. Only some Shia blogs reported the tragedy (see, for instance: http://en.shiapost.com/2015/07/01/three-shia-muslims-shot-martyred-in-quetta/).
The BBC Urdu reported the tragedy:
http://www.bbc.com/urdu/pakistan/2015/07/150701_quetta_firing_killings_zz
However, the BBC report did not identify them as Shias. The BBC obfuscated the true nature of the tragedy by giving it an ethnic colour. According to the BBC report, those killed were Punjabis who had been working in Quetta. The report has made it a Punjabi versus Baluch issue which it is not.
Another sad aspect of the killing of the three men is that the killing of non-Hazara Shias is not considered to be an incident at all. Whenever Hazara Shias are killed, the media either does not refer to their Shia identity, thus portraying their killing as an ethnic issue, or it tries to give the impression that only Hazara Shias are being killed. There is a very long list of the non-Hazara Shias killed in Quetta and other parts of Baluchistan, but the media has been silent over it. The extremely regrettable role of some of the Hazara leaders may also be pointed out here. People like Abdul Khaliq have been trying to hijack the Shia genocide in Quetta by portraying it a Haraza-only issue, and thus blacking out the regular killing of non-Hazara Shias. It is time some concerted effort was made to tell the world that in Baluchistan the Shia genocide is not ethnic/Hazara-specific. The ASWJ/LeJ assassins kill the Shias regardless of their ethnicity.
Read also: "List of non-Hazara Shia Muslims killed by ASWJ-LeJ Deobandi terrorists in Baluchistan": https://lubpak.com/archives/64797
Comments
comments