7 June 2015: Another 5 Shia Hazaras massacred by ASWJ militants in Quetta – by Saleem Ali Hazara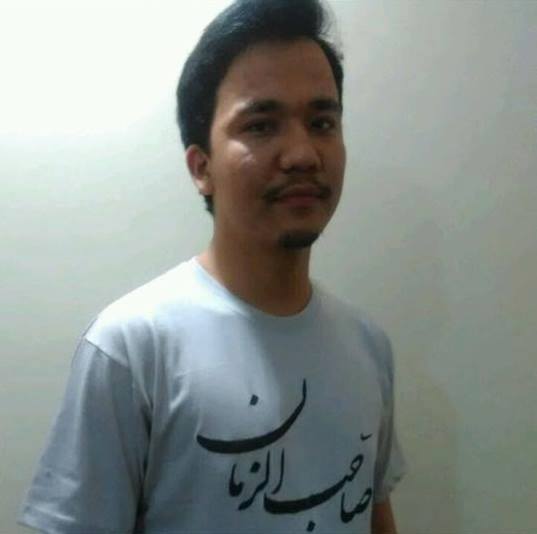 This boy, who along with his father died in a terrorist attack today (7 June 2015), seen cutting a cake in this picture, is not celebrating his birthday. He is cutting the cake to celebrate the 15th Shabaan as Imam Mehdi's birthday, the Shia Muslims 12th Imam. It is written right there on the cake. The same boy is wearing a T-shirt with the inscription 'Ya Sahib az-Zaman", another reference to Imam Mehdi.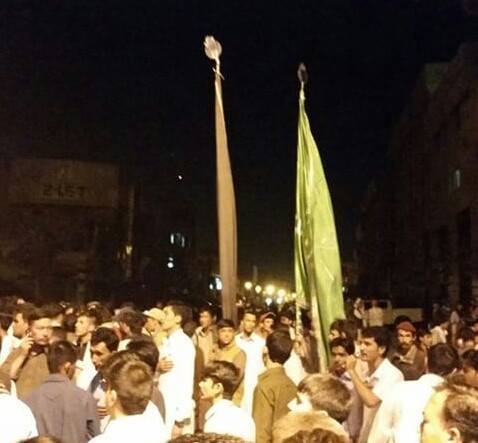 And the 3rd picture is of Bacha Khan Chowk, Quetta where hundreds of protesters, women, men and children, are holding Alams of Hazrat Abbas, a reference to the flag bearer of Imam Hussain's army. The protest is taking place right now on the night of Sunday, 7 June 2015. Only a few hours ago, once again, five of their fellow Shia Muslims were slaughtered in the same city. Quetta has become a graveyard for these people and a sacrificial altar of the security establishment's policy of appeasement of Deobandi sectarian monsters of the ASWJ.
Earlier today, at least five people belonging to the Shia Hazara community were gunned down in Quetta's Circular Road area near Meezan Chowk. Deobandi ASWJ militants, usually described as unidentified armed men in Pakistani media, opened indiscriminate fire on the victims outside tea shops. Four of them died on the spot, while one person was shifted to the military hospital Quetta, where he succumbed to his injuries. The deceased have been identified as Mohammad Ali, Mohammad Idrees, Kazim, Zeeshan and Nematullah.
The protesters at the Meezan Chowk Quetta, are well aware of their identity, and know who they are, why they are killed and who killed them. No matter how much the ethnofascist Hazara Democratic Party (HDP), and its few wannabe propagandists on social media who suck up to the elitist Ashrafi-brand commercial liberals to get good jobs in Islamabad and Lahore, try to present this Shia Genocide in ethnic terms and call it Hazara Genocide, the reality is in these pictures for everyone to see, and they can see it if they have some fairness and some shame!
If you go to Meezan Chowk right now, not even a single person, I repeat not even a single person would self-identify as a Hazara. They would identify themselves as Shias who are killed for their faith by Deobandi ASWJ terrorists, the terrorists who sadly enjoy support of certain rogue elements of the security establishment that foolishly protects and promotes these beasts in a vain hope that they will fight the BLA militants while these Deobandi sectarian monsters remain focused on killing Shias and Sunni Sufis. Yes, most of the victims in Quetta are Hazara, yes their mongoloid features make them vulnerable and easily identifiable, but they are killed only and only for a single reason: their Shia faith. And that is why it is important to stress on their Shia identity and the takfiri Deobandi identity of their killers!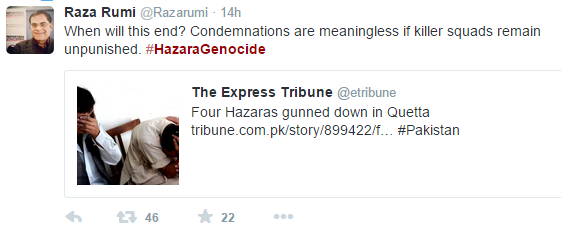 For mainstream Pakistani media including certain elitist wriers and liberals, ‪Shia Genocide‬ by the ISIS-affiliated Deobandi ASWJ terrorists is not such a cool and profitable topic. Actually any discussion of this tragedy by the elitist or Ahsrafi brand liberals benefits the killers more, as the perpetrators' Deobandi identity and the victims' Shia identity is completely obscured by these liberals. Furthermore, many of these liberals still perpetuate dishonest binaries such as "Iran vs Saudi proxy war" or "Shia vs Sunni" rubbish to misrepresent the massacres of Sunni Sufis, Shias, Christians and Ahmadis at the hands of Deobandi ASWJ terrorists.
The news reports today in Pakaistan's English newspapers Dawn and Express Tribune completely removed the Shia identity of the victims and the Deobandi ASWJ identity of the killers. BBC Urdu mentioned the Shia Hazara identity of the deceased but remained silent on on the known Deobandi identity and pattern of the killers.
In the meanwhile, Ramzan Mengal and Rafiq Mengal, two Deobandi hate clrerics, the masterminds of Shia genocide in Quetta roam free, enjoying VIP protocol and support given by the Frontier Corps Balochistan.
So, how would you like your Diet Coke can, Ummah. Chilled or drenched in Shia blood?
Comments
comments