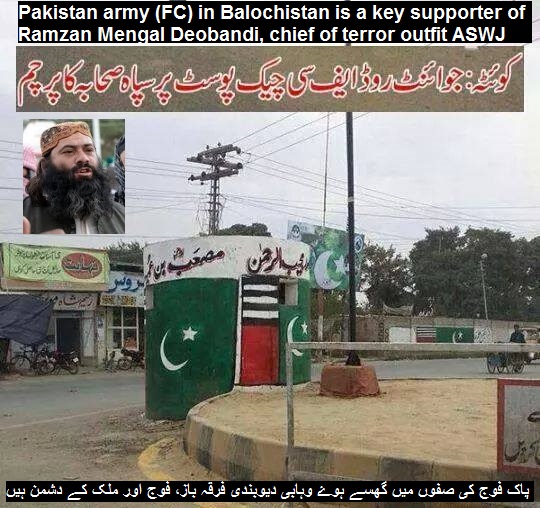 Related post: کوئٹہ میں نیشنل ایکشن پلان کا جنازہ سول و فوجی افسران کے کندھے پر۔ خرم زکی https://lubpak.com/archives/336826
Here is a thought-provoking column by Hamid Mir in daily Jang (4 March 2013) where he highlights how certain rogue elements in Pakistan army's intelligence agencies support banned Deobandi terrorist outfits (Lashkar-e-Jhangvi LeJ aka Ahle Sunnat Wal Jamaat ASWJ) in Balochistan. (Also see: Pakistan army and Punjabi politicians are key sponsors of LeJ-SSP-ASWJ terrorists in Balochistan – Shahid Qazi – See more at: https://lubpak.com/archives/299787)
Also refer to this previous column by Hamid Mir in which he suggests that Deobandi terrorists (LeJ-ASWJ) and ISI are two sides of the same coin: https://lubpak.com/archives/236923
Apparently, Mir went to Khuzdar Balochistan to investigate Baloch killings and found out first hand that banned anti-Shia outfits freely operated in Pakistan army's (FC) presence. The ASWJ-LeJ has killed not only more than 20,000 Shia Muslims, it has also killed more than 45,000 Sunni Sufi and Barelvi Muslims along with hundreds of Christians, Ahmadis and other communities across Pakistan.
Mir reports that the ISI-sponsored ASWJ-LeJ operatives (6 bearded men and 8 women) chanted slogans against Sardar Akhtar Mengal and other Baloch nationalists. He also reports that a senior police officer (DIG) was unable to get those people removed from the road because they (ASWJ-LeJ operatives) were clearly supported by the ISI and FC (Frontier Corps).
We wish that other media persons and politicians too shows the courage to report the same to highlight rogue estabilshment's links with LeJ-ASWJ responsible for Shia genocide and Sunni Sufi genocide in Pakistan.
Whereas politicians are not to be exonerated, the major blames lies with the institution that holds the major power in this country and that created and supports these Jihadist Deobandi groups. Army chief must critically review the current policy of appeasing Deobandi Jihadist monsters in a vain hope that they will fight the BLA militants while their core focus remains on Shia Genocide.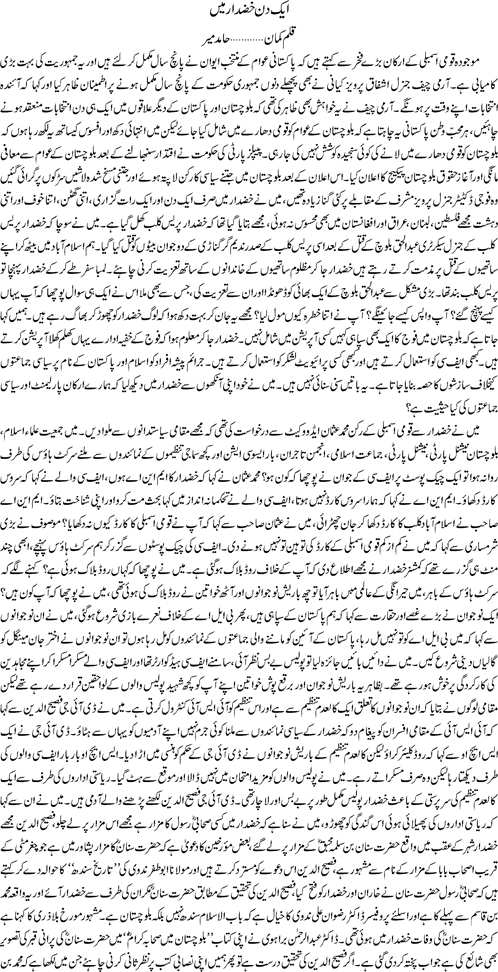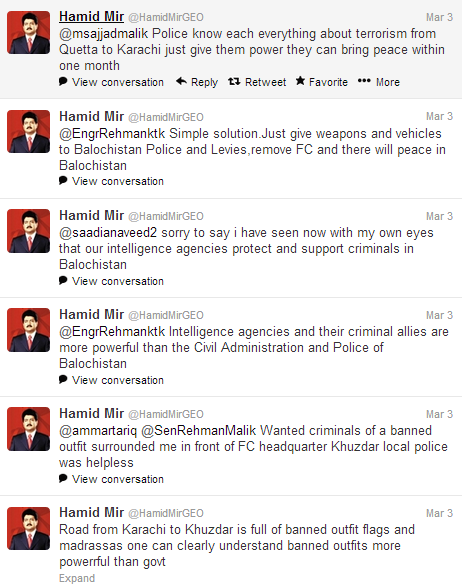 A Shia perspective from Quetta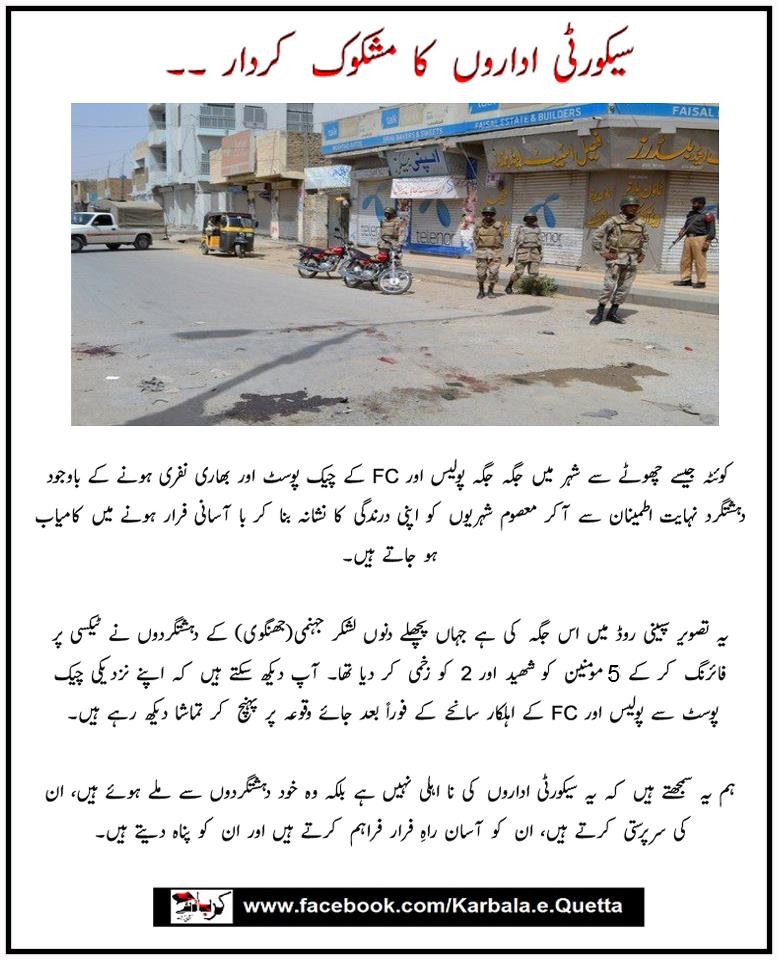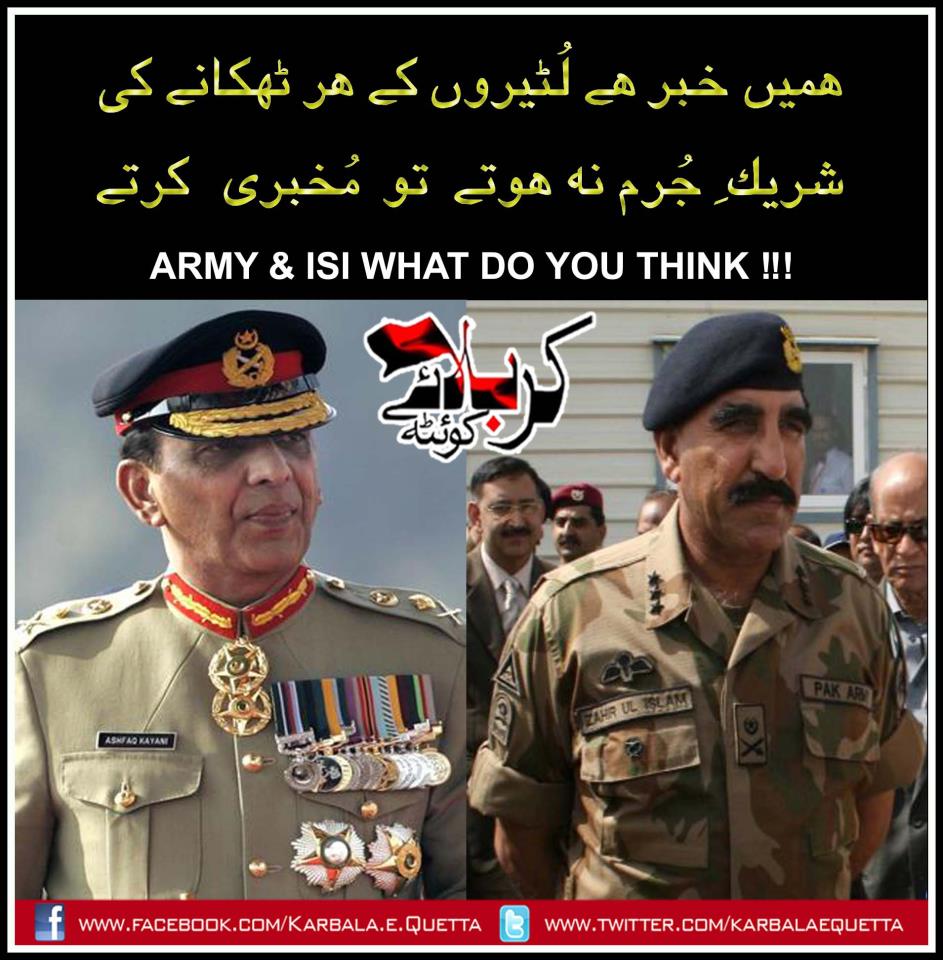 Shia Hazara Muslims hold Pakistan army responsible for anti-Shia terrorism