Sipah-e-Sahaba, the banned militant group – by Raza Rumi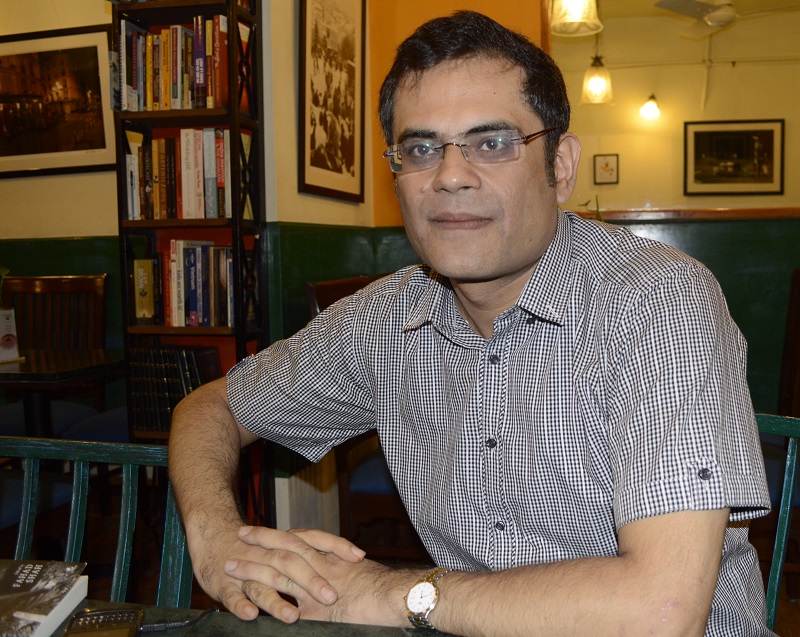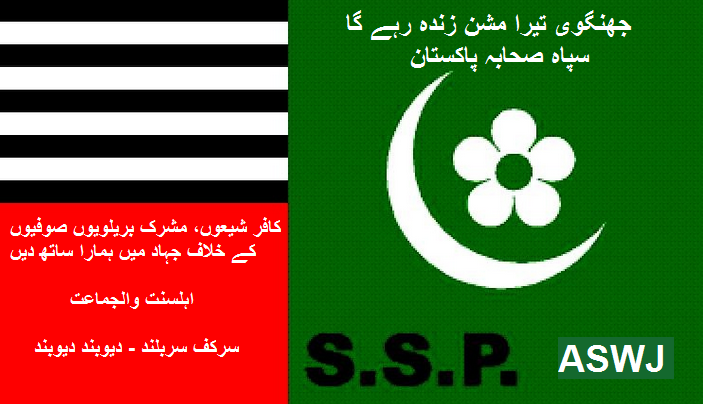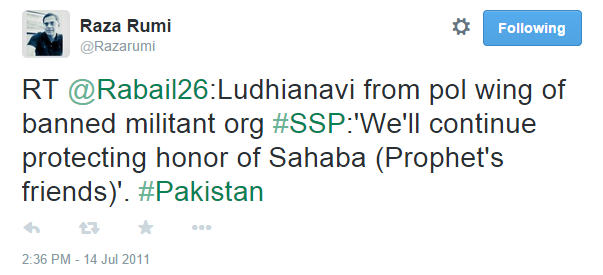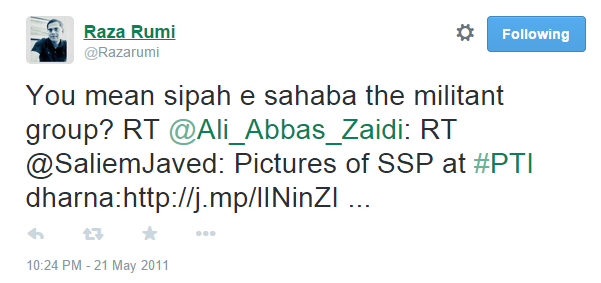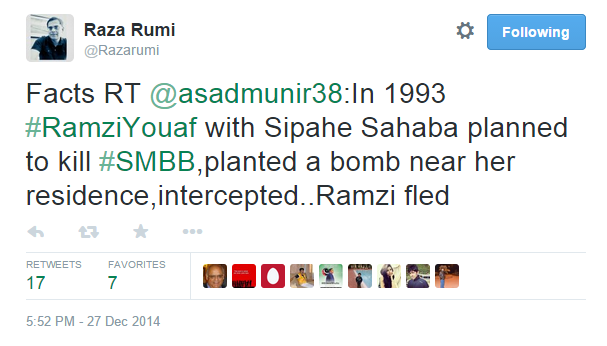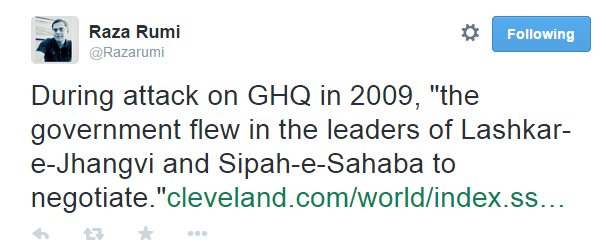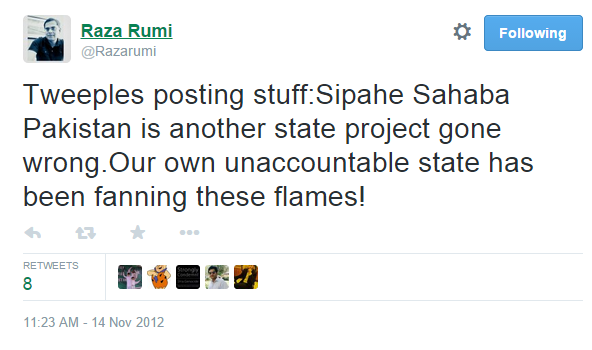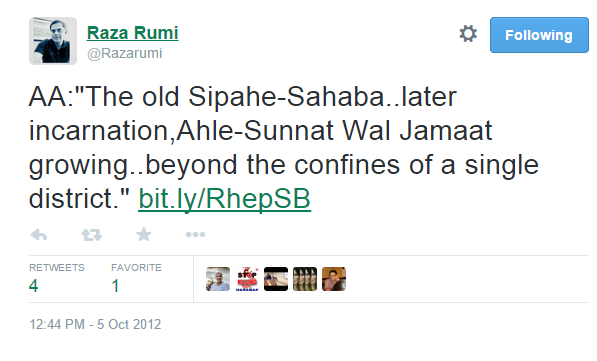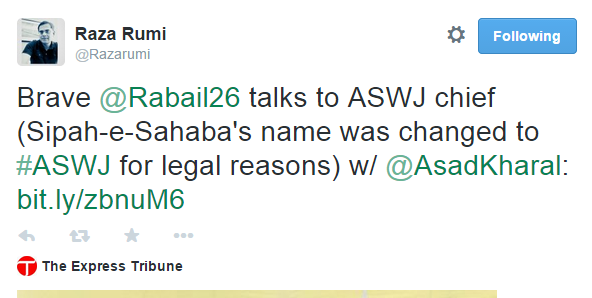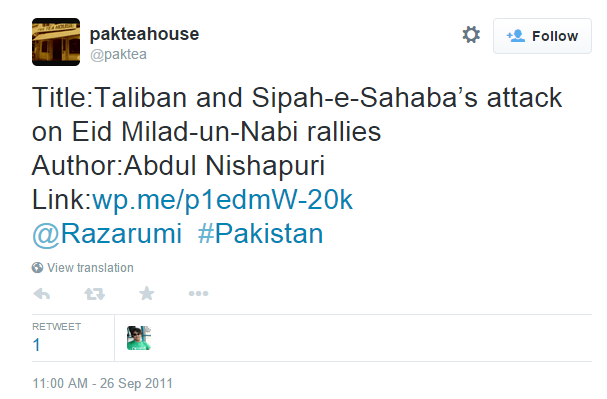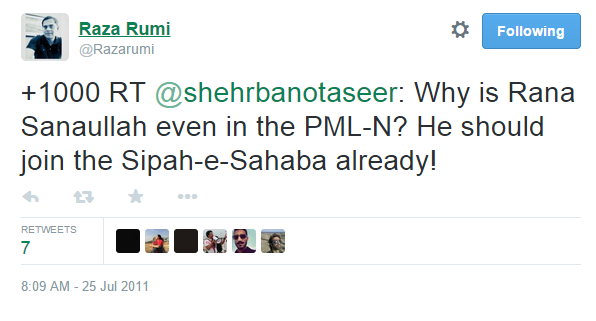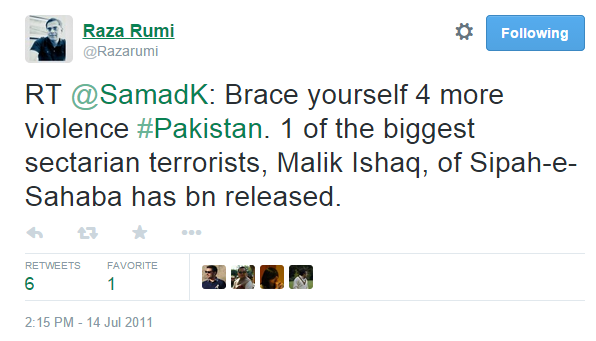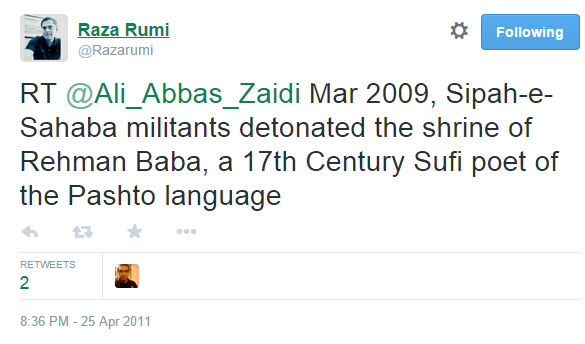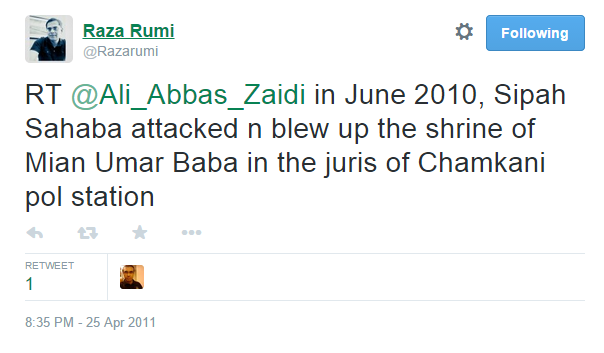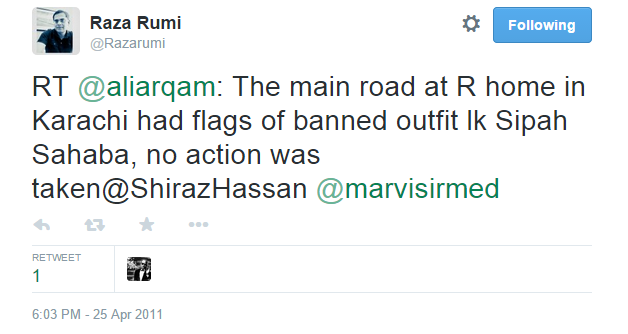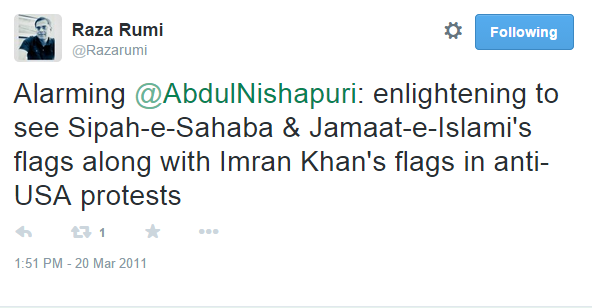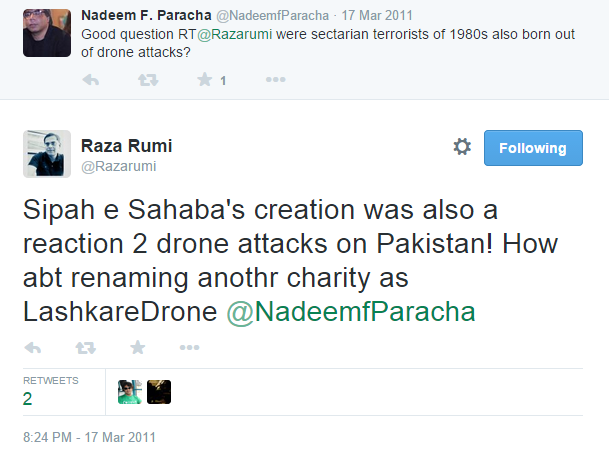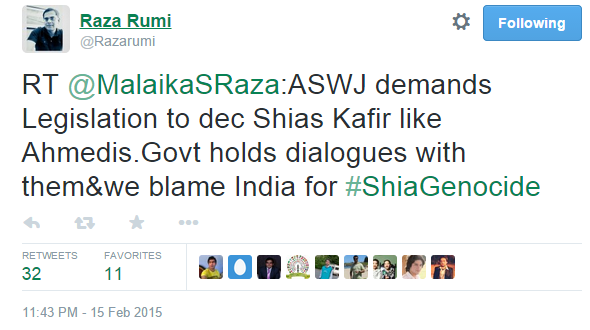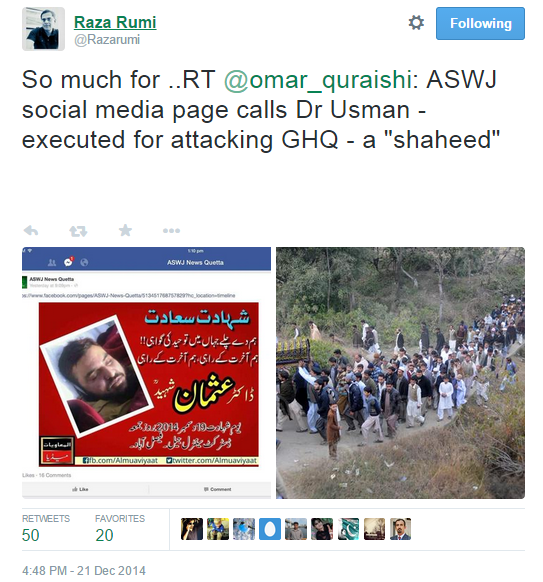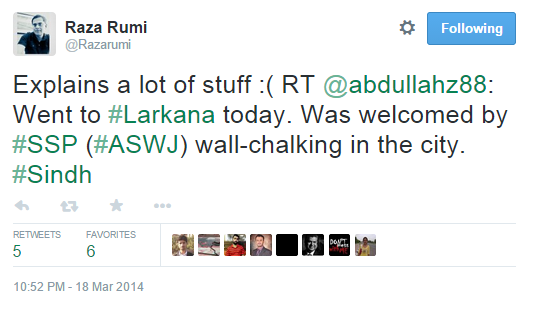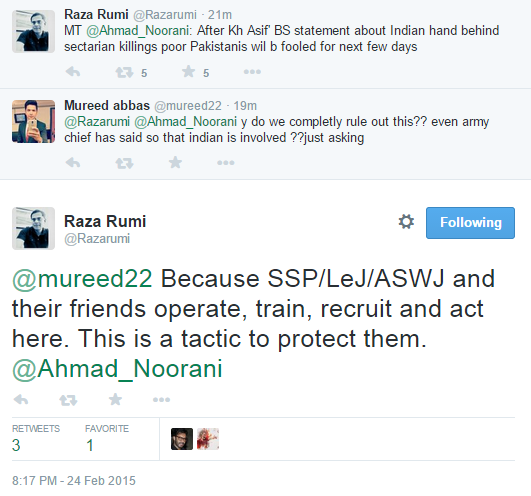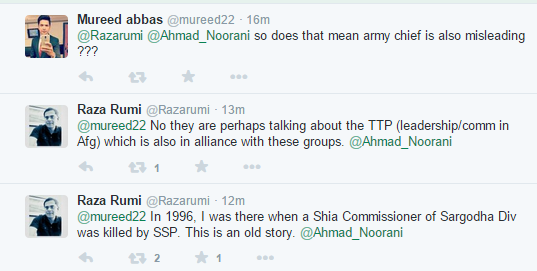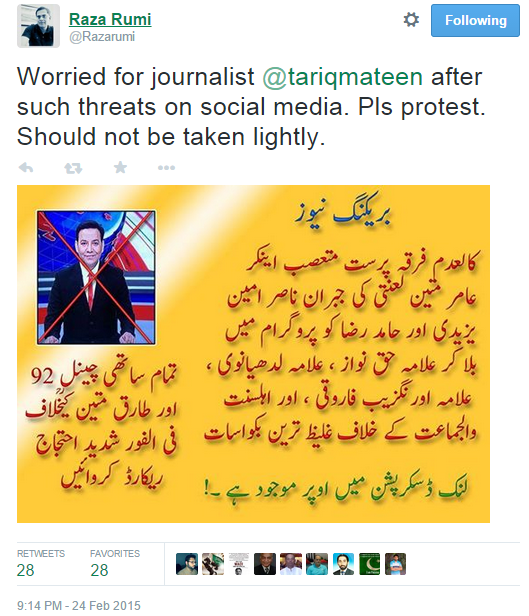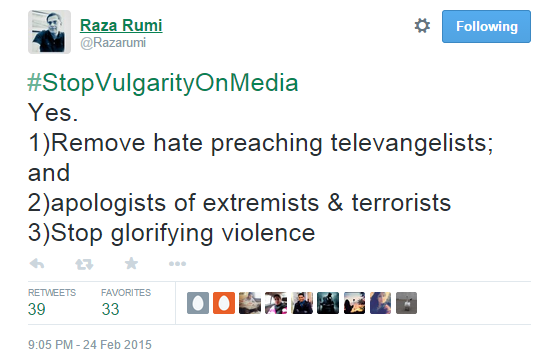 Sipahe Sahaba Pakistan is another state project gone wrong. Our own unaccountable state has been fanning these flames!
And the rise of Sipah e Sahaba and allied terror groups has nothing to do with America, drones or Afghanistan. We should be proud of being suicidal!
During attack on GHQ in 2009, "the government flew in the leaders of Lashkar-e-Jhangvi and Sipah-e-Sahaba to negotiate. "http://cleveland.com/world/index.ssf/2010/06/militancy_metastasizes_into_pa.html …
Facts RT @asadmunir38:In 1993 #RamziYouaf with Sipahe Sahaba planned to kill #SMBB,planted a bomb near her residence,intercepted..Ramzi fled
MT @Ahmad_Noorani: After Kh Asif' BS statement about Indian hand behind sectarian killings poor Pakistanis wil b fooled for next few days
Because SSP/LeJ/ASWJ and their friends operate, train, recruit and act here. This is a tactic to protect them
Pakistan army generals are perhaps talking about the TTP (leadership/comm in Afg) which is also in alliance with these groups.
In 1996, I was there when a Shia Commissioner of Sargodha Div was killed by SSP. This is an old story. @Ahmad_Noorani
RT @MalaikaSRaza:ASWJ demands Legislation to dec Shias Kafir like Ahmedis. Govt holds dialogues with them&we blame India for #ShiaGenocide
Sipah e Sahaba's creation was also a reaction 2 drone attacks on Pakistan! How abt renaming anothr charity as LashkareDrone @NadeemfParacha
Who made/supports him? RT @alisalmanalvi:Usman Kurd, the op comm. of LeJ/ASWJ #Balochistan said to be the mastermind of the #ShikarpurBlast.
Explains a lot of stuff 🙁 RT @abdullahz88: Went to #Larkana today. Was welcomed by #SSP (#ASWJ) wall-chalking in the city. #Sindh
So much for ..RT @omar_quraishi: ASWJ social media page calls Dr Usman – executed for attacking GHQ – a "shaheed"
RT @aliarqam: The main road at R home in Karachi had flags of banned outfit lk Sipah Sahaba, no action was taken@ShirazHassan @marvisirmed
RT @Ali_Abbas_Zaidi in June 2010, Sipah Sahaba attacked n blew up the shrine of Mian Umar Baba in the juris of Chamkani pol station
Alarming @AbdulNishapuri: enlightening to see Sipah-e-Sahaba & Jamaat-e-Islami's flags along with Imran Khan's flags in anti-USA protests
You mean sipah e sahaba the militant group? RT @Ali_Abbas_Zaidi: RT @SaliemJaved: Pictures of SSP at #PTI dharna:http://j.mp/lINinZI …
RT @Ali_Abbas_Zaidi Mar 2009, Sipah-e-Sahaba militants detonated the shrine of Rehman Baba, a 17th Century Sufi poet of the Pashto language
RT @Rabail26:Ludhianavi from pol wing of banned militant org #SSP:'We'll continue protecting honor of Sahaba (Prophet's friends)'. #Pakistan
Brave @Rabail26 talks to ASWJ chief (Sipah-e-Sahaba's name was changed to #ASWJ for legal reasons) w/ @AsadKharal: http://bit.ly/zbnuM6
RT @SamadK: Brace yourself 4 more violence #Pakistan. 1 of the biggest sectarian terrorists, Malik Ishaq, of Sipah-e-Sahaba has bn released.
+1000 RT @shehrbanotaseer: Why is Rana Sanaullah even in the PML-N? He should join the Sipah-e-Sahaba already!
AA:"The old Sipahe-Sahaba..later incarnation, Ahle-Sunnat Wal Jamaat growing..beyond the confines of a single district." http://bit.ly/RhepSB
‏@paktea Title:Taliban and Sipah-e-Sahaba's attack on Eid Milad-un-Nabi rallies
Author:Abdul Nishapuri Link:http://wp.me/p1edmW-20k @Razarumi #Pakistan
RT @gulbukhari: R East India Co in the UK MT @abbasnasir59: Shocked 2 C Sipahe Sahaba fund-raising in UK. Running ads on ethnic TV channels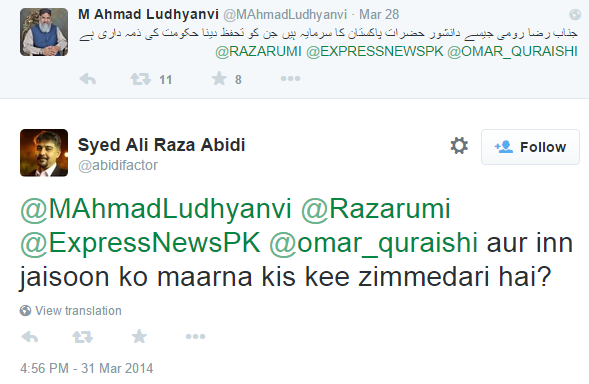 Comments
comments