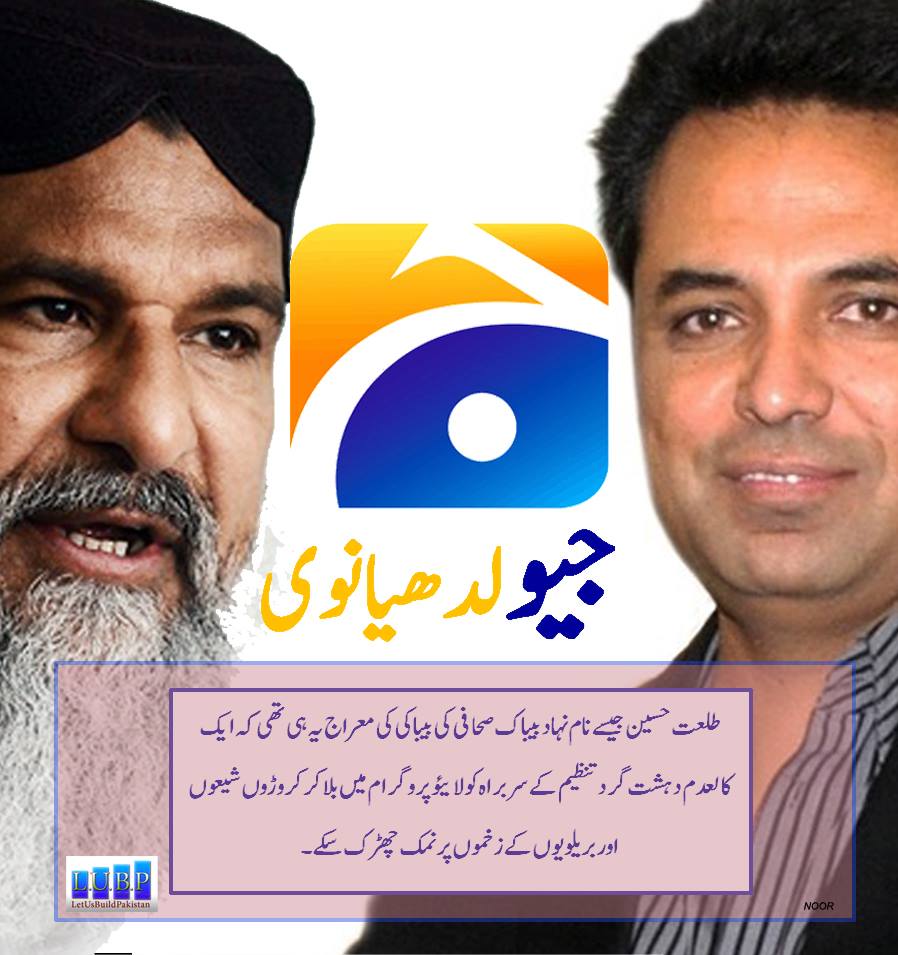 I have now watched ASWJ's Ahmed Ludhyanvi's interview with Talat Hussain (Geo TV, 21 Feb 2015).
http://www.dailymotion.com/video/x2hu2q0_naya-pakistan-22nd-february-2015_news
Talat Hussain didn't reveal anything about the banned terrorist outfit Sipah-e-Sahaba Pakistan (SSP aka ASWJ) that Pakistanis didn't know. As a critic said, it only resolved the mystery that the ASWJ's 30 years of Kafir Kafir Shia Kafir sloganeering couldn't – it's a sectarian outfit!
Talat Hussain's program only gave legtimacy and promotion to a takfiri terrorist. It was a blatant attempt by an agency mole to humanize and mainstream-ize a takfiri terrorist outfit which is treated as an asset by certain pro-Deobandi pro-Taliban elements in Pakistani establishment.
Previously Talat Hussain has been involved in sectarian hate speech against Sunni Sufis and Shia Muslims of Pakistan, when he was seen criticizing their Qawwalis and Naats – thus reinforcing the puritanical Deobandi-Wahhabi mindset. https://lubpak.com/archives/320835
I am afraid that the current interview will start a new wave of invitations to Ludhyanvi, Farooqi and other takfiri khawarij of ASWJ to talk-shows at various TV channels in addition to the usual hate clerics eg Ashrafi, Mufti Naeem, Adnan Kakakhel and Hanif Jalandhri.
Both Talat and Geo TV must face sanctions by PEMRA. UN, US, UK etc must penalize Geo TV and Talat Hussain on the promotin of the ISIS, Taliban and Al-Qaeda aligned takfiri terrorist outfit ASWJ.  In fact, civil society and also other groups (NSF, nationalists, ANP, MQM, MWM etc) should announce a sit-in outside Geo TV's offices in Islamabad, Lahore, Karachi etc and force them to render an apology and refrain from inviting ASWJ leaders again.
Related post: Sectarian hate against Qawwali: Talat Hussain and co laying groundwork for ASWJ? – by Zain Gardezi https://lubpak.com/archives/320835