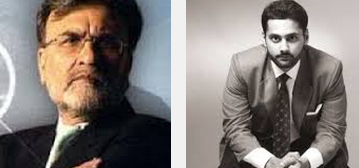 Some of the senior Pakistani journalists who have been routinely silent or vague on the genocide of Shia and Sunni Sufi Muslims at the hands of Takfiri Deobandi terrorists (ASWJ, TTP etc) are currently upset with the new generation of civil society leaders and social media activists who are challenging their Nazi style silence, false Sunni-Shia and Saudi-Iran binaries that they have been using to obfuscate, deny or dilute the role of Takfiri Deobandi terrorist outfits in the slaughter of Shias, Sunni Sufis, Barelvis, Ahmadis, Christians and other persecuted communities of Pakistan.
Nusrat Javed is one such journalist who is clearly upset with Jibran Nasir, Khurram Zaki and other civil society leaders who are challenging ASWJ, Farooqi, Ludhyanvi, Abdul Aziz and other Takfiri Khawarij.
Through various remarks on Twitter (22 Feb 2015), Nusrat tried to act as an apologist of banned terrorist outfit ASWJ and also seemed to justify Geo TV and other channels' airtime for Takfiri terrorists, while resorting to false binaries of "historic Sunni-Shia war" watering down the genocidal massacres facing Shia Muslims of Pakistan. According to Nusrat Javed's logic, since Shias and Sunnis have been fighting for long, the media may continue to add further fuel to the fire, and since Ludhyanvi and other Deobandi hate clerics already have the pulpits, it is okay to give them the electronic media.
Nusrat Javed has a background in leftist politics, however, he has never spoken openly on Shia killings. Not unlike other liberal and leftist journalists, he seems to consider it against his insecure liberal credentials.
However NJ is not alone. Then we have the likes of Talat Hussain, Saleem Safi, Hamid Mir and Najam Sethi (all of them on Geo TV) who routinely promote hate clerics such as Ludhyanvi and Ashrafi.
If Pakistan is to move forward, if we are to get rid of Takfiri sectarian terrorists of TTP and ASWJ, we will also have to get rid of the likes of Nusrat Javed, Talat Hussain, Hamid Mir, Saleem Safi and Najam Sethi.
Credits to Ale Natiq, Ali Irtiza and Raza for some of the arguments above.