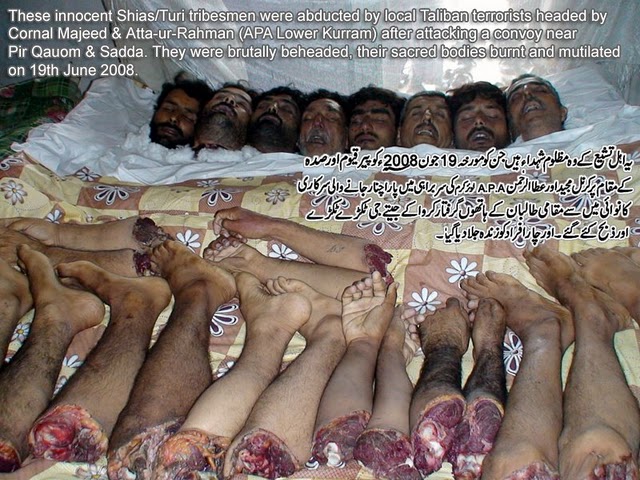 What exactly is Pakistan army intending to do in Parachinar?
Is another new wave of Shia genocide on the way in Kurram Agency?
Why are Pashtun nationalists silent? Are Pashtun Shias lesser Pashtuns or lesser humans?
Why can't ANP, PKMAP etc organize a protest outside the GHQ and Peshawar army HQ to stop disarming of peaceful Pashtun Shias?
Everyone please raise voice for the peaceful and persecuted Shia and Sunni Sufis of Kurram Agency who face imminent genocide at the hands of radical Deobandi terrorists aka Taliban (TTP) and Sipah-e-Sahaba (ASWJ-LeJ).
پاراچنار سٹی میں ہائی الرٹ ۔۔خودکش حملہ آور داخلے کی اطلاع۔۔۔آج پاراچنار سٹی کے اندر کسی بھی پرائیوٹ گاڑی حتی کہ بیماروں تک اجازت نہیں۔۔۔شہر میں صرف آرمی ایف سی انٹلی جینس و پولٹیکل انتظامیہ کی درجنوں گاڑیاں موجود؟؟؟اتنے ہائی الرٹ اور عوام کو تکلیف دینے کے باوجود اگر کوئی خودکش حملہ ہوا تو زمہ داری آرمی ایف سی انٹلی جینس وو پولٹیکل انتظامیہ پر ہوگی۔۔۔یہ کھیل و ناٹک بند کرو۔۔۔جب تمہیں خودکش حملہ آور کی داخلے کی اطلاع ہے تو اس کے جائے پناہ اور ٹریننگ دینے والے ٹھکانے کی بھی ضرور اطلاع ہوگی۔۔۔
Comments
comments