Shame: PPP Sindh Government arrests anti-ASWJ protestors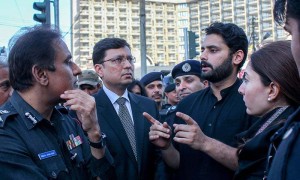 A growing protest by sections of civil society against Deobandi terror organization ASWJ-LeJ has typically been sidelined in Pakistan's media. Two days ago, the PPP-led Sindh Government representative Sharmila Farooqi had assured these protestors that their valid demands for arresting the hatemongering leader of ASWJ-LeJ, Aurganzeb Farooqi will be met. Either she was lying or the Sindh government never took these protestors seriously. Just like it has not taken the daily acts of terrorism against Sunni Barelvis, Shias, Ahmadis and Hindus in Sindh seriously.
After the Shikarpur tragedy where close to 200 Shia muslims were killed or seriously wounded in a terror attack by Pakistani ISIS affiliate and ASWJ-LeJ subsidiary, Jundullah, things had clearly come to a head. Protests enterupted countrywide. However, like in the past, most of the protestors under the Shia clerical party, the MWM, meekly gave up.
A section of civil society, Jibran Nasir* being prominent amongst them, continued with the protests. Their demands were simple. Arrest Deobandi terrorist Aurganzeb Farooqi and remove hateful and violent messages and flags that are all over Sindh. After a peaceful protest that included protestors from different sects and religious groups, it was expected that even the incompetent Sindh CM Qaim Ali Shah might finally wake up and act.
Instead, the Sindh Government has arrest the peaceful civil society protestors! The detained activists include females. This is clearly a new low even for the PPP. It has now become clear that the PPP is no wear near the liberal and secular ideals tweeted by its absentee leader Bilawal Zardari. The current PPP is a disgrace to the legacy of Shaheed Mohtarma who was publically threatened by the same nexus of Deobandi terror groups that are currently wreaking havoc in Pakistan under various avatars such as the Taliban, ISIS/Daish, ASWJ-LeJ, Jundullah, Ahrar etc. Her assassination had elements from the same terror groups whose powerful backers did not want her to implement anti-Taliban policies in Pakistan.
To add insult to injury, the government is openly allowing the violent hate mongering ASWJ-LeJ to intimidate and threaten the peaceful protestors and literally march down on them!
"The ASWJ organised a rally today under police protection," the activist said, adding that the security given to the banned group was illegal, compelling him and his fellow protesters to react.

Nasir claimed that as soon as he announced his protest, the ASWJ also diverted their rally towards CM House.

"The rally of ASWJ, a banned outfit, is heading towards CM House. Perhaps Sindh government may give more respect and attention to the demands of terrorists," he wrote on his Twitter account.

Speaking to Dawn, Nasir said: "ASWJ has publicly threatened members of the civil society through its Twitter account."

http://www.dawn.com/news/1161694/activist-jibran-nasir-arrested-near-cm-house
An eyewitness account of the events on the ground has been circulated via social network application WhatsApp and we are sharing it here to highlight the gravity of the situation where ASWJ-LeJ is flouting the law without anyone in its path barring the brave protestors outside the CM house.
"
Fwd msg:
Just returned from the protest in front of the CM house.

Some 2000 danda waving goons of ASWJ suddenly appeared, and parked themselves on the Sheraton side of the CM house. We had to move out and come to the Karachi Club side of the PM house.

Present on the Karachi side of the CM house were 23 peaceful civil society protesters, representing 20 million citizens of Karachi.

The police clearly appeared to be pro ASWJ and anti people.

I returned at 7pm, and now hear that even these 23 peaceful citizens have been rounded up by the police.

Not clear who Zarb e azb being fought against?
Seven years later, the PPP is not just in shambles, it is close to extinction. Arresting peaceful protestors, including female activists is a grave violation of human rights.
LUBP will do all in its power to make sure that this horrendous act by the Sindh Government will not be forgotton. We have been highlighting for quite some time that even PPP has been infested by ASWJ-LeJ thugs and prominent PPP leaders like Qaim Ali Shah, Khursheed Shah, Wassan and Kaira have infected the party with the Takfiri virus of ASWJ-LeJ.
It is the ultimate irony that Pakistan is celebrating Kashmir day today when in its own borders, the majority of Pakistanis belong to Sunni Barelvis, Shias, Christians, Hindus and Ahmadis are facing an existential crisis at the hands of the PML N and now PPP-backed Deobandi terror groups like ASWJ-LeJ.  For the average urban upper-middle class Pakistani "burger", the events in other lands are more important.  Drone victims and the fictional "Masoom Bachiyaan" of ISIS-affiliated Lal Masjid are more important.
*Names of other leaders and activists of this protest have been withheld at this point due to security concerns